Grand Prix Classics is offering this Fiat Balilla Spider 508S for sale. A rare Italian prewar sports car with an interesting build where Fiat, Ghia and Siata collaborated. With the extended documentation it has, it is eligible for many great events, including the Mille Miglia Historica. Original tool kit, tools and jack.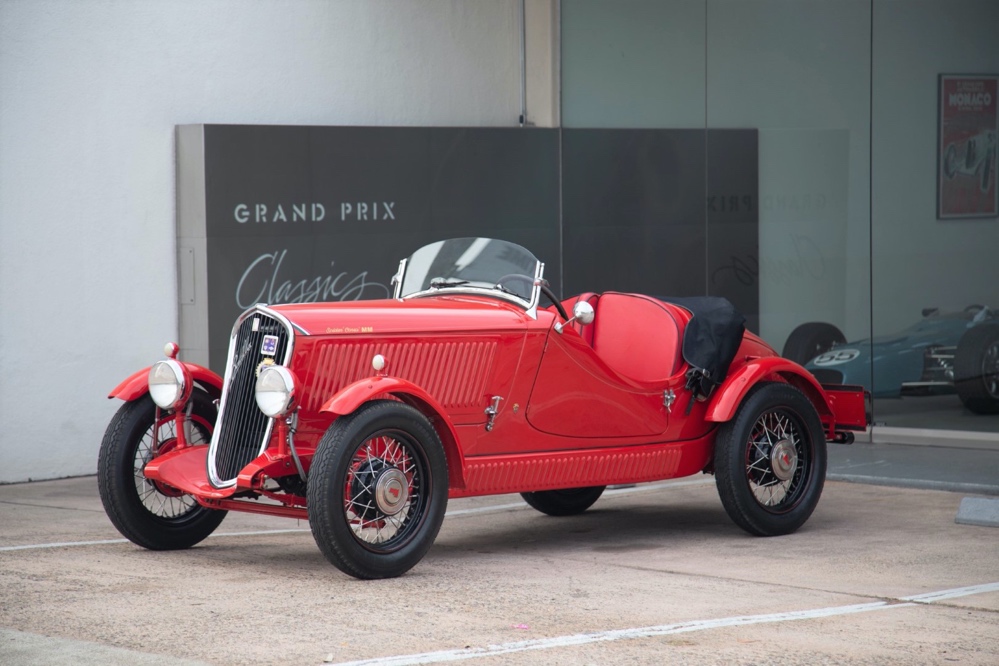 Make: Fiat
Model: Balilla Sports Spider 508S
Type: "Coppa D'Oro" or Mille Miglia
Year: 1935
Chassis #: 508S 082606
Color: Red
Coachwork: Carrozzeria Ghia
Engine: Siata Modified 108CS-083148
History: The Balilla Sports Spider was created by Ghia for Fiat. It had cycle fenders and a lighter chassis. The "S" in the chassis number indicates it is a factory-built competition car with the tipo 108S Siata engine. A 995cc overhead valve inline 4-cylinder with 46hp, which was modified by Siata for better performance. The transmission was a 4-speed. It was named after race and rally successes in the Coppa D'Oro – gold cup and Mille Miglia.
The Balilla Sports Spider was known for its good looks and lightweight nimble handling, proven by winning many races throughout Europe between 1933-1937. It raced in the 1,000cc class and won races against the Singers, Rileys, MG Magnette K3s, Amilcars, Salmsons, and Ulster TT's. Because the Balilla Spider was a 3-main bearing engine, it normally outlasted most of its opponents on the race courses throughout Europe. Enzo Ferrari had a team of four black Balilla Spiders under the Scuderia Ferrari badge that raced under the prancing horse from 1934-1935.
The racing Balilla Spiders participated in the Mille Miglia, Goodwood, Le Mans, Monte Carlo Rallye, and other famous racing events of their day. Italian documents show that his car was first registered on November 6, 1935.
The "Gold Plate" from the Fiat factory is a guarantee of its authenticity that it is a Coppa D'Oro or Corsa Spider. It is registered with the Fiat Archivos and the Italian Historic Club.
A three-year restoration from 2003-2005, in Brescia, Italy with
$120,000 invested by the owner at that time.
Condition: At the time of restoration, the following was done:
Engine: 4-cylinder pushrod operated OHV, 3-bearing crankshaft, capacity 995cc. Full pressure lubrication, thermo-syphon cooling with fan assistance (the car has never overheated in the rally/road events in which the owner has participated). Compression ratio is 7.1:1, output is 46bhp at 4,400rpms. It was completely rebuilt.
Gearbox: 4-speed and reverse. Fully rebuilt.
Clutch: Single dry plate, new.
Ignition: Lighting and starting: Marrelli 12-volt coil, with belt driven dynamo, 12-volt battery. All-new internal wiring, new factory period headlights/marker lights/ taillights.
Brakes: Newly rebuilt hydraulic internal expanding on all four wheels; handbrake working on drum behind gearbox. All new pads; perfect action, no swerving!
Steering: Worm and roller, rebuilt.
Wheels: Fiat bolt-on 4 bolt detachable, all new S.S. spokes including spare.
Tires: "Stunner" Race P 109, 4.00 X 17, all new, including spare.
Dimensions: Wheelbase 7' 6", track 3' 10".
Weight: Unladen – 1,377lbs
Body: Perfect, with new lacquer/gold pinstriping
Chassis: Steel, Sport spider "S' #082606
MPG: 35mpg – single Solex
Awards: Best of Marque – Concorso Italiano 2006
Best of Class – Forest Grove Concours d'Elegance
Many other European Awards in engine compartment
Documents:
Registro Fiat Italiano
Pubblico Registro Automobilistico – Certifico Cronologico
Assortment of magazine articles
Importation documents
Auto manual
Numerous Italian documents that certify it as a genuine Coppa D'Oro competition Spider
Automobile Club Storico Italiano Registro Fiat Italiano
Gold plate #1622 Certification of Authenticity
Click here for further information
---
collectorscarworld is partnering with the most renowned classic car specialists and dealerships in the world. We always offer selected rare and sought-after collectors cars and supercars for sale and every day a special car is featured for one of our partners. The passion for classic cars is diverse, sometimes it concerns the beauty of forms that can be admired at a concours, sometimes it is the smell of rubber , old leather and gasoline at a racing event or trip in the sunset.
Or its a classic car you have great memories with or which your parents owned a longtime ago. Classic cars and supercars are an expression of the lifestyle that someone shares with other petrolheads, and which is immortal, enduring and always a lot of fun. If you are looking for a special car or need support in the evaluation and history of cars, please contact us at info@collectorscarworld.com
---