Fiskens is offering this beautiful Bentley 4 1/2 Litre Sportsman Coupe for sale. One of the last 4½-Litre Bentleys produced. Built to new 'heavy crank' specification. Matching engine and chassis. Rare Maythorns of Biggleswade Sportsmans Coupé Coachwork. In single ownership for 60 years. Accompanied by full report by celebrated Bentley specialist Clare Hay.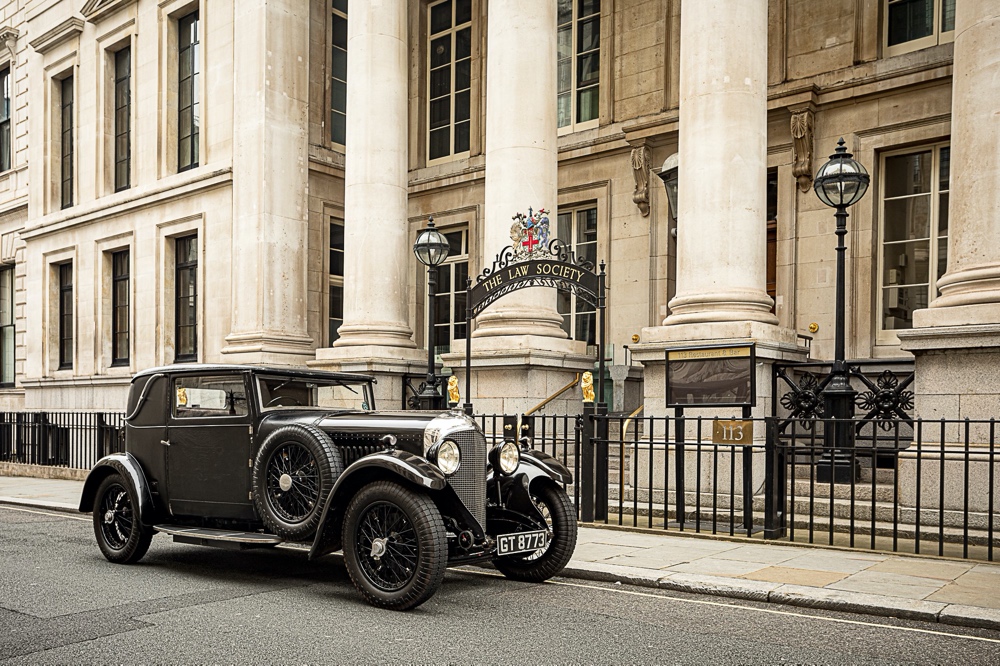 Following the roaring Le Mans successes of the 3-Litre, W.O was bitterly disappointed by consecutive Bentley failures at the 1925 and 1926 races. Bentley's reputation had been built on the endurance track, and it was slowly slipping away. Enter the Bentley Boys and the 4½-Litre. Employing the chassis, transmission and brakes of the 3-Litre, W.O then added a four-cylinder version of the 6½-Litre unit to reduce displacement to 4.4 litres.
With Bentleys nicknamed the world's fastest lorries by a seething Ettore Bugatti, the thundering 4-cylinder model duly regained victory at Le Mans in 1928 and paved the way for Bentley wins in 1929 and 1930.
While anyone who takes to the wheel of a 4½-Litre marvels at its performance and design, there are few who can have been as impressed with the model as this example's previous owner, Mike Harrison. Having bought in 1956 for £150 as a remarkably potent first car, he remained its custodian for 60 years and drove it 'most days.' Few – if any – Bentleys can boast such continuous private ownership or regular usage. This example has rare Maythorns of Biggleswade Sportsman Coupé Coachwork and retains matching engine and chassis.
XT3627 is in remarkably original condition, supported by regular conservation work by Julian Parker. Accompanied by a full report by Bentley specialist Clare Hay, this is an eminently usable motor car for both road and race, and could easily supply its next owner with a further six decades' worth of motoring pleasure.
Click here for further information  
---
collectorscarworld is partnering with the most renowned classic car specialists and dealerships in the world. We always offer selected rare and sought-after collectors cars and supercars for sale and every day a special car is featured for one of our partners. The passion for classic cars is diverse, sometimes it concerns the beauty of forms that can be admired at a concours, sometimes it is the smell of rubber , old leather and gasoline at a racing event or trip in the sunset.
Or its a classic car you have great memories with or which your parents owned a longtime ago. Classic cars and supercars are an expression of the lifestyle that someone shares with other petrolheads, and which is immortal, enduring and always a lot of fun. If you are looking for a special car or need support in the evaluation and history of cars, please contact us at info@collectorscarworld.com
---