Yves Saint Laurent and Pierre Bergé were worldbuilders of an unparalleled caliber; true tastemakers who approached each interior project with imagination and rigeur, crafting grand spaces infused with personality and provenance.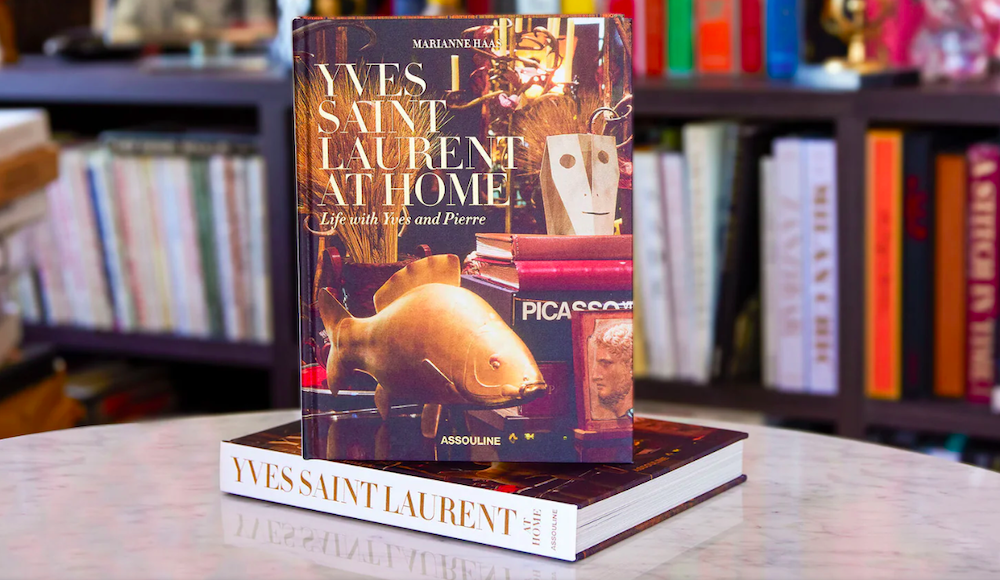 Connoisseurs in every sense of the word with a deep knowledge and appreciation for art and interior design, the two built and lived among a spectacular and carefully-considered collection. In close collaboration with world-class designer Jacques Grange, they crafted private spaces full of wonder and enchantment.
Readers are invited to discover the couple's savoir-faire through the most exquisite photographs of the interiors and gardens of Yves's Château Gabriel, the dacha in Deauville; the Villa Majorelle in Marrakech; the apartment on rue de Babylone and his maison de couture on avenue Marceau.
With photographs by Marianne Haas, and texts and special contributions from Jacques Grange, Catherine Deneuve, Betty Catroux, Laurence Benaïm, Louis Benech and other members of Yves' tribe, the creative couple's legacy lives on.
About The Author Jacques Grange
Jacques Grange is an interior designer and decorator and a graduate of the École Boulle and the École Camondo in Paris. He began his career in the 1970s working alongside Henri Samuel, Didier Aaron and Alain Demachy. His interior design projects have included many private residences in Europe and the United States, including those of H.R.H. Princess Caroline of Hanover, Jean and Terry de Gunzburg, Israel Englander, Robert Agostinelli, Pauline Karpidas, Paloma Picasso, Daniela Memmo d'Amelio, Jérôme and Sophie Seydoux, François Pinault and Ronald Lauder; several hotels, including the Mark Hotel in New York, the Hotel Cappuccino in Palma de Mallorca, Francis Ford Coppola's Palazzo Margherita in Bernalda in Italy, the Villa Maïa in Lyon and the Cheval Blanc St-Barth; and yachts such as the Pacha III and Pamela V.
Over the course of his long-standing friendship and collaboration with Yves Saint Laurent and Pierre Bergé, Jacques Grange oversaw the interior design of their homes in Paris, the Villa Majorelle in Marrakech, the Villa Mabrouka in Tangier, the Château Gabriel in Benerville as well as the décor of Yves Saint Laurent's haute couture house in Paris. He has also staged several exhibits for Yves Saint Laurent around the world. Jacques Grange approaches each project with the same enthusiasm, be it a palace, a hotel or cabanas in Portugal.
Photographer Marianne Haas was born in Sursee, Switzerland, and is based between Paris and Zurich. She specializes in portraits of artists and designers, and interiors and gardens.Her work has appeared in Elle Décor, Elle Decoration, Elle, Vogue, Paris Match, Madame Figaro and Architectural Digest. She studied photography in Paris, working for photographer Jean-Marie Périer, before directing the short film "Point le Chat," which was shown at Cannes Film Festival, the Montreal Film Festival and New York Film Festival, where it received the bronze medal. Her work has been shown at Pierre Passebon's Galerie du Passage, Gallery Tino Zervudachi and Gallery Pierre-Alain Challier, among others.
Laurence Benaïm is a journalist, writer, publisher, fashion curator and expert who is based in Paris. She has written a number of books and biographies, on Yves Saint Laurent, Marie Laure de Noailles and Jean-Michel Frank, among other subjects. She has written a number of books for Assouline, including Orientalism Style, Yves Saint Laurent: The Impossible Collection, Dior by Yves Saint Laurent and other titles.
Click here for further information
more information: assouline.com
---