The Yazz Collective seamlessly melds with its natural surroundings, a hidden gem that may easily escape the notice of less observant seafarers – a delightful discovery for those who do stumble upon it. Nestled within a private bay in the Gulf of Fethiye, Yazz Collective represents the shared vision of its co-owners.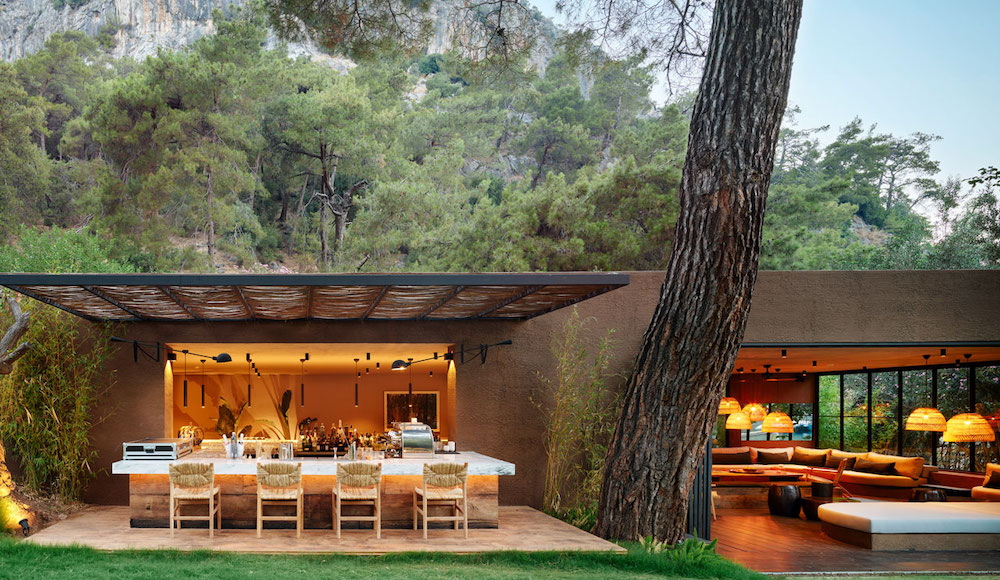 They entrusted Istanbul-based architectural firm FAAR Concept to transform a previously untamed expanse into the retreat of their dreams. The structures, including the beach club, restaurant, and neatly arranged rows of rooms, harmoniously merge with the contours of the wooded landscape and the surreal rock formations that emerge from the glistening waters on either side. The design ethos here marries Mediterranean elegance with the serenity of Bali, a successful fusion that many coastal hotels in this region adopt.
You won't find a sprawling communal swimming pool here, as the rugged terrain doesn't readily accommodate one. However, in 2023, a row of plunge pools made their debut behind the Unplugged Restaurant and the cocktail bar. Our personal favorite was the one at the forefront. Take a sharp right, and you're treated to serene vistas framed by gently swaying foliage, offering glimpses of the peacefully anchored yachts. The best part – we enjoyed these pool areas in blissful solitude whenever we visited. Clearly, this resort caters to those who harbor a profound love for the beach and its tranquil allure.
The Rooms
Upon arrival, Yazz Collective might initially appear as if it lacks accommodations entirely, resembling more of a chic yacht owner's leisure complex from the offshore perspective. However, as guests pass through rows of bamboo and the outdoor reception desk, the layout becomes clear. The 16 guestrooms adhere to the Med-meets-Bali design concept: warm chestnut furnishings, bamboo bathroom doors, both indoor and outdoor showers, and floor-to-ceiling windows that flood the bedrooms with natural light. Special mention goes to the bedding – the snooze button becomes a close companion as guests reluctantly emerge from the cloud-like beds. Each room is equipped with a television, although it rarely sees any action, and comes with all the usual modern amenities along with a well-stocked minibar (look under the wooden cabinet for premium spirits). In their room, guests might find an iron but no ironing board. It could have been a language barrier or poor phone signal, but some have resorted to ironing shirts on a towel atop the cabinet. Each room also features a front decking area, but guests should be prepared for bugs; they're an inevitable part of this rural setting. Even self-professed entomophobes have had no issues lounging on their sunbeds in the dappled shade, with Turkish sparkling rosé chilling in the ice bucket between them.
Food and Drink
The heart of Yazz Collective is the beach club, where leisurely breakfasts and iced coffees are savored until lunch service commences, and the music takes a slight uptick. The morning starts with continental spreads, followed by an à la carte brunch menu featuring slices of creamy avocado and freshly baked bread topped with oozing amber yolks. Lunch maintains the relaxed atmosphere, with yacht owners joining resort guests to indulge in truffle fries, 'after gym' salads, and servings of lahmacun – flatbread adorned with minced meat and vegetables.
In contrast, dinnertime transforms the ambiance into a captivating spectacle, with minimal aesthetic changes. Dresses shimmer beneath the hanging lights, partners appear in crisp shirts and shorts, and servers attentively cater to every table. The main menu offers all-day dining, with dishes ranging from simple grilled chicken to lamb cuts drizzled in dark, tangy jus, and whole-baked fish. However, it's the culinary takeovers that steal the spotlight. During their visit, owner Michael Grosman and chef Shunta Suzuki from the Parisian restaurant Les Enfants du Marché hosted an intimate takeover at the second Unplugged Restaurant. The menu included wafer-thin slices of cured fish paired with whiskey tastings, kofte-style lamb meatballs perched atop mounds of potato, and watermelon soaked in Raki to cleanse the palate in true Turkish style. These pop-up events are an ongoing feature, so guests can plan their visit accordingly.
The Spa
Strolling down the beach, guests will find themselves in a treetop Balinese oasis, with masseuses and therapists ready to pamper them. A consultation at the al-fresco spa reception (far from a typical office setting) might lead guests to opt for a back massage to alleviate tight muscles. Meanwhile, their companion could choose a glow-restoring facial. She might relax to the right, as layers of creams and serums are gently applied to her sun-kissed skin. Occasional shifts might occur, feeling the firm rubs of the masseuse interspersed with appreciated back adjustments – guests just need to let them know if they prefer a gentler touch. The spa setting itself, while simple, provides a tranquil escape. Faint music from the beach club in the distance might be audible, but it's not at all distracting. Yazz Collective doesn't position itself as an extensive wellness destination; however, the semi-slumber, surrounded by billowing linen curtains, becomes an unexpected highlight of the stay.
Click here for further information
more information: yazzcollective.com
---