A dream in Palm Springs. With a BMW i7, on a day when everything is as it should be. For once.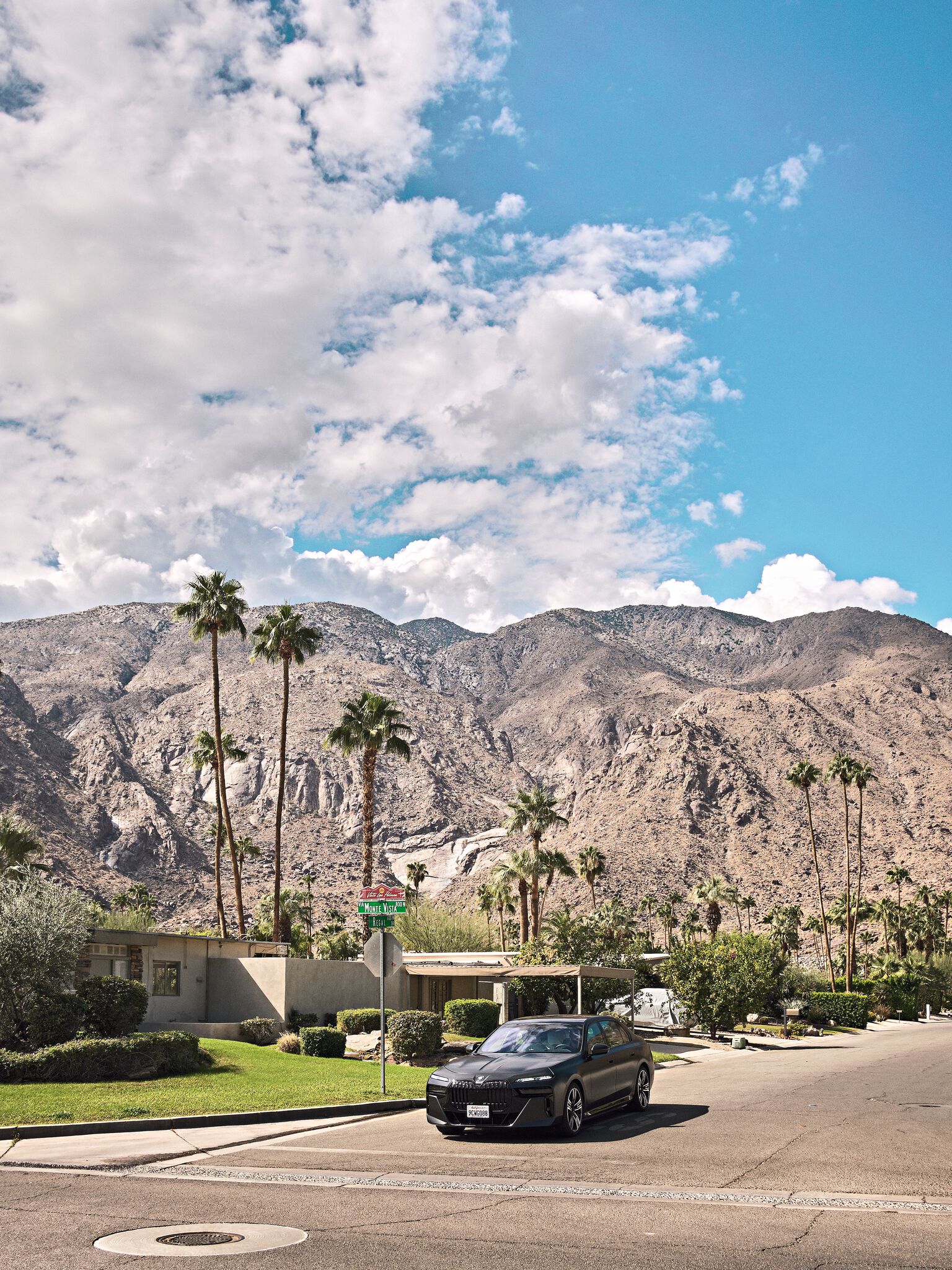 That glorious autumn morning, he recounted, he was pulled out of the house as if by a puppet master working an invisible string. He got in the car and simply drove off, toward the San Jacinto Mountains and out of his life, although after the first two or three curves it seemed to him that he was finally getting closer to actually living again. In any case, he said, he felt no guilt, not even about his wife, who he didn't wake that morning so she could sleep in, instead driving on and on, in a kind of trance, happy to pass by front yards, flags, mailboxes, pennants and diner signs, listening to the gently pulsating spray of sprinklers, rustling palm leaves and birdsong, sometimes overtaking a mountain biker and smiling at other drivers at traffic lights who nodded briefly at him before he stepped on the gas again. And as he drove on, becoming more and more awake, he felt reconciled with everything, he said, as if in a state of enlightenment.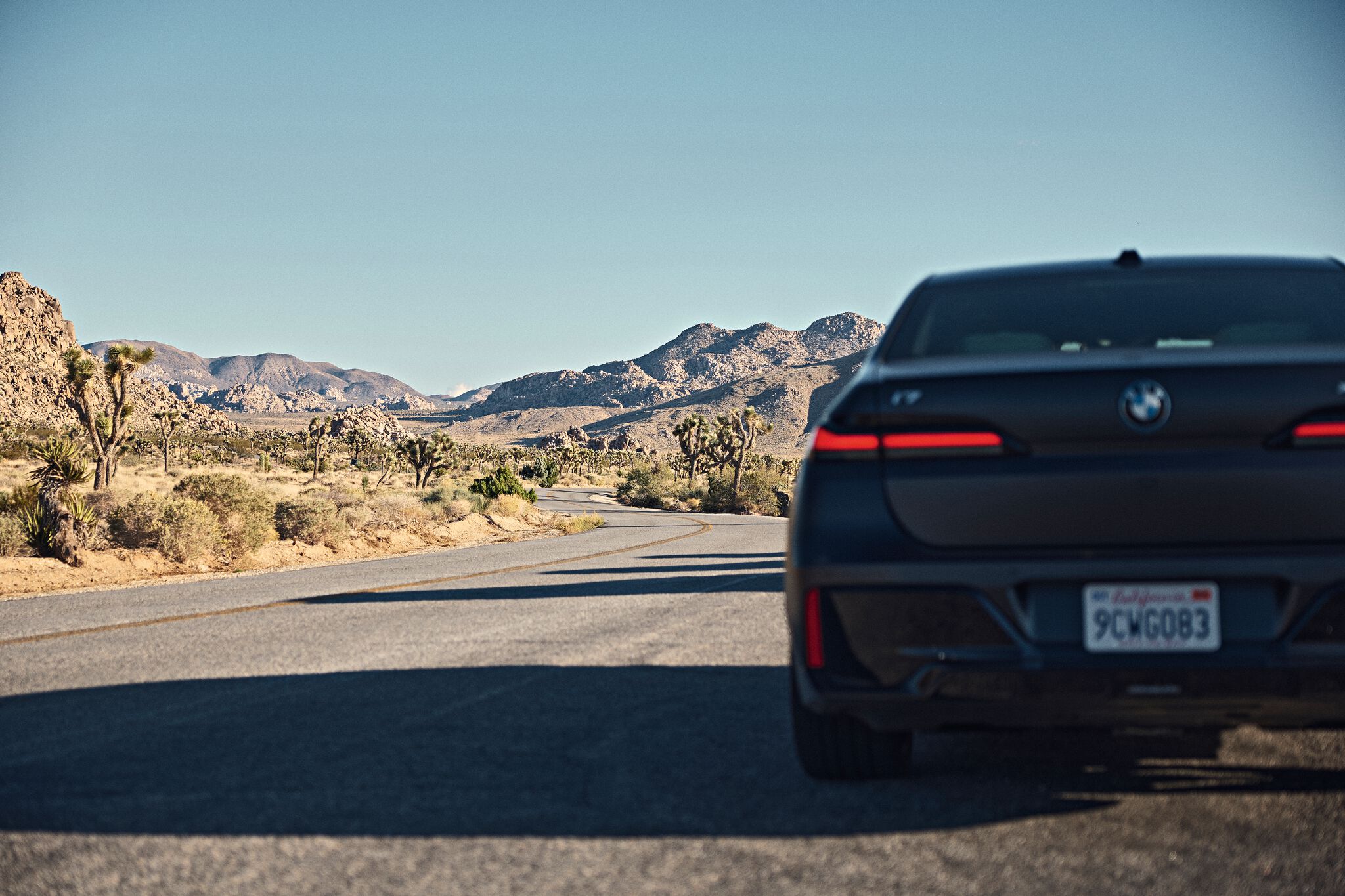 Driving the BMW i7
Perhaps it was the heat of the day, which had already been making itself felt in the morning, that melted away his will to keep himself apart from the world and to settle into a safe distance from it. In any case, he suddenly didn't care anymore about the Federal Reserve's interest rate policy, questionable behaviors in the social networks, the fault lines in society and so on. He merely felt a kind of euphoric indifference in which his life and the state of the world seemed to him as never before. The sky, he said, was a milky blue, as if a painter had taken all possible pains to cover the air with protective varnish and wrap it in tissue paper. He saw the leaves on the trees as sharply as if a surgeon had corrected his vision while he slept, the area around Palm Springs no longer looked like a desert, but as if it was expecting to be watered that very day, and he heard the Maria Callas arias that he had turned on in the meantime as clearly and as intimately as if they had been in the same room and she was singing just for him. Of course, he knew how strange it all sounded. But that's how it had been, just like that, everything as it should be, for once.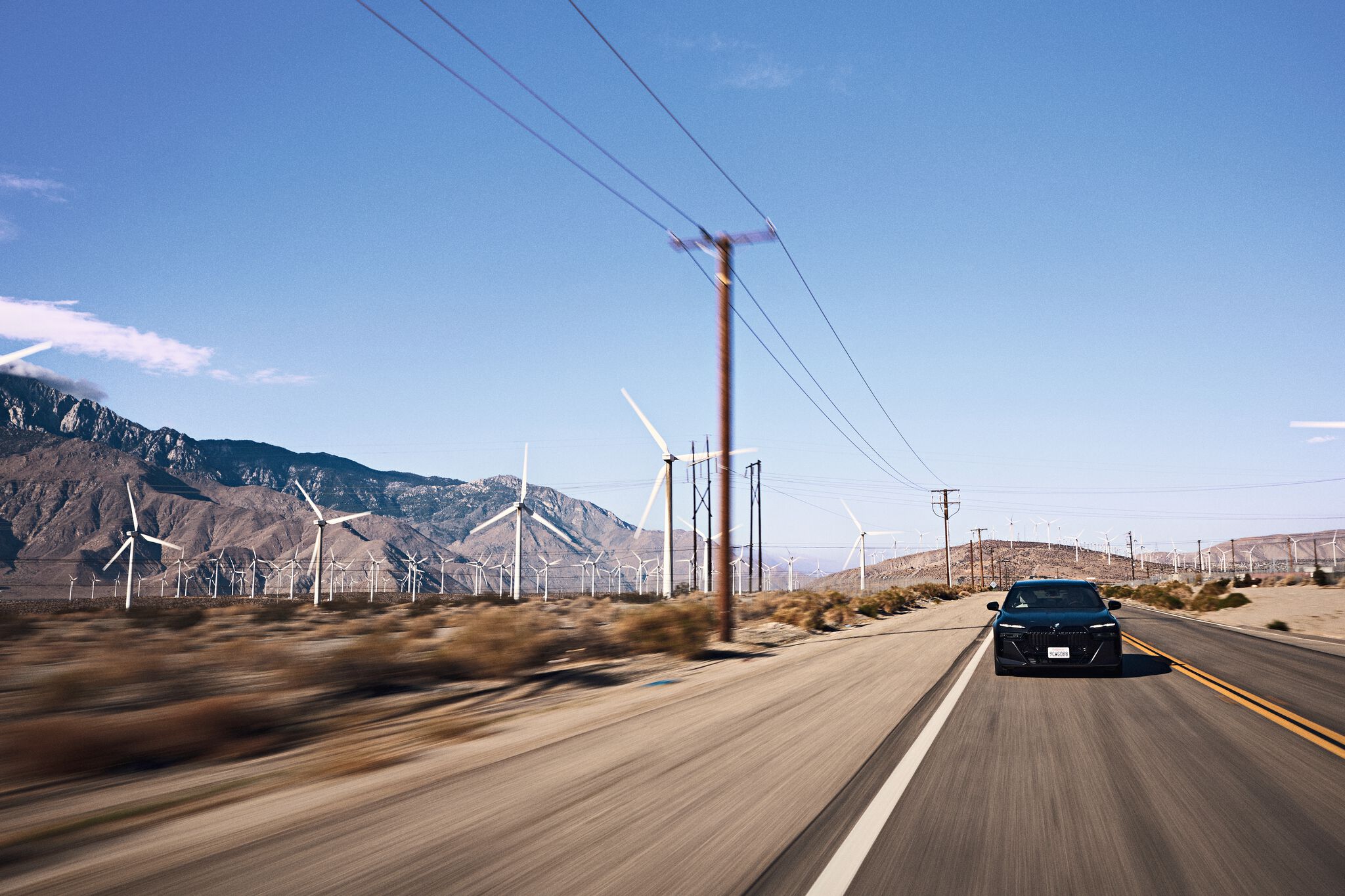 Almost the best thing, he said, was how everything seemed to function so smoothly, not only the BMW i7 he was sitting in, which he hardly noticed because it glided along so gently, one smooth movement, accelerating and decelerating as the road demanded, but everything: the sun, the beauty of the roads that crisscrossed the landscape, the birds that flew overhead. All of it, he said, was as if it had become part of him, as if he was swimming in it, you only notice the water you are swimming in when you remember that you are swimming in it. So that morning, he said, he noticed how much it had always bothered him when something didn't function smoothly, all those little glitches, holdups, jams that you have to deal with all the time, a coin gets stuck in the machine, a router suddenly crashes, the suitcase isn't on the baggage carousel, we've all been there – but this time, in this car and on this morning, he said, everything was finally the way it should be, sitting and looking and listening to Maria Callas, sometimes speeding up a little for the fun of it and enjoying how precisely the BMW responded, then switching back to cruise mode. Everything, he said, simply worked the way it should, almost as if it had been wound up. He felt as if he had merged with the cosmos. No, he had not gone crazy, he said, there was nothing to worry about. He had just had an experience that morning, for which he admittedly lacked the right words. Everything was fine. But how to say that without sounding insane?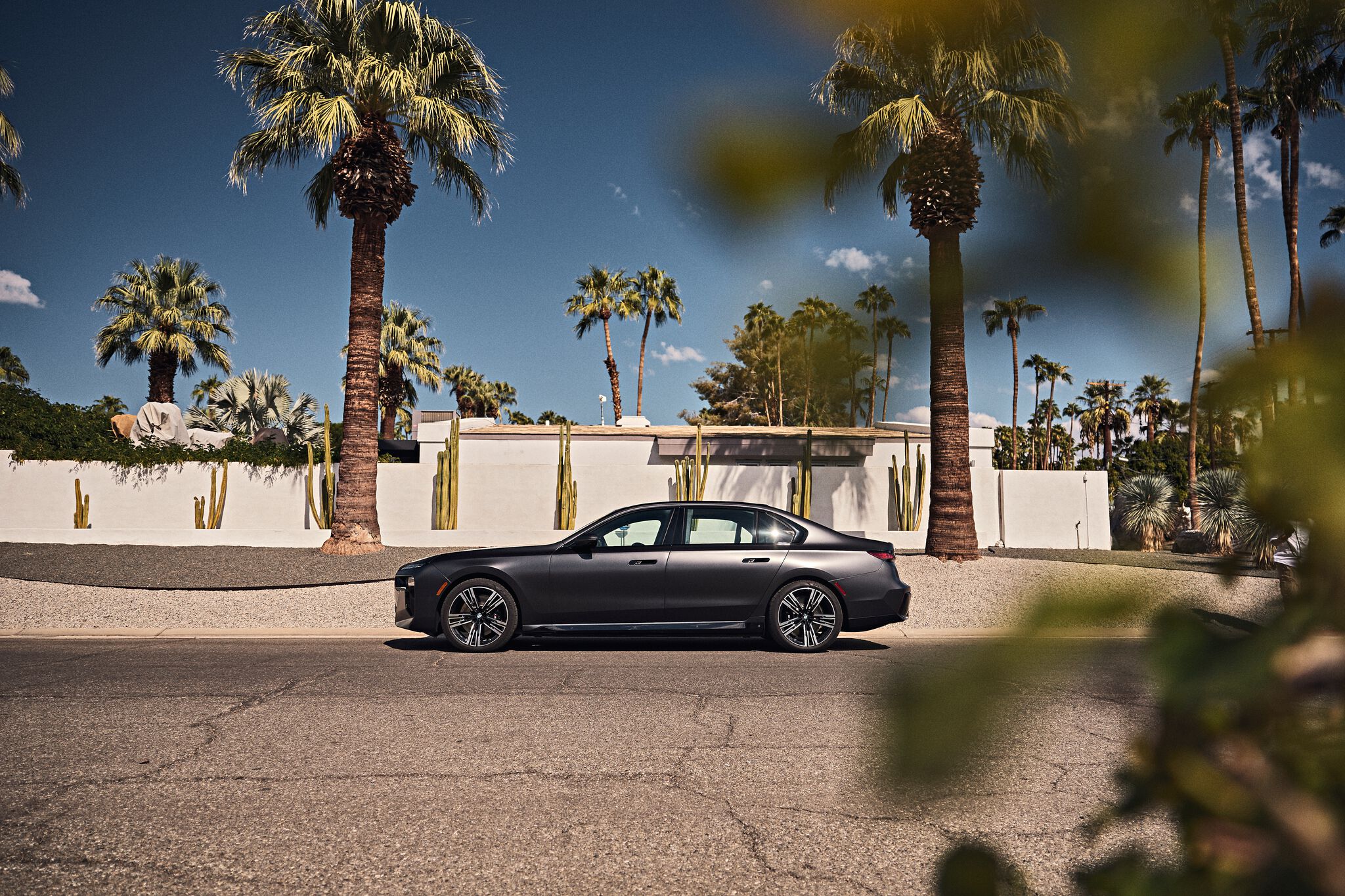 Originally, he had intended to go to the aerial tramway in order to float up over the canyon and get something to eat at the summit restaurant. But then he kept on driving, up and down through the mountains, enjoying the curves, and with each one a new view, like one of those David Hockney paintings where the perspective keeps changing. The driving itself, he said, had felt so great and good and right that he hadn't wanted to stop, that he had wanted to go on and on and for this day to never end, until, after three, or perhaps five-and-a-half hours, because even the sense of time had been lost to him, after a great circular motion, of which he had noticed nothing while gliding along, he drove back to his house, went straight into the kitchen and made some pancakes for his wife, who, for some inexplicable reason, he knew was still asleep. He drizzled the pancakes with maple syrup and tenderly arranged a heart on them with the raspberries he had mysteriously found in the fridge, me of all people, he said, like some Instagram influencer. But that morning everything was as if he was being pulled by a puppet master working an invisible string. And for once, everything was just as it should be.
Me, I said, I want that too.
Text:Peter Praschl
Photos: Fabian Kirchbauer
Assistant: Ben Breuer
ramp #59
As a high-impact multimedia brand that takes an all-encompassing, end-to-end approach to publishing, ramp is an absolutely authentic expression of quality, integrity and excellence. Its trailblazing luxury magazines, recognized with numerous awards over the past 15 years, have been celebrated for their cool and unconventional, not to mention inspiring and pioneering style, since day one.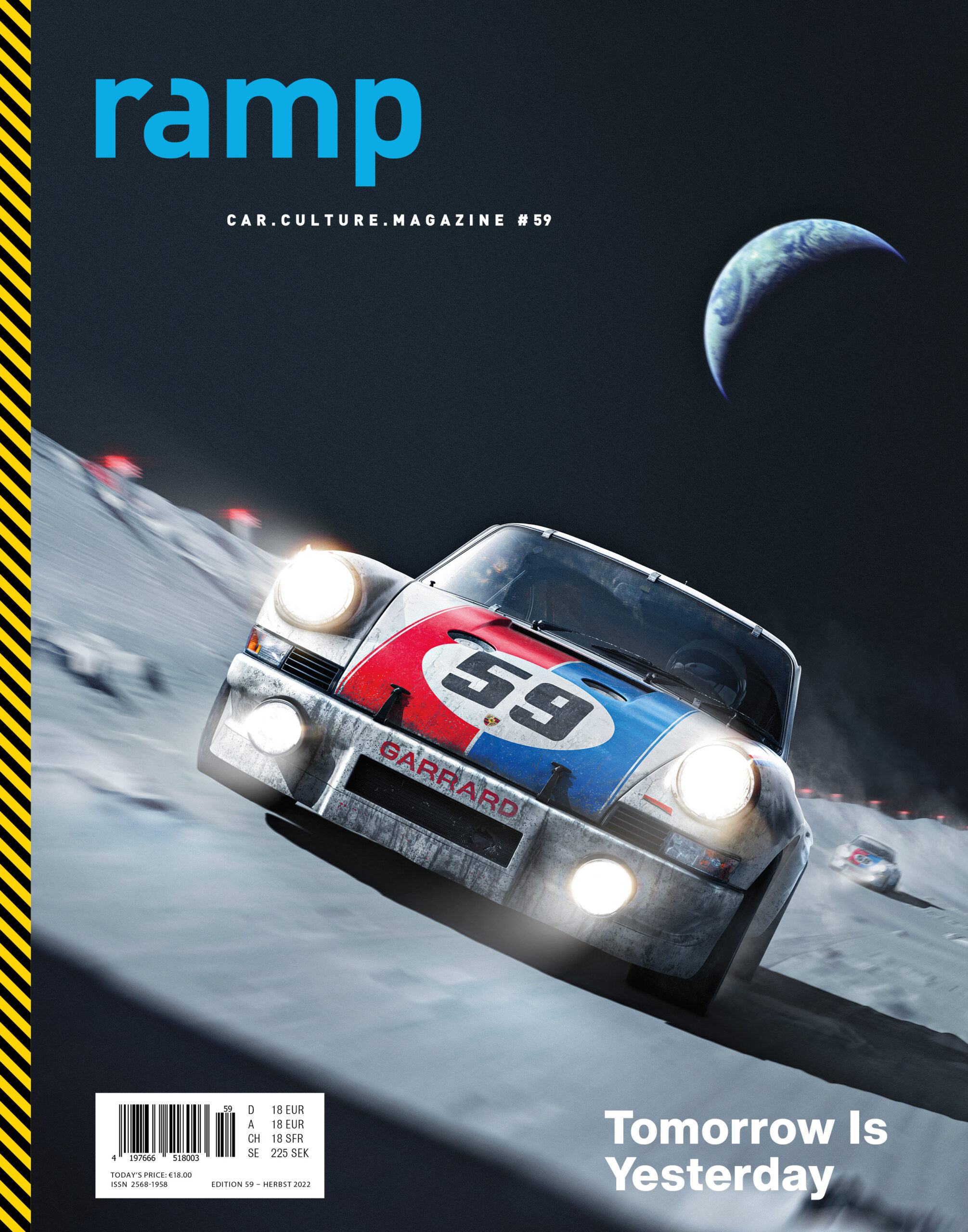 ramp, the lavish and beautifully designed coffee table magazine, celebrates the enthusiasm for cars and driving in a passionately subjective, personalized fashion.
Immediate, authentic, intense. Fresh perspectives, avant-garde imagery, with a fine feeling for nuances and the right dramaturgical mix. Always new, always stimulating. Automotive passion infused with a lust for life. The automobile in new, exciting and intense contexts, precisely tailored to the relevant target group, presented in relation to music and fashion, culture and lifestyle, design and art, science and philosophy.