Starter Arnie Cane leaps in the air as he drops the green flag for the start of the under-1500cc modified race. Ken Miles in the silver RS Porsche took an early lead followed by Jack McAfee in the old and tired 550 Spyder owned by Stan Sugarman, and Frank Monise in his Lotus XI. Miles wrapped up Saturday's 10-lap semi-main in his usual calm, gum-shewing fashion, over Monise (second) and McAfee (third).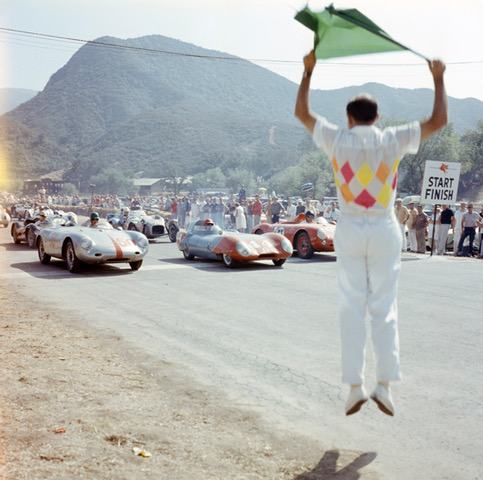 When Ken pulled the same neat trick on Sunday he was disqualified for making an illegal pit stop. Some sort of business having to do with Ken accepting a drink while rolling by his pit. He was plenty burned when the trophy went to Jack McAfee. The latter drove a very good and fast pace, considering the car he was driving might have won a race two years ago. Everyone in the pits was wishing Jack could have an RS also.
The real battle , however, was between Harry Hanford in the OSCA and Frank Monise in his Lotus. Harry and Frank were both having their problems. First of all, Harry could not figure proper tire pressure for the OSCA as the car was new to him. As a result, he was skating for a solid hour and doing a masterful job of it as well. However, he could not skate it quite fast enough to catch Frank, and here is what was going on just four seconds in front of him: it was just plain hot, and in a Lotus this is quite enough trouble to cope with, but to top this off, Frank's car was leaking a bit of oil, and the fumes were coming into the cockpit, nauseating him. Fighting off the sickness from the heat and fumes, Monise managed to hold third by just four seconds.
---
Weekend Heroes 2 is about sports car drivers, spectators and enthusiasts that made the scene in California in the 1950's. The fascinating books are not merely nostalgia ; those early years from 1950-1957 truly were magical – filled with special cars and special people , who have genuinely become our heroes. The three books are the most people focused sports car racing books ever. Photos never seen before and never published before. Almost six hundred pix in full color and over three hundred in black and white. Tony's books are all extraordinary and have never disappointed anyone. They are true masterpieces and levels above other period racing books.
If you want to order Weekend Heroes 2 here is the link: corsaresearch.com