2nd Running Paramount Ranch Road Races – November 1956: Line-up for race #4, production over 1500cc with Dan Gurney's Porsche Speedster packed between Bob Oker's fast AC Ace-Bristol and Jim Parkinson's cream Austin Healey 100S. Dan Gurney had his first road race in a Triumph TR2 at the 6th Torrey Pines where he took 3rd in class. He then bought this white Speedster and quickly established a reputation as one of those fine young drivers who is waiting for the tight ride. That ride came in the fall of 1957 when he brought Arciero's 4.9 Ferrari home second to Carroll Shelby's 450S Maserati in an SCCA National Race at Riverside. From then on, Dan never looked back and became one of America's best-known and versatile drivers. In this picture we can find Skip Hudson leaning on Gurney's Speedster.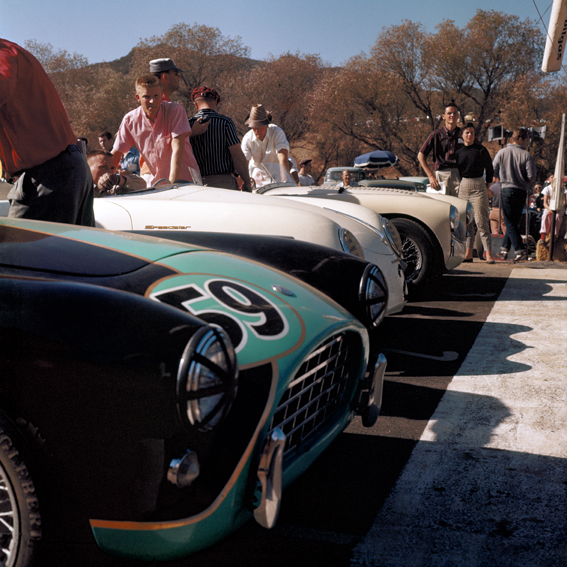 Bob Oker was a driver known for giving a very bad time to Class E production cars. Although he looked like a psychology professor, he drove like a man possessed. Highly skilled, he was capable of giving nervous prostration to any good Porsche pilot and even produced an acute case of shakes in some of the 300SL driving compartments. Here, however, driving Ed Savin's AC Ace-Bristol, he was hounded for 26 laps by rising Jack Bates in his 300SL. They finished that way, followed by Jim Parkinson in the 100S. Dan Gurney retired with a broken clutch cable.
""Tony, Well, I have my copy of WH2 & I am absolutely delighted. I can't believe how good it is & I don't want to put it down. You should be congratulated on producing one of the best books on motor racing of all time. Huge congratulations & kudos to you & of course thanks for allowing us to share it. I really cannot stress how pleased I am, especially with the photo & comments on my father. Every page brings another joy. Thank you so much!" – Stephen Payne
---
Weekend Heroes 2 is about sports car drivers, spectators and enthusiasts that made the scene in California in the 1950's. The fascinating books are not merely nostalgia ; those early years from 1950-1957 truly were magical – filled with special cars and special people , who have genuinely become our heroes. The three books are the most people focused sports car racing books ever. Photos never seen before and never published before. Almost six hundred pix in full color and over three hundred in black and white. Tony's books are all extraordinary and have never disappointed anyone. They are true masterpieces and levels above other period racing books.
If you want to order Weekend Heroes 2 here is the link: corsaresearch.com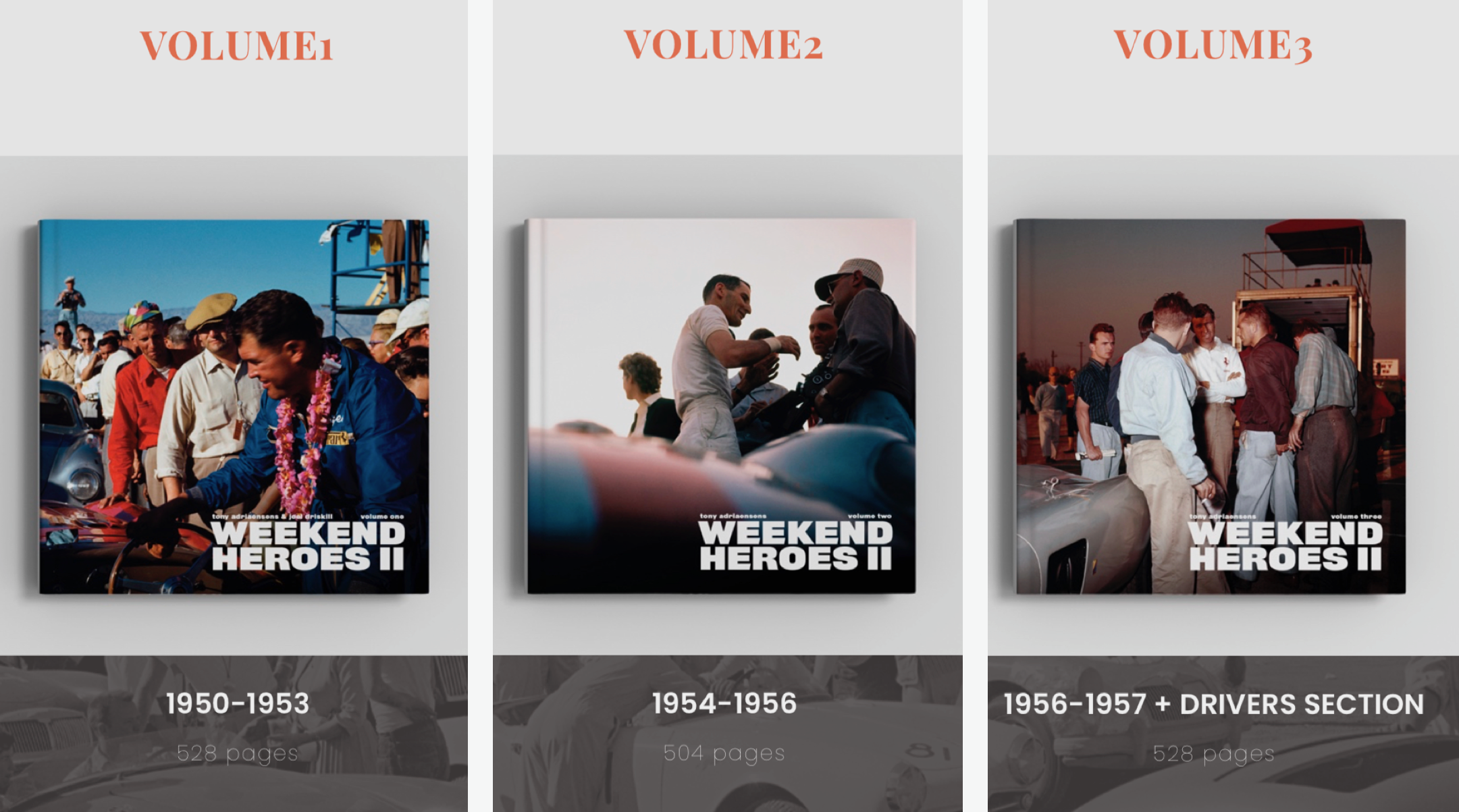 Report by Tony Adriaensens/ collectorscarworld.com
Photo by The CPA Collection
---