November 1956 : The first race at Paramount Ranch in August was acclaimed by most drivers as the only track to ever match the one at Torrey Pines and one that was looked forward to for good competition. Only senior drivers were accepted to race as the circuit was considered too dangerous for the novice.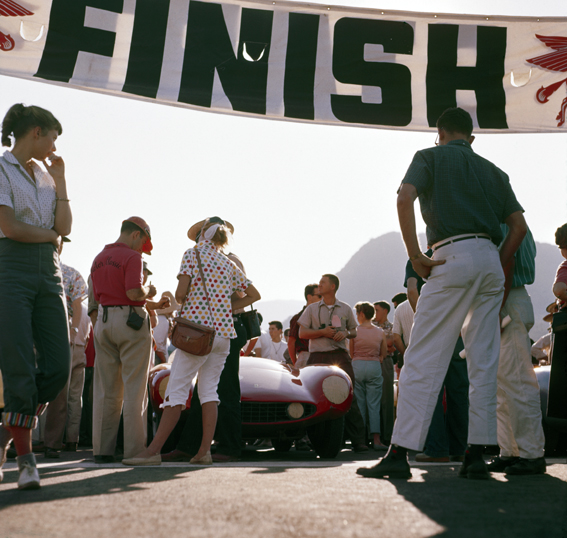 The Saturday program with only two races was rather uninteresting , but most of the day was contributed to practice for which the drivers have been waiting a long time.Half way through practice , Bill Pollack had his thrill for the day when the Corvette he was driving began to overheat.To complicate matters , the right rear brake was locking and the clutch was slipping. After nearly losing it on a turn, Bill decided to bring it in, but, coming through a 90 degree turn, more woes developed when the floor carpet blew over the brake pedal as he put his foot down. He went into the turn at 85 mph, about 40 mph too fast. Rather than hit the hay bales and possibly flip over , Pollack shot off the road on the other side and went straight up the mountain. When he reached the timberline he wiped the car around to avoid the trees and started right back down the mountain. St. Christopher was watching over him as he wound up in a ditch without a scratch. Jean-Pierre Kunstle bought John Edgar's Sebring Porsche RS for 6500 $ and towed it to Paramount to practice for Sundays event. When he brought his new Spyder in, Ken Miles , Ritchie Ginther, Skip Hudson, Dan Gurney and a dozen other including even the starter, Cy Yedor, offered help, tires and parts to Jean-Pierre enabling him to practice.
I love Joe Smith's creative approach to make "dramatic" pictures, like this one on the ex-von-Neumann Ferrari Monza of Harrison Evans, winner of the inaugural Paramount Ranch Road Races in August. He was the laugh of the day here when he ran out of gas on his first qualifying run. Unfortunately he had to retire early in the main with brake trouble.
---
Weekend Heroes 2 is about sports car drivers, spectators and enthusiasts that made the scene in California in the 1950's. The fascinating books are not merely nostalgia ; those early years from 1950-1957 truly were magical – filled with special cars and special people , who have genuinely become our heroes. The three books are the most people focused sports car racing books ever. Photos never seen before and never published before. Almost six hundred pix in full color and over three hundred in black and white. Tony's books are all extraordinary and have never disappointed anyone. They are true masterpieces and levels above other period racing books.
If you want to order Weekend Heroes 2 here is the link: corsaresearch.com