The all-electric, record-breaking monster that is the Volkswagen ID.R will emerge from retirement in October for a one-off appearance at our once-in-a-lifetime Goodwood SpeedWeek presented by Mastercard. The goal? To break the Motor Circuit's outright record.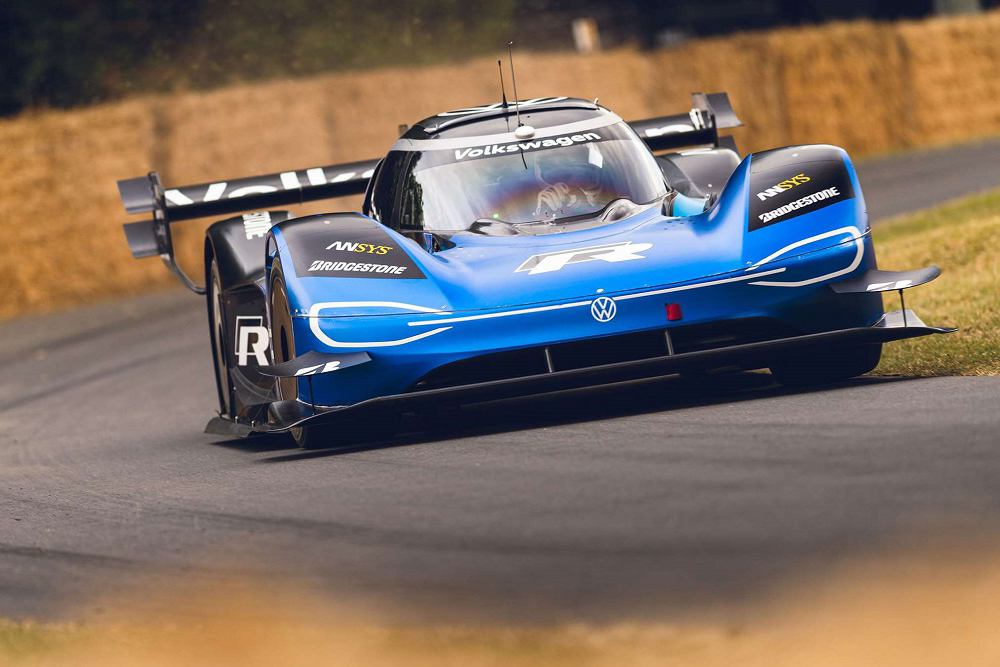 That's right, the car that obliterated the Festival of Speed presented by Mastercard Hill record in 2019 is having its batteries recharged once again after a year-long hibernation, this time to take on the Goodwood Motor Circuit and its outright lap record. The period record, set before the circuit closed in 1966, is a 1 minute 20.4 seconds set by Jim Clark and Jackie Stewart in a non-championship Formula 1 race 1965. The modern record is a 1 minute 18.217 seconds set by Nick Padmore in a Lola T70 Spyder at the 2015 Revival.
The ID.R's last outing was when it set a record on the Tianmen Shan Big Gate Road, China, in September 2019, having made the trip to Goodwood and before that having broken records at the Nürburgring and Pikes Peak. It's fair to say that Volkswagen is rather happy to get the ID.R out and about once again, and keen to see if records can be broken on the circuit as well as the Festival Hill.
"For decades, Goodwood has been a real attraction for motorsport enthusiasts all over the world, and we are delighted that the organisers have launched SpeedWeek in these very challenging times," said Volkswagen Motorsport Director Sven Smeets.
"As one of the few automobile events to take place this year, SpeedWeek offers extensive coverage. This way, we can once again demonstrate the fantastic development of electromobility at Volkswagen to an audience of millions, even if it can unfortunately only be on TV and via livestream this time."
In case you're unfamiliar with the ID.R's visits to Goodwood, let us jog your memory. In 2018, the Pikes Peak ID.R with Romain Dumas at the wheel set a time of 43.86 seconds, the third fastest time in Festival history and the fastest time of the 2018 Festival weekend, also becoming the first EV to win the Timed Shootout.
In 2019 the ID.R returned, this time with smaller, lighter batteries and a set-up specifically for Goodwood, and went faster almost immediately. In dry conditions on Saturday afternoon the ID.R clocked a time of 39.90, the fastest time ever, and in damp conditions for the Timed Shootout on Sunday it crossed the line in 41.18 seconds.
We're beside ourselves with excitement, and we hope you are too. And remember, Goodwood SpeedWeek is a one-off event and will be broadcast in full and for free on Friday 16th-Sunday 18th October 2020. Want to find out more? Read Goodwood's handy guide 'what is SpeedWeek' here.
Report by goodwood.com
Photos by Nick Dungan and Jordan Butters
---