Located in the north-western state of Rajasthan, India, the echoes of history reverberate through Villa Palladio. This region once hosted a segment of the ancient Silk Routes, fostering a cultural interchange that persists in the present day through commodities, art, craftsmanship, and concepts. Villa Palladio, the latest boutique property in Rajasthan, evokes the notion of a caravanserai, akin to the inns that dotted the Silk Routes, offering sustenance and respite.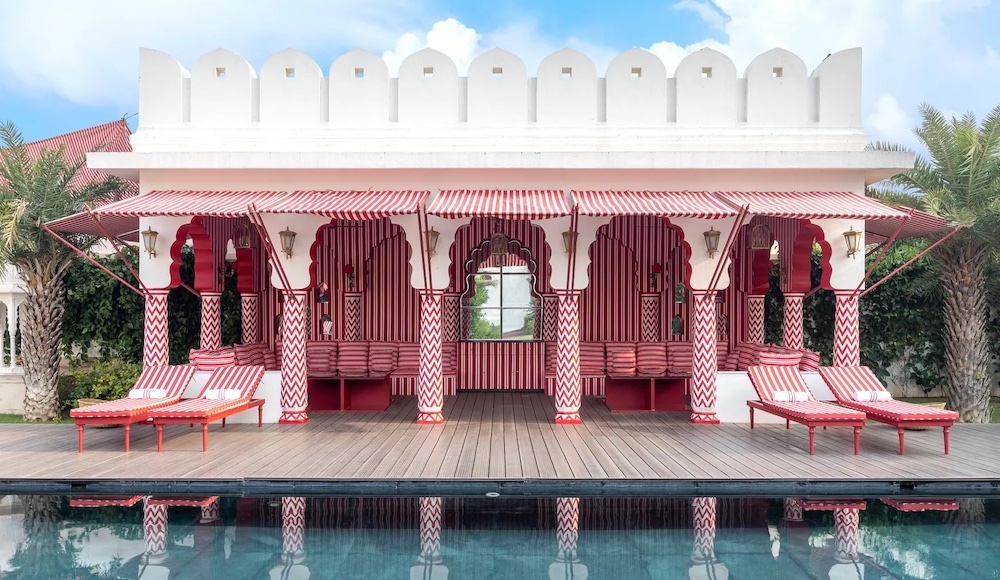 Pioneered by the collaboration of Barbara Miolini, a Swiss-Italian ex-pat, and her Danish partner Marie-Anne Oudejans, this marks their third endeavor. Their initial project in Jaipur, Bar Palladio, a delightful lounge infused with vibrant colors, garnered a devoted following since its inception. Its triumph sowed the seeds for a boutique hotel. In 2019, on the outskirts of Jaipur, within an ancestral estate, Miolini and Oudejans found the perfect canvas for their vision. After three years and an intervening pandemic, Villa Palladio materialized, a harmonious fusion of craftsmanship, hues, and narratives; a place boasting a dramatic and almost Baroque design that arrests the beholder.
Nestled in Sumel village, a mere 10 miles east of Jaipur city, just off the Jaipur-Agra highway, Villa Palladio stands at the terminus of a single-lane road. Approaching at night, the Aravalli hills silhouette against a starry navy sky, seemingly ushering you into a bygone era of tranquility. Near Sumel Hill, the fortified walls of the hotel's 1980s architecture emerge from sun-soaked ochre terrain, enclosing expansive grounds, watchtowers, and a central edifice. Behind them, Kanota Lake glistens under the Jaipur sun.
While Villa Palladio's foundation may rest in traditional haveli design, Miolini and Oudejans have transformed its essence into a modern celebration of beauty. Their distinct style, characterized by monochromatic palettes, jewel-toned hues, a strong emphasis on artisanal craftsmanship, and a blend of local and international aesthetics, permeates the space, conjuring an almost fantastical ambiance. And throughout, a vibrant red hue pervades.
Rather than connecting with the external world, the nine-room property becomes a self-contained realm: a fairy-tale-like miniature castle adorned with turrets and intricately carved marble trellises, set within three acres of land. Rooms face inward, overlooking meticulously designed grounds that draw inspiration from the Indo-Persian rectilinear layout emblematic of paradise gardens in Islamic theology. Jasmine trees hug the walls, rose bushes fill organized quadrants, palm trees sway languidly in the evening breeze, and fountains of rose petals cheerfully animate black-and-white checkered marbled courtyards.
The haveli's architecture results in a grand central hall with impressively high ceilings in the main building. Light filters through elaborately carved jalis and stained-glass windows, accentuating intricate details and ornamentation. Every feasible surface is adorned with hand-painted vines, ferns, and flowers that flourish exuberantly from walls and lofty archways.
From this splendid atrium, candy-striped corridors lead to superior rooms and suites, where canopied beds harmonize with walls embellished by Rajasthan's iconic floral block-print motifs. The suite opens through an arched doorway into a private sitting area and a bedroom adorned with hand-painted walls and inlaid marble flooring. The bathroom boasts a generously sized freestanding bathtub and a shower enclosed by a carved marble jali. I had the pleasure of residing in one of the Torre Belvedere rooms, distinctively positioned away from the main building. Originally serving as guards' quarters, these whimsical octagonal spaces are smaller than others, yet they possess the sole private terraces, ideal for illuminated soirées as winter approaches.
Breakfast unfolds on the enchantingly picturesque covered balcony of the main building. Here, the prevalent red tones adopt a lighter and more subdued quality, juxtaposed against the azure sky and vistas of verdant hills. The breakfast selection is continental, lunches are hearty and uncomplicated, often inspired by Italian cuisine, while dinners feature Italian, Indian, or specifically Rajasthani fare. Embracing the Rajasthan experience, ordering a thali, a diverse assortment of dishes, seems fitting. The kitchen showcases seasonal produce and custom-milled flour for enhanced lightness and flavor.
Behind the main building lies a secluded garden oasis that unveils a pool house reminiscent of a circus tent meeting a shamiana, overlooking a pool and a deck. Adjacent, a petite spa offers Tibetan treatments, yoga sessions, a sauna, and a meditation room. The fervor of Rajasthan's capital is a brief 20-minute drive away, as are the Jhalana and Amagarh reserves, known for their leopard sightings. However, my inclination was to bask in the intense and rouge beauty of Palladio.
Click here for further information
more information: villa-palladio-jaipur.com
---