During the 1970 Formula One season, after he became disenchanted with the poor performance of the March Engineering chassis and under pressure from Matra demanding he cease using Ford engines, Ken Tyrrell decided to build his own racing car. After employing designer Derek Gardner, the first Tyrrell F1 car was built in complete secrecy at Gardner's home as the team continued racing with the March chassis in the meantime. Thus, the Tyrrell 001 was born.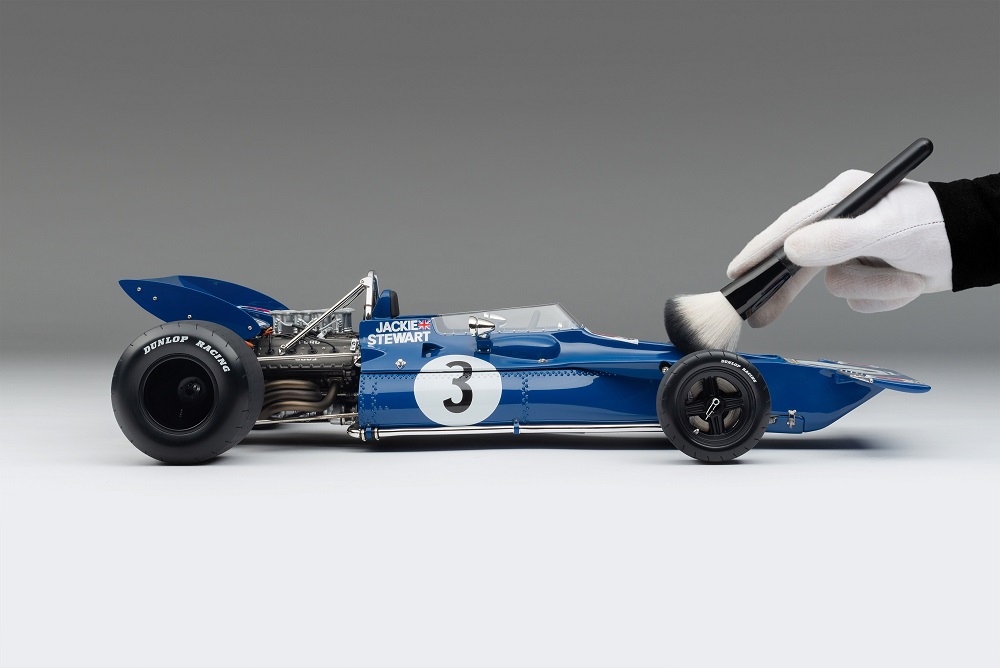 The 001 made its debut at a non-Championship race, the Gold Cup meeting at Oulton Park, significantly surprising the attending crowd and particularly Tyrrell's competitors. Jackie Stewart comfortably set the fastest lap in the first heat, but the car failed to get a good result, suffering from many fuel system problems. The 001 would go on to appear in three Grand Prix at the end of the season, display searing pace but continuing to suffer from mechanical unreliability. Whilst the 001 proved to be undependable, the groundwork it laid was fruitful and the cars for the next season, François Cevert's 002 and Stewart's 003, stormed to the 1971 Constructors Championship title and claimed Stewart's second Drivers title.
This 1:8 scale model is as raced by Jackie Stewart at the 1970 Canadian Grand Prix. This historic Formula One model comes with removable covers to display the supremely detailed interior of engine, cockpit and radiator.
---
Report by amalgamcollection.com
---