This summer's Silverstone Festival will celebrate the 75th anniversary of America's legendary NASCAR race series with thrilling track demonstration parades on all three days of the spectacular bank holiday weekend (25-27 August).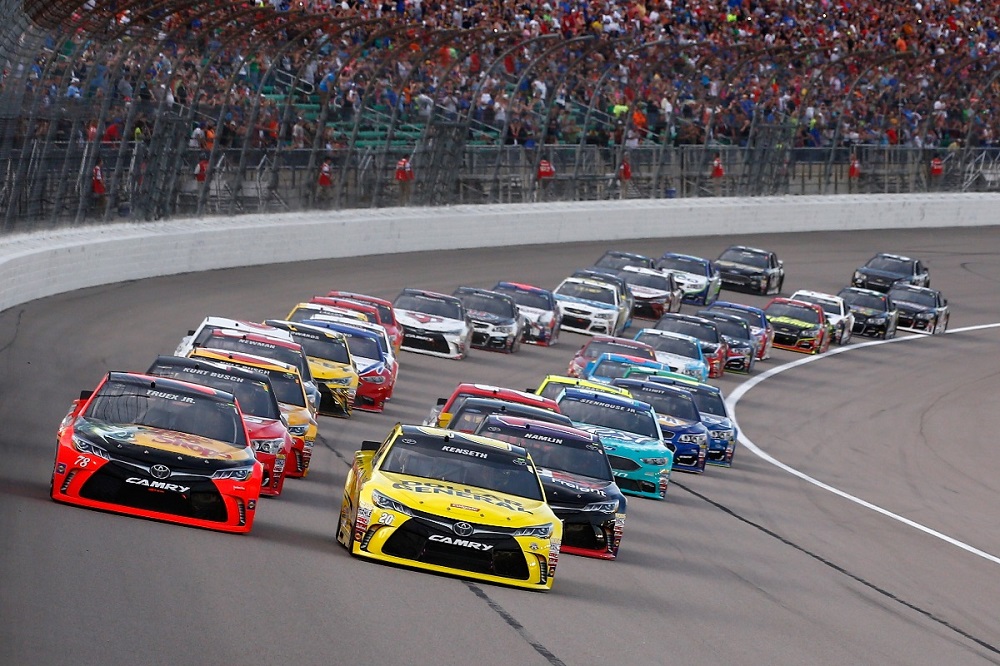 It will be the very first time that a posse of 800+bhp muscle cars from the US's most popular and dramatic motor sport have been unleashed on the famous Grand Prix circuit. These are rip-roaring sights and sounds not to be missed as they take to the track for demonstration parades each day at lunchtime!
The amazing line-up of fearsome V8-powered monsters will include more than a dozen 200+mph stock cars, all in iconic liveries and all with genuine NASCAR racing heritage dating back to between 1990 and 2015. When they're not on track, they'll be based on pole position, on display in the International Paddock.
All the great brands will be represented – Chevrolet, Dodge, Ford, Pontiac and Toyota – with big-hearted beasts raced in period by top guns such as Clint Bowyer, Kurt Busch, Robby Gordon, Bobby Labonte, Ricky Rudd, Tony Stewart, Bubba Wallace and four-time champion Jeff Gordon.
One of these – the bright blue ex-Clint Bowyer #15 2014 Toyota Camry (photos below) – is today owned by Andrew Jordan, himself a former British touring car champion.
"I really bought the car to do the Classic 24 Hour race at Daytona in November, so having the chance to demo it at Silverstone in the summer is a big bonus," said the 2013 BTCC champ.
"It's going to be very different and very cool to have a group of them on track at the Festival. Being so fast, so noisy and totally unlike anything else on show, they are certain to get lots of attention."
Stock car racing in the States can trace its roots right back to the Prohibition era when, to outrun law enforcement running moonshine on country roads, bootleggers started souping-up and stripping out showroom cars.
Not surprisingly, with all these modified machines around a number of these now redundant bootleggers started to race each other following the lift of the alcohol ban in 1933. They also started to get paid for going door-to-door at high speeds in front of growing crowds at local fairgrounds and speedways.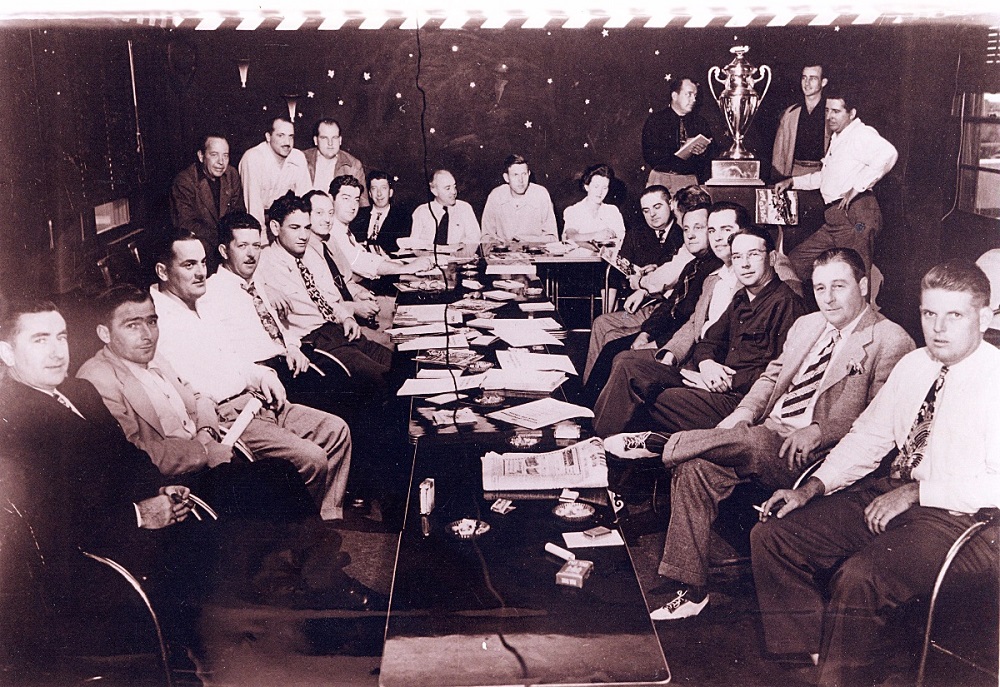 After motorsport took a break during World War II, the National Association of Stock Car Auto Racing (NASCAR) was founded in 1948 by the fabled Bill France as an organising body (photo top below: the inaugural meeting in Daytona Florida organised by Bill France to conceive NASCAR – credit Getty/NASCAR), and a proper professional race series was created for many of these ex-moonshiners.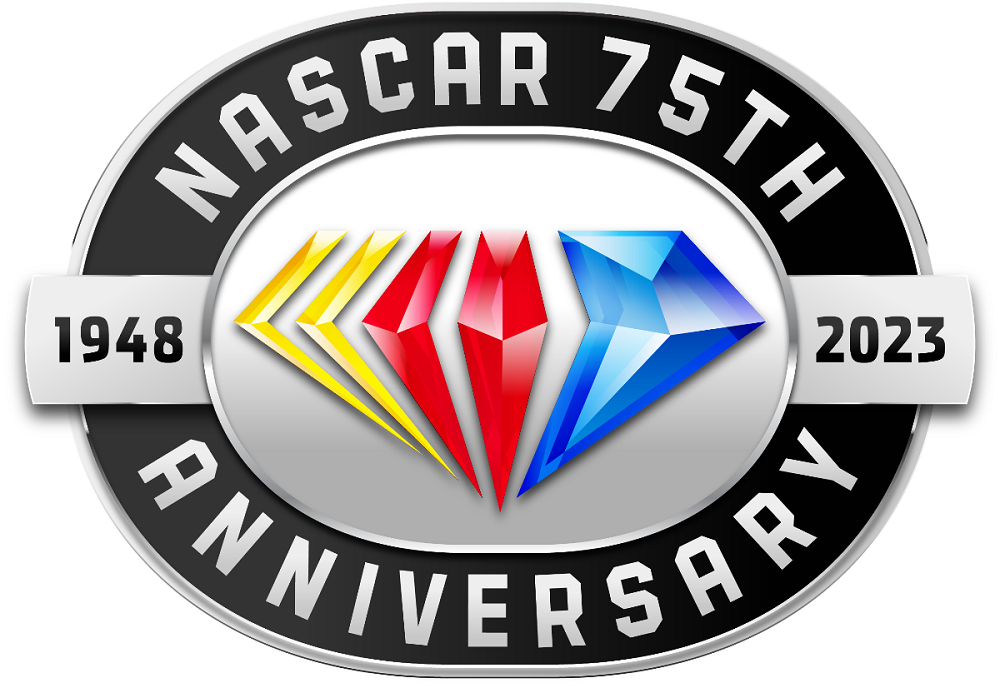 Over the following 75 years the cars have evolved to enhance both safety and performance but the regulations have always stayed loyal to the fundamental ethos of a big V8 engine up front powering the rear wheels, all housed within a familiar showroom-appearing body. It's a stunning formula which has proven both hugely popular and profitable over the eras attracting a massive fan-following throughout the US.
"Rather like Baseball and American Football, NASCAR is a  mega sport in the States which stirs up substantial interest overseas – that's why it's so exciting to be celebrating this special anniversary on track at Silverstone Festival," explained Nick Wigley, Event Director.
"It's a very topical milestone as we are also celebrating the 75th anniversary of Silverstone itself at this summer's Festival as well as the 75th birthdays of two of the greatest sporting marques, Lotus and Porsche, plus Jaguar's brand-defining XK120. In so many ways 1948 was clearly a very special year in motoring and motorsport history on both sides of the Atlantic."
The F1 FanZone, Foodie Fest, Funfair, Adrenaline Zone and live music from McFly, the Sugababes, ABC, and The Christians are also among the highlights on offer free to all ticket-holders.
For those following the weekend's amazing programme of 20 incredible retro races, access to open trackside grandstands and both racing paddocks is included, too.
A wide-range of tickets for the Festival are available, including camping and VIP hospitality options. Full details can be found here.
If you are interested in more news click here.
---