Watches and cars have a long intertwined history, often influencing each other's designs, but it is rare for an automobile manufacturer to directly take a shot and draw up their own watch. Storied brands like Land Rover have more experience designing and engineering everything from the overall form of a car to a radio volume nob, all items that humans will interact with.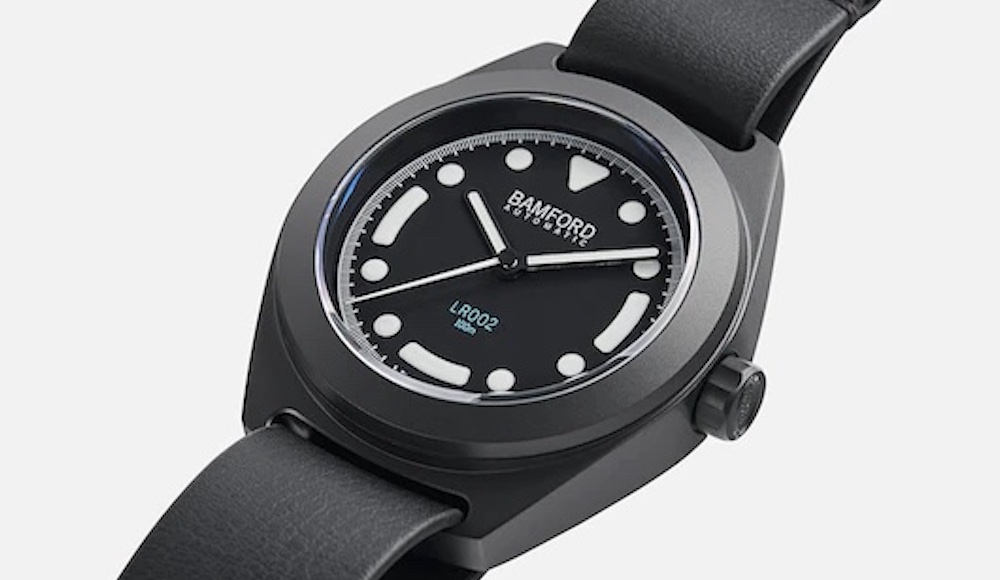 It makes sense then that this experienced design team could bring something interesting to a wristwatch, an item that we all must appreciate both visually and tactilely. Land Rover originally made its name as an off-road capable vehicle painted in military surplus colors, giving a strong military feel to those early cars. They were cars inspired by the Jeeps of WW2 but brought forward to civilian life.
The LR002 uses the same overall aesthetic as the original LR001, a straightforward field watch that takes cues from earlier military watches and tweaking them for daily wear – a similar story to the Land Rover Defender that inspired this watch. Land Rover took their concept and went to the Bamford Watch Department, a group known for customizing existing watches, and producing their own line of exciting watches – including a couple of Snoopy watches for our own limited editions. For the second time around Bamford took the LR002 and made it ready for a night mission with a blacked-out titanium case that is DLC-coated.
The white lume is easy to read day or night and is paired with a black strap to complete the dark theme. There is a touch of Bamford blue on the dial with the watch name and the water resistance of 100 meters printed out on the bottom half of the dial. The Selita SW-2001B movement inside is a tried and true automatic movement with 41 hours of power reserve that is sure to keep this watch reliable ticking away. Coming in at 40mm x 13.25mm this watch sits in the middle of the most popular sizing and should prove easy to wear on most wrists.
Skipping the traditional spring bar lugs for fixed bars is a nod to old military watches, ensuring that with a NATO-style strap, the watch will be extra secure on the wrist no matter the adventure ahead. Grab one, hop into your Land Rover, and head out for adventure.
THE BACKSTORY
Land Rover designed the original LR001 based on the legendary Defender model and asked the Bamford Watch Department to bring it to life. The result was a limited run of 100 watches that quickly sold out and created a demand for an encore.
This time with a blacked-out version that has a bit more contrast and drama to it than the original monotone grey LR001. Powered by the ever-reliable Selita SW200-1B this is a watch collaboration that celebrates the rugged nature and ties the history of a Land Rover Defender to a military field watch.
Click here for further information 
more information: hodinkee.com
---