The Tourist Trophy on the Isle of Man is the most dangerous motorcycle race in the world. Our author flew to the island territory, where he met up with Klaus Klaffenböck. The three-time TT sidecar champion is sometimes surprised himself that he is still alive.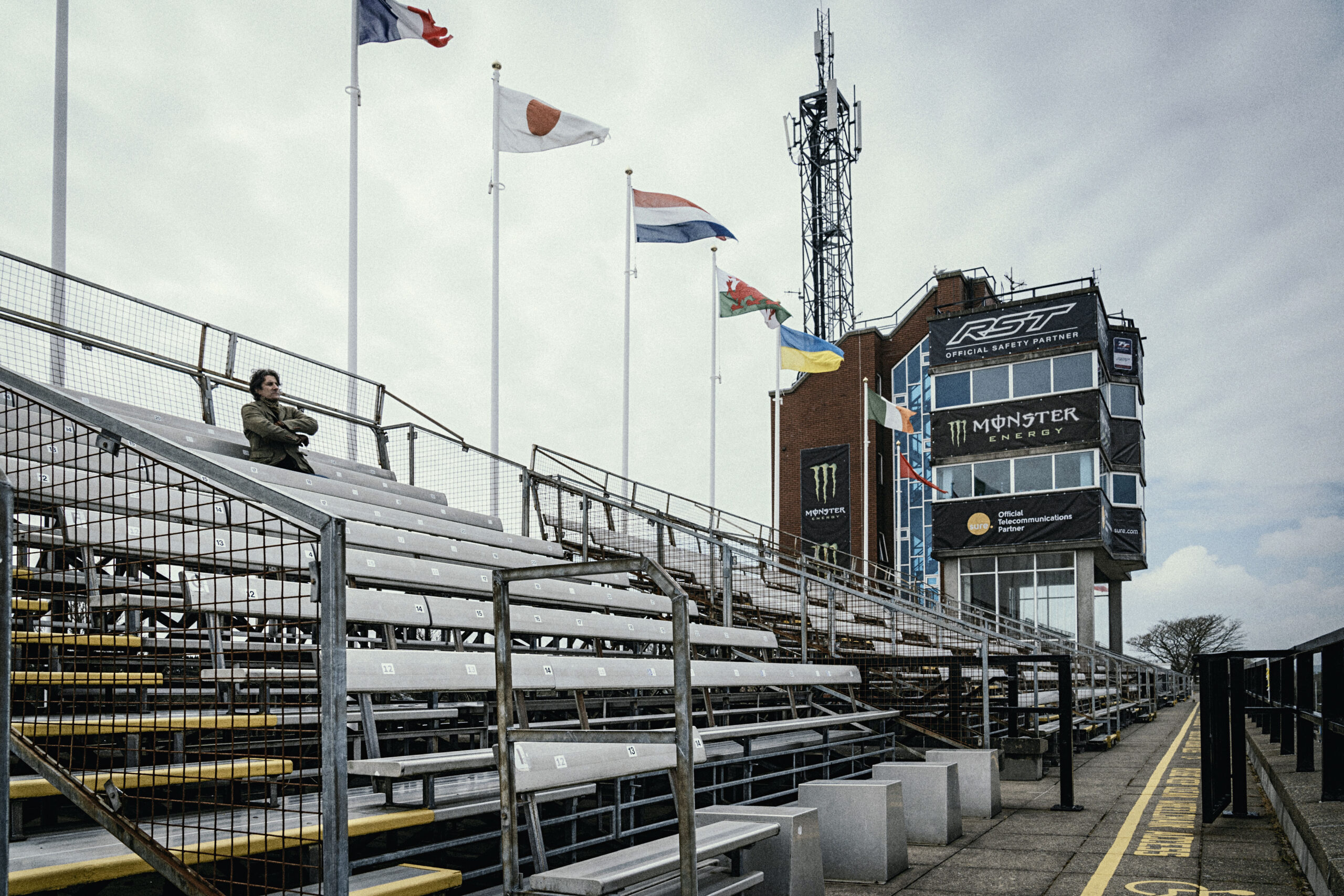 My Specialized e-bike is black as death. A fitting color. I'll be riding the bike from Douglas, the capital of the Isle of Man, via St. John's up to Ramsey. From there, it's not far into the mountains, where the Snaefell Mountain Railway crosses the road. Continuing south, I eventually come back to Douglas. In the end, I will have covered exactly 60.72 kilometers. My route follows that of the Tourist Trophy – the Verdun of motorsport. 267 dead. So far. Because the dying, that much is certain, will continue. Six bikers bit the dust last year alone. Two of them riding solo. Four in sidecars. This year it was "only" one. A person who enters this race could easily be considered to have a death wish.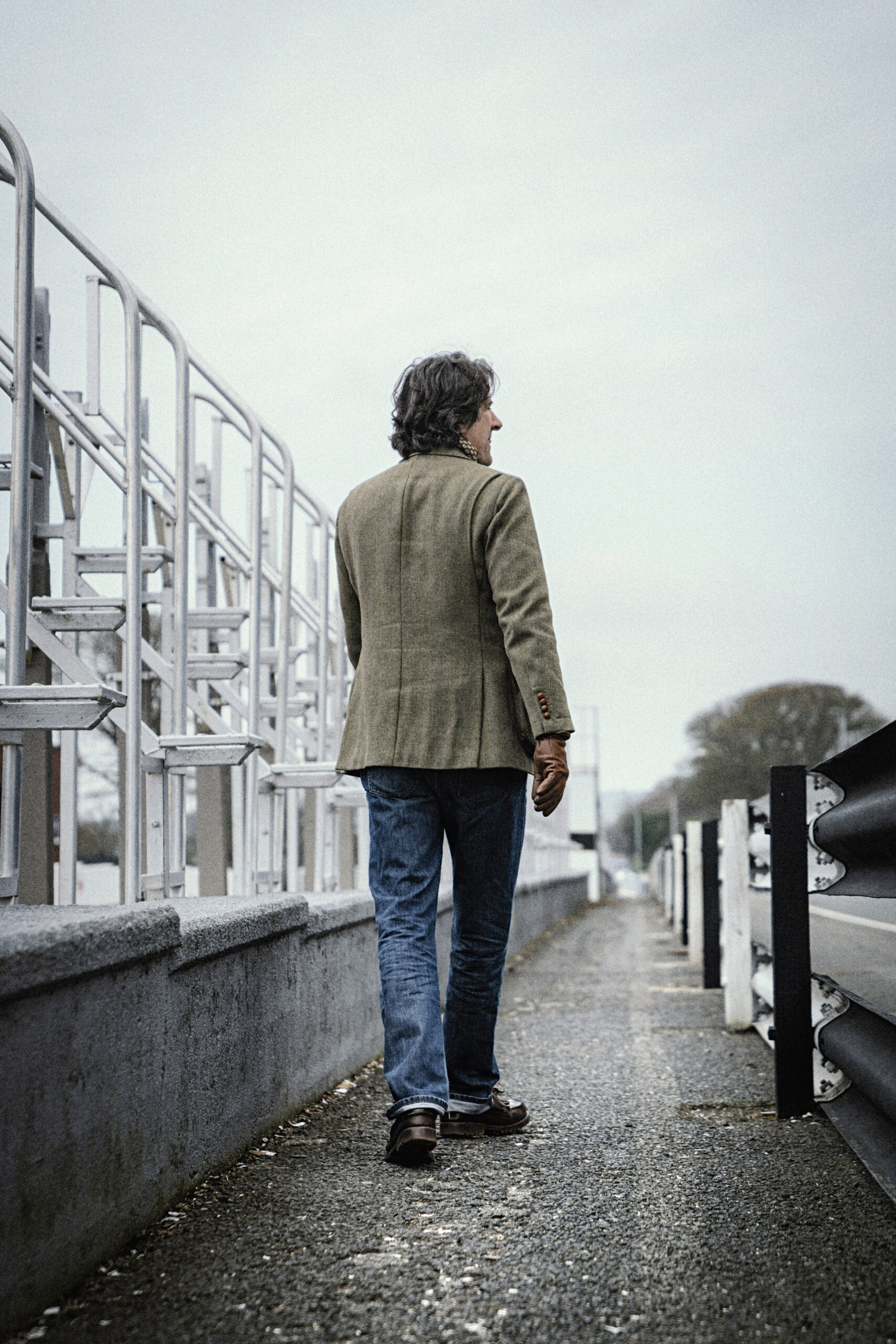 I love motorsport. Both automobile racing and motorcycles. If there was no motor racing, I wouldn't have wanted to be born. I've been to Le Mans. I've been to Indianapolis. I've been to Monaco. My Triple Crown. But I've never been to the Isle of Man, to the most dangerous motorsport event in the world. Because I've never wanted to see the carnage up close. Of course, I would love to see those guys blasting through the villages at 290 km/h, in between all the curbs, houses and telephone poles. It looks wild enough on YouTube. In reality, however, the experience must be an eye-opener for those of us who have been incurably afflicted with the racing virus. You would be witness to how the madness transcends itself, so to speak – with even more madness. Crazy! But I would never want to see one of those daredevils get knocked down by a bump in the road, smash against the next concrete wall and lie there motionless because all the bones in his body have been shattered and his insides have been turned to pulp, his skull nothing but mush inside and the blood running out of the bottom of his helmet. If you're unlucky, you're standing only a few steps away having the shock of your life. And if you're really unlucky, either the bike or the rider (or both) fly into your face and take you with them into the wall. And then you go down in the history of the Tourist Trophy as a sort of human crumple zone, leaving you even worse off than the unlucky rider himself. And you wouldn't be the first!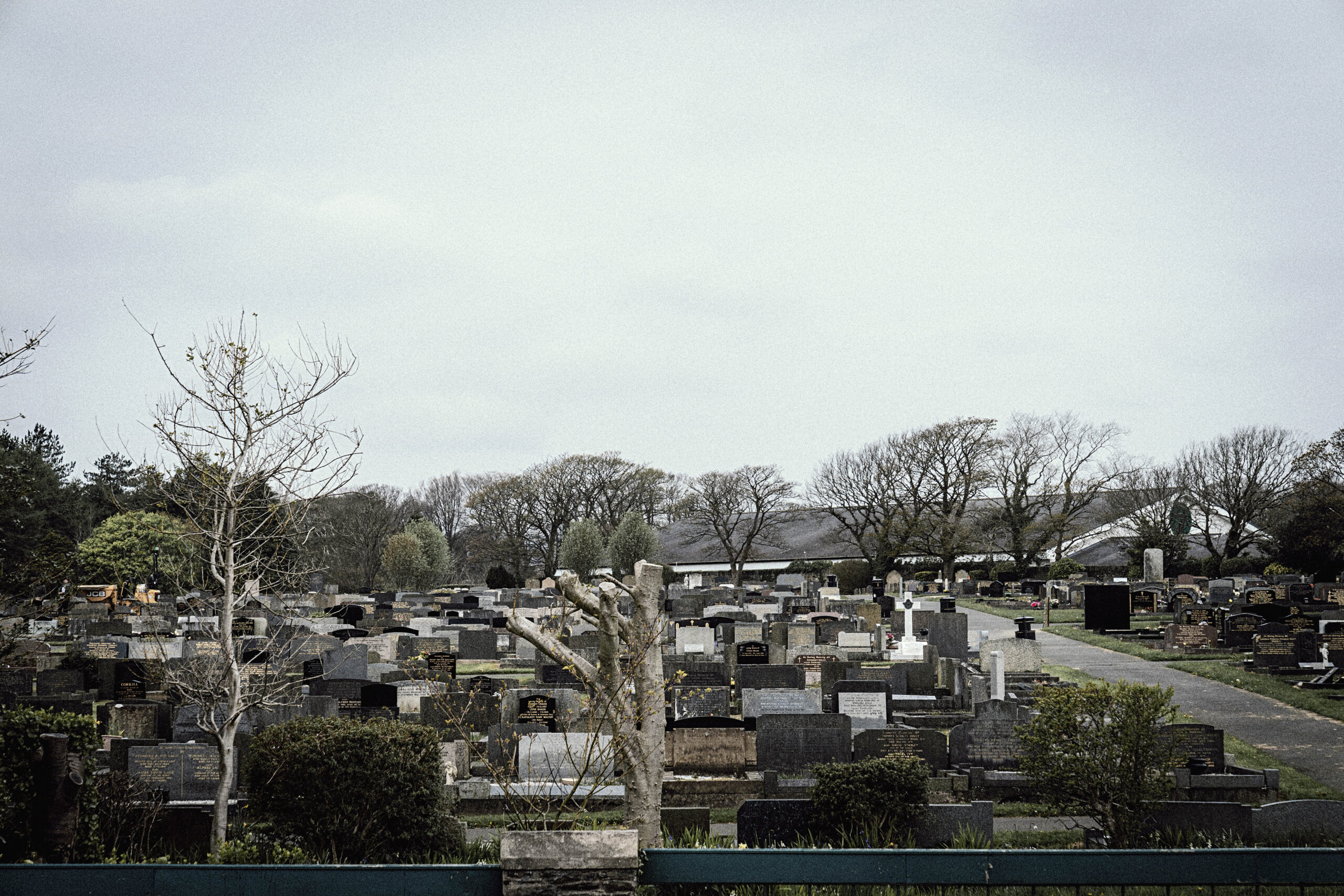 But is it really conceivable that I would never in my life set foot on the mecca of motorcycling? Every year I ask myself this same question. A constant hemming and hawing: well, sure, okay, or, actually not, but . . . This time, finally, I was able to give myself a reasonable answer: Of course you have to go. Just not during the two weeks of madness, but at your leisure. The free practice and the qualifying sessions start at the end of May. The last race usually takes place around June 10. It was early April and I had something similar in mind to my solitary hike across the Nürburgring Nordschleife. Twenty-two kilometers in eight hours. The illusion of speed on adrenaline-soaked asphalt (see ramp#54). But the TT Course is about three times as long and passes over public roads. I would be marching forever while running the risk of being hit by a motor vehicle. At least then they could write "Fatally injured on the Isle of Man" on my tombstone. That would be something! I asked myself what it would be like by car. After thinking about this option for a while, I discarded the idea. The journey would be over too quickly, I wouldn't have enough time for true reflection, let's call it quiet contemplation. This would be a graveyard, in a way, that I would be driving over, and that calls for a certain amount of respect. In a car, however, I would be too distracted by constantly having to keep my eyes on the road. That's how I finally hit upon the idea of riding an e-bike. Then everything happened very quickly. I landed on the island with Matthias Mederer – in his capacity as photographer – even before the end of April. The magazine had already sent the bike ahead to the hotel. Hats off to that kind of planning! But it gets even better! Because we were joined by none other than World Sidecar Champion and three-time TT sidecar winner Klaus Klaffenböck. The fifty-five-year-old Austrian doesn't know why he's still alive, but he is. And he's spent the last ten years of that life on the Isle of Man, where he organizes group tours to the Tourist Trophy. The high forehead and glasses give one of the toughest racers under the sun the air of an intellectually gifted secondary school teacher of German and biology. If you don't know him, the first time you meet him you think: this has got to be the wrong guy. I had contacted him and asked him if he would like to join us and tell us a few good stories, and because he knows ramp and thinks it's an extremely cool publication, he agreed right away. Klaus and Matthias would be following along behind me in a rented car, like a support vehicle at the Tour de France. That way I was well protected to the rear – after all, the roads are pretty narrow and Klaus said the locals had a fondness for the accelerator. Whenever we wanted to stop to take some photos or to talk about some of the special sections along the route, we would.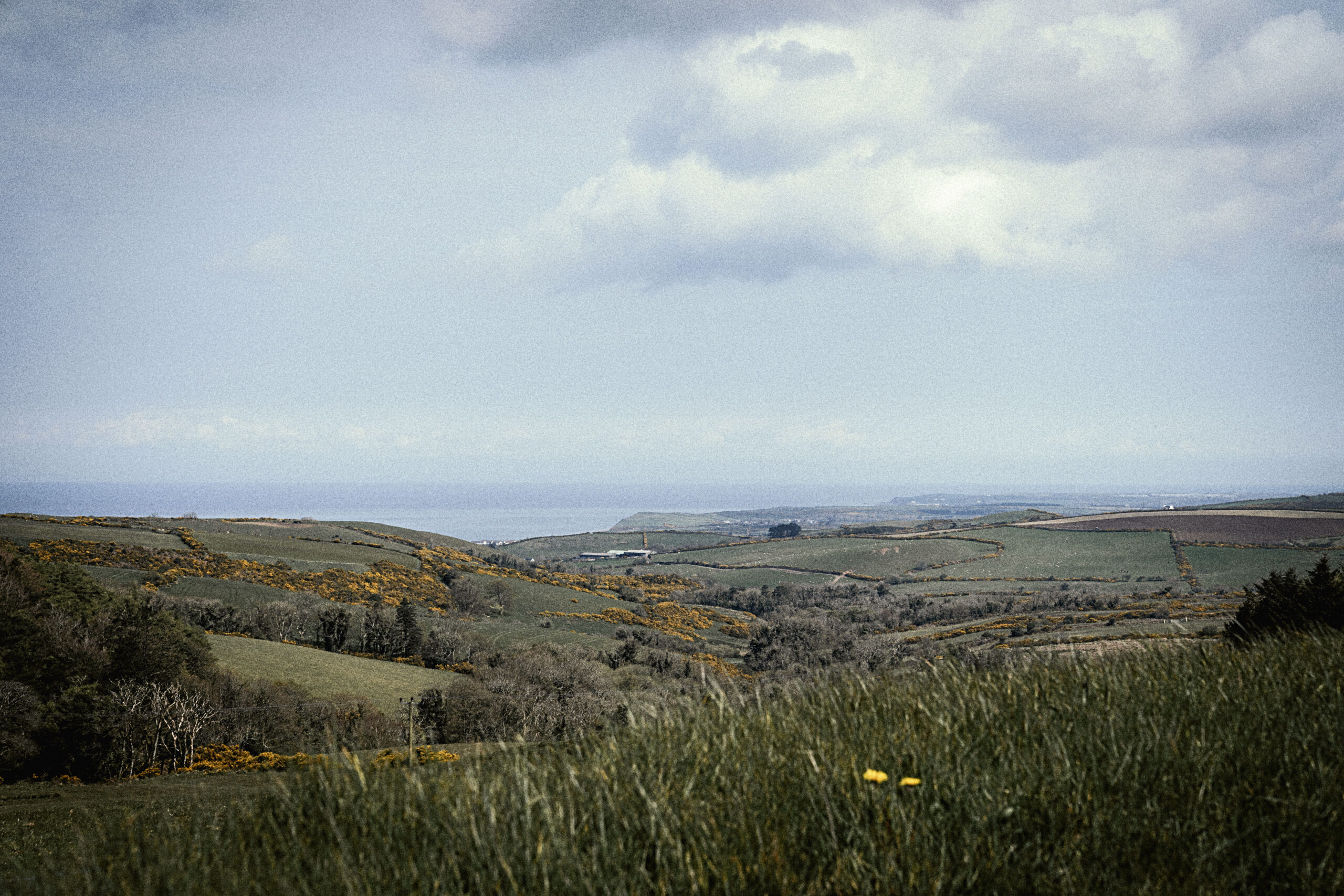 Some background information may still be needed: The Isle of Man is located in the middle of the Irish Sea, between England and Northern Ireland. It is home to around 84,000 people, 170,000 sheep and the tailless Manx cat. A genetic mutation produced this docile and good-tempered breed of domestic cat many centuries ago. Nowhere else in the world are there cats without tails. Manx, by the way, is also what the two-legged locals are called. The Isle of Man is directly subordinated to the British Crown – but it is not a part of the United Kingdom. The British monarch is represented by a Lieutenant Governor. The Manx have their own parliament, their own passports, their own money (the Manx pound) and their own legal system. And that's the real reason they are able to host a hardcore event like the TT. Because one thing they don't have is a speed limit. Not a bad prerequisite for road racing.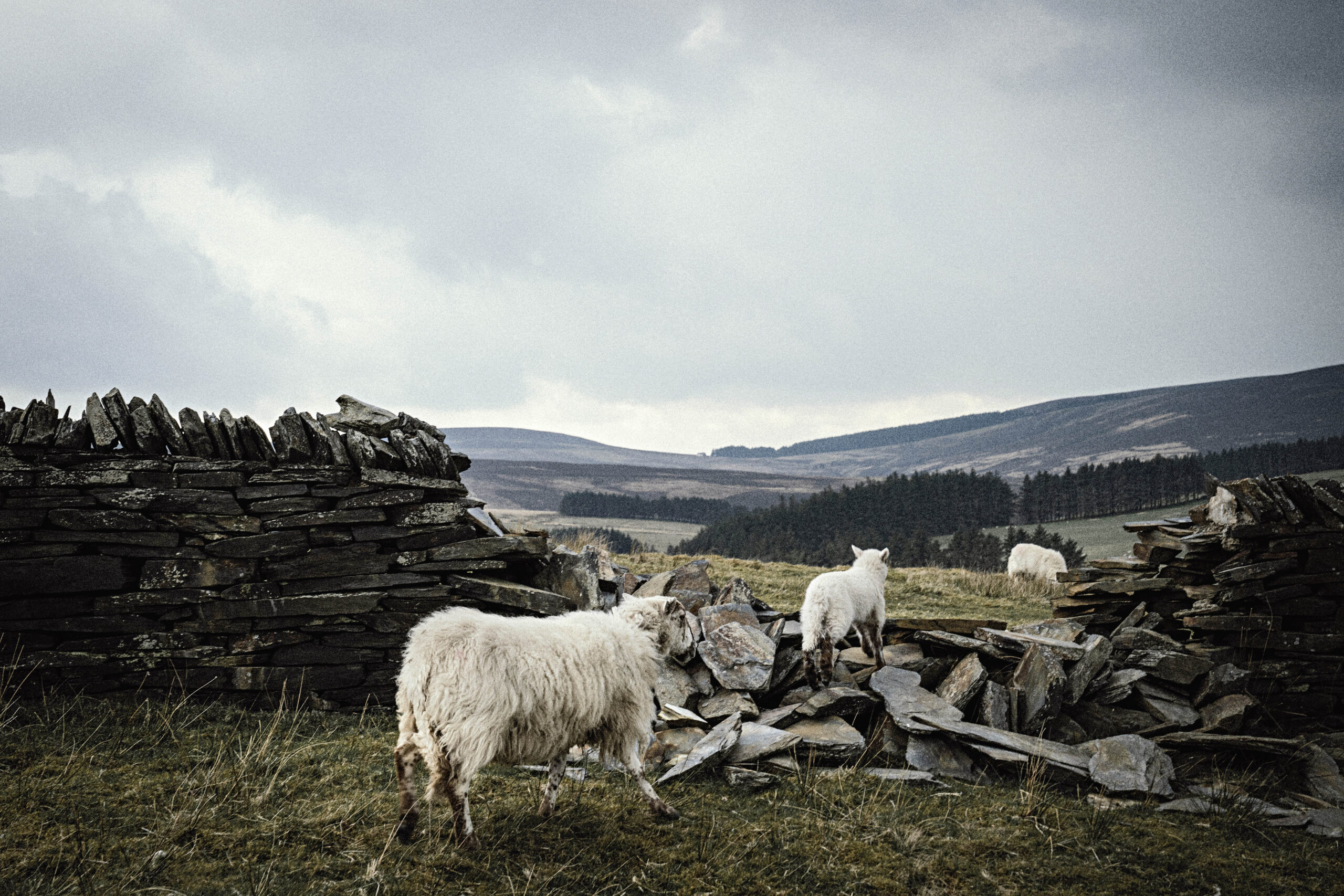 The Tourist Trophy was held on the current course for the first time in 1911. But where does this rather harmless-sounding name for such a grueling spectacle actually come from? "In the past, just about anyone was allowed to race here. This is no longer the case, however. Today you need a racing license and appropriate race experience," Klaus explains. Until 1976 the Isle of Man TT was part of the Motorcycle Grand Prix World Championship. Which leads us to an interesting thought: What would it have been like to see the likes of Valentino Rossi roaring through an avenue of birch trees at 340 km/h? Anyway, most of the entrants are British. The others often come from far away: Australia, New Zealand, Japan and the rest of the world. The current race classes are Supertwin TT (production bikes with two-cylinder 700 cc engines tuned for racing), Supersport TT (mix of three-cylinder 675 cc and four-cylinder 600 cc racing bikes), Superstock TT (production-based motorcycles with 1,000 cc), Superbike TT (1,000 cc, over 200 hp and largely on a par with the technical standard of a Superbike World Championship machine), Sidecar TT (600 cc) and Senior TT (identical to the Superbike TT). The start is at ten-second intervals. The number of laps varies. In the Senior TT, the final highlight, there are six laps. Makes more than 364 kilometers between here and beyond. Current lap record: 16 minutes and 36.115 seconds. Corresponds to an average speed of 219 km/h. The prize money is a joke, with only around €330,000 paid out in total. Some forty-thousand spectators come every year – the island probably couldn't handle any more than that anyway. Many guests arrive by motorcycle, and for them there is an event called Mad Sunday. Madness for the masses! A day on which spectators are allowed to tour part of the course. These riders are often so excited from watching their heroes, however, that many of them lose sight of their own limitations, want to imitate the pros – and drop like flies in the process. There are no official figures on non-race deaths, but one thing is certain: for hundreds of these wanna-be daredevils, a one-way ferry ticket would have been enough.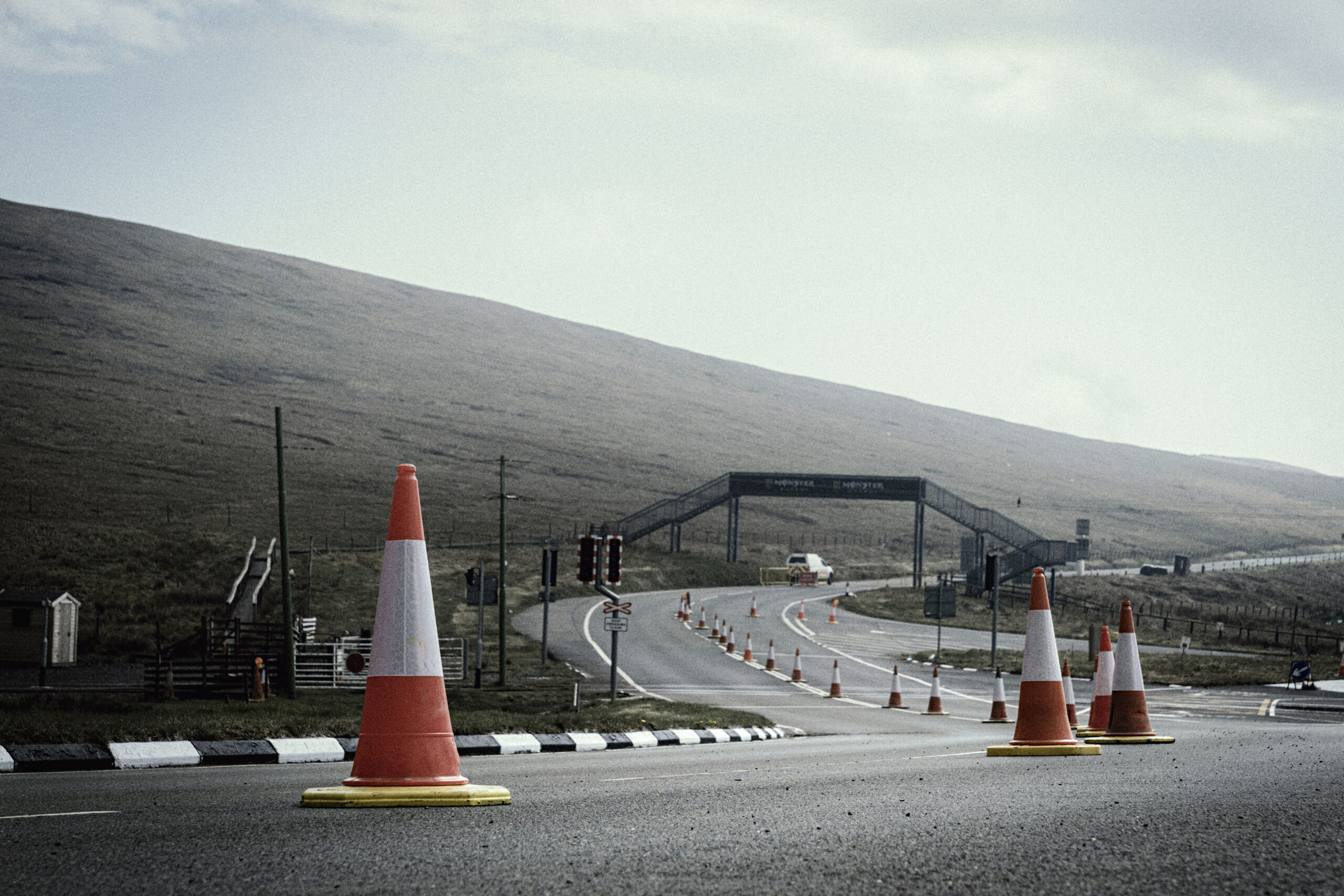 Now it's my turn. The start-and-finish straight in Douglas. You can hardly imagine anything more macabre: Across from the pit lane is the Douglas Borough Cemetery. The wall is so low that you can see the graves. Quite a few TT participants are buried here for their last (un)rest. I ask Klaus what he thought the first time he saw this. His answer: "Other people die. But not me." Shortly before the start, a small ritual is performed. The members of the team shake hands with the rider, pat him on the shoulder and say, "Have fun, see you later!" But because everyone knows that not everyone comes back from this infernal ride alive – only once, in 1982, there were no fatalities – several psychotherapists are standing by, ready to comfort the grieving relatives. It is not unusual for mothers to become widows and small children to be left fatherless in one fell swoop. If there is a serious accident, everyone waits anxiously for the rescue helicopter to take off. If it stays on the ground, the rider is already dead. Then the race usually continues after only a brief interruption.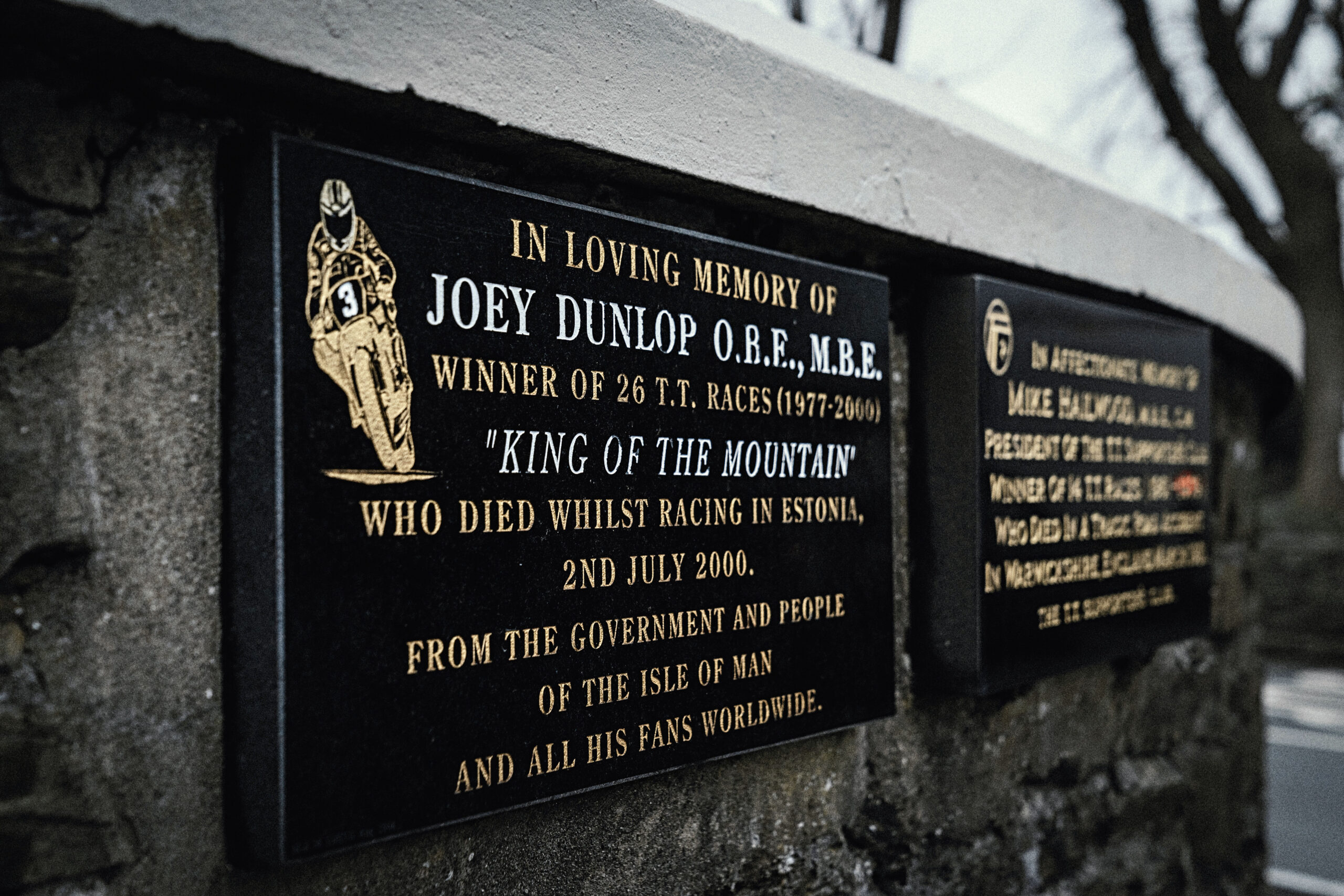 I swing myself onto the saddle and ride off. It's quite chilly, and the thick sweater was definitely a good idea. After a short distance the road becomes slightly curvy and for several hundred meters goes steeply downhill into an ominous dip. Nothing but concrete to the left and right. Bray Hill is the name of this notorious stretch. I have to brake before I reach the dip. On my bike, I've topped out at 70 km/h. That's fast enough already. The solo machines pass through here at 280. Unthinkable! At that speed, the suspension on the motorcycles usually bottoms out. "The road," Klaus tells me later, "makes itself felt in such brutal fashion that you think your sidecar is going to break apart." Relatively unstable and with little grip to boot – the tires haven't had a chance to warm up yet and, in truth, neither has the rider's brain – the machines are then catapulted up an incline. Having a tank that is full to the brim doesn't make the handling any better. Hit a bump in the road at the wrong angle now – and the chances of that happening are pretty good – and you're usually dead. Like the four men in last year's sidecar races. In one case, a father and son pairing. They all smashed into the solid garden wall of a family home, their race lasting less than a minute. When Klaus came to the Isle of Man for the first time, an experienced colleague took him along in his Ford Transit to check out the course: "When he told me that you could take Bray Hill at full throttle from start to finish, I thought the guy was completely nuts! Then I tried it in free practice. Impossible. How deranged do you have to be to go through there at full throttle?! You automatically lay off the gas. I said to myself: If you can't pull yourself together on the second try, you can pack up and go home. So I threw myself back down that hill, stayed on the throttle, and thought to myself: Not good! Okay, so things might go well right up to the dip. But that dip comes at you like a monster. Full throttle, I think – no matter what happens, even if it's the last stupid thing I do in my life. I hold my breath and let myself go. At 250 km/h, the dip crushes you together, you think you're about to eat the asphalt. In the sidecar racer, you're kneeling just above the ground, in front of the engine, with your hands near the front wheel. Then, much faster than you can think, you're already shooting up, and when you're finally out of the woods, you're overcome by an indescribable feeling, a crazy adrenaline rush! You've taken that dip at full speed. And you're alive. That's why you ride the TT. You don't just want to beat your opponents – you want to cheat death."
Downhill again, to the Quarterbridge roundabout. Here the racers brake for the first time – and in such a way that their eyeballs almost pop out of their heads. There's a church here on the left, where the parish priest opens his toilets to the public during the Tourist Trophy and offers cakes and drinks. The TT – let's quite upliftingly call it the performance "Of the endless dying of restless men on a small island" – even has the blessing of the church. Almost no one here questions the rationale behind this event. It belongs as much to the island's culture as the little wooden fork to the Berlin currywurst. Of course, there are those few who would like to ban the race outright: a minority of rich English people who have moved to the island, who reside in their country houses and who feel inconvenienced because a) the noise is too much for them, and b) the all-pervading vibrations of this fourteen-day horsepower orgy cause their cards to slip while playing bridge. We can safely say that these rich English people's call for an end to the Tourist Trophy are left unheard, much like Kleist's "tone of a flute in a tempest".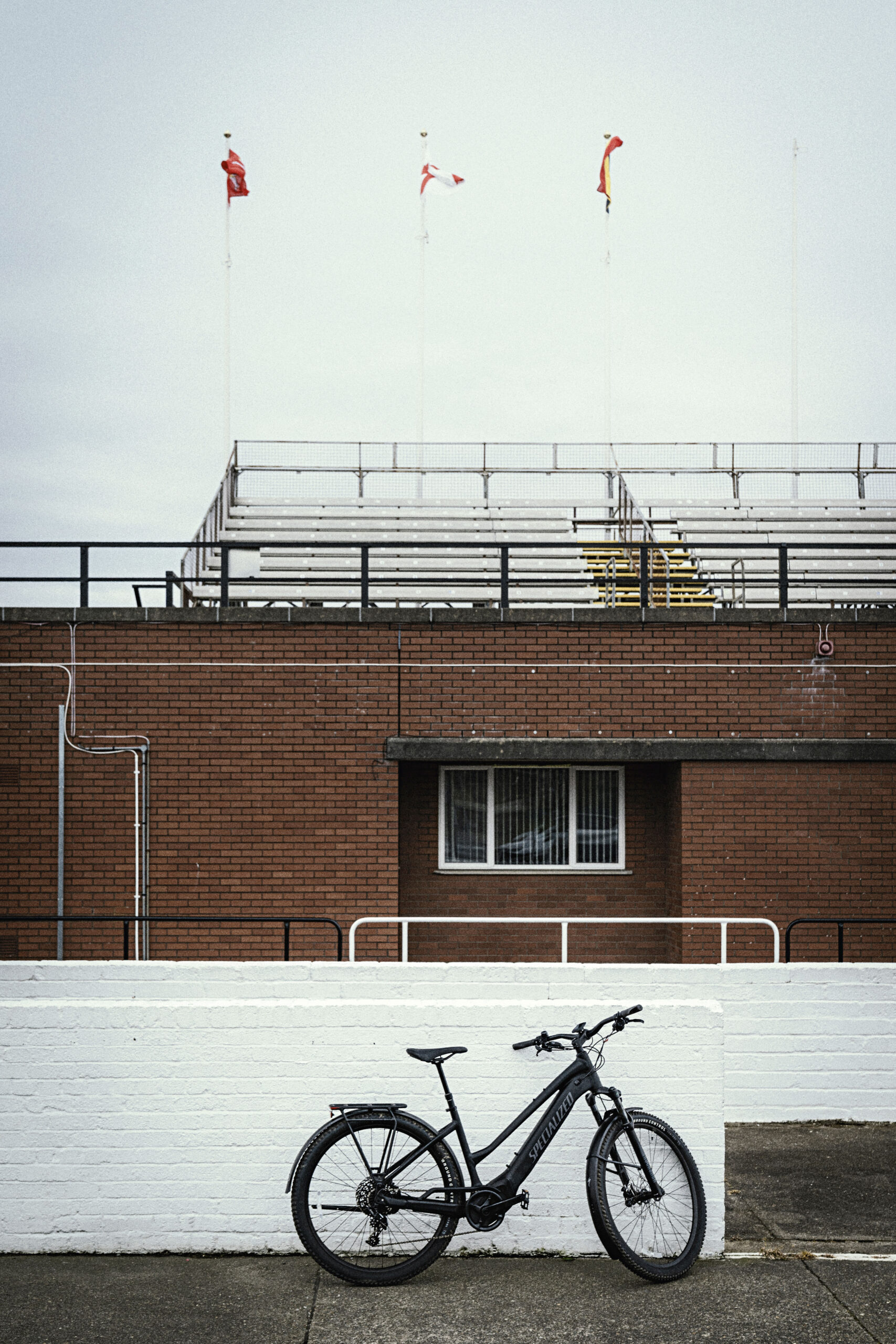 I've left Douglas and cycle through the villages of Union Mills and Crosby. As the TT is due to start just a few weeks from now, several lampposts and house corners have already been secured with sandbags and bales of straw. But most of them are not. And it will stay that way. They probably couldn't find enough sandbags and bales of straw for the entire sixty-one kilometers anyway. It's like the front lines in a war here. I continue on past the Victorian Gothic style Greeba Castle and on to Greeba Bridge. Long straights and wide curves lined with trees, hedges and steel guardrails. The sidecar racers zoom along at full throttle for two whole minutes between Union Mills and Greeba Bridge – 260 km/h. Whenever they hit a bump, they take off in the air, wheels spinning, revs skyrocketing to 18,000. The most powerful solo bikes have a higher top speed, coming in at over 300 at this point. The riders actually call this part of the race relaxing. It's where they can recover from the mental strain they had faced at Bray Hill. Going 260 or even 302 km/h on a straight with easy-to-negotiate curves, even if you lose contact with the ground and could theoretically be sliced in two by those steel guardrails – that's child's play compared to Bray Hill, they say. We stop after the bridge, where our tour guide recounts from personal experience: "When you reach Union Mills, your mouth and lips are dry as a bone because of the prior stress. This is where I would usually run my tongue across my lips. That always did me a world of good."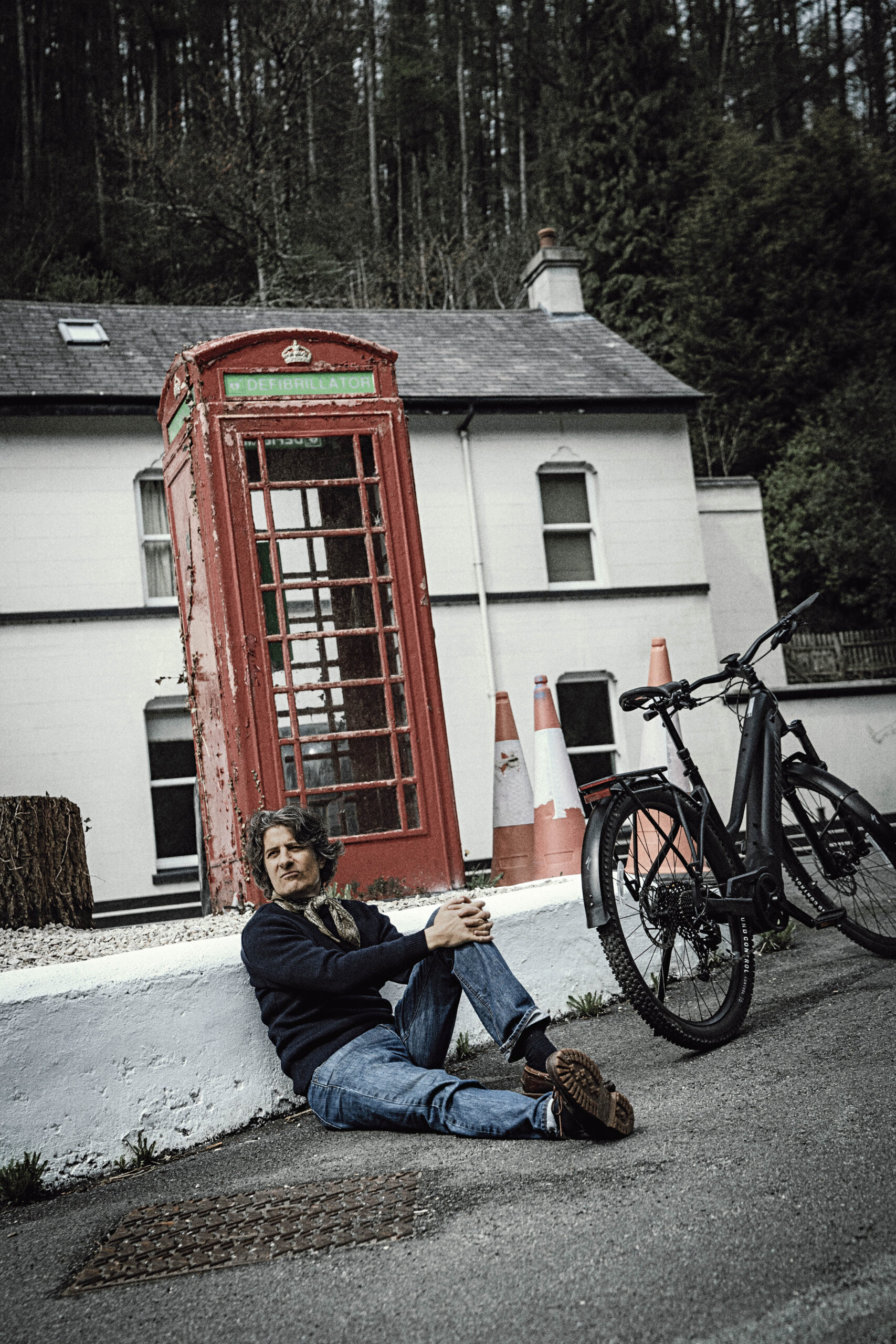 The slow right at Ballacraine Corner takes us to the north. Gently rolling grassy hills, covered with the yellow of ragwort, the national flower of the Isle of Man. And sheep, to feed the wolves. Their bleating can be heard all over the island, soon to be drowned out by the TT inferno. We pass by countless roadside crosses. Memorial plaques and photos of the dead adorn the trees. Especially moving is the picture of a young Australian rider with his now-widowed wife and their children. Then, as if someone had just unceremoniously dropped it there in the middle of nowhere, we come across one of those typical red British telephone booths in an uninhabited area between the villages, most of which are no feast for the eyes, as many of the houses are reminiscent of communist-era prefabricated concrete slab buildings. As Klaus Klaffenböck recalls: "When I first got here, I thought I had landed in Poland by mistake." I stop and take a look inside. There's no phone in there at all, but a defibrillator for cardiopulmonary resuscitation. Of course, if worst came to worst, it would be best to crash right here and be dead just long enough to be quickly brought back to life by a few powerful jolts of electricity and then jump right back on the bike – with a bit of a delay, of course, though this could possibly be made up for at the next defibrillator. After all, a real TT racer won't have forgotten how to give gas just because he was dead for a moment!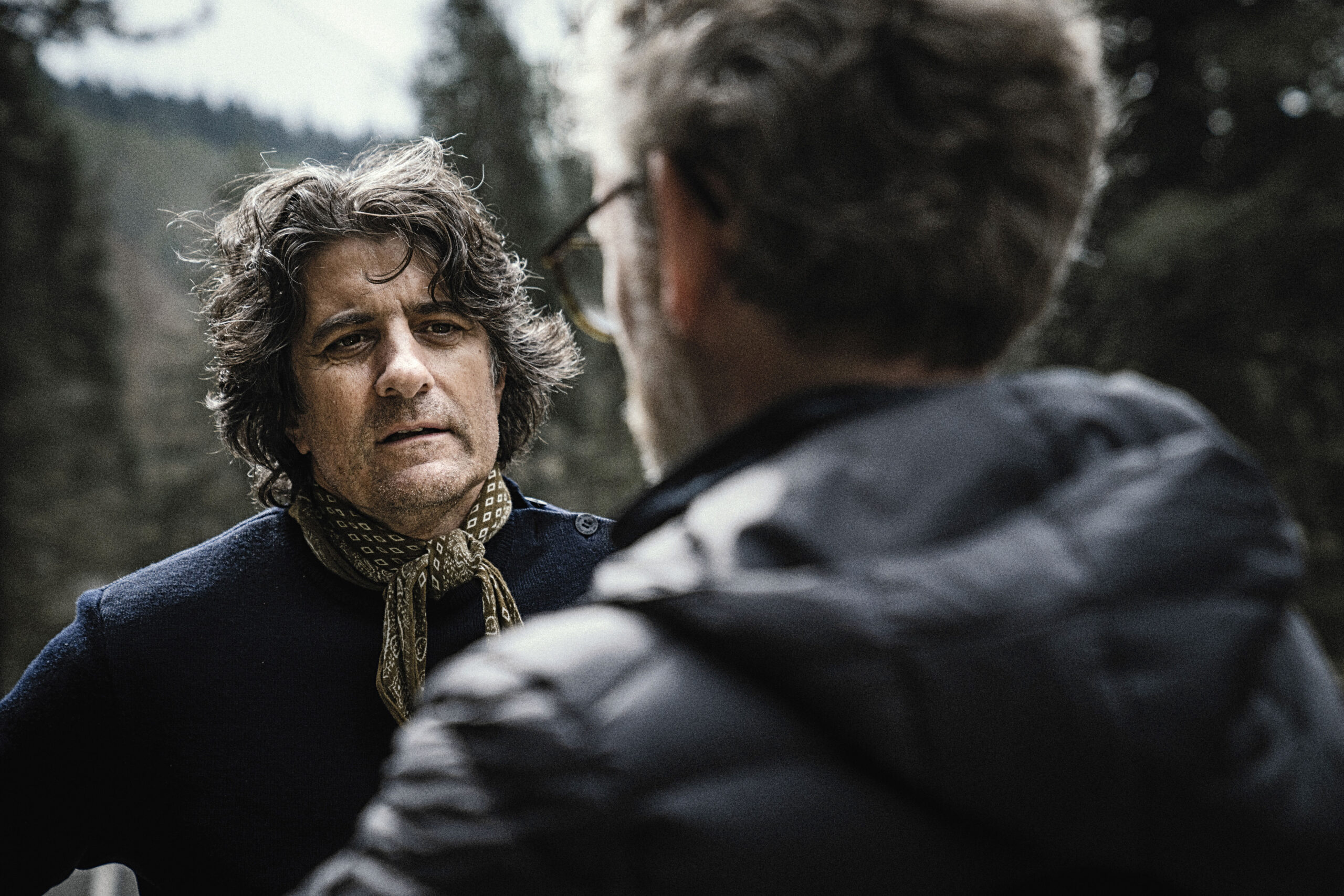 The bottom of Barregarrow. An incredible left corner between stone walls and trees. The racing line passes straight through a dip in the road that is taken at 250 km/h. The solo bikes twist and wobble down to the tiniest screw before they come lurching out the other end like New Year's Eve fireworks rockets. This is one of the places that Klaus takes his spectator tourists to every year. "I often get some really fast bikers with track experience," he says. "But when they see this, they're shocked. They go pale in the face, can't say anything at first. And when they catch themselves, they ask me: 'You did that? How in the world is that even possible?' I don't really have an answer for that. When I see the riders doing that today, I have to ask myself how I could have done that at the time." Seven kilometers further on, I ride over the small hump-backed Ballaugh Bridge, one of the most famous sections of the course. Though not because it's so fast. On the contrary, the old stone arch bridge is crossed at a downright ridiculous 50 km/h – but in a long leap, as if you were a kangaroo shooting for the sky. Before reaching the bridge, riders have to hit the brakes hard. To this day, it's unclear why the thirty-seven-year-old New Zealander Chris Swallow raced off the track here three years ago at an incredible excess of speed. It was as if his throttle had been stuck. Whatever the reason, Ballaugh Bridge was transformed into a launch pad for him. The Kiwi was thrown head-first into the wall of a house. He was killed instantly. His tank exploded and the motorcycle burst into flames. Across the street, in front of The Raven pub, the spectators had a front-row view of the disaster, beer in hand.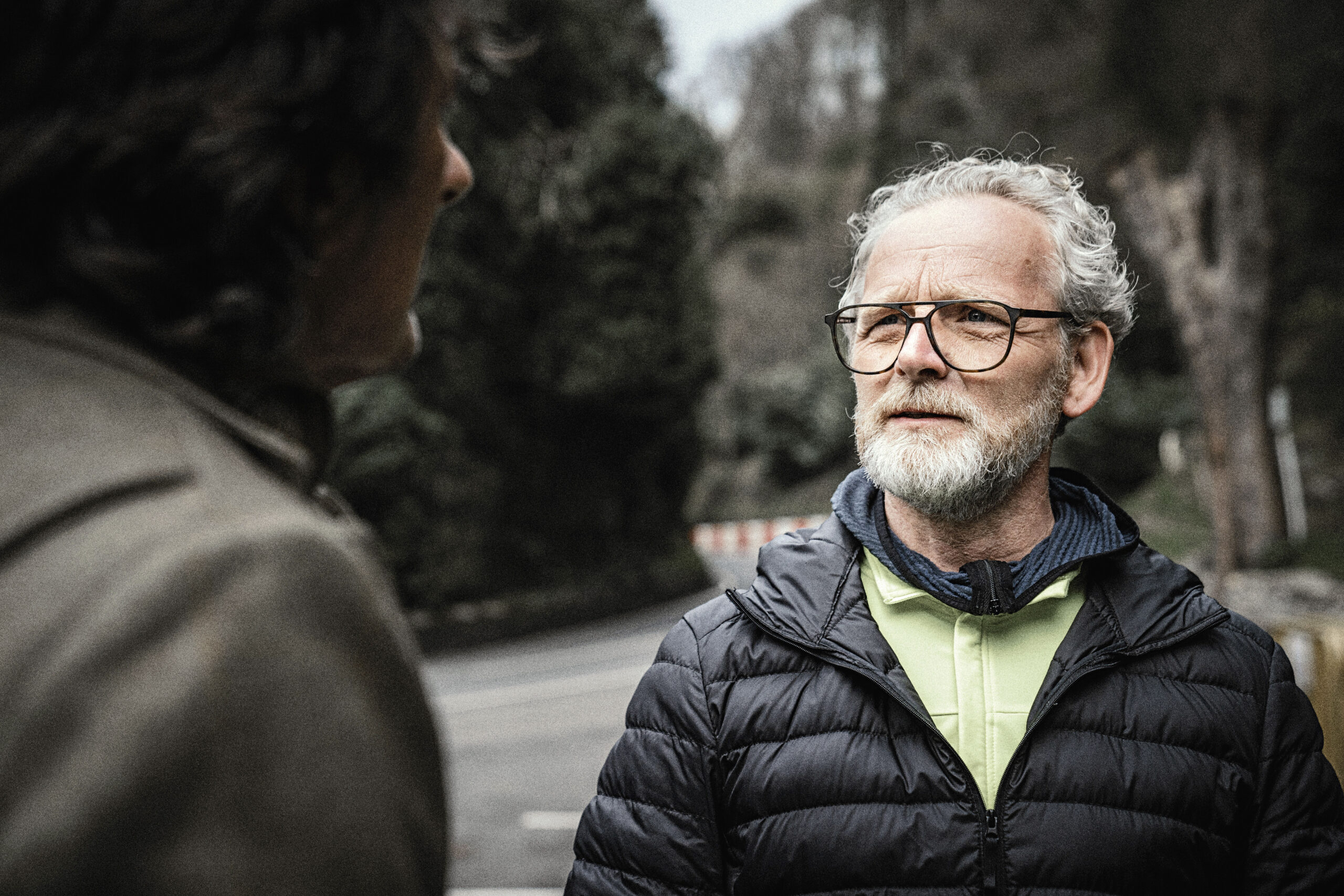 We take a break at the Sulby Glen Hotel and sit downstairs at the bar. The two-story hotel with its fanciful cream-colored façade is situated along the longest straight on the course, the Sulby Straight. Highest speed ever measured: 332 km/h, in between trees. The hotel belongs to the parents of Dan Sayle, Klaus Klaffenböck's former sidecar passenger. I ask Klaus if sidecars are safer than solo bikes. After all, they have three wheels. "Not at all," he answers, "because in sidecar racing two people have to harmonize perfectly, which makes things more complicated. Just one little misunderstanding, one wrong shift by the passenger – and it ends fatally." – "Did you feel responsible for your passenger?" – "Not for a second. He knows what he's doing, and he knew how dangerous it is. If you worry about your passenger, you'll finish last. By the way, every year at least one passenger throws in the towel. Those are novices who are so scared after their first practice lap that they just take off running. I totally get it."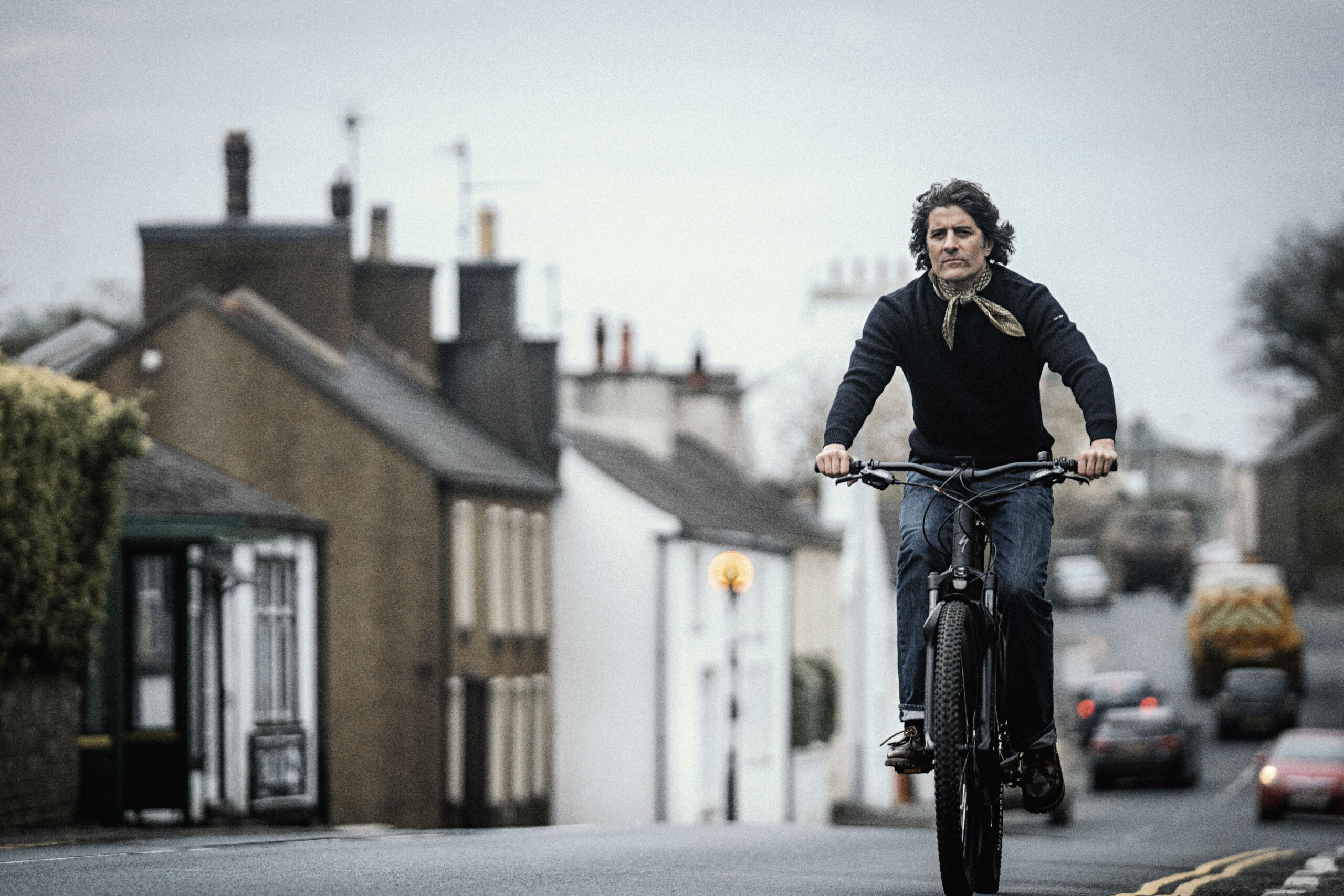 The friendly Mrs. Sayle serves coffee in buckets. "As World Sidecar Champion," I say, "you'd accomplished everything in your sport. Why put yourself through this here?" – "Wrong," he says, "I hadn't achieved everything until I had won the Tourist Trophy." That was in 2010, when he won both rounds on his LCR Honda. The second race was a nail-biting duel with John Holden for the win that ranks among the ten best races ever run at the TT. "Klaffi", as his friends call him, has even been immortalized on a special postage stamp. But the former skibob world champion and team principal at the World Superbike Championship never wanted to be a hero: "I only did it for myself, I only wanted to prove something to myself. It was the best thing that's ever happened to me." (Hopefully his girlfriend doesn't read this.) "But two wins still weren't enough for you." – "That's right, I couldn't stop, it had long since become an addiction. My first entry was back in 2004. But after the third win, in 2011, I finally managed to say no." In 2008 his wife at the time was expecting twin girls. She had hoped that becoming a father would put an end to the TT chapter of his life. But the addict kept racing, he couldn't help it. And besides, he hadn't won yet at that point: "The addiction is one thing. On top of that, however, racers are probably the most selfish bastards there are." Today he is no longer together with the mother of his daughters. His father often accompanied him to the races. Before the start, there was always a long hug. When Klaus came back in one piece, his father would burst into tears of relief and couldn't stop crying. Klaus knows: "I caused a lot of people a lot of anguish. The problem was that every time I crossed the finish line, I felt immortal. And then I knew that I would be competing again next year."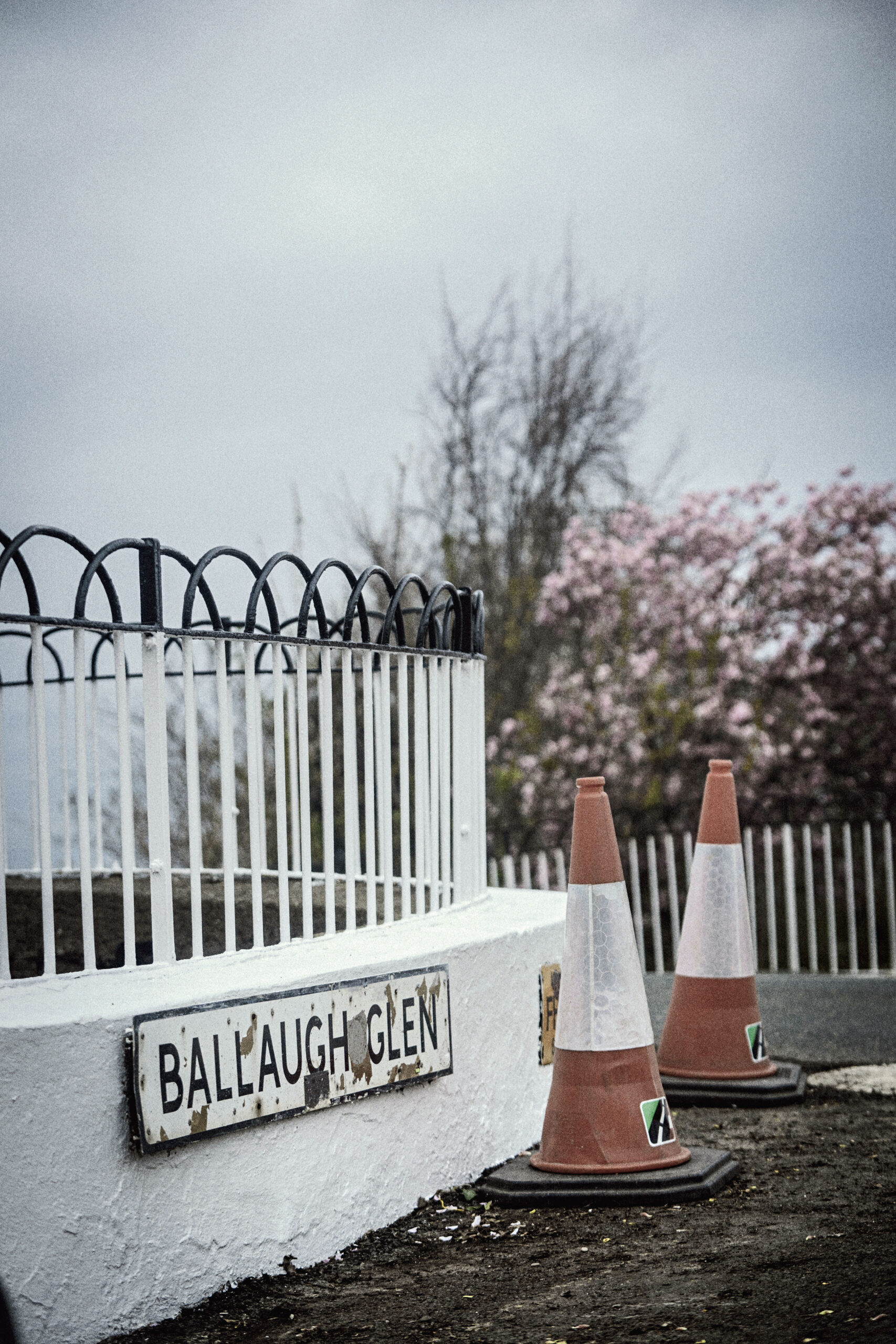 Damn . . . After Ramsey, the road leading up the mountain is closed. Safety measures are being carried out for the upcoming race. Men in work clothes say "Sorry, closed." Then they recognize Klaus Klaffenböck, one of their heroes! Photos of him hang in every pub. And, of course, Klaffi and company are allowed to pass up to Waterworks Corner and Black Hut and Hailwood's Height, always and at any time, because this is his turf, after all. The only condition: Selfies with everyone. Handshakes. A pat on the back. And on we go. The e-bike carries me comfortably up to Snaefell (621 meters), the Old Norse word for Snow Mountain that gave the course its name: Snaefell Mountain Course. There's no snow today. But it is getting colder and colder and a fog is coming in. It's extremely quiet up here. I can't get enough of these bumps in the road. What a scary idea to plow along here at speeds above 250 km/h. At the Bungalow section, named after the former Bungalow Hotel, a life-size bronze sculpture stands to the right of the roadway overlooking the bend. A motorcyclist casually sitting astride his bike. Arms crossed. His crash helmet in front of him on the tank. The plaque reads: "In Memory of Joey Dunlop: 1952–2000. King of the Mountain". The legend from Northern Ireland has twenty-six victories to his name. No one has won the TT more times than Joey Dunlop. Fifty thousand people came to his funeral. In his homeland, he is regarded as the best motorcyclist of all time. The name alone: Dunlop for a ­motorcycle star! Nomen est omen, as if the German chancellor's name was Sauerkraut, Olaf Sauerkraut. But better dead and "Dunlop" than alive and "Sauerkraut". On July 2, 2000, he suffered a fatal crash during a road race in Estonia. His nephew Michael is right behind him in the all-time win list with twenty-five victories. He could break the record next year – if he survives, that is. It's hard to shake the impression that the thirty-four-year-old wants to keep racing here until he, too, kicks the bucket. As he once said in an interview, "The TT is my life. If I breathe it out here, that's it – that's that." Though he may feel a bit lonely in his quest. Because it's not just his uncle who's dead. His father died in the 2008 North West 200, a road race in Northern Ireland. And his brother William has also already entered the Happy Hunting Grounds. Five years ago, he lost control of his bike after the engine sump spilled oil onto the back wheel during the Skerries 100 road race in Ireland – at a speed of 273 km/h. The Dunlops are the greatest heroes of the Tourist Trophy. But you could also say: the Dunlops are the Kennedys of motorcycle racing.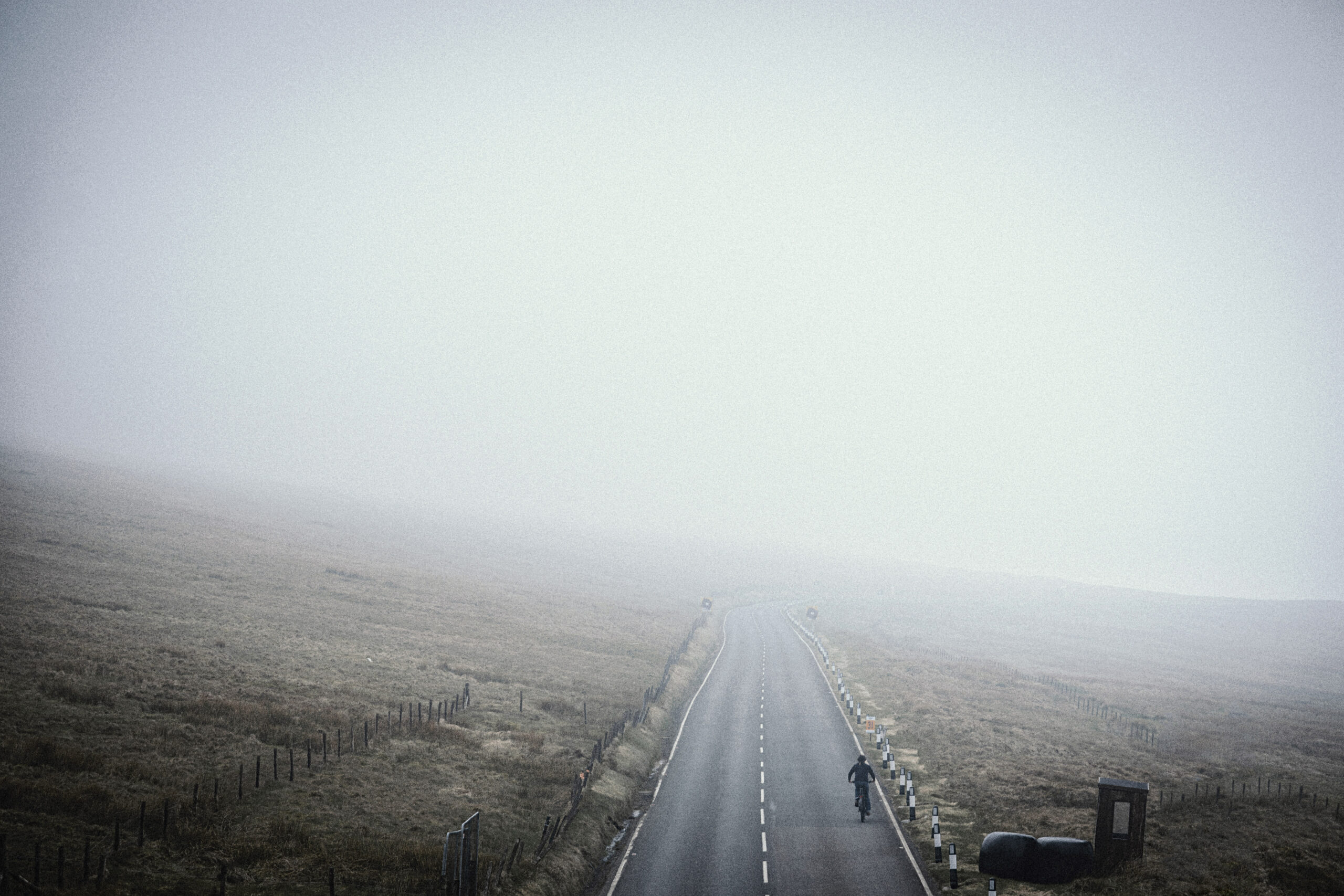 We're standing, downhill a bit from the summit, in front of the restaurant Creg-ny-Baa (Manx for "rock of the cow") and are looking at the sloping straight that leads directly toward the building. It's one of only five hard braking points on the entire course. A right turn then heads toward Brandish Corner and Hillberry. Only five hard braking points on sixty-one kilometers with about two hundred and fifty turns? How's that possible? "A basic rule of road racing is to stay in the flow," Klaus explains. "That means I brake earlier and more gently. Only before tight turns do you really hit the brakes." It took him six years to know every curve, bump, pothole and manhole cover. That was in 2010, and that's when he famously won for the first time. "Who are the better bikers, road racers or circuit riders?" I ask. "Hmm, tough question. But if I look at Valentino Rossi, for example, I'd say if he'd gotten over himself and raced here, he would have won. Not at the first go, of course, but very soon he would have left everyone else with no chances. Still, there hasn't been a single MotoGP rider who has tried his luck at the TT. I guess they just value their lives more than we do."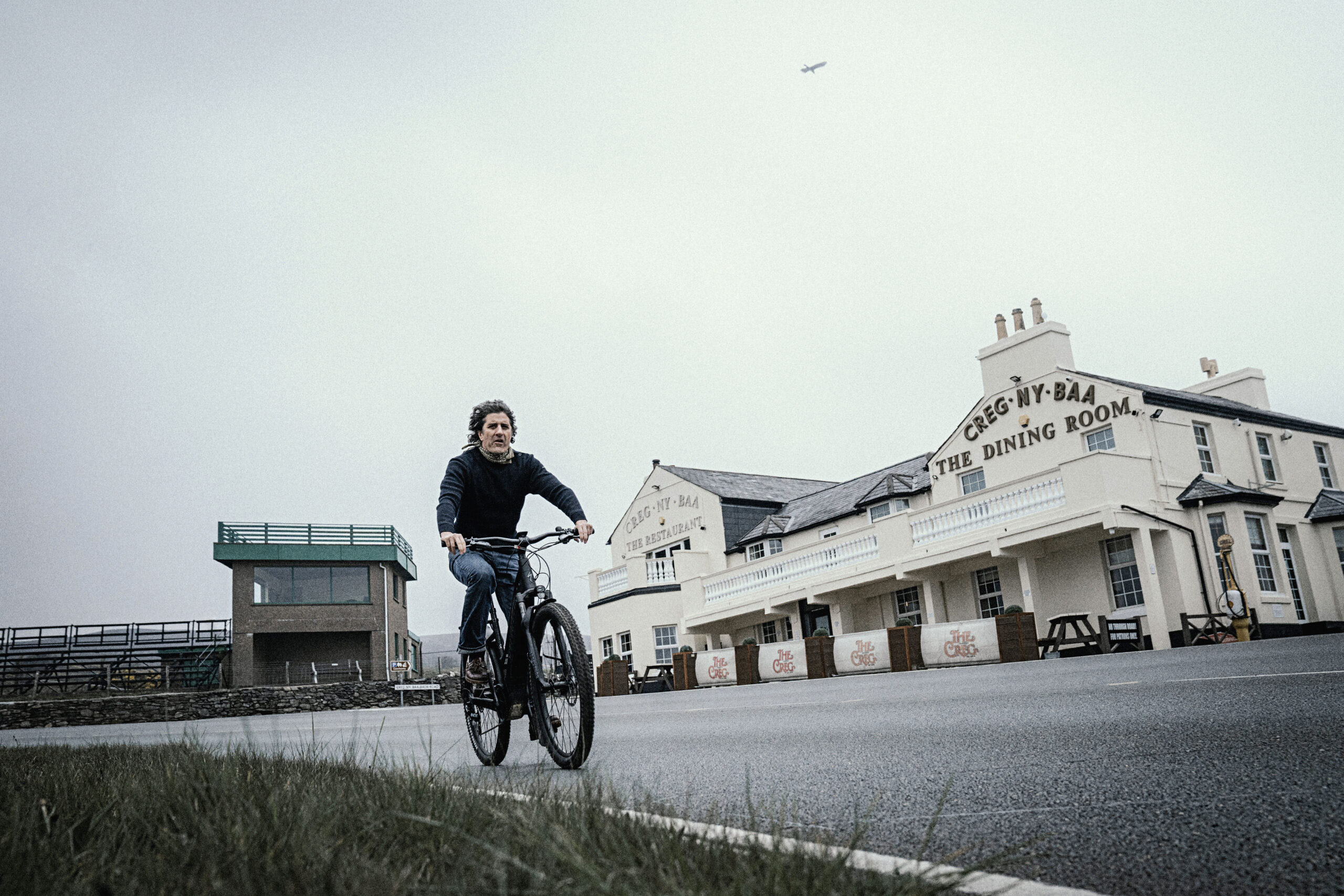 We have only a few more kilometers to go. At Governor's Bridge (the last hard braking point) we turn into the home stretch. My ride took us five hours. Klaus and I sit down on the big grandstand at the end and look over toward the cemetery. "And – what do you think?" he asks me. "Honestly, I'm having a hard time wrapping my head around all of this." I feel a sense of trepidation. And yet I'm glad I was here. Something would have been missing in my life. Le Mans. Indianapolis. Monaco. Isle of Man. I ask Klaus one last question: "Tell me, what kind of motorcycle does a three-time TT champion ride when he's not competing?" – "None. I've never owned one. I've always thought riding a motorcycle in traffic is too dangerous." He really means it. Unbelievable!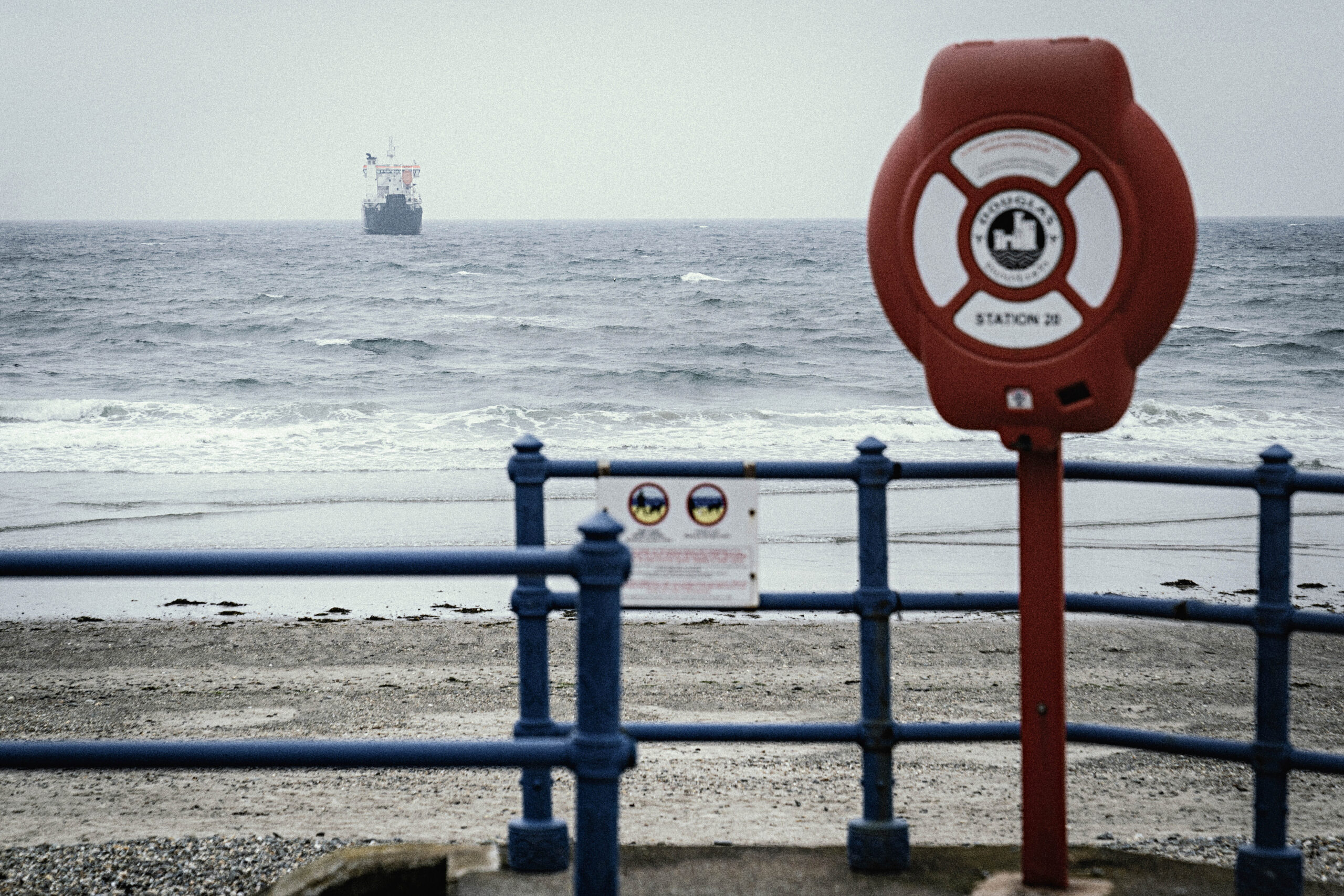 Doesn't own a motorcycle. Too dangerous. Unbelievable!
Text by Kurt Molzer
Photos by Matthias Mederer · ramp.pictures
ramp #62 Wild Things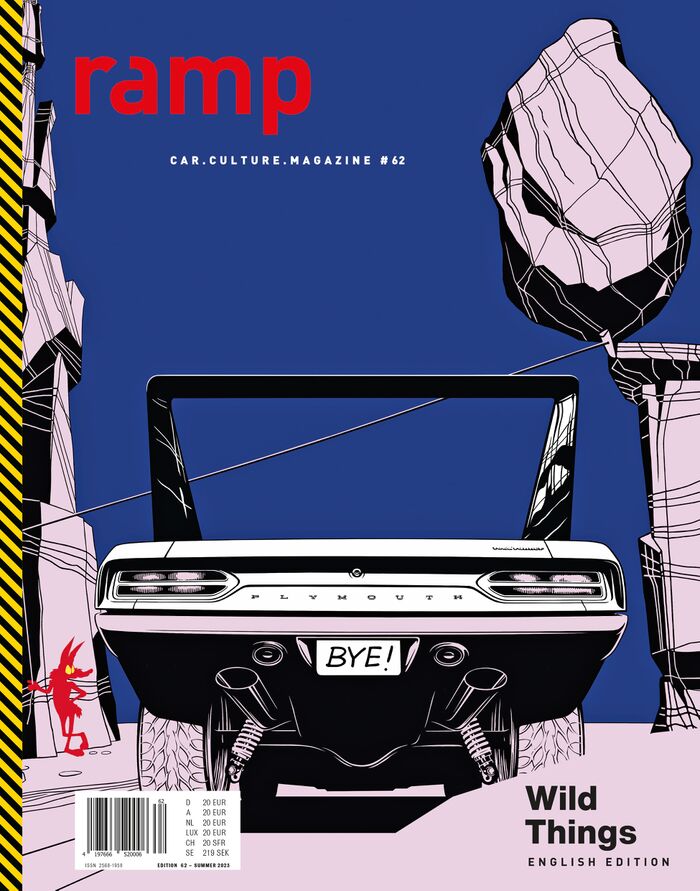 Just heading along, the journey itself a wonderfully blank page that presents itself to us with a cheerful unpredictability, as an inspired playing field for trial and error, for curiosity and spontaneity, unexpected surprises and flights of fancy. Wild and untamed. Just like life itself. Find out more