DesertX is the first modern Ducati with 21 "front wheel and 18" rear, long stroke suspension and a new frame designed specifically for the off-road experience.Exploration. Fun. Performance. And a great desire to take and leave towards the horizon. The identity of this bike leaves no room for doubt: just looking at it, it brings you into the atmosphere of Dakar racing.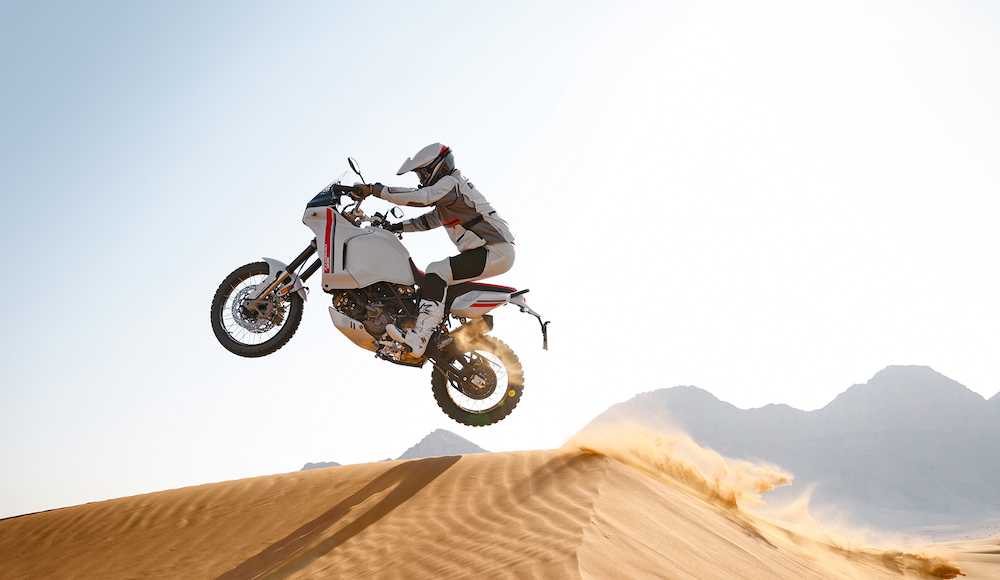 Off-road chassis
21 "front and 18" rear wheels, long stroke suspension, generous ground clearance (250mm) and an off-road frame designed and tested to withstand the toughest conditions.
Ergonomics optimized for every condition
Ergonomics and aerodynamic study give life to a motorcycle that has off-road as a natural territory and at the same time remains comfortable, easy and safe for urban commuting and long travels.
Advanced electronics, dedicated to versatility
The versatility of DesertX is also reflected in the Riding Modes: there's 6 of them, with Enduro and Rally dedicated specifically to the off-road riding experience.
Lightweight engine tuned for off-road use
DesertX is equipped with the latest evolution of the 937 cc Testastretta 11th desmo, lighter by 1.7 kg compared to the previous generation and equipped with a new gear ratio to ensure the best off-road behavior.
Post-heritage and digital
DesertX presented a completely new challenge to the Centro Stile. The opportunity to experiment with a new design language, seeking inspiration in the history of African Rally. The result is a solid, clean, modern design, based on shapes taken from the most adventurous off-road world. It is a bike that wants to be solid and functional at the same time.
Click here for further information
more information: ducati.com
---