The Little House is nestled into a lush second growth forest on a north facing bluff overlooking Hood Canal. Built over an existing foundation, the new building is just over 400 square feet.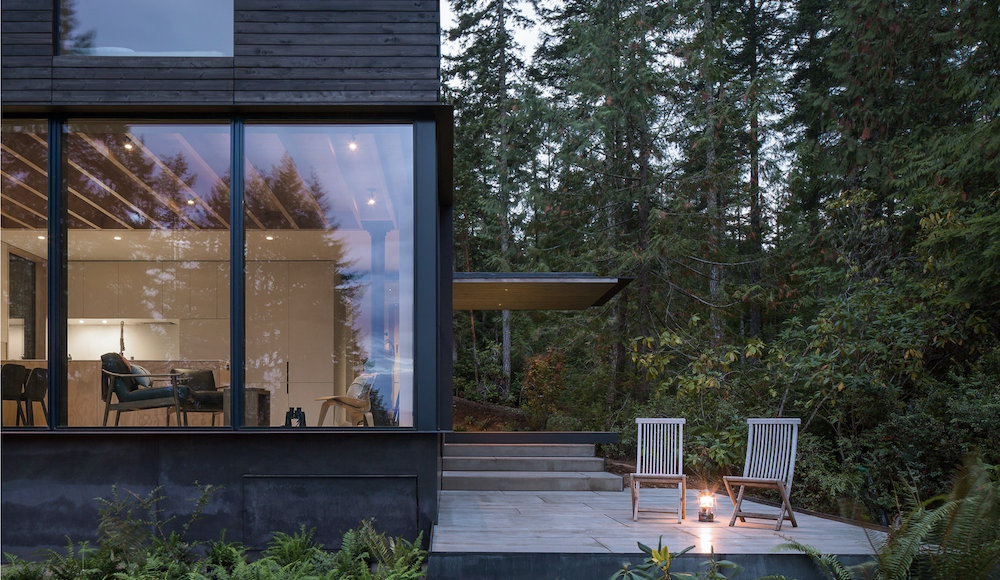 The Little House
Early design discussions focused on creating a compact, modern structure that was both simple and efficient. Visitors approach the site from the south, a thin canopy marks the entry and frames views of the canal below. The more transparent north and west elevations pull the landscape and distant view into the space.
Taut oxidized black cedar and blackened cement infill panels clad the exterior while lightly painted panels and soft pine plywood warm and brighten the interior. On a sunny western corner of the house a large patio reaches out into the landscape and serves as a jumping off point to the trail system wandering down to the water's edge. The resulting project hopes to capture the essence of the modern cabin – small in size but much larger than its boundaries.
location: Seabeck, WA
area: 1,140 sq ft
photography: Andrew Pogue
recognition:
aia national honor awards for architecture
2017 small project award
aia honor awards northwest and pacific region
2016 merit award
aia honor awards for washington
2015 honor award
chicago athenaeum american architecture award
2017 recipient
Click here for further information
more information: mwworks.com
---