Ferrari has revealed its latest one-off creation, the SP-8. Quite often the origins of these kinds of cars are kept relatively separate from the mainstream offerings, but in this case, its relation to the F8 Spider is quite literally the headline.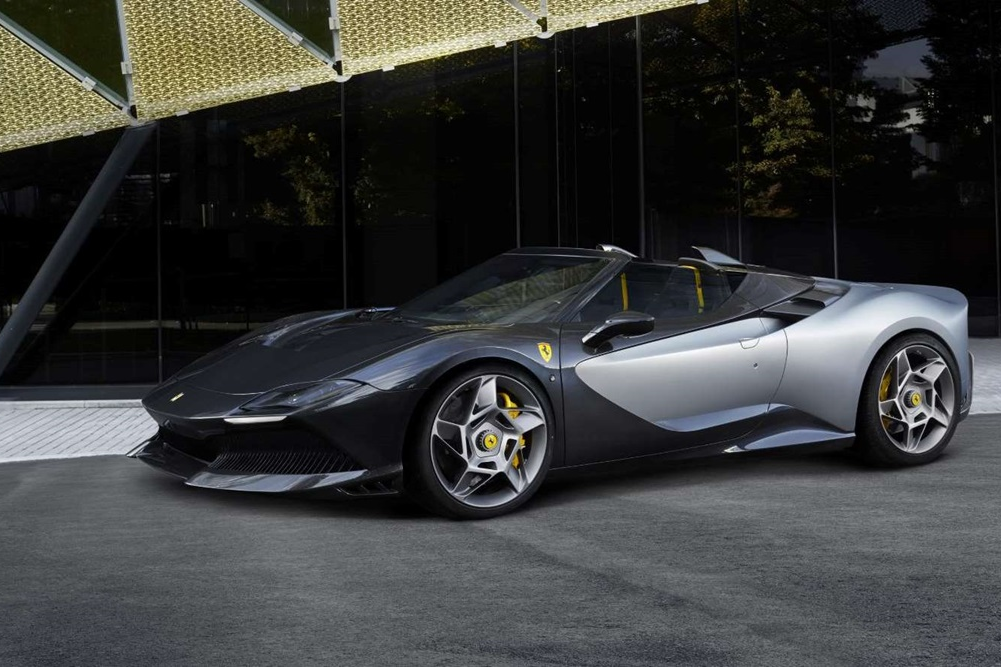 So yes, the chassis, dual-clutch transmission and 3.9-litre twin-turbo V8 engine are shared with the recently phased-out open-top Berlinetta. In terms of its exterior design and linework, there's more than a passing similarity to the SF90 Stradale and even the SP3 Daytona flagship mid-engined machinery, albeit with a more bespoke feel. Compromising its usability a bit but allowing some significant restyling, is the fact the folding roof element has been removed, so this is a permanent speedster model.
Extremely distinctive is the two-tone effect, with the carbon-fibre snout (tinted in iridescent Blue Sandstone) reaching up to the rear wheels at the bottom and all the way back to the haunches over the intakes. The Argento Micalizzato silver paint of the rear section of the car tapers almost up to the side cavalinos. The front lights look sort of like they're borrowed from the 296 but not quite, while the rears are reminiscent of the Roma's. There's a width-spanning front grille made from a single 3D-printed mould, while the exhaust smacks somewhat of the exits seen on the 812 Competizione, only brought a bit further in. The wheels are inspired by classic Ferrari sports racers and the F40, painted in Matte Grigio NART.
On the inside, it's a mix of the F8 we know, with a bit of modernity courtesy of the throwback toggles designed to resemble a gated shifter. The wheel, happily, is the traditional one from the F8 that retains its physical buttons. We'd spec that too on our Ferrari one-off…
The car will be displayed at Ferrari Finali Mondiali and the Ferrari Museum before its owner takes it home to Taiwan. Indeed, the '8' in the car's name carries significance as a lucky number in the culture of the region. Price, as usual, has not been disclosed but this kind of comprehensive detail and redesign work is never cheap. Think high seven figures, if not into the eights.
Report by Ethan Jupp
find more news here…
---