Designed for a growing family with a passion for entertaining, nature, and Japanese design, Glass Link is primarily focused inwards around a central gathering space.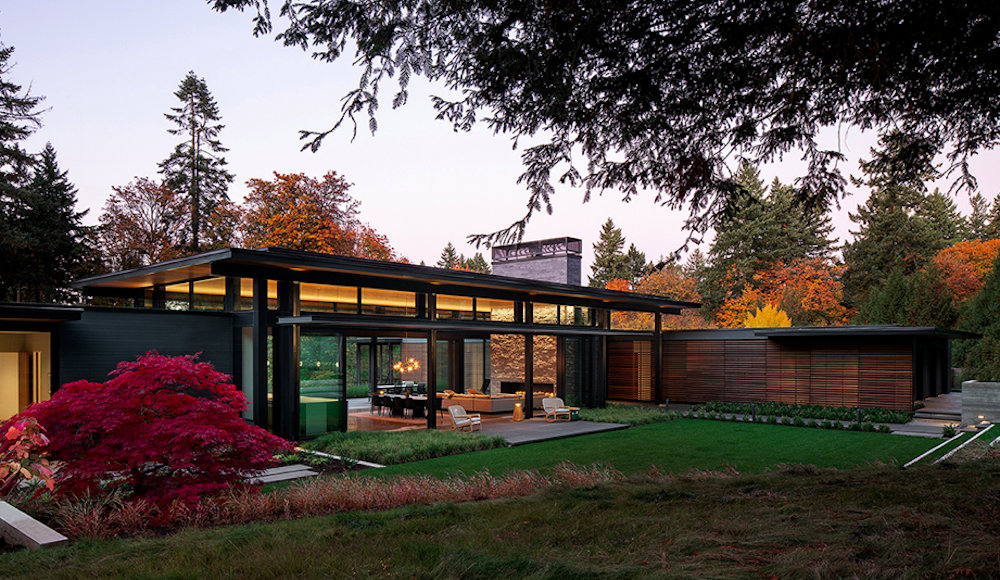 The large, open great room and kitchen are bordered on both sides by floor-to-ceiling glass doors, providing a direct connection from the forested front yard to the minimalist courtyard and a view out to the forest beyond.
This courtyard, which features a pool, spa, and dining area, separates the two wings of the house. The active wing of the house contains the workout room with sauna, media room, guest bedrooms, wine room, and whiskey room – allowing the other wing of the house to be solely focused on quiet privacy for the master suite.
In the traditions of Japanese and Pacific Northwest Modern design, the structure of the home is clearly expressed and legible, forming an open framework of beams and columns. Materially, the home is quite restrained and simple, with a limited palette of materials such as wood, steel, stone and glass that connect the residence to its site in the hills outside of Portland, Oregon.
Glass Link is carefully positioned on the site to balance the family's desire for a private, inwardly focused space of retreat with views of the surrounding forest and carefully cultivated gardens. The home is tucked into the gentle slope of the site, allowing the great room and courtyard to be open and airy, with the quieter areas of the home sheltered by the earth and the trees.
Click here for further information
Report by seallp.com
---