The KTM RC 8C is an ultra-lightweight, bespoke track weapon designed with one simple purpose – to decimate lap times and stamp orange authority on the starting grid.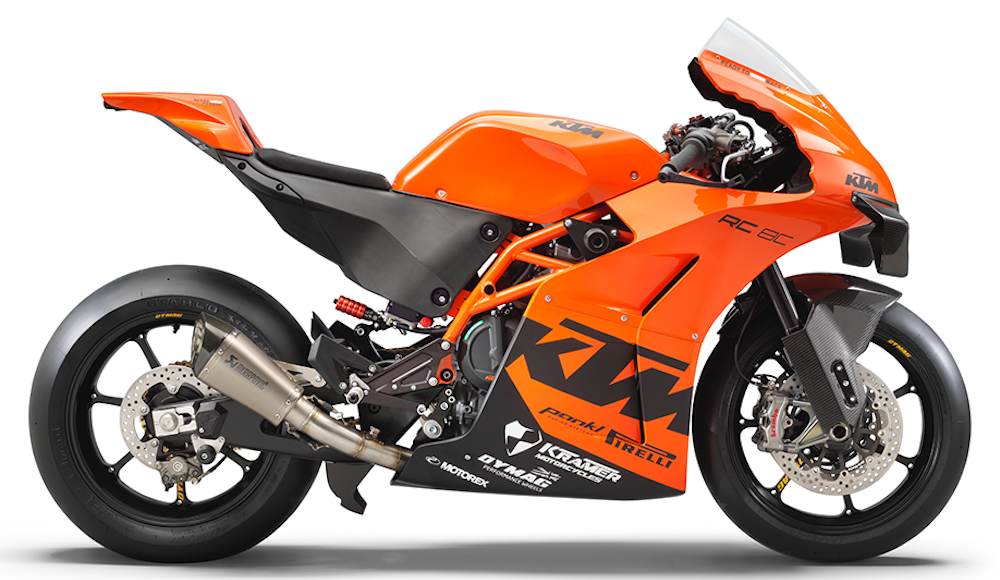 With only 100 of these rare weapons going into production, the KTM RC 8C is a highly limited, unique motorcycle aimed at a special type of rider who knows how to get his, or her, elbow down.
Click here for further information
---
Chassis 2022 KTM RC 8C
Triple Clamp
Lightweight, CNC machined triple clamps feature an adjustable offset for tailored rider control. Offset can be set in two positions, 26 and 28 mm. for faster turn-in, improved stability and sniperlike accuracy.
---
Premium Componentry 2022 KTM RC 8C
Rear Brake
Slowing down the back is a Brembo master cylinder and two piston caliper grabbing a 230 mm fully floating disk mounted directly on the hub, complete with titanium brake caliper screws.
---
Engine 2022 KTM RC 8C
Crankcases
The KTM RC 8C's powerplant features high – pressure cast aluminum, horizontally split crankcases. This allows for reduced wall thickness for weight optimization. The open deck cylinders are integrated into the crankcases for a more compact assembly.
---
Electronics 2022 KTM RC 8C
Mission Control
On the track, data equals speed. The KTM RC 8C makes use of a race-focused, easy to use dashboard with data logging technology which records multiple aspects of your lap. All data is logged into the AIM RaceStudio for easy and concise studying later.
---
more information: ktm.com