Looking outside through my bedroom window, all I see are gray skies, a wet terrace, leafless and bare trees with stormy clouds above.Yes, it's wintertime. Perfect weather to take dramatic photos, however, I miss the warm summer days so bad. Walking around in shorts and flip-flops while feeling the sun rays burn on my skin or maybe enjoying a fresh, cold beer on a terrace. Man, I miss the summer days so much!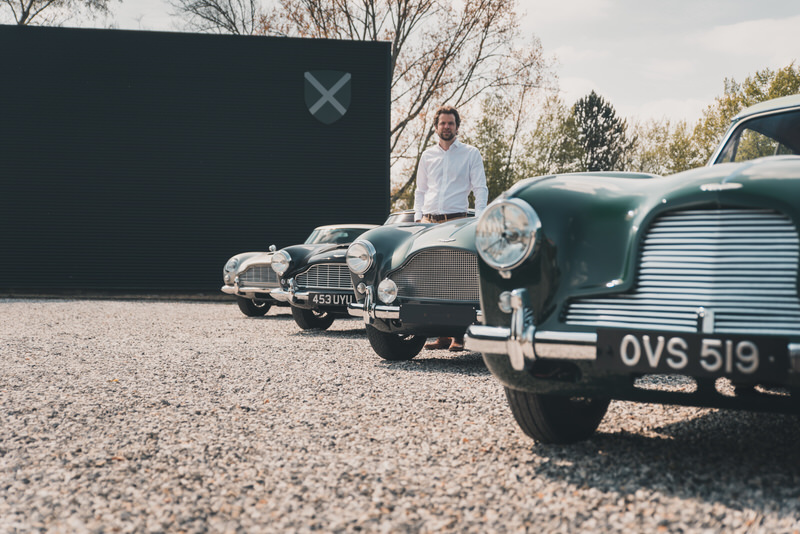 Anyway, that being said, as I sit here I have to think back about my visit to British & Sportscars in Overijse, Belgium I made last summer.
I suppose this is a perfect time to make myself a nice, steaming cup of earl grey tea and think back about this wonderful summer day in combination with some gorgeous classic machinery.
British & sportscars
Founded almost 40 years ago by a passionate gentleman named Gerard Dulait. His love for exclusive cars – combined with hard work of course – made it possible the business grew out to be a fairly known name in the world of fine automobiles.
Even though they do a lot of off-market sales, a wide variety of cars are for sale through them. And whenever you have a look at their website or instagram page (@britishandsportscars) you will know exactly what I am talking about.
Everything from a 1960's Jeep Willys with an AC Cobra engine to a low mileage, Tailor Made Ferrari 812 GTS. And from a thoroughbred race car like a Radical RXC Turbo 500 to a charming Citroën Type H Food Truck, complete with wooden cabinets and all!
Obviously with a name like that, they have a fair share of British cars on offer as well. At the time of writing they have a classic open top 1935 Bentley Derby 3.5 Sports Special for sale as well as a highly MSO specced, bright orange, McLaren 765LT with the optional 'Black Pack'. Fancy something a little more discreet? How about a timeless Aston Martin V12 Vanquish in meteorite silver? Want to bring out your inner race car driver, then the Lotus 22 is the car for you!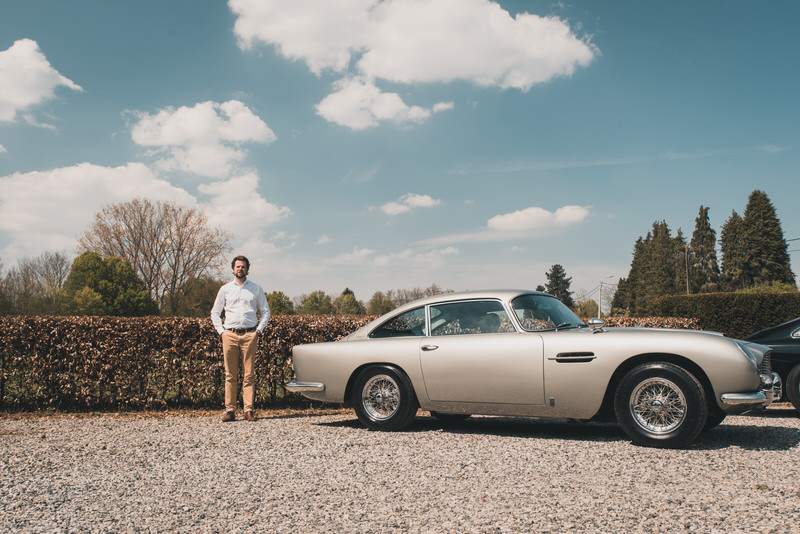 When you're done hooning around the track, you might want to relax while going home in a bit of luxury? Well British & Sportscars got you covered with their Bentley Azure, Continental, Arnage or Mulsanne. Also a 2004 Rolls-Royce Phantom is offered for sale, for those who think the Bentleys aren't posh enough. (A driver named James not included)
Talking about British cars, they had lined up some great cars for me when I got to visit them that day. What do you think James Bond would say about the epic line-up of Aston Martins they presented for me: a DB2, DB mk iii, DB4 and a DB5. Do you think 007 would approve?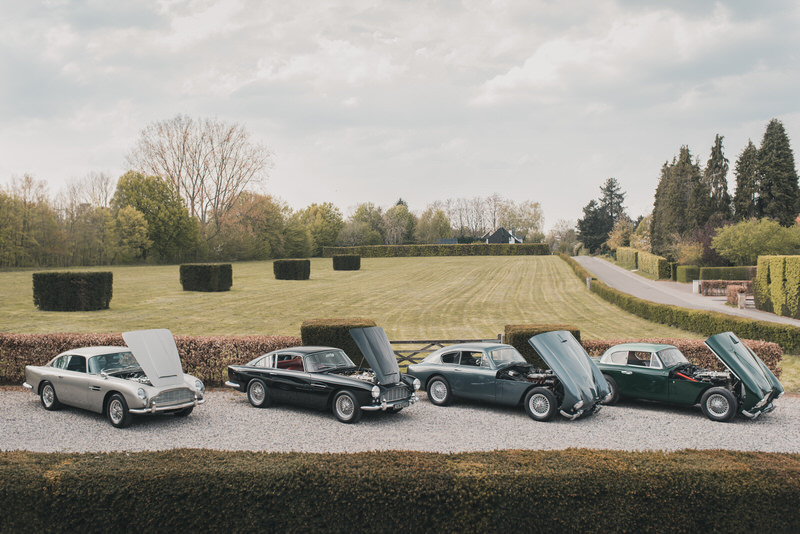 I met with Gaëtan Van der Kindere, the man responsible at British & Sportscars for the collectors and off-market cars to run over the cars they had lined up for me.
Talking about the details and sharing a bit about the history of each individual car. His passion lies with the classic – and race – cars. To jokingly quote him 'I stop with the manual gearbox, any cars after that, I am not interested in'.
Aston Martin DB2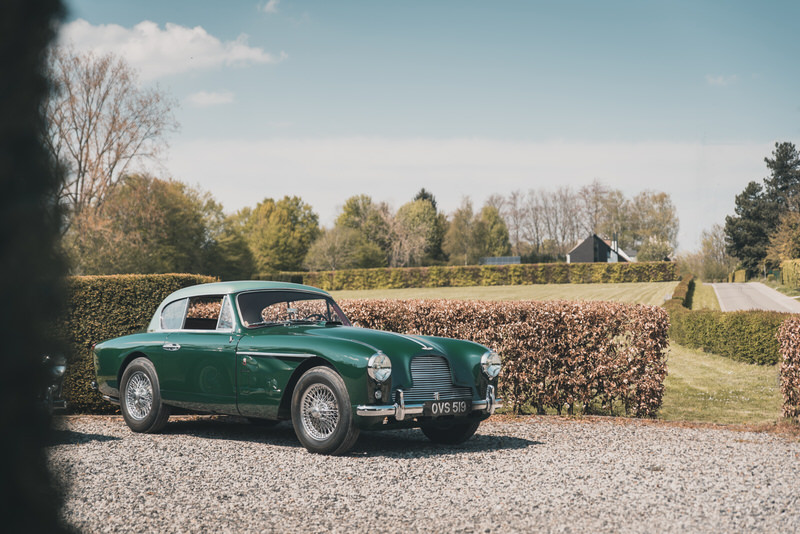 It only seemed fitting to start the walk around with the oldest of the lineup, a dark green, left hand drive,1956 DB2/4 mk2. This one has the Tickford body which is a little bit different than the normal DB2, making it even more special. The Tickford – also known as notchback coupé or fixed head coupé – has an even more curved windshield, an air intake on the bonnet, side vents and a redesigned rear window. Giving the car an overall more rounded look.
Their intention was to give it a hard-top-look, however you can't remove the top. Hence the name 'fixed head coupé' – or FHC in short. The two-tone paint job of this specific car really adds to the illusion you can take the roof off, which is kind of strange when you first look at it.
Talking about the paint; this one has an all original color combination, with the body painted in a shade of dark green while the top has been painted in a lighter green metallic.
The red, leather interior sure matches the car perfectly! A while ago the car was completely restored by Aston Works. Over €200.000 for the restoration alone, which has been well documented and filed.
Another quirky thing about this specific car is the fact it has a DB4 engine. Somewhere during its lifetime the original 2922 cc engine made place for a 3670 cc block from the DB4, gaining more power obviously. Now it produces 241 British horses compared to the 165 of the normal mark ii. However, this is not just any DB4 engine – nope – it has a P.P. stamp on there. Meaning pre-production. When this engine swap exactly happened is hard to tell, but this car was once owned by a very well known Aston Martin engineering company named R.S. Williams who specializes in restoration projects.
Only 199 mark II's were ever produced while only 34 of them had the Tickford bodystyle.
Aston Martin DB Mark III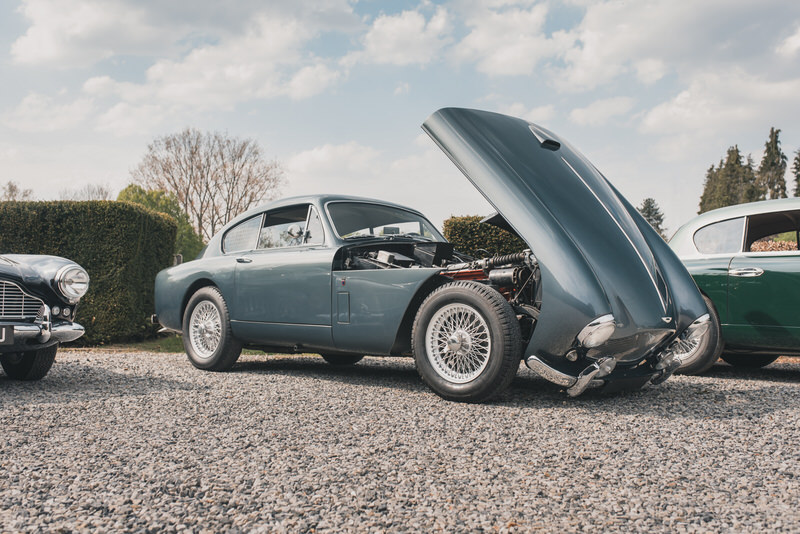 The next in line was a 1959 DB Mark III, however the official name should actually be DB2/4 MK III. Watch out, these should not be mistaken by the DB3 race cars, who are wearing the same front as the mark iii but are definitely not the same cars at all. The barchetta variant of the DB3 – named the DB3S – raced at Le Mans with drivers such as Sir Stirling Moss and Carroll Shelby.
This stunning example is finished in 'Cardinal Grey' and has a black, leather interior. It's one of the later ones and was delivered new to a sheik from Bahrain and has some interesting factory installed options, like the bigger DBB-engine. Not more than 10 cars left the factory with this type of engine and now produces 195 hp instead of the 178 hp found under the bonnet of the stock Mark III.
It also has different, upgraded brakes and the car has been owned by the same gentlemen since the late '80s who restored it himself. Originally this mark iii left the factory blue over gray leather interior but during the restoration the owner decided to repaint and retrim the interior in the current combination it is in today. Grey over black.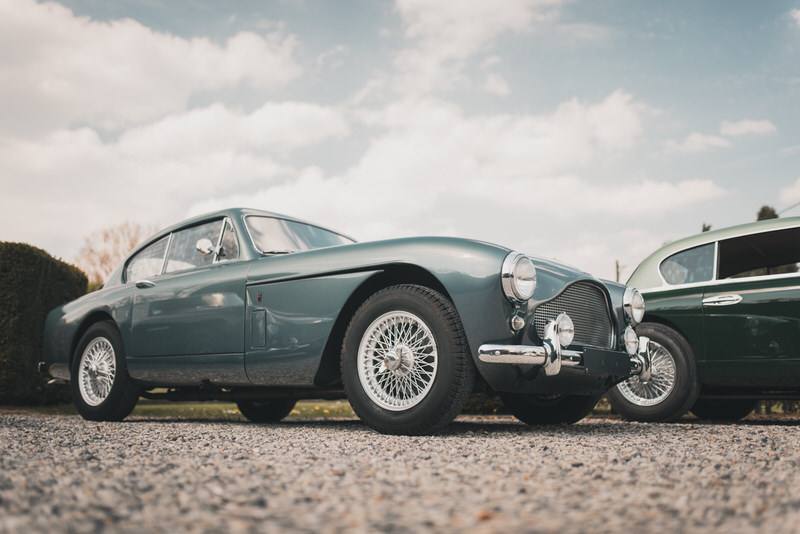 Because this has taken place quite a while ago, the dashboard – and basically the whole interior – has been patinated really nicely.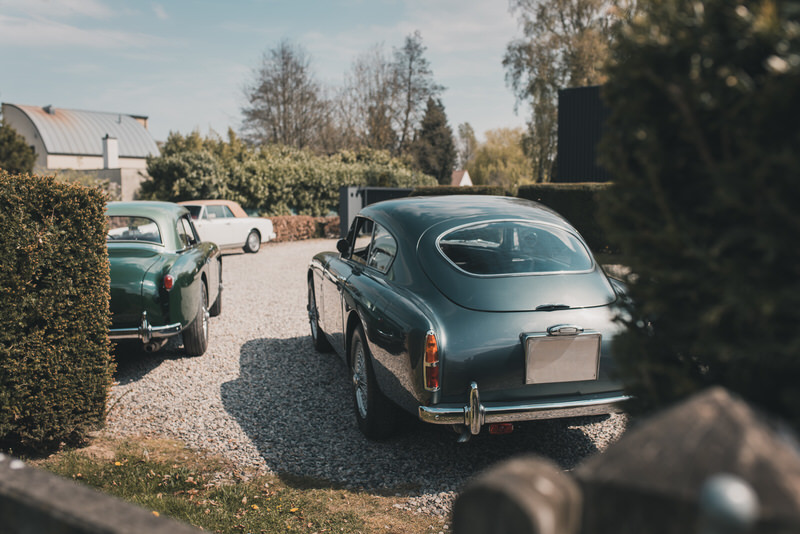 Notice the jute rope around the spokes of the steering wheel. Very cool touch if you ask me!
Aston Martin DB4 MK IV
The black beauty of the line up is a special one. A 1962 DB4, with a GT engine which is really rare. Especially in left hand drive configuration, only 17 came out of the factory like that. This DB4 has also been restored by Aston Works and is still in the original spec, black over red. Simply stunning! No costs were spared as the invoice was over €400.000!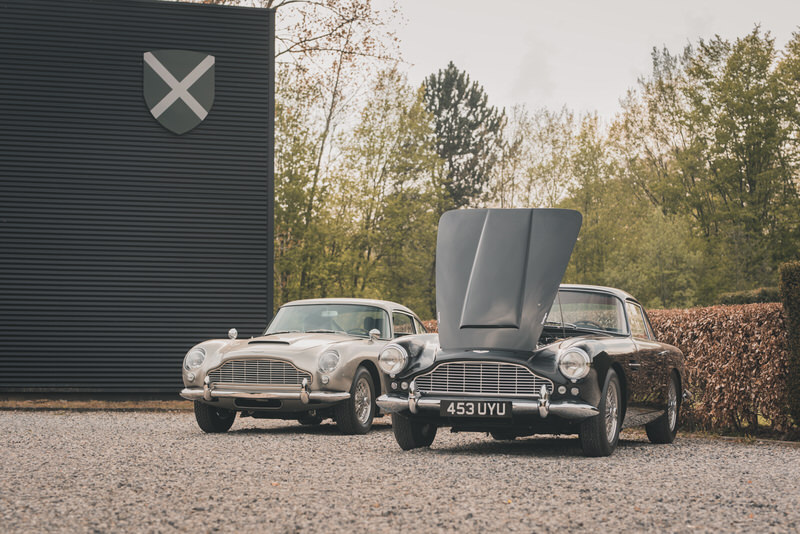 There are 2 words collectors like to hear: Matching numbers – this one is exactly that. To the Aston Martin community and purists, the DB4 is arguably the most desired car of them all. The iconic shape and perfect proportions make these cars super desirable. Especially in this color combination. This car is certified by Aston Martin themselves and comes with a well documented history. Another thing collectors really like to hear!
Aston Martin DB5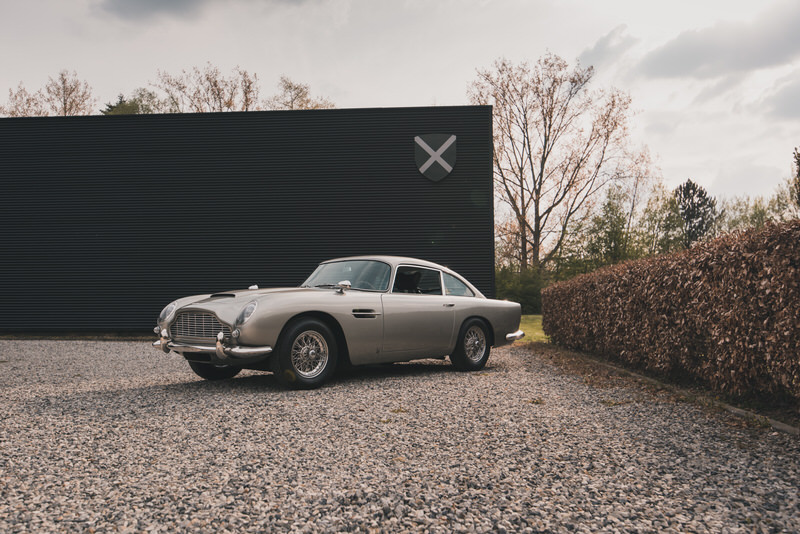 Finally we have the iconic 1965 Aston Martin DB5 we all know from the James Bond movies. One of only 220 left hand drives, painted in typical Silver Birch we automatically associate the DB5 with. That being said, there actually weren't that many that have left the factory in this color, most of the DB5's were later repainted in silver. This one is not an exemption as it was a red over black car originally.
The DB5 has been owned for a very long time by a family in the states up until 2008. But unlike what you might think, it was basically parked in a barn and completely forgotten, abandoned and rotting away… Sad.
Luckily, someone bought it and it was auctioned by Bonhams in 2010 where the current owner bought it. In 2013 the very much needed restoration process started, which took around 5 to 6 years in total. Everything has nicely been documented on this car. From the day it was rescued from the barn, throughout the whole restoration process up until it's latest work done by British & Sportscars themselves.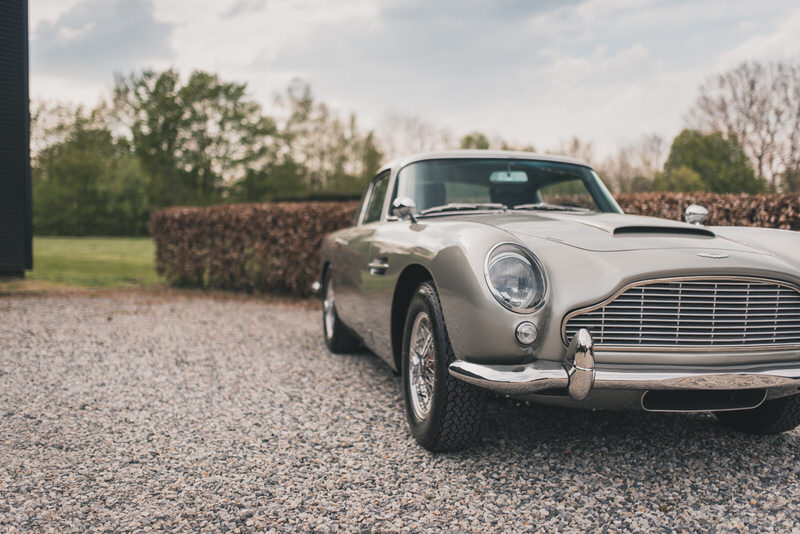 This DB5 was professionally restored by a company who specializes in mostly DB4 and DB5 convertibles called Zerwick Automotive. Looking at the parcel shelf I noticed 2 weird tubes sticking out. When I asked about this Gaetan let me know these were the actual optional AC vents.
Upon further inspection of the interior there was something off. I had a 'je ne sais quoi' feeling as I couldn't really point out what was 'wrong' with it. Then it hit me, these front seats have a headrest! Apparently, these headrests came as a factory option as well. Now I have to say, even though it's a rare option and you can take them off, I don't know if I like them or not. You be the judge of that!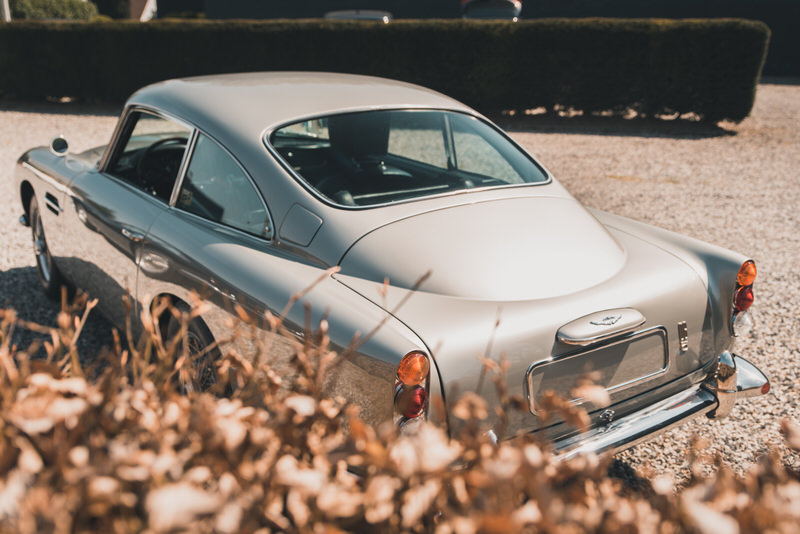 Unmistakably the DB5 is well associated with James Bond by basically everyone on this planet as it starred in the movie 'Goldfinger'. We all know the Bond cars have the 007 gadgets installed and the DB5 was no stranger to them. For the 1964 film they made four movie cars, some of them fitted with a bullet shield behind the rear window, a three-way revolving front number plate, a smoke screen and even pop out gun barrels behind the front indicators! And those are not even half of the smart trickery installed on 007's car!
Fun fact: It has to be said that in the book – which was released before the movie obviously – Mr. Bond actually drove a DB2/4 mk iii instead of the DB5.
I also met up with another local beauty and model named Zoe Caron (IG: @zoe_caron) for some quick shots. There's just something special about the combination of classic cars and beautiful women don't you think? Drop her a follow if you think these shots came out good and let her know in the comments if we should do some more shoots together!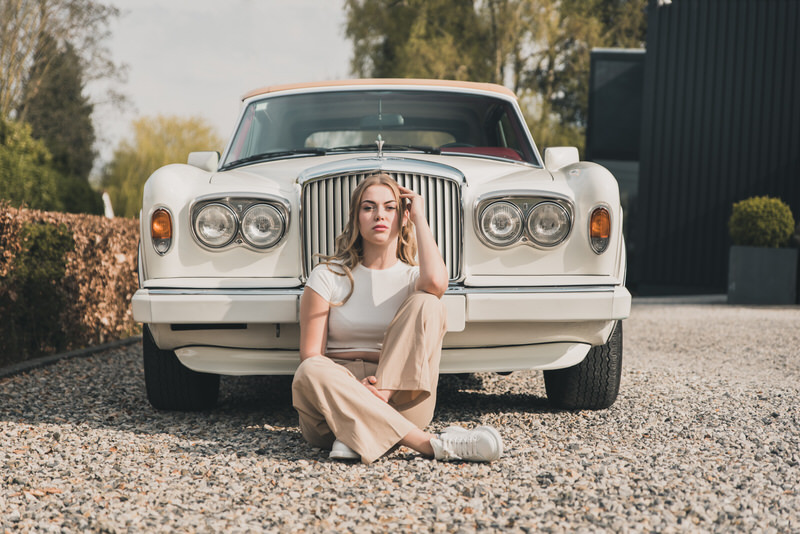 Overall, this is such an amazing lineup of unique British automotive history, all with a great story behind and a well documented past. Looking at them sitting next to each other, it's also nice to notice we have all the different shapes of classic Aston Martin front bumpers together. Really cool to see the evolution in design language.
So do you think Mr. Bond would be jealous of this line up? I dare to say he would be!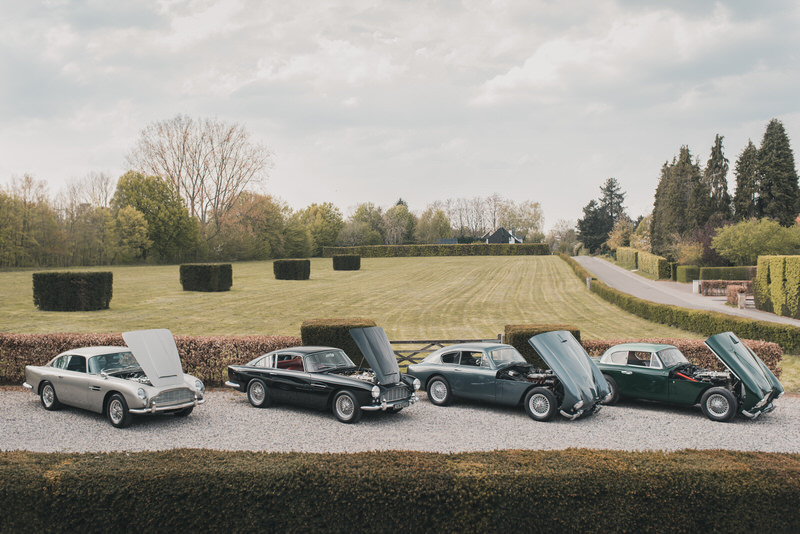 Big thank you to British & Sportscars for this awesome opportunity and your hospitality. Head over to their website or catch them on Instagram (@britishandsportscars) if you want to check out their current inventory. You'll be amazed by the wide variety of cars they have in stock.