Tetsu Ikusawa was one of the first Japanese drivers to make an impression in European motorsport. Born into a wealthy Japanese family in 1942, Tetsu seemed destined to follow hs father into the world of art, but after leaving art school he became involved with motorcycle racing before moving into cars.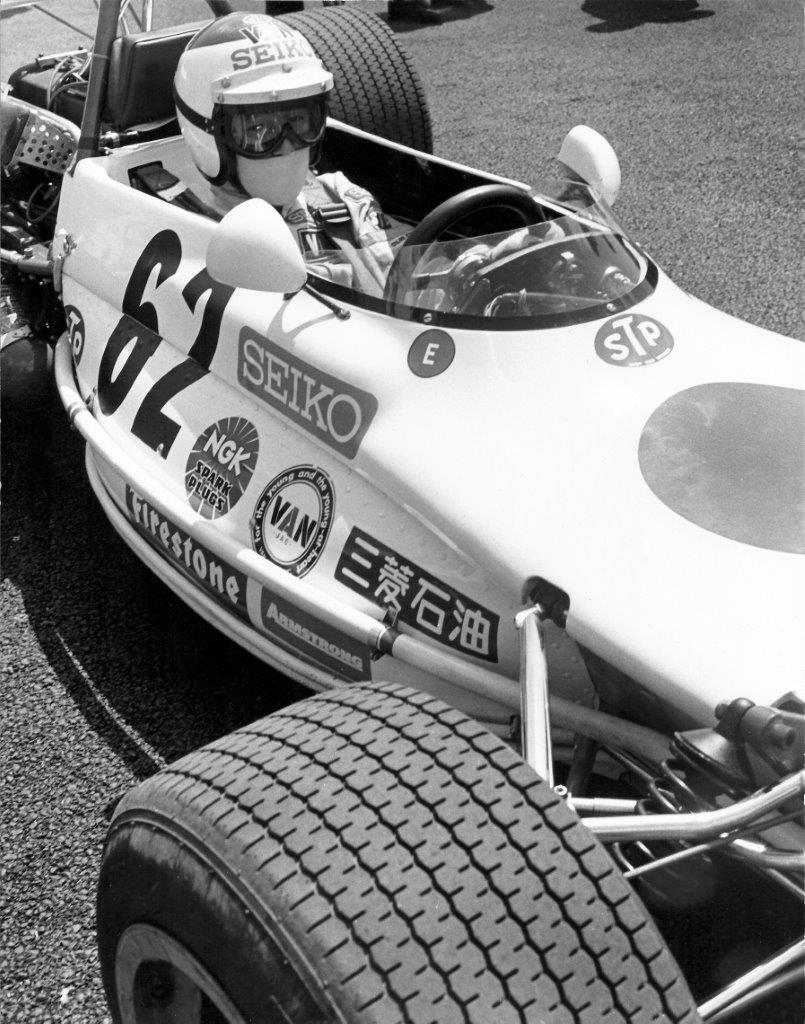 At a time when motorsport was gradually gaining in popularity in Japan, he was hired by the Prince Auto Company to race its Skyline Sport model at the Japanese Grand Prix in 1963. This was Testsu's first race; the following year he fought a memorable battle with a Porsche 904 that is still recalled by those who witnessed it. In order to progress in the sport, he knew he would have to leave Japan and in mid-1966 he moved to the UK where he raced in the Formula 3 series driving a Lotus 41 for Motor Racing Stables. In 1967 the team purchased a Brabham BT21 and Tetsu completed a full season of 17 races, winning three and finishing ninth in the championship. 1968 saw him transfer to the Frank Williams team where, with four victories, he finished the year in fourth place. A deal with the Surtees team to drive in Formula 2 and F5000 in 1969 fell through and Tetsu was reduced to driving a handful of F3 races for Mike Spence's team.
1970 saw him progress into Formula 2 when he created his own team, driving a Lotus 69. He almost won his second race, losing by only four tenths of a second to Clay Regazzoni at Hockenheim and sixth in the championship was his only reward. Due to the popularity of F2, so many teams entered that qualifying heats were introduced and only the most competitive drivers got to race which led to a disappointing season in 1971. Tetsu still returned home every year to race in the Japanese Grand Prix but success in Europe, racing single-seaters, proved hard to achieve. His talents were, however, noticed by the management at Porsche who signed him as a reserve driver for the world championship events. His only race for the team came at the Watkins Glen 6 Hours where he co-drove a Porsche 908 to sixth place with Hans Hermann and Jo Siffert. In 1973 he made his debut in the Le Mans 24 Hours driving a Sigma and this was the first of many Le Mans entries the last of which was in 1981 driving a Mazda. By then, he had retired from full-time racing and moved into team management; a proposed Formula 1 team failed to materialise due to an economic downturn in Japan. He remained in the sport despite other business interests and in later years he became famous for his private collections housed in a remote warehouse outside Tokyo. Most notable was his huge collection of Porsche 911s, almost all 964 models.
The photograph shows Tetsu Ikusawa in his Lotus 69 at the Crystal Palace circuit in south London, waiting to take to the track in an attempt to qualify for the Formula 2 race on May 31st 1971. The size of the track dictated that only 16 cars would start so numerous big-name drivers were eliminated from a total entry of 87 cars. Of these, 24 failed to arrive on the day which left 47 cars to attempt to make it onto the grid, such was the popularity of Formula 2 in that era.
From 'Moments in Motorsport' by Trevor Legate.