Canepa is offering this stunning Singer "Reimagined" 911 for sale. 4.0 Litre – 390 Horsepower – 315 ft lbs Torque. $690,500 in build options. 312 miles since conversion. Carbon fiber fenders, hood, wings, roof, deck lick, and bumpers. Carbon ceramic brake system.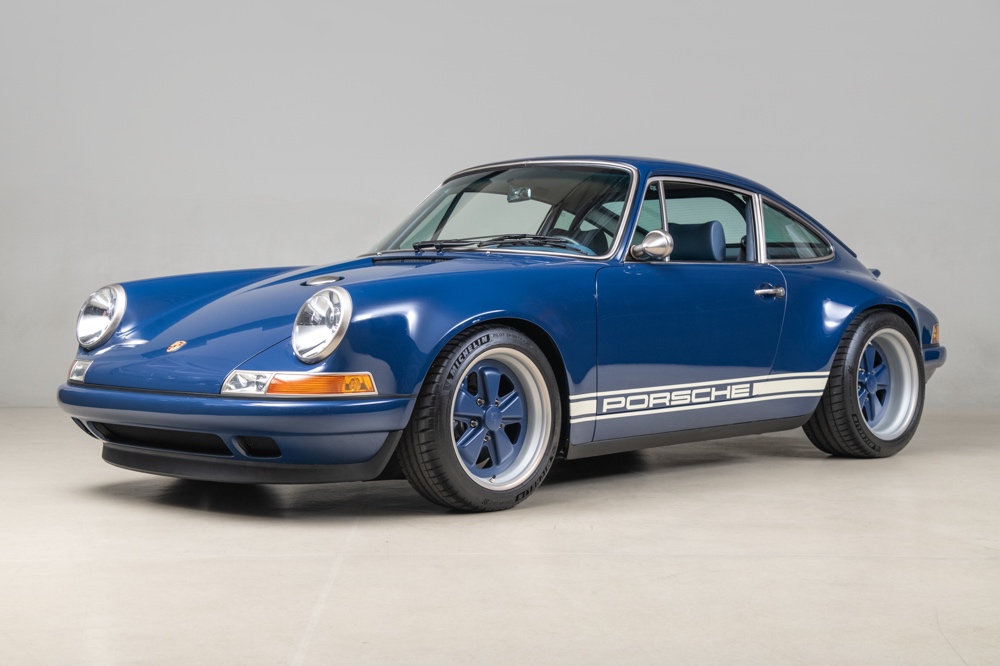 Singer has established itself in the automotive industry as one of the most recognized brands in the U.S. Many of their one of one custom builds have been featured in various magazines, shows, etc., making headlines worldwide. Founder Rob Dickinson set out on a journey to develop the ultimate retro air-cooled 911. Using the best engine, chassis, and road components, this is the recipe for the best homage to the original 911 S/T.
The starting point is a 964-era Coupe or Targa, stripped to bare metal before being dipped in anti-corrosive coating and then treated to custom carbon fiber bodywork. Every detail after that, from the headlights to the engine bay, the bespoke wiring harness to the sophisticated braking system, or the suspension components, has a level of motorsport quality and finishing. Even the sound deadening inside the car was designed by aircraft specialists, and the 4.0-liter engines were built by Ed Pink Racing Engines.
This particular 911 by Singer was initially ordered in August of 2018. This is part of the first production series done by Singer. The Carrera 4S started as a donor car and was stripped down to the bare metal, where the long process of building this 1 of 1 machine began. The exterior is finished in Fiona Metallic, with side dark ivory stripes. The entire exterior paint is protected in X-PEL protection film. The interior of the car is fitted with Track front seats with custom leather panels finished in Blue charcoal.
The dash is finished off in Nickel Singer/Black Reimagined using early 911 style gauge units. A roll hoop and harness bar were also installed to provide more safety. The handling of this Singer is being supported by Ohlins suspension, Carbon Ceramic Brakes, and Michelin Pilot Sport tires on Fuchs/RS 16in wheels.
The car is equipped with the most desirable 4.0-liter engine, built by Ed Pink. This engine features a custom crankshaft, oil pump, pistons, cylinders, connecting rods, camshafts, cylinder heads, throttle bodies, and intake system. Producing about 390 HP with 315 lb/ft of torque, this Naturally Aspirated engine achieves 0-60 in 3.3 seconds and reaches 100 mph in about 8.2 seconds. The power is sent to all four wheels through a 6-speed manual transmission. It rolled off the Los Angeles shop in August of 2020, and has been driven less than 350 miles in the last 2 years.
Upon arriving at Canepa, vehicles are treated to the "Canepa Difference" This includes a complete mechanical inspection. Everything is serviced as needed and road-tested by Bruce Canepa. It is finished off with a Concours quality detail. The undersides and wheel wells are hand cleaned, ensuring that each surface is spotless. The trunk, interior, and engine bay are also cleaned, ensuring that the Singer is presented as though it had just rolled onto the showroom floor. With the remaining step being the exterior, the finish is polished and waxed to "as new" finish.
With over three years of wait time, the Singer is one of the most highly desired cars in today's market. This Singer "Reimagined" 911 available at Canepa is the opportunity to own and feel the Singer experience now.
SPECS
CHASSIS
BODY & DRIVE: C4 LHD — $395,000
ROOF STYLE: Coupe Carbon Roof –
SEAM-WELDING: No –
ROLL HOOP: Yes — $5,500
HARNESS BAR: Yes — $4,200
PERFORMANCE
ENGINE: 4.0L — $85,000
CAMS: Big –
INTAKE: Ceramic Plenum (4.0) –
TUNE/ECU: Standard MoTeC –
CATS: High Flow –
EXHAUST: Titanium — $25,000
TRANSMISSION: 6-SPD AWD — $45,000
SUSPENSION: Ohlins — $12,500
SUSPENSION TUNE: Phantom Road –
BRAKES/BOOST: Carbon Ceramic/HYD C4 — $22,000
TIRES: Michelin Pilot Sport –
FUEL: Center Fill — $10,000
OIL: External — $5,000
EXTERNAL TRIM
PAINT: Fiona Metallic #1′ — $6,500
PROTECTIVE FILM: Whole Car — $7,500
BUMPERETTES: Body-color –
TOURING TRIM: None –
STRIPES: Sides Dark Ivory — $3,500
LETTERS: Dark Ivory –
DECKLID LETTERS: Dark Ivory –
DECKLID BADGE: Nickel Singer –
'REIMAGINED': Dark Ivory –
LUG-NUTS: Open –
CALIPER FINISH: Fiona Blue –
CALIPER LETTERS: White –
WHEELS/CENTERS: Fuchs/RS –
REAR REFLECTORS: Yes –
TARGA ROOF: –
INTERNAL TRIM
LEATHER: Blue Charcoal (AU631) –
INSERTS :176Gratitude3 — $15,000
DASH/ROLL TOPS/PARCEL: AU631 Leather –
KNEE-PAD: AU631 Leather –
INTERIOR PANELS: AU631 Leather Jacuzzi/Tunnel/Sills — $7,500
KICK PANELS: AU631 Leather –
CABIN STITCHING: Alabaster –
FRONT SEATS: Track — $10,800
FRONT SEAT BACKS: Piano black –
GROMMETS: Nickel — $2,000
REAR SEAT – BACKS: Delete –
REAR SEAT BELTS: No –
STEERING WHEEL: Prototipo –
STEERING WHEEL STITCHING: Alabaster –
COMPARTMENTS: AU631 Leather –
COMPARTMENT STITICHING: Alabaster –
HEADLINNER: Ivory –
FLOOR: AU631 Leather –
OVERMATS: Rubber (Front & Rear) –
FOOTBOARDS: Drilled –
SHIFT KNOB: Standard –
DASH BADGE: Nickel Singer/Black 'Reimagined' –
A + B PILLAR (UPPER): AU631 Leather –
A/C: Yes –
STEREO: Classic Nav (US) Upgraded w/ Subwoofer — $8,500
GAUGE STYLE: Early 911 (64-67) — $7,500
GAUGE UNITS: mph – F – psi –
GAUGE/TACH FINISH: Standard –
ODOMETER: 0 mi –
OPTIONS: $678,000
SPECIAL WISHES: $12,500
TOTAL: $690,500
SPECIAL WISHES
Custom 'Robb-report' stripe-weave interior – 176Gratitude3 –
Leather duffel bag in Blue Charcoal (AU631) –
Extra wheelset Fuchs/Body-color (satin) centers w/ winter tires — $12,500
Click here for further information  
---
collectorscarworld is partnering with the most renowned classic car specialists and dealer-ships in the world. We always offer selected rare and sought-after collectors cars and supercars for sale and every day a special car is featured for one of our partners. The passion for classic cars is diverse, sometimes it concerns the beauty of forms that can be admired at a concours, sometimes it is the smell of rubber , old leather and gasoline at a racing event or trip in the sunset.
Or its a classic car you have great memories with or which your parents owned a longtime ago. Classic cars and supercars are an expression of the lifestyle that someone shares with other petrolheads, and which is immortal, enduring and always a lot of fun. If you are looking for a special car or need support in the evaluation and history of cars, please contact us at info@collectorscarworld.com 
---