The fountain pen is a symbolic luxury object designed to appeal to the daily or occasional user, the simply curious, the connoisseur and the collector alike. Locked for centuries in an endless cycle of popular or stylistic reinterpretations, it has rediscovered its true worth with Richard Mille.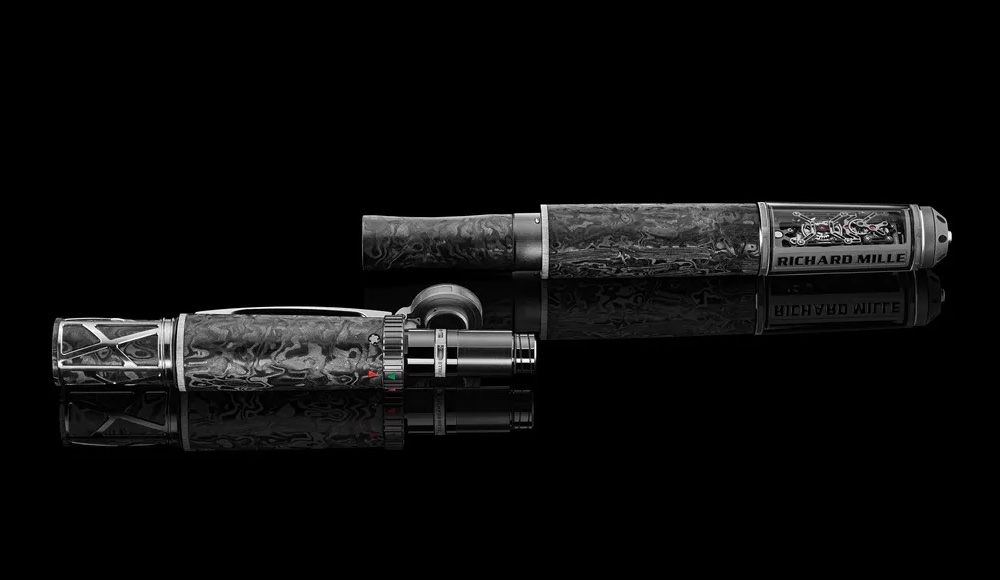 Richard Mille have revolutionised this quintessential writing instrument, transforming it into a pure product of watchmaking by virtue of a mechanical movement as complex as any RM calibre.
The last word in cutting-edge technology and innovation, with a strong artistic angle and optimally ergonomic design, the mechanical fountain pen epitomises the brand's entire philosophy. The pen is equipped with a genuine, manufactured calibre, thus fitting perfectly with the Swiss Jura watchmaker's development and production strategy. It offers those in the know a product that captures the essence of Richard Mille, in the same way as the mechanical titanium cufflinks did.
Developed by the brand's movement creators, the pen took almost four years to research and develop before emerging as an exceptional, highly technological, one-of-a-kind product.
Baseplate And Bridges In Grade 5 Titanium
Based upon the same technology and attention to mechanical detail as Richard Mille's timepieces, the fountain pen uses a selfwinding pen calibre to extend the pen's 18K white gold nib.
The components of this mechanism are in grade 5 titanium with electroplasma treatment for the calibre's baseplate and PVD coating for the bridges. This provides the unique, extremely small calibre's skeletonised extending mechanism with great rigidity and precise surface flatness for perfect functioning.
Click here for further information
more information: richardmille.com
---