This new in-house automatic tourbillon calibre is highly technical and creative and took three years to develop. Each of its decorative elements are cheerful emanations of the Smiley world: a blossoming flower, the warm rays of the sun, a delicious pineapple, a blooming cactus, a pink flamingo and a brightly-coloured rainbow. A festive cocktail to be savoured drop by drop, as the drinking glass in this neon pop scene suggests.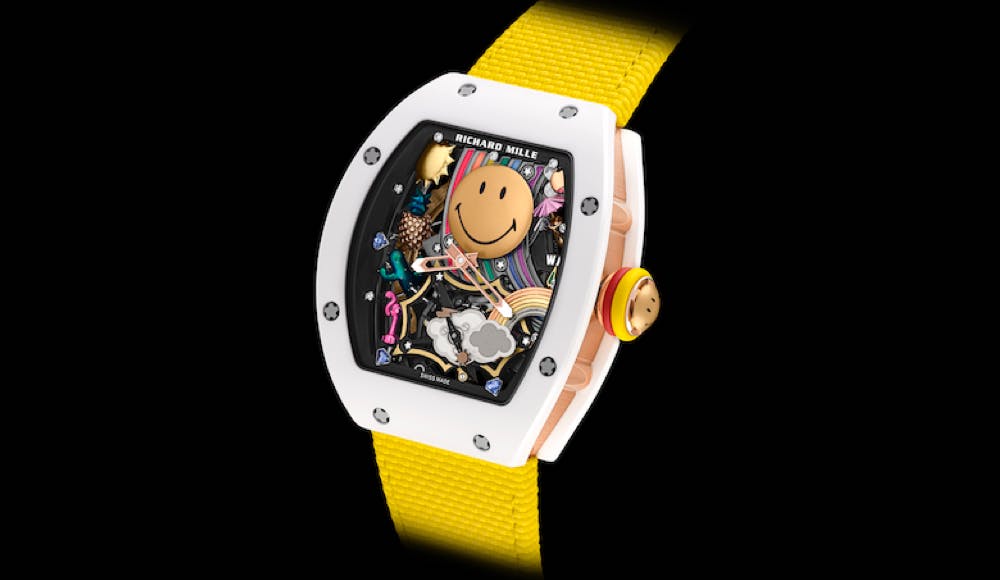 The quest for perfection is ever-present, as demonstrated by the green PVD-coated leaves, the microblasted and polished surface of the pineapple, the microblasted spines of the cactus in yellow gold, polished one by one to remove the PVD coating, and the sun, in microblasted gold with polished rays. In keeping with watchmaking tradition, all finishing operations on the RM 88 Smiley are carried out by hand.
Such splendour of colour and scenography, both front and back, deserved a setting that would do justice to the composition. The case is made of white ATZ ceramic – well known for its resistance to scratches, shocks and abrasion, as well as for its eternal whiteness – whilst red gold was employed for the caseband. The crown bears the precious Smiley sculpted in yellow gold.
The RM 88 Automatic Tourbillon Smiley, with its three-dimensional aesthetics and splendid colours, takes on the vivid quality of a waking dream. A playfully colourful, poetic and lively creation limited to 50 watches. An enchanting masterpiece whose positive vibrations convey a universal language, that of the smile.
New in-house CRMT7 automatic tourbillon calibre
A watch inspired by the Smiley world and its values
Limited edition of 50 pieces
Click here for further information
more information: richardmille.com
---