Get ready for summer to become an all-year state of mind with Richard Mille's latest collection: the RM 07-01 Coloured Ceramics. At its core, the collection borrows inspiration from the 1980s Italian art and architecture movement Memphis Design, while underpinned by the fundamental Richard Mille trademarks of performance, technicity and innovation.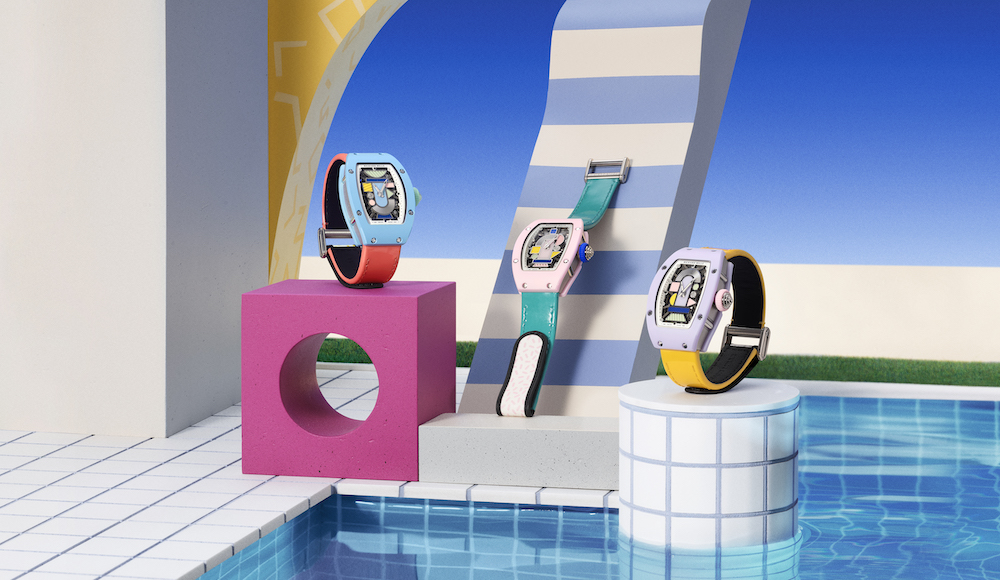 'I find Memphis Design particularly fascinating in its diversity and freedom,' says Cécile Guenat, Creative and Development Director at Richard Mille. 'The creator's goal at the time was to escape the strictures of Modernist aesthetics and they were pioneers in the use of all types of materials through their designs. At the heart of the design process for this collection was the idea of juxtaposing colours in materials. Then we enriched this work by weaving inside the ancient craft of guillochage. This creates a symbiosis of the ultra-modern and the traditional in watchmaking.'
Guillochage is a decorative technique that requires ancestral, hand turned engine crafting and an extreme dexterity of expert hands. This art consists of repeating individually applied lines. These lines combine and intersect, forming geometric patterns that impart texture to a plain surface, playing with shadow and light in subtle ways. The pressure applied on the white gold segment by the guillocheur during this process must be maintained constant, removing exactly the same depth of gold at each step to ensure the integrity of the final appearance.
A grey PVD-treated red gold dial serves to showcase the engraved Memphis motif, surrounded by other decorative detailing in coloured ceramic, laser-cut rubber appliques and diamond-set elements.
This collection is available in three summer-derived colours, blush pink, lavender and powder blue TZP ceramics. The Tetragonal Zirconia Polycrystal (TZP) ceramic used for the bezel and caseback is renowned for its lightness, strength and colour-retention properties. Even over long periods of time, the hue of this sophisticated material remains perfectly balanced and unfaded, looking fresh as the day it was produced.
Click here for further information
more information: richardmille.com
---