Nestled into a rocky mountainside adjacent to the Agua Caliente Indian Reserve, the Ridge Mountain Residence is envisioned as a sculptural piece that emerges from and harmonizes with its site at the end of a cul-de-sac.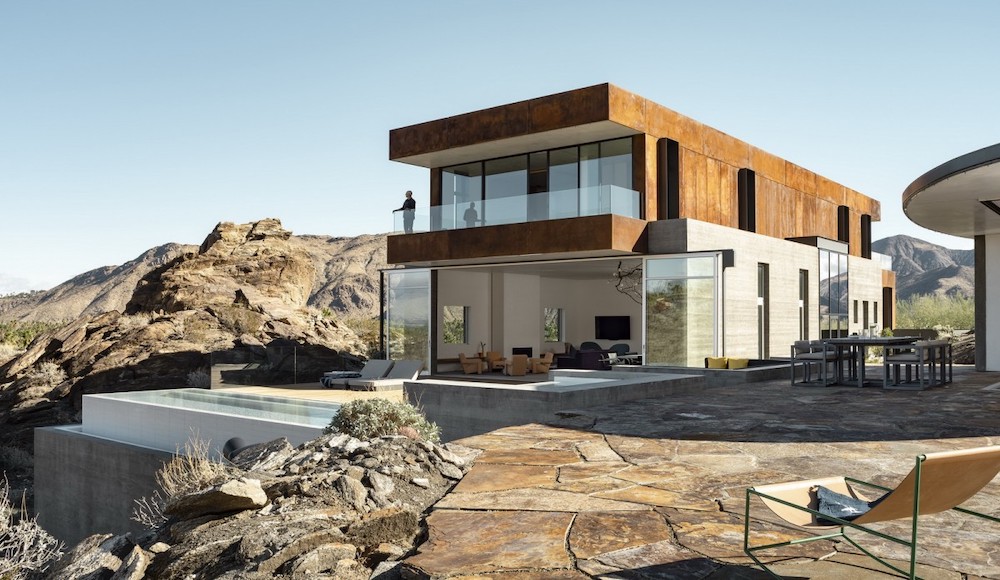 Framing dramatic vistas of the valleys and surrounding desert wilderness, the house dissolves barriers between indoors and out with sliding glass doors and windows. Maximizing natural ventilation, the residence is designed to have minimal impact on its remote environment.
The focal point of the Residence is a large great room with classically symmetrical proportions that convey balance and tranquility. Twelve-ft. high disappearing glass doors open completely to an infinity pool embedded in the landscape and up to a terrace and oval-shaped guest casita.
The material palette of board-formed concrete and naturally weathering steel cladding echoes the surrounding beauty. Large irregular pieces of flagstone used for floors and terraces throughout reflect the color of the desert boulders. Restrained, neutral tones in the interior finishes enhance the house's calm sensibility.
Landscape designer William Kopelk has composed a colorful wash of native plants and rocks that merge into the grounds of the house.