Frankfurt-based Adler started out in the 19th Century as a bicycle manufacturer, turning later to the production of motorcycles, cars and the typewriters with which its name is most commonly associated today. A highly respected firm in its native Germany, Adler was already manufacturing automobile components when it introduced its first car – a Renault-influenced, De Dion-powered voiturette – in 1900.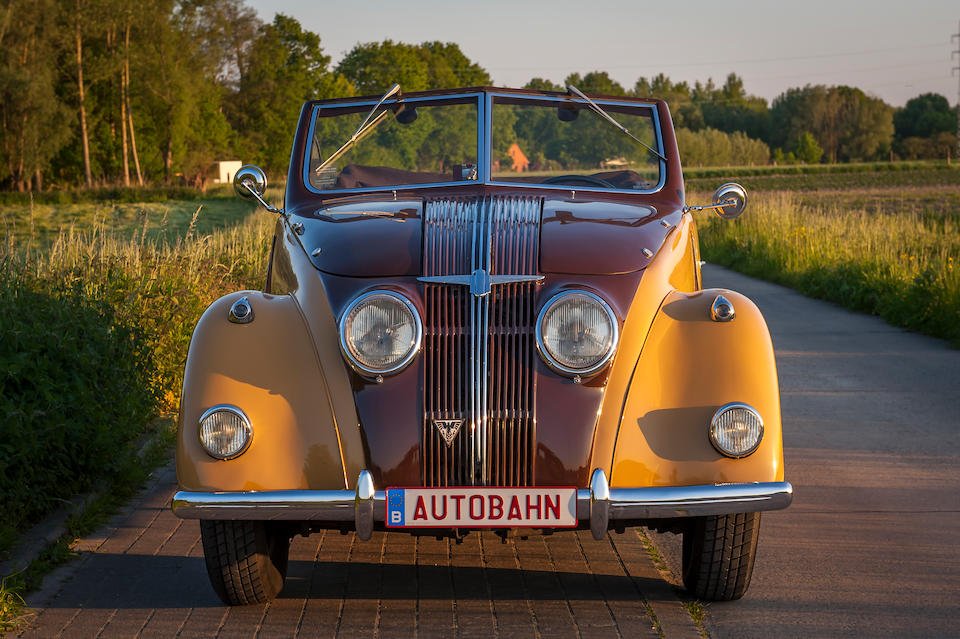 Within a few years the company was making its own single- and twin-cylinder engines, though by 1910 the range was powered exclusively by fours. Some of the latter were huge – as big as 7.4 litres – one of which was purchased by Kaiser Wilhelm II. Sixes and a straight eight were added to the range in the 1920s.
Chassis no. 185535 Engine no. T10 354 312 € 140,000 – 160,000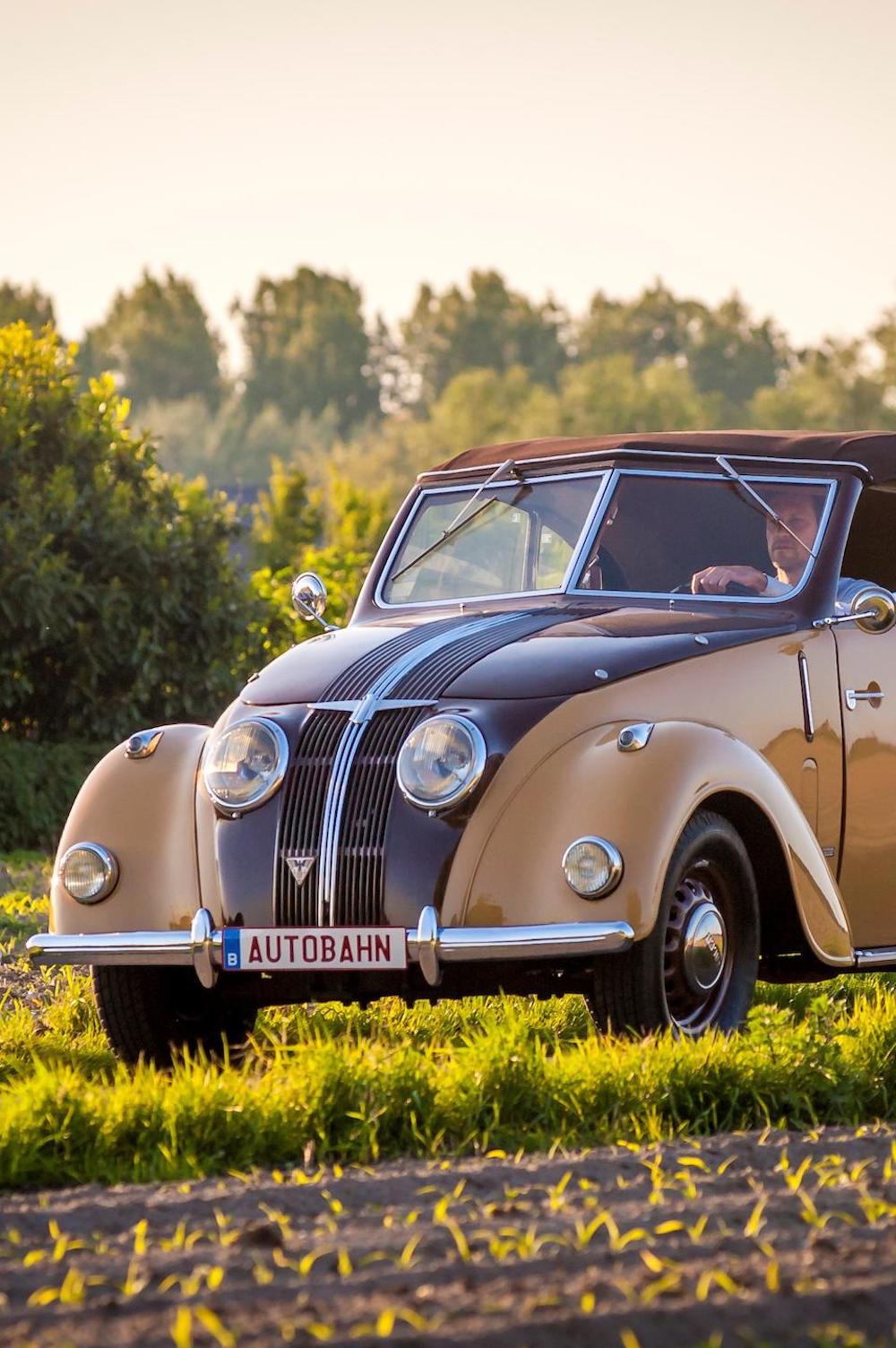 Adlers remained essentially conventional in design until the arrival in 1932 of the Trumpf. Designed by H G Röhr and premiered at the Geneva Salon, the Trumpf (trump) employed front-wheel drive and all-round independent suspension four years before the launch of Citroën's similarly specified yet much better known Traction Avant. Rack-and-pinion steering was another Trumpf innovation and a feature that early Tractions lacked.
By this time, automotive engineers were beginning to recognise the importance of aerodynamics in passenger car design, and the Adler 2.5-Litre typifies this trend. Introduced at the 1937 Berlin Motor Show, Adler's streamliner caused a sensation and soon gained the sobriquet 'Autobahn Adler', reflecting its aptitude for relaxed cruising on Germany's expanding motorway network. Boasting the commendably low drag coefficient of 0.36, the strikingly different four-door fastback saloon body was the work of Karl Jenschke, formerly with Steyr-Daimler-Puch. The steel saloon bodies were built by Ambi-Budd in Berlin, while construction of the two- and four-door cabriolet bodies was entrusted to Karmann of Osnabrück. The welded box-section chassis was of the platform type.
The Type 10 was powered by a 2,494cc sidevalve six producing 58 horsepower (80 in the Sport version), which was good enough to propel the slippery Adler to a top speed of 125km/h. The engine was coupled to a four-speed part-synchromesh (top three gears) manual gearbox driving the rear wheels, the change lever of which protruded from the dashboard as in Adler's front-wheel-drive models. Damped by hydraulic shock absorbers, the suspension was independent all round: at the front by wishbones and at the rear by swing-axles, while the brakes were hydraulically operated. Despite the Type 10's favourable reception, sales were rather disappointing and when production ceased in 1940 only 5,295 (over all versions) had been completed.
1938 ADLER TYPE 10 2.5 LITRE 2-DOOR CABRIOLET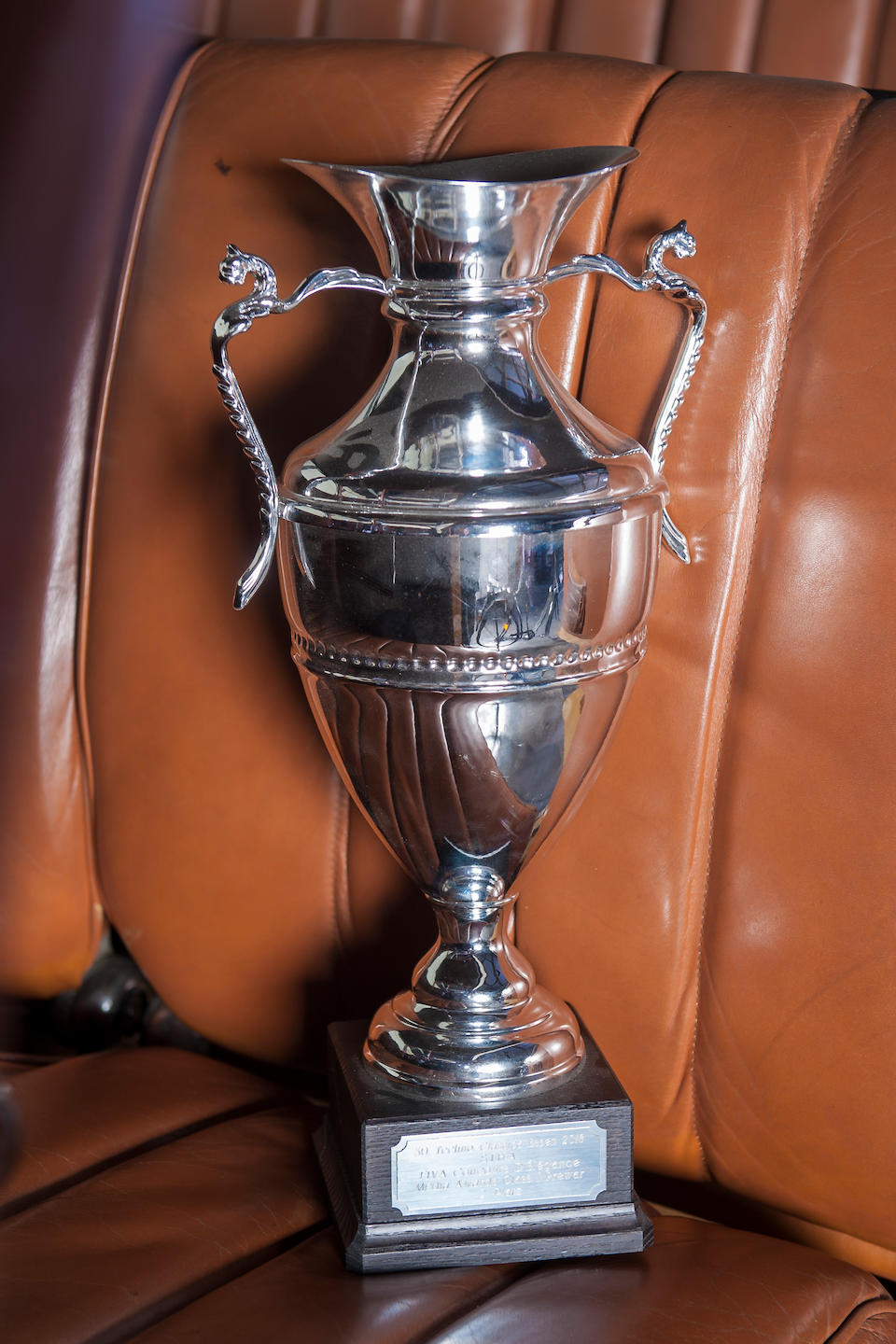 Very rare, this Karmann-bodied two-door 4/5-seater cabriolet is one of only a handful known to exist. Benefiting from long-term ownership, it is an older restoration (circa end of 1970s) by a former Karmann employee that still presents very nicely today. The car is described by the vendor as in generally very good condition: the nicely patinated interior being free of tears and scratches; the gearbox shifting smoothly; and all electrics functioning. The hood has been renewed and the car also benefits from recent works on the brakes and starter motor carried out by LMB Racing (invoices on file). The comprehensive history file also includes many rare old brochures and the autograph of Dutch movie director Paul Verhoeven (Basic Instinct, Total Recall, Starship Troopers, etc).
In 2018 the Adler was exhibited at the Techno Classica Essen FIVA Concours d'Élégance, winning a 2nd place award (Class 1 Pre-war). Ideal for shows, international concours, or long-distance touring, it represents a possibly once-in-a-lifetime opportunity to own one of these spectacular 'Art Deco' masterpieces from the Adler highlight years wowing the onlookers at the 1937/38 Le Mans 24 Hours race with spectacular Paul Jaray designed streamlined racers.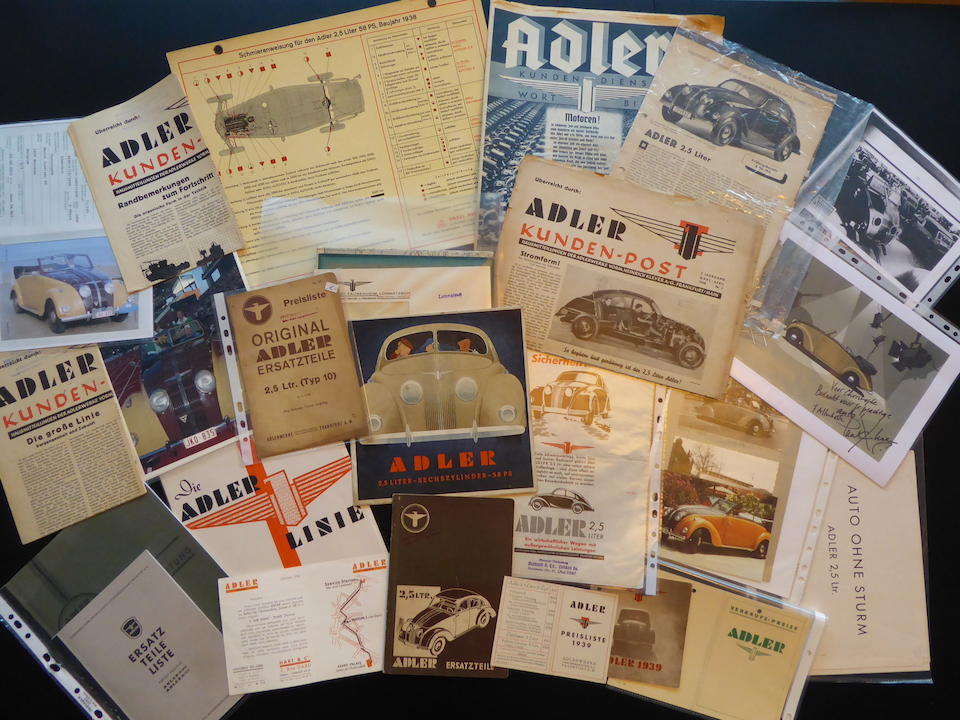 An Adler 100cc motorcycle, Adler bicycle and an Adler typewriter are included in the sale, and a spare engine (no. T10 354 632) and gearbox are available also. This Adler was featured on the cover of 'Oldtimer Plus' magazine in September 2007 and comes with Belgian registration documents.