While puttering amidst row after row of spectacular cars at the Gooding & Company auction in Scottsdale last week, one stopped me dead in my tracks. At the time I could not have told you what the hell it was. I just knew it was odd, gorgeous, and impossibly blue. And that I was transfixed by it.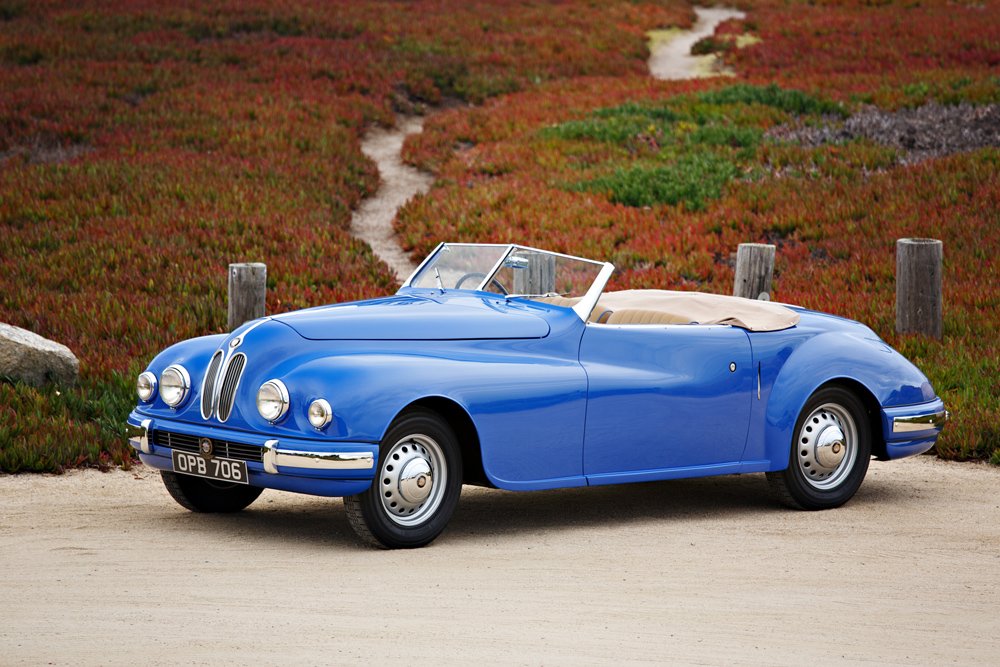 No doubt, the Thai prince that bought it nearly 68 years ago experienced a similar delight when he first encountered the Bristol 402. The difference—aside from the fact that despite my fine taste in automobiles I am not actually royalty—is that Prince Varananda would have known exactly what this car was and why he had to have it. Bristol was, after all, well-known in England for its role in producing aircraft during WWII, and Varananda served in the Royal Air Force, piloting a Spitfire over Utah Beach during D-Day.
After the war, Bristol transitioned into an automobile company, combining curvaceous pre-war design with a luxury flair and respected mechanicals. Using a slightly tweaked, 80-hp 2.0-liter hemi straight-six engine and four-speed manual gearbox, both licensed from BMW, Bristol would begin with the 400 sedan as its first effort in 1947. Two years later the 401 would succeed the 400, adding 5 hp and lighter aluminum bodywork along with an aerodynamic, more daring front-end design. Bristol dubbed its drophead cabriolet version the 402, building just 26 examples. Maybe 13 still exist.
In person, this car simply stuns, benefitting from a major restoration starting in 2012. It is dramatically proportioned, yet the lines are elegant rather than overwrought. Color abounds. Your eyes can't help but be drawn to the splashes of blue piping throughout the hazelnut interior. The contrasting cream switchgear with red lettering really pops, and along with the square gauges gives the interior a strangely cartoonish style. The steering wheel is perhaps the funkiest-looking I've ever seen. It's all about fun, and I dig that.
I'm not alone here. The seller has shown this car at Pebble, and more importantly, driven it in both the California Mille and the Quail Rally, savoring the open-top pleasures of British motoring as the car gods intended. And who could be blamed for doing so? The Bristol 402 is one of these rare cars that straddles the line between high-class and not taking itself too seriously.
This car hammered at $300,000 but did not sell, which Hagerty auctions editor Andrew Newton says is understandable given that this is likely the best 402 in the world. Gooding & Company is now asking $425K for it (#1 condition in the Hagerty Price Guide values it at $390,000), but it'll more likely command a premium from the UK market, where it is better known. Wherever this 402 ends up, I imagine someone won't be able to avoid enjoying the hell out of it.
Report by hagerty.com, Gooding & Company / Brian Henniker