1952: A legend is born: The spectacular history of the Mercedes-Benz SL has its origins in motor racing.
The 300 SL (W 194) of 1952 was the first all-new racing car designed by Mercedes-Benz after the Second World War and the first vehicle to bear the designation SL (for "Super Light"). Its basis – engine, transmission and axles – derived from the 300 model, the Adenauer-Mercedes.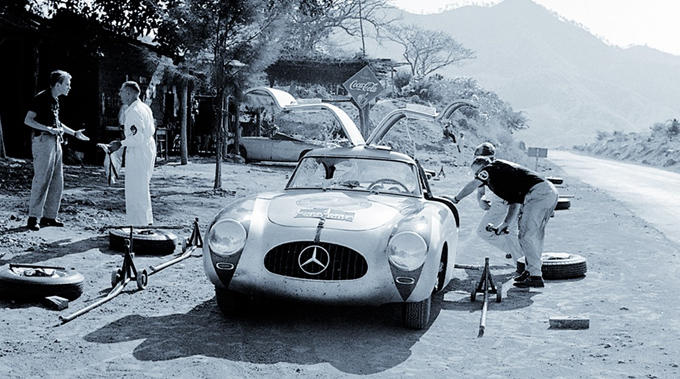 Weighing just 50 kilograms, the 300 SL's innovative spaceframe guaranteed low weight combined with maximum torsional rigidity. However, its design rendered conventional doors impossible. The solution – top-hinged doors that swung upwards – was a stroke of pure engineering genius.
The legend of the "Gullwing" was born. And the vehicle's impressive looks were soon matched by its performance. At its first competitive outing, the gruelling 1,600-kilometre Mille Miglia, the 300 SL finished an impressive second.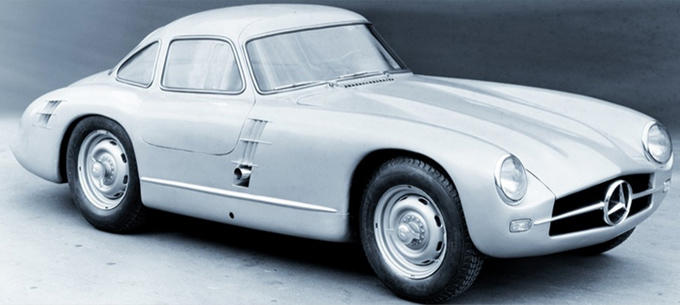 It then went on to multiple victories in each of its next four races: the Bern Prize for Sports Car (one-two-three), the legendary 24 Hours of Le Mans (one-two), the Jubilee Grand Prix for sports cars at the Nürburgring (one-two-threefour) and the 3,100-km road race across Mexico, the Carrera Panamericana (one-two). The latter was a particularly spectacular victory since despite a collision with a vulture resulting in a broken windscreen, Karl Kling and Hans Klenk battled on to bring their car home in first place.
An improved version of the 300 SL followed in 1953 and acquired the nickname "Hobel" (English: "woodworking plane"). The engineers had once again demonstrated their inventive spirit with such technical innovations as direct fuel injection.
Find out more about Mercedes-Benz SL Listings on collectorscarworld.com.
Report by mercedes-benz.com
---