Road movies live timelessly from longing and hope, courage and departure. But above all, they are about the feeling of freedom. Everything just like in real life. So let's in. Preferably with the ultimate freedom tool combination of Porsche 911 and roof tent. Off to Berlin, that's for sure.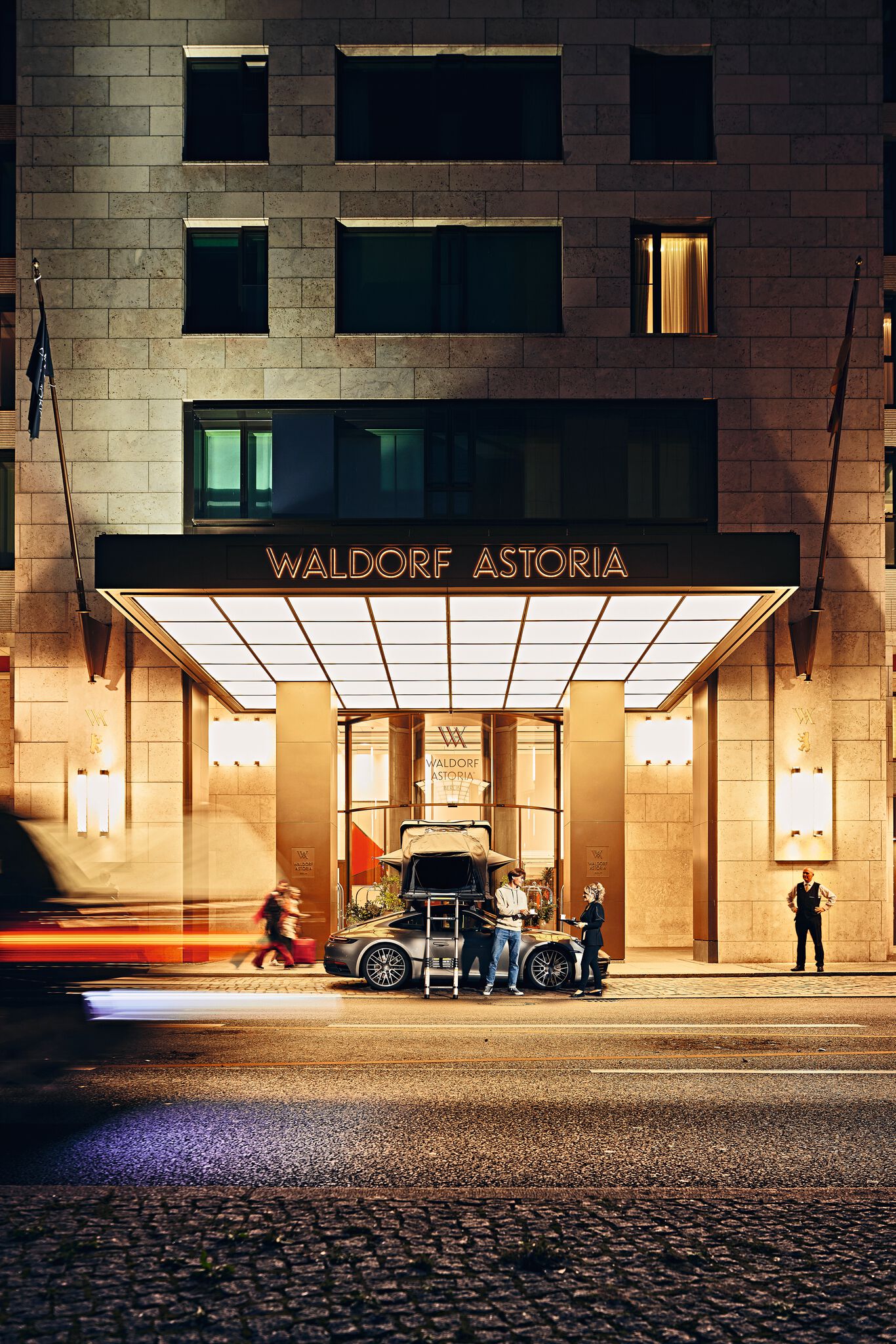 Porsche 911 x Roof Tent
Once, while on a hike in the foothills of Mount Hood, Matthew B. Crawford, a doctor of philosophy and skilled motorcycle mechanic, stepped off the trail for a bit. A moment later, he heard voices approaching. But they weren't talking or singing. When he listened more closely, he realized it was two people trying to mimic the sound of a two-stroke motorcycle. A man and a woman came running down the trail with their arms stretched out in front of them as if they were grasping a pair of handlebars, twisting their right wrists and raising their voices when they did so.
Whenever they hopped off small bumps, they would rev their engines and stick their butts out to the side, as though kicking the rear wheel out motocross-style. A middle-aged couple moving through their own secret world to the motorized equivalent of the air guitar.
Why We Drive is the name of the book, and the title appears in bright yellow type on top of a black-and-white cover photo. The image shows a classic Alfa Romeo convertible against a picture-book panoramic backdrop that immediately suggests 17-Mile Drive on California's Highway 1. The nostalgic cover is also rather somber. You can't tell who's driving. It could well be ourselves.
"Toward a philosophy of the open road" is the subtitle of the book, which gives us an indication of Crawford's intention: to blend philosophy with road-movie storytelling.
Crawford's book is a celebration of driving. Vivid, heartfelt, engaging. It truly reads like a road movie. Pleasantly surprising for a non-fiction work, anything but detached. The joy of driving, with whatever vehicle. The excitement of using such a complex tool for getting around, the fascination with anything technical that enhances our ability to move self-­determinedly through this world. What he so succinctly formulates as "homo moto". Driving as an immediate, authentic, phenomenological experience of human identity. A symbol of individual freedom. Crawford highlights driving as one of the few remaining places where skill, individual responsibility, the adventure of exploration, combined with the sense of freedom we experience behind the wheel, play a real role. The coercion and standardization imposed by ­excitable know-betters, rampant bureaucracy and political overregulation, surveillance and attention economics (still) a little further away.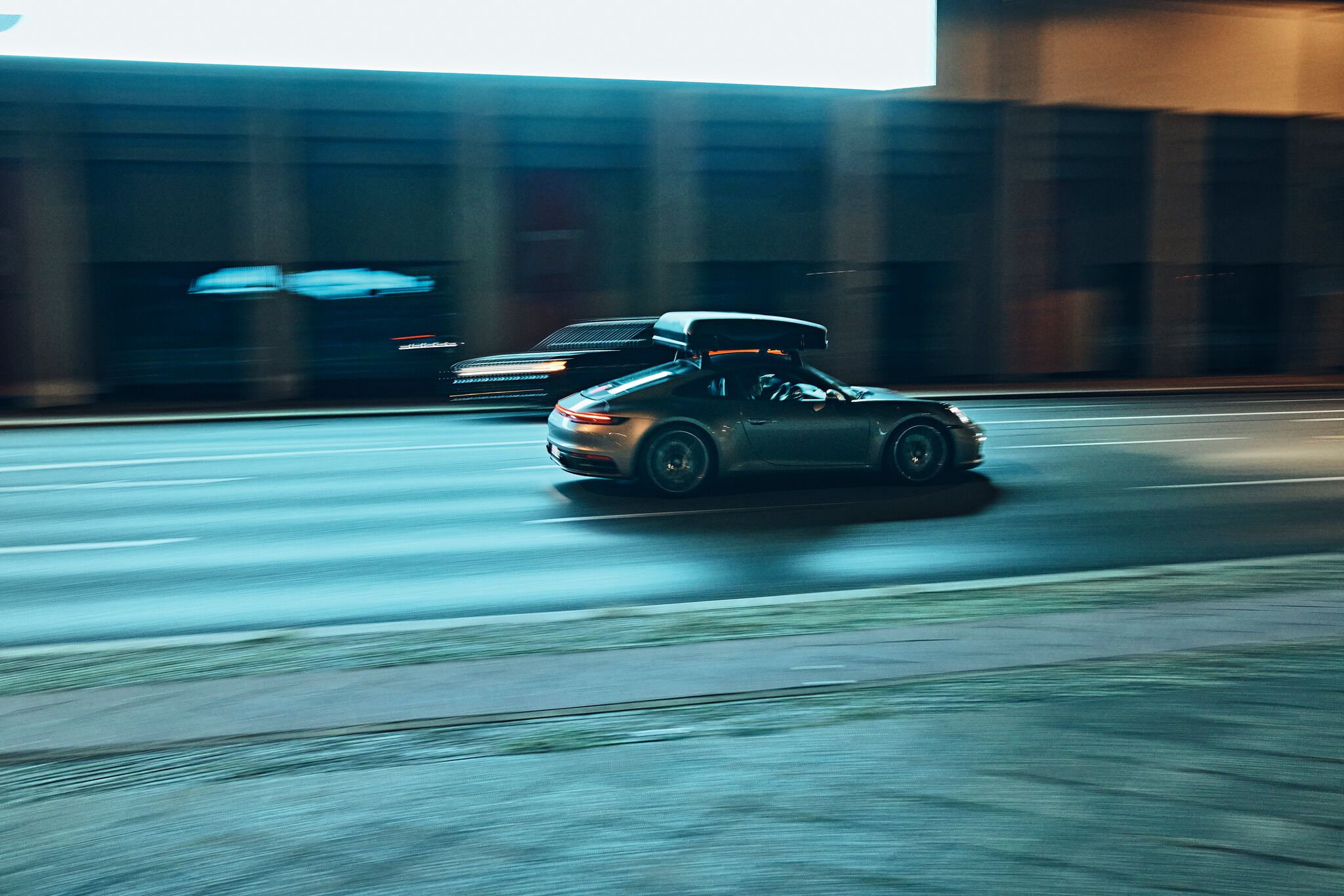 Traveling by car, we are in a private space, sharing the road with others, able to cooperate and negotiate spontaneously. Communication and adaptation. A good starting point to think about solidarity in individualistic societies. A crossroads in a developing country turns out to be a compelling example here. No lights or stop signs far and wide. An apparent chaos. But it works. The traffic moves along. Somehow. We can interpret this junction as a place of spontaneously regulated understanding between individuals – an essential aspect of our democracy.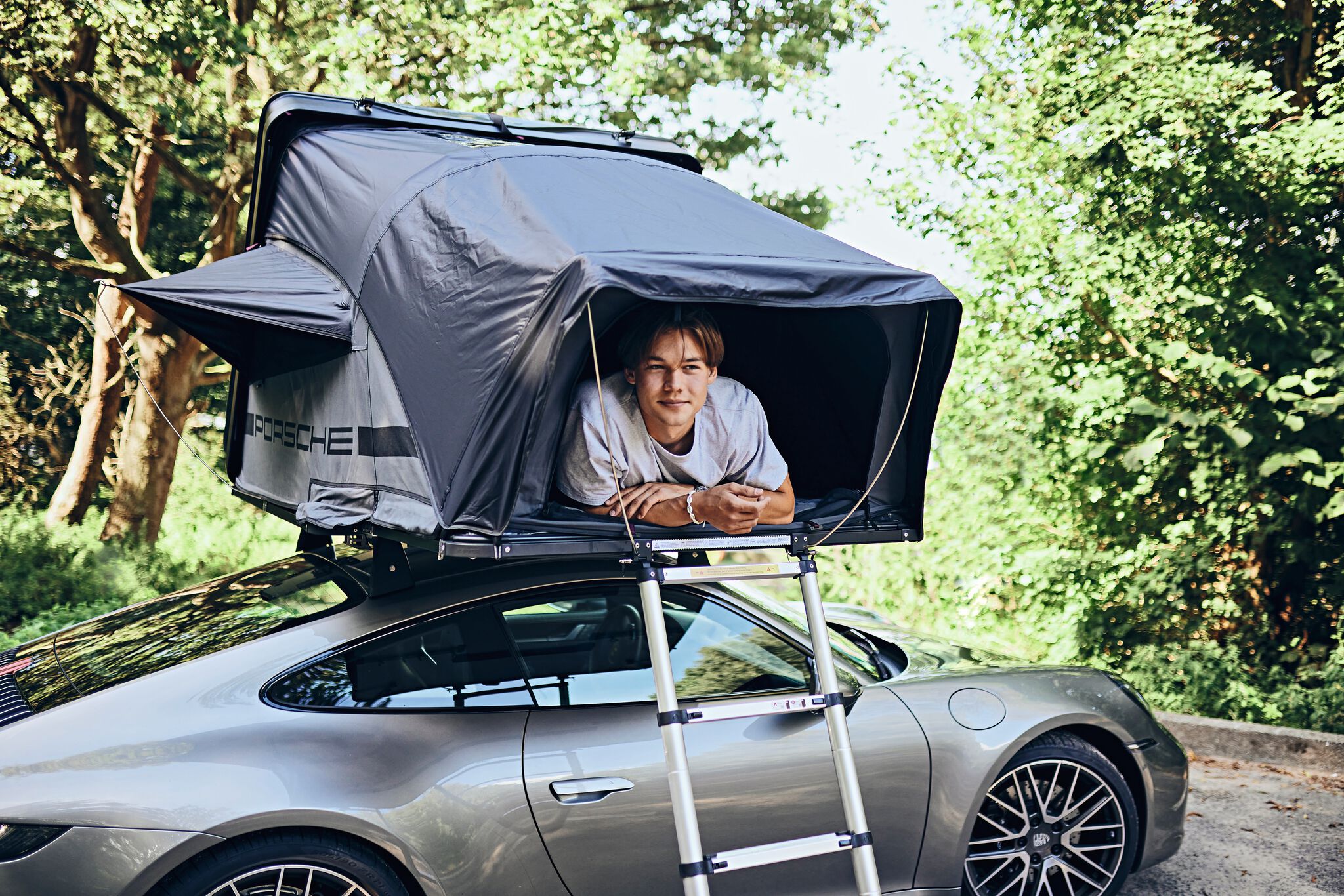 What becomes apparent is what the philosopher Tocqueville considered important for democratic virtue: the ability to solve collective problems together. If we leave that to automated systems, our vigilance atrophies, Crawford warns.
And so the message of the book becomes political in the broadest sense of the word.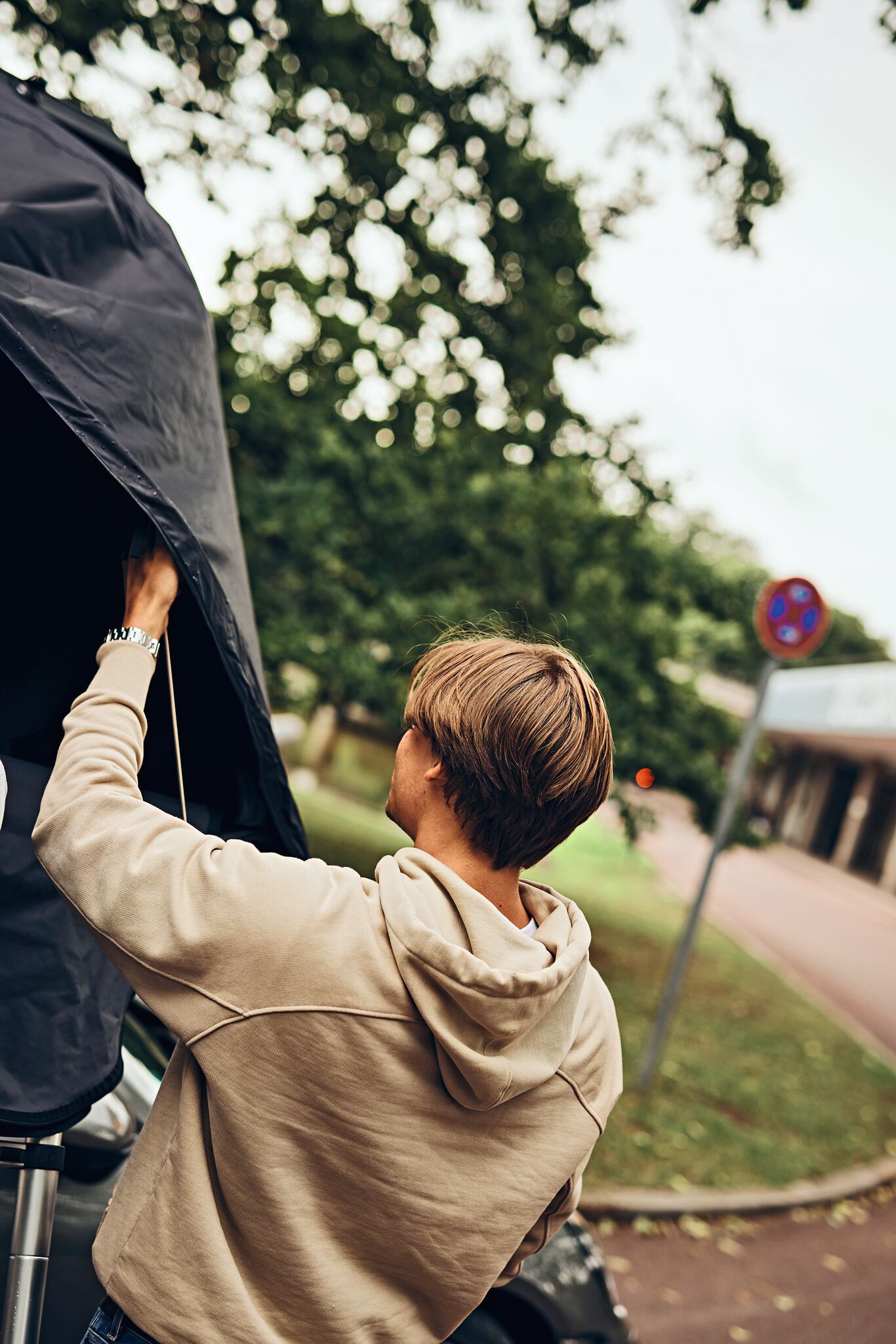 Crawford, who is anything but hostile to technology, consis­tently warns us against leaving the solution of collective ­problems to automated systems.
Self-driving cars could make sense, Crawford finds, if you have a long daily commute. But when you drive yourself, risk and opportunity come together in a most pleasant way. Happy accidents included. Because you never really know what's going to happen. For him, the interest in eliminating all uncertainty eliminates the human element in human activity and so eliminates the need for social trust.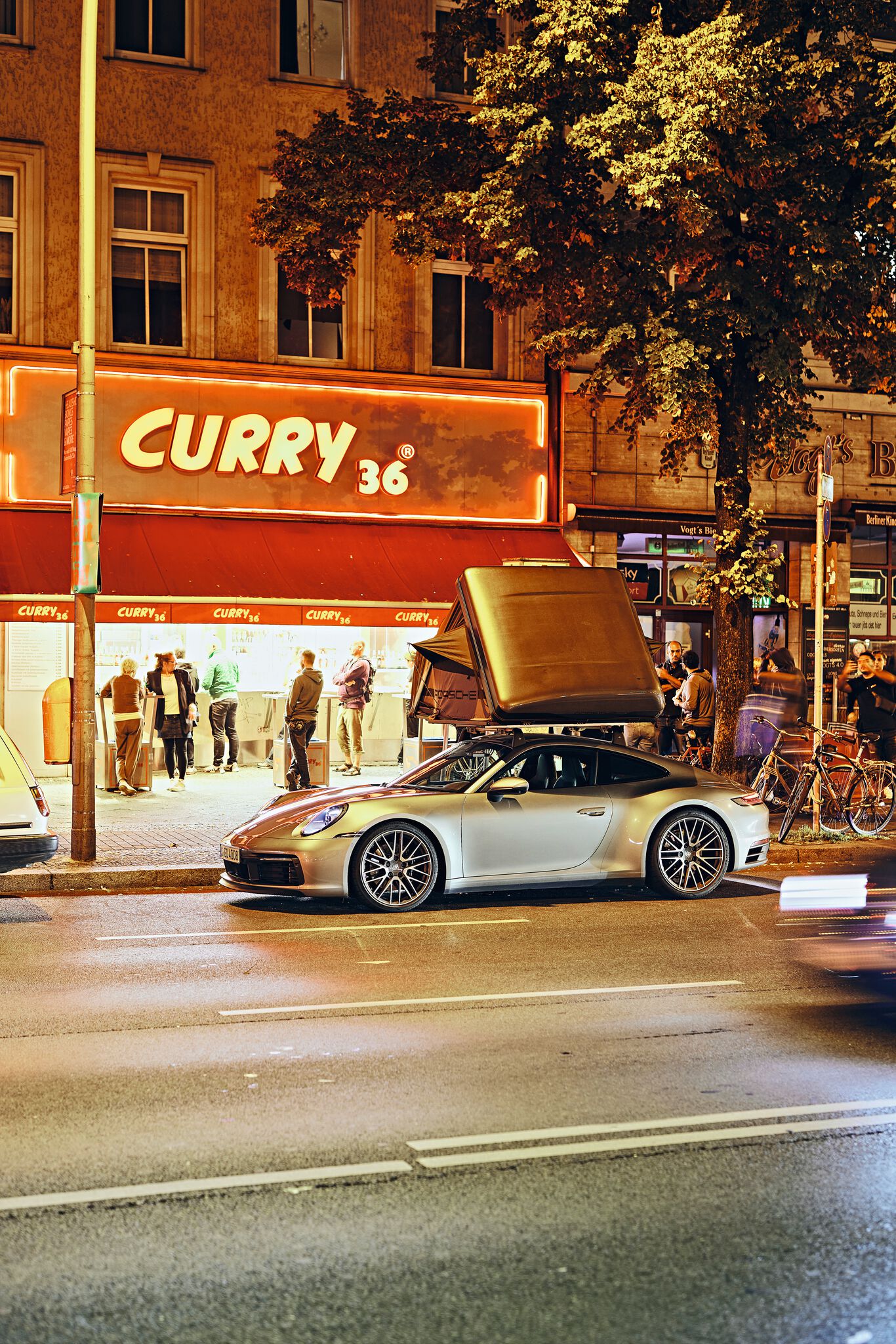 For Crawford, the desire for machine-generated certainty has given rise to the idea of humans as incompetent beings, which only confirms itself when machines take over human actions, causing us to lose important skills and leading to further automation. Such a vision of making everything idiot-proof leads to us becoming idiots, Crawford coherently summarizes. Unfortunately, the promise of convenience and relief from responsible involvement in the world is such a strong incentive that we easily become passive and dependent.
In his book, Crawford advocates for the ability to act in a world that is rapidly changing. He longs for a time when driving a car felt as if the steering and pedals were directly wired to the seat of our pants – and nothing else got in the way.
It could be nostalgia, Crawford concedes, but that wouldn't necessarily be a bad thing. Rather, it is an indication of the state of the world we currently find ourselves in. Still, he concludes, there will always be a subculture of people who want to drive themselves.
That, in a nutshell, is a summary of the five-hundred-plus pages of the book. But that's just one thing we want to talk about here.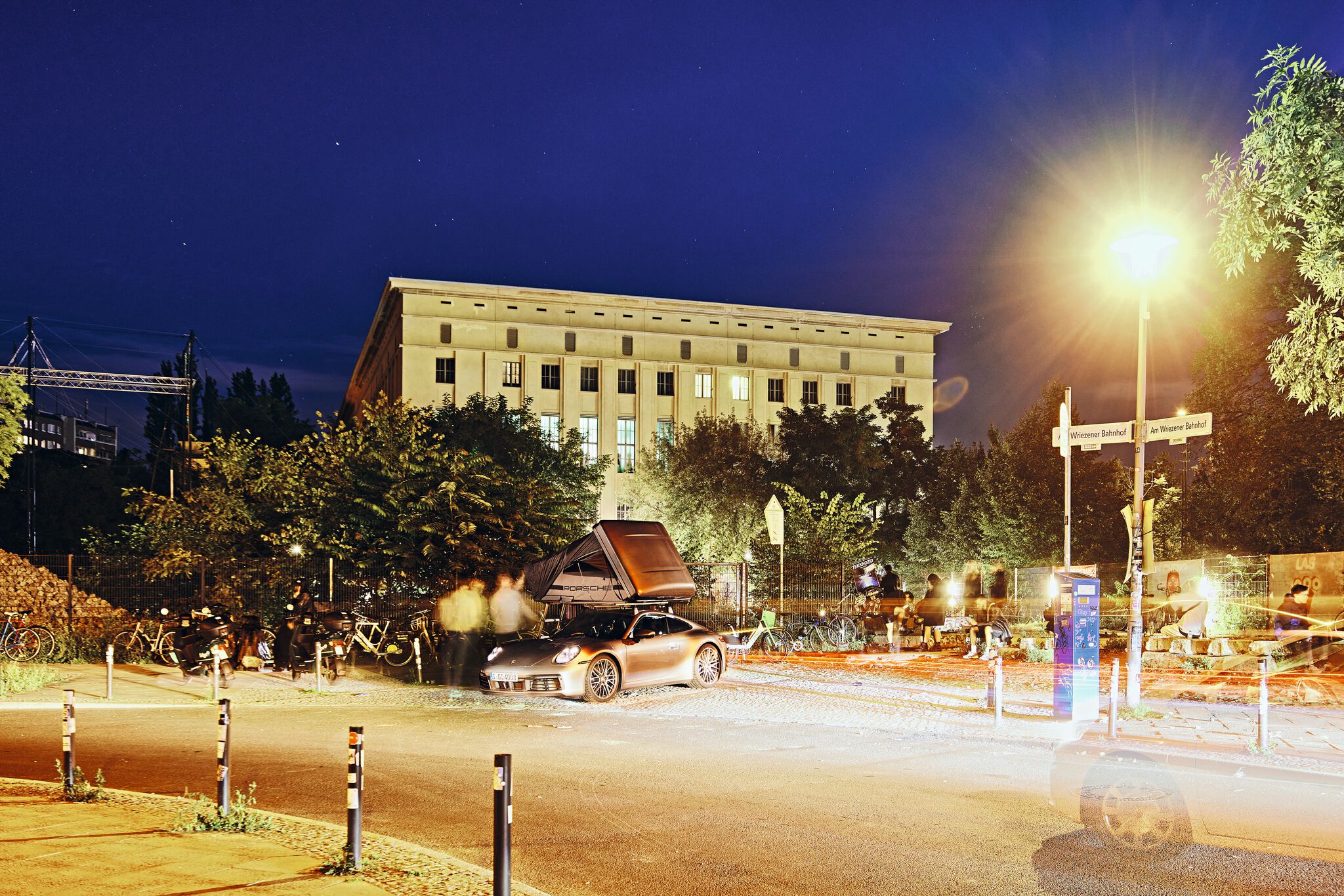 The other starts with the fact that Porsche is now offering a roof tent in its line of accessories. The tent can be mounted on top of a 911, Macan, Cayenne, Panamera and Taycan. If the idea of the car as a carefree means of transportation has worked well in the past, it is all the more attractive with this kind of camping equipment as a fresh declaration of independence on wheels.
Of course, we immediately picked the 911 as our model of choice to try it out. And of course – though you shouldn't travel faster than 130 km/h with the hardcase up top – we took off straight for Berlin.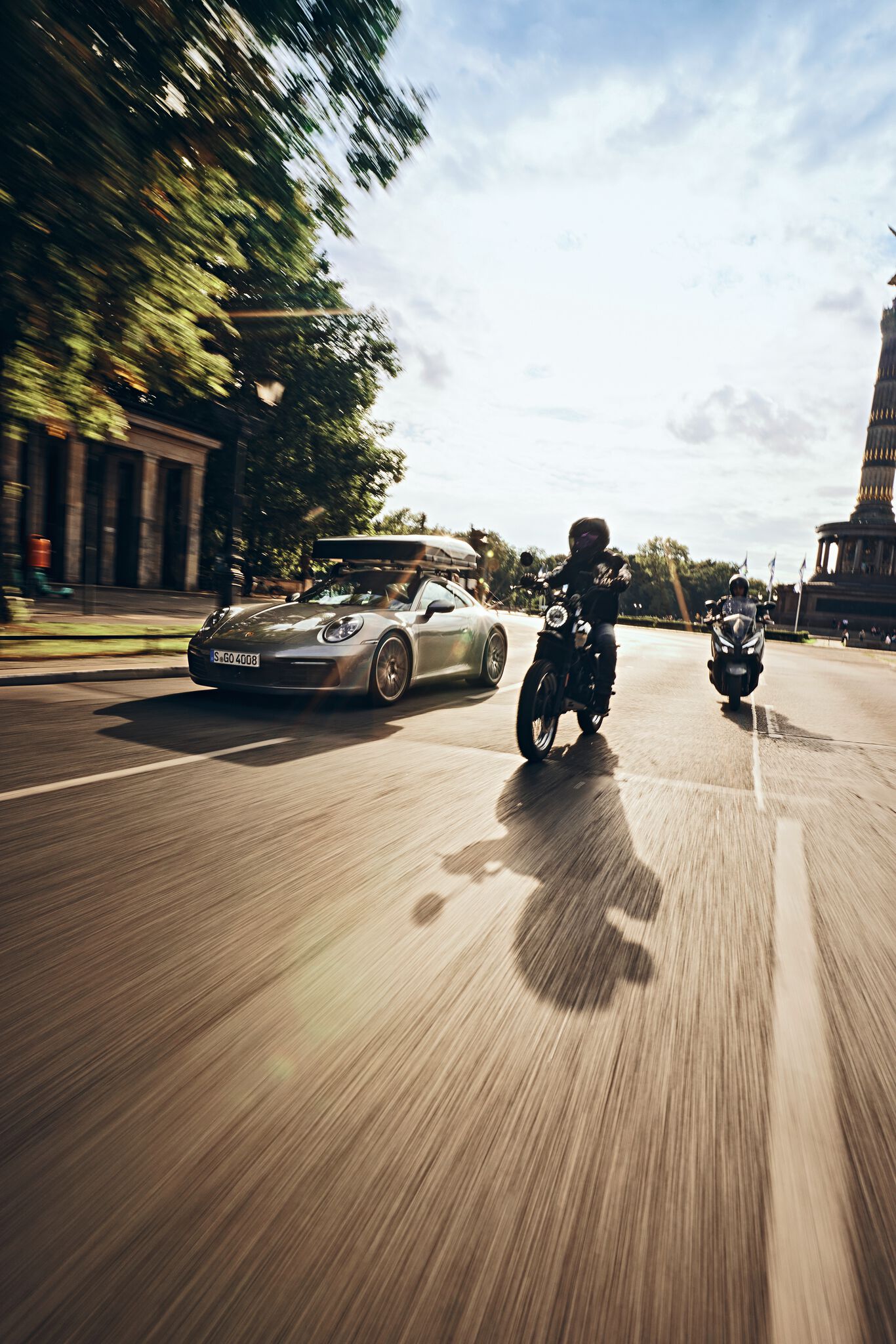 The rest of the story is more or less told in pictures.
At the end of his book, by the way, Crawford thanks his ­daughters G and J for insisting that he take the winding road on the way home from their preschool, always shouting for him to "go faster!"
So it stays in the family. Hopefully also in the extended human one.
Text: Michael Köckritz
Photos: David Breun
ramp #59
As a high-impact multimedia brand that takes an all-encompassing, end-to-end approach to publishing, ramp is an absolutely authentic expression of quality, integrity and excellence. Its trailblazing luxury magazines, recognized with numerous awards over the past 15 years, have been celebrated for their cool and unconventional, not to mention inspiring and pioneering style, since day one.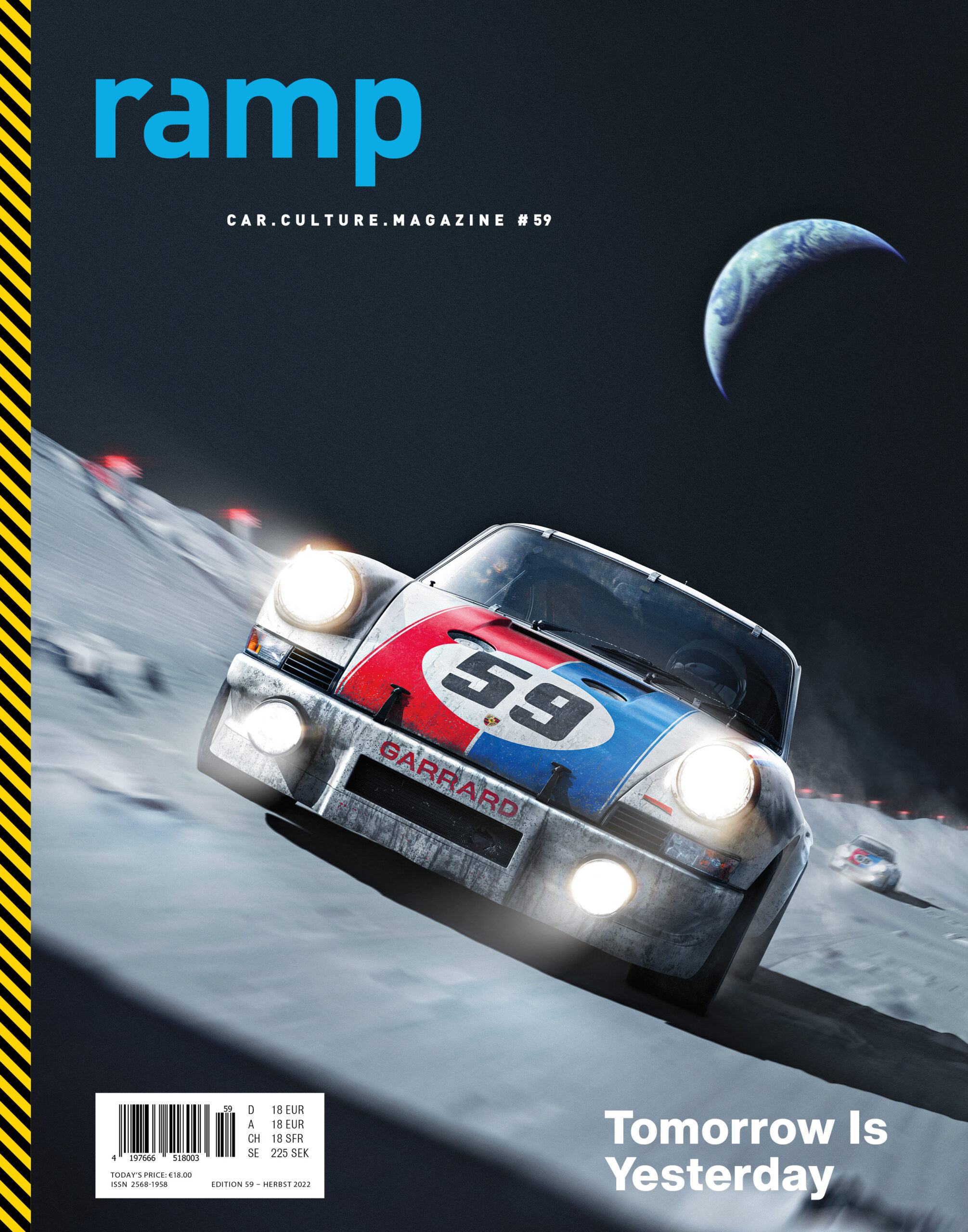 ramp, the lavish and beautifully designed coffee table magazine, celebrates the enthusiasm for cars and driving in a passionately subjective, personalized fashion.
Immediate, authentic, intense. Fresh perspectives, avant-garde imagery, with a fine feeling for nuances and the right dramaturgical mix. Always new, always stimulating. Automotive passion infused with a lust for life. The automobile in new, exciting and intense contexts, precisely tailored to the relevant target group, presented in relation to music and fashion, culture and lifestyle, design and art, science and philosophy.