Where are sports cars headed in the future? Thanks to their ­electric motors, straight to a renaissance, says Maximilian Missoni. The Polestar Head of Design shared the brand's vision of the future with us: the ­Polestar O₂ concept. A conversation about the magic of silence, pure strength and an eternal fascination.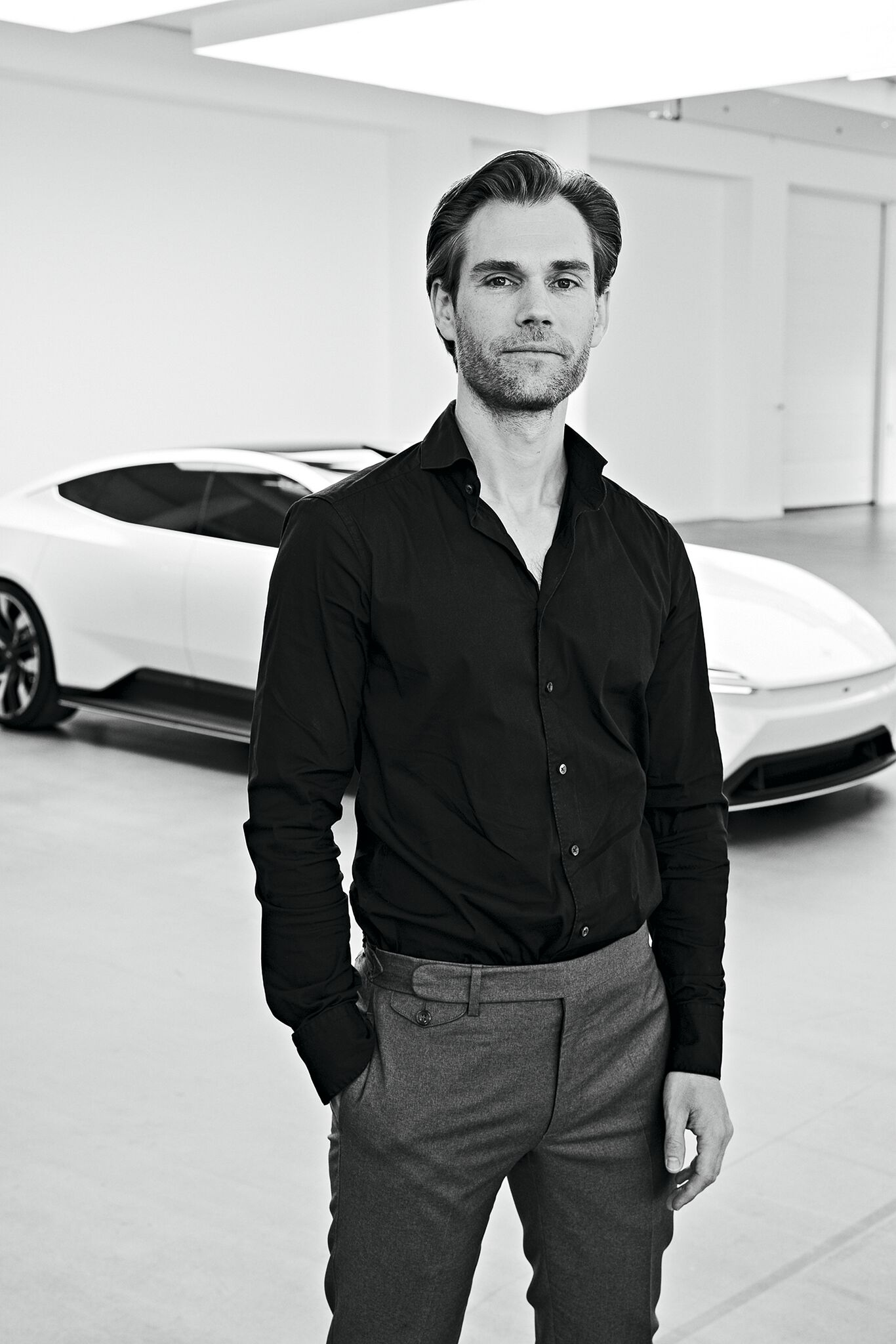 Why reinvent the notion of the sports car – and why now?
Because the electric age comes with hitherto unknown possibilities. The roadster segment has lost popularity in recent years, not least due to SUVs. But an open car affording absolute quiet and the force of an electric motor is another story. I believe that electric mobility could give rise to a renaissance of sports cars.
What does a sports car stand for anyway? Why have we been so enthralled, in the past as much as today?
The car itself is a very emotional product as it combines two things: protection and aggression. A sports car takes this blend to the max. It allows us to explore our environment from our own sheltered space, moving in an expressive way. This has not changed a bit from the past.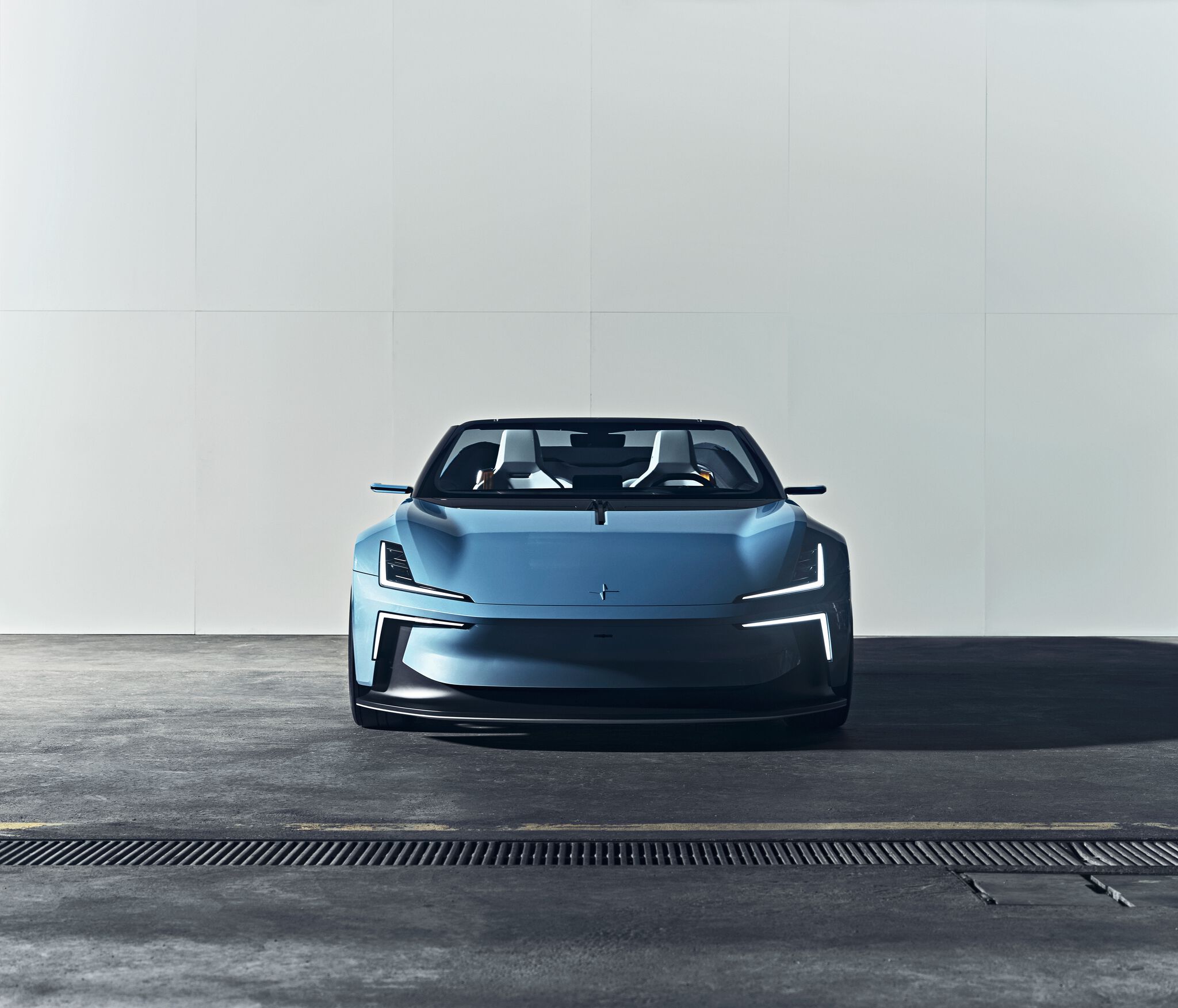 Does it (also) make sense to imagine the future in a ­conventional way?
The Polestar O2 unites several aspects. For one thing, it's a convertible. Traveling through nature with the roof down – and no noise – is a dream come true. True, this doesn't require a car; you could do so on horseback. It would be much faster than a person could run. And that's a desire that we have. It's almost like humanity's centuries-old wish to be able to fly. Sports cars, convertibles and roadsters are the perfect tools to live this dream, but that's not necessarily a conventional approach. If there's this desire, and I meet it with new and modern technology that enables this joyful experience in a direct and silent way with no motor noise to distract you, then that's state of the art.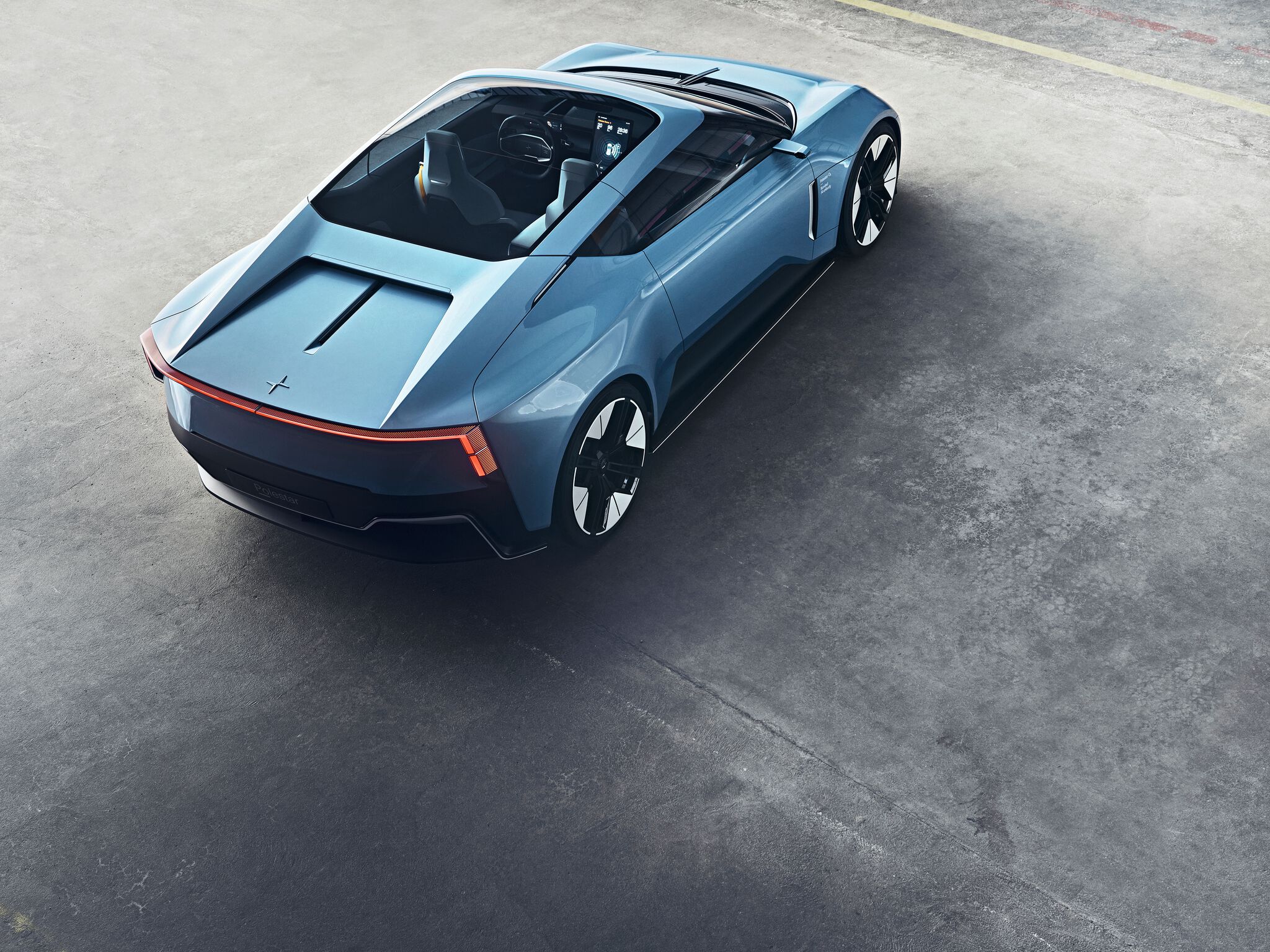 And how unconventional can or do you have to be? How important is innovation?
Take the extra twist of the Polestar O2. It is equipped with an autonomous cinematic drone. The idea to bring together drones and cars is not entirely new, but we went far beyond that: the software for editing the videos, the invisible integration of the drone, the way it lifts off from its own magnetic platform that emerges from the car. It is typical for us to go a step further when we think things through and create innovations this way.
What's the role of design? What makes it a sports car?
The Polestar O2 is our vision of a new era of the sports car. For one thing, there's the flexible, tailor-made aluminum platform our company has developed. It's particularly suitable for sports cars because it's so light and very stable. Then there's the uniqueness of our design. In our concept vehicles, the Polestar Precept and the Polestar O2, we show for instance in the lights that we are our own brand with signature shapes and forms that have nothing to do with Volvo. As a team, we're capable of designing classic automobiles. The Polestar O2 has the proportions of a classic sports car, but when it comes to form, it's extremely avant-garde. That's a combination that truly excites car lovers. It creates novel emotions. It's a highly emotional product.
What's the message of the launch color?
When we first rolled out the brand, we strictly restricted the available colors. This was a conscious decision to create a holistic and uniform design impression. It was all mapped out. Now the Polestar O2 is the perfect product to introduce more colors. In California, where the car was presented, the exterior finish blended in perfectly with the sky. It was out of this world.
"The Polestar O2 has the proportions of a classic sports car, but when it comes to form, it's extremely avant-garde. That's a combination that truly excites car lovers. It creates novel emotions. It's a highly emotional product." – Maximilian Missoni
This issue of ramp asks "Really?", and I'd like to pass on the question: Will there really be sports cars in the future? And which technical features, such as drones, will be coveted integral components?
As a designer, I'm always careful to strike the right balance between functionality – meaning things that enhance a product's value and usability – and what technology offers. We're currently seeing a divide. There's the European perspective valuing minimalism and functionality, and there's the new Chinese perspective, which says: more is better. The more possibilities you pack into a car, the better it will sell. As Polestar covers many different markets, we have hard decisions to make in this respect. The drone is an interesting example for this. Self-PR is a big topic in China, and people heavily use social media for this purpose. So both in China and the US, the concept was received very positively. At the same time, we have our own individual approach and made sure the integration was seamless. It would be fair to say that there are no gimmicks with Polestar.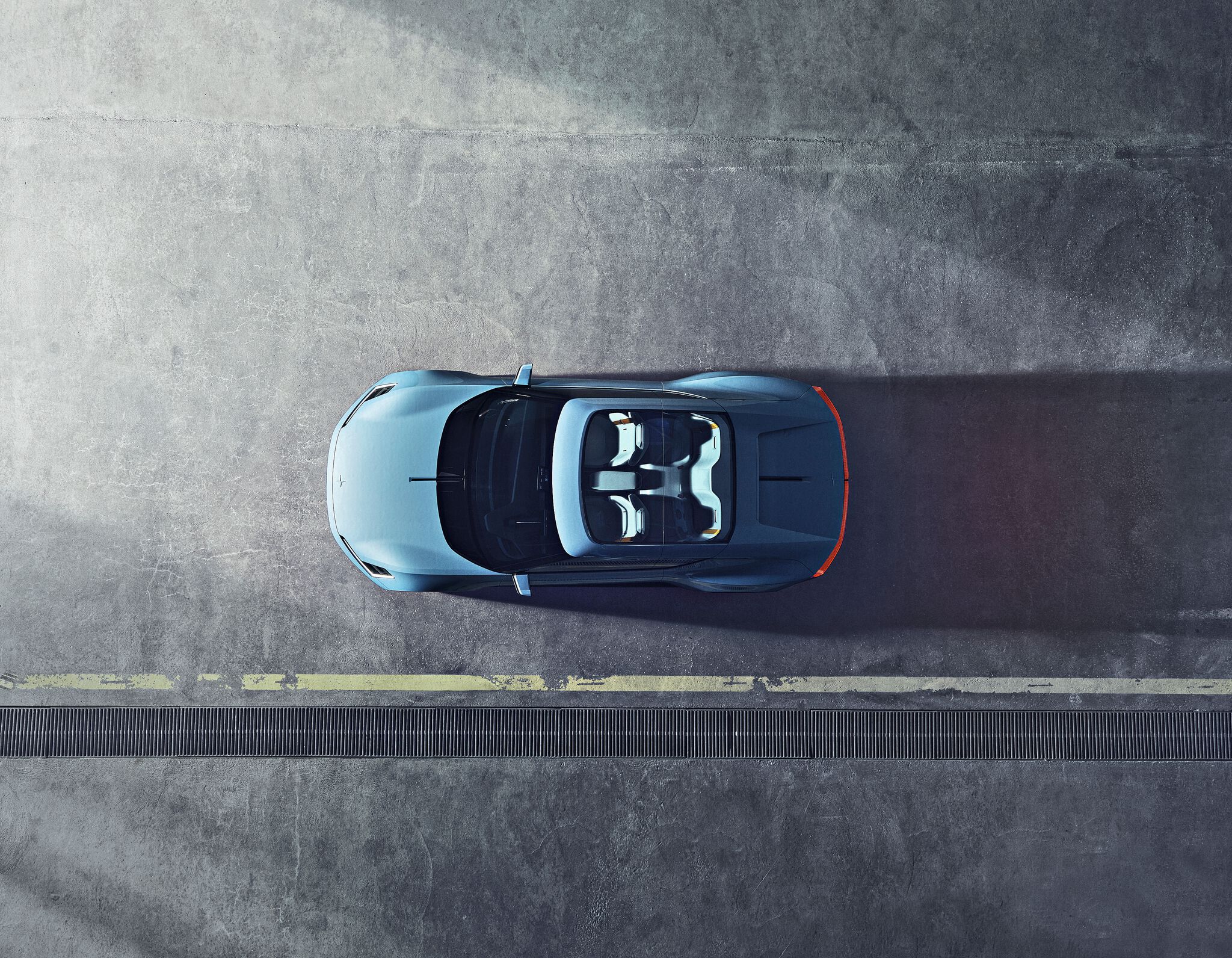 But then a convertible! What does the future hold for them? Are convertibles the ideal sports cars?
A convertible weighs things down. So if you're looking for a classic sports car, a cabriolet is not the ideal way to go. But on the other hand, there's so much to be said for an open driving experience combined with an electric motor and the quiet it brings. If we manage to make it a design that will enable maximum contact with the exterior world, openness while providing shelter from the wind, we will make it possible to directly experience nature. If our plans work out as envisioned, it will be an excellent driving concept. Electric mobility is currently pushing the segment again.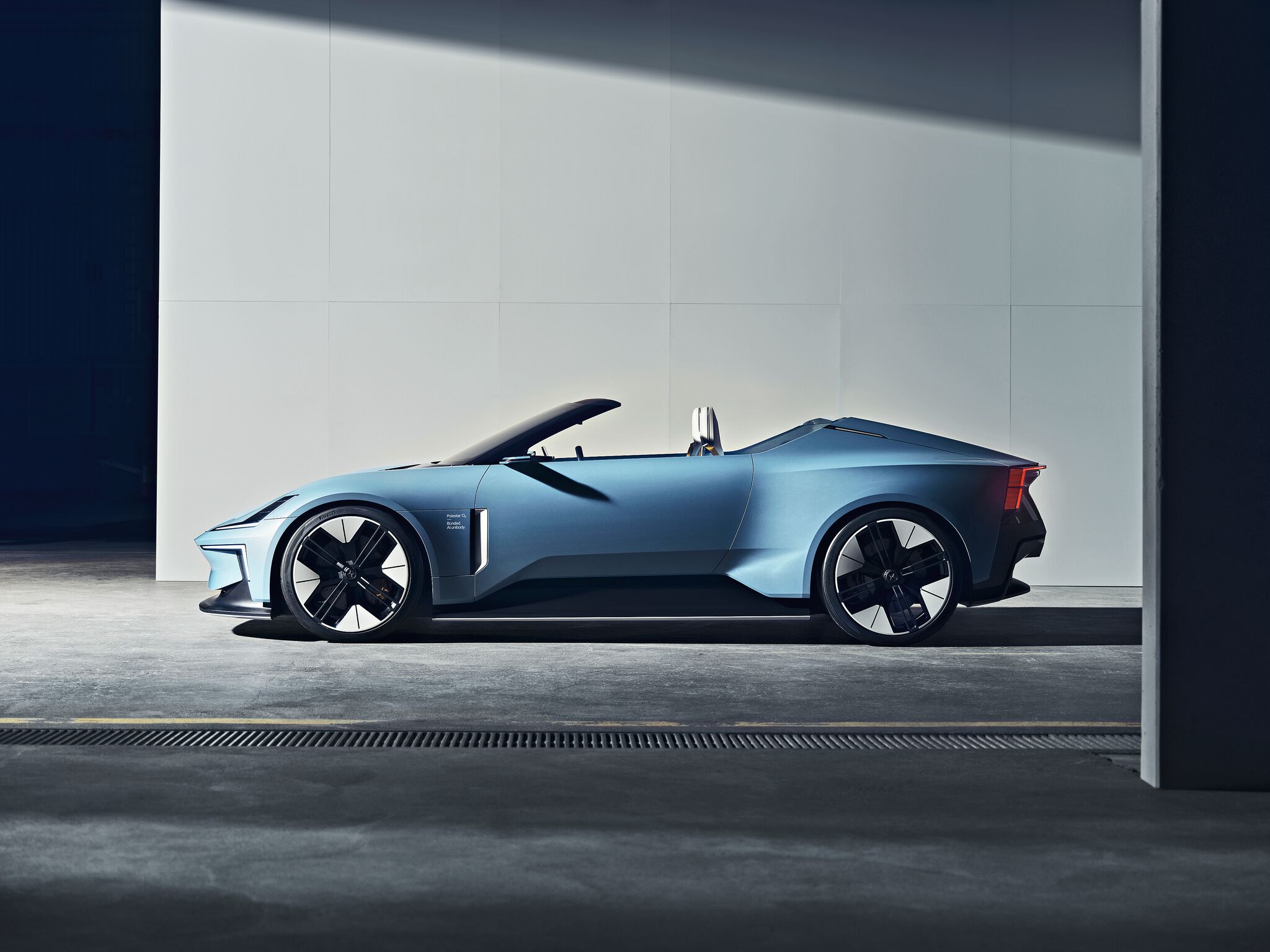 "The Polestar O₂ is the hero car of the Polestar brand." That's how Polestar CEO Thomas Ingenlath introduced the car to the world. What does the Polestar O₂ say about the brand and its visions?
It embodies our ambitions as a brand and expresses our vision of performance and the kind of driving experience we want to bring to our customers. We have clearly positioned ourselves in the premium segment right from the start, and this car emphasizes this orientation. The Polestar 1 was also a coupe and high-end sports car. In this vein, the Polestar O2 is a further commitment to the premium segment. The Polestar Precept, which will be launched as Polestar 5, is also an extreme and luxurious car. The SUVs, which we will launch in the years to come, are somewhere in between. As a brand, we cover this wide spectrum.
So the Polestar O₂ is an answer. What are its specific features?
What was particularly important to us was to show that you can enjoy mobility and still do the right thing when it comes to sustainability and your carbon footprint. Our Polestar 0 project, which is about developing a climate-neutral car by 2030, has shown that it's possible. In this project, we collaborate with several globally leading suppliers in the automobile industry who have pledged to help us pursue this goal of achieving 100% carbon neutrality in the production phase of a vehicle. That's a huge step and a benefit all by itself. What we can see in the Polestar O2 is that some ideas from this process are already pushing us to think further when it comes to design. We've been using new materials and implementing new processes, and these things have inspired us to come up with a new aesthetic. We also chose this approach for the Polestar Precept in order to create a new kind of luxury that is not based on old paradigms but is open to new inspirations.
What features are you especially proud of?
As we're constantly surrounded by noise and a deluge of stimuli today, it's a particular challenge for a designer to make statements that will generally be perceived as clear, unambiguous and strong and at the same time as beautiful and elegant. I'm proud that we came up with a distinct new design vocabulary that's only used for Polestar. We were in a transitioning phase in the past few years, with Polestar departing from Volvo and establishing a brand of its own. The design vocabulary of the Polestar O2 symbolizes all of these things.
What about driving enjoyment? What does that mean to you personally, and where does it start? 
In my opinion, we did a great job with the Polestar 2, offering a car in this segment that's a lot of fun to drive. Everyone who gives it a try notices that right away and is deeply impressed. To a certain degree, it's what electrification has to offer, instant torque being just one example. But of course, it's also due to the way we have tuned the chassis and generally our team of top-notch experts, who really paid a lot of attention to every last detail. Driving dynamics also counts among our brand's core values.
How do you bring together the premium segment, fun and sustainability?
By including elements from our sustainability projects, like Polestar 0, in our vehicles and concepts such as the Polestar O2 already today, and by basing the design language and design ideas on these novel inputs. That's also the feedback we've been getting as a brand. People think we're doing a great job of blending a fun driving experience with sustainability and high-quality materials. The Polestar 2 is an extremely dynamic car. At the same time, it also features components that make mobility more sustainable.
How do you link minimalist, clear design with comfort and a sporty character?
A successful combination of design, comfort and performance is already displayed by the Polestar 2. Polestar was always about more than just offering an electric alternative. We wanted to develop a car that would excite customers in the premium segment due to its design, innovations and performance.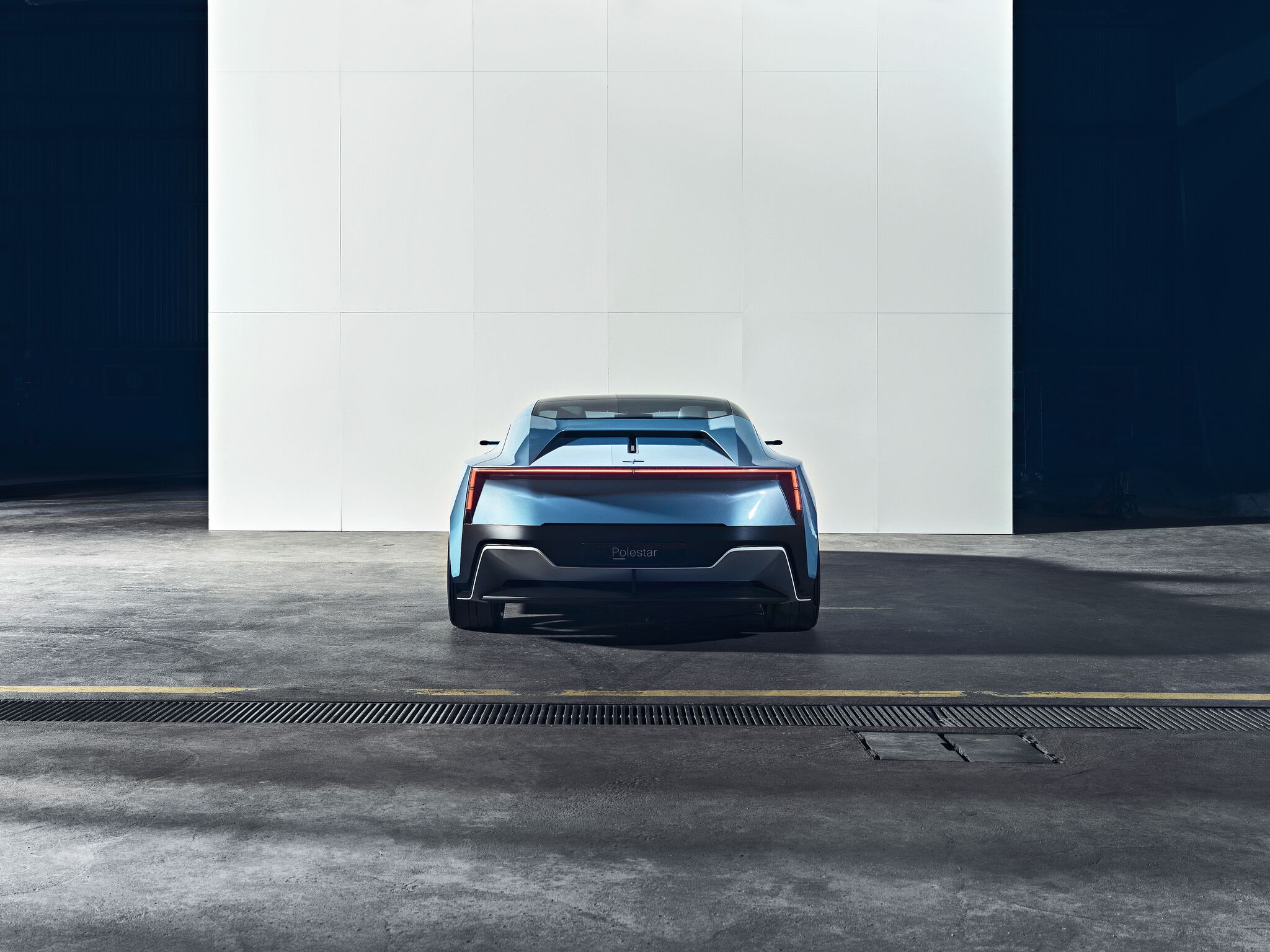 What are the best roads to drive in the Polestar O₂? 
For me, the American West Coast is the ideal setting for the Polestar O2. Once we had decided where we would launch the car and the first photo galleries and videos featuring it arrived, it became even clearer how good of a fit that was.
To end with, the most important question: Will the car be launched – and when will customers be able to place an order?
We always design our concept cars to see what kind of feedback we'll get. Based on that, we'll decide how to proceed. We used a similar concept with the Polestar Precept, which was received so well that it will enter series production as the Polestar 5.
Maximilian Missoni studied vehicle design at the Royal College of Art in London. Upon graduation, he began his professional career working for Volkswagen. After several years at Volvo, including as Vice President of Exterior Design, he joined Polestar in 2018 as Head of Design.
ramp #57 – Really?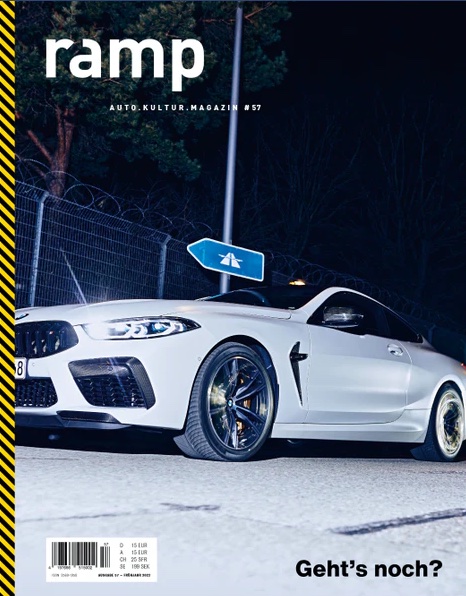 In this issue of our magazine we are simply engaging in a stimulating conversation. We ask the question "Really?" and allow it to unfold in a playful range between indignant outrage and thoughtful reflection. Because not only is everything connected, it also is the relationships between things that make them what they are. Or something like that.
Text Michael Köckritz for ramp
Photos by Polestar
Handwritten Notes: Maximilian Missoni