By marrying the performance of a sports watch with the elegance of a round timepiece, Richard Mille has successfully merged two diametrically opposing characteristics. Overseen by Julien Boillat, theRichard Mille watch exteriors teams have reinterpreted the collection's first ultra-thin round watch: The RM 033, which was introduced in 2011.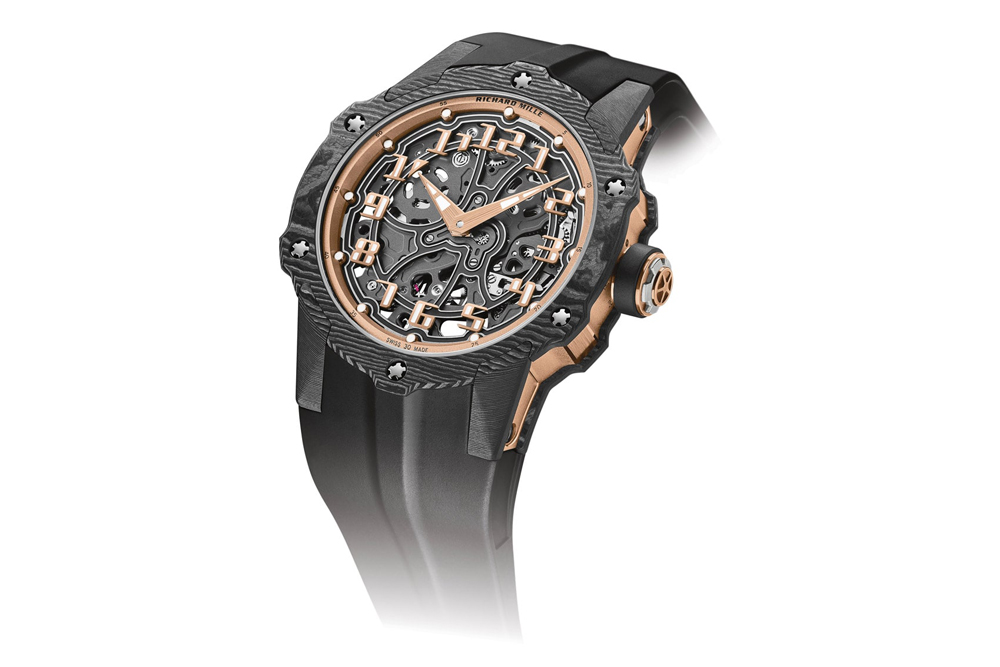 RM 33-02: A COMBINATION OF 'LIFESTYLE' AND SPORTY STYLE
Reinterpretation of the RM 033 introduced in 2011
First round automatic watch in Carbon TPT®
Limited edition of 140 timepieces
---
'We believe it is both essential and logical to pay the same care and attention to evolving our collections as to the original creation of our models. In embodying the brand's intended vision of extreme versatility, the RM 033 is a watch for everyday and any day. We have reinterpreted its aesthetics without disservice to the original version by accentuating its lines. Meanwhile, the exterior decoration, case and dial have been reworked to project a sportier vibe. The RM 33-02 thus achieves a delicate synthesis of so-called 'lifestyle' style and sporty style,' shares Julien Boillat.
The taut lines of the case combine the curves of a tonneau shape and the elegance of a round form with a subtle allusion to sporty style in the design of the hollows. This first round Carbon TPT® automatic watch exhibits a Carbon TPT® bezel and caseback alongside a satin-finished red gold caseband. The design of the strap prolongs that of the two indentations positioned unusually at 6 and 12 o'clock in a highly original way. These  vanishing lines also contribute to the dynamics of this already extremely bold case.
The sporty, round, ultra-thin RM 33-02 timepiece is powered by the skeletonised RMXP1 calibre in grade-5 titanium. Regulated by a variable inertia balance oscillating at 3 Hz, this calibre is wound by an off-centre platinum micro-rotor that considerably reduces the movement's total thickness to 2.60 mm. Yet this thinness in no way inhibits the architectural expression intrinsic to the brand. The wet sandblasted and Titalyt®-treated baseplate, the microblasted, stretched and satin-finished surfaces, and the anglage—all produced entirely by hand—accentuate volumes by playing with shadow and light thanks to the highly graphic skeletonisation. The exterior elements and hour-markers further add to this complex sense of depth and power. In 5N gold hour-markers on two rigid titanium rails fixed between the flange and the movement. The dial, which spans the entire calibre, accentuates the volumes while the typography of the oversized numerals adds a dynamic element to the watch's easy readability.
By juxtaposing soft gold with strength Carbon TPT®, and by combining the graphic codes of the lifestyle and sports spheres for both male and female, Richard Mille clearly communicates a desire to combine allegedly contradictory worlds within a single watch. The RM 33-02 Automatic is available as a limited edition of 140 timepieces.
---
TECHNICAL SPECIFICATIONS OF THE RM 33-02 AUTOMATIC
Limited edition of 140 pieces in Carbon TPT® and red gold.
Case diameter: 41.70 x 8.80 mm
MAIN FEATURES
CALIBRE RMXP1: Skeletonised automatic-winding movement with hours, minutes and off-centre monoblock platinum rotor.
POWER RESERVE: Circa 45 hours (±10%)
BASEPLATE AND BRIDGES MADE OF GRADE 5 TITANIUM 
Manufacturing these components in grade 5 titanium treated with Titalyt® for the baseplate and black PVD coating for the bridges confers great rigidity on the entire assembly and ensures the precise surface flatness essential for perfect functioning of the gear train as well as stability of the movement.
The skeletonised baseplate and the bridges were subjected to separate and extensive validation tests to ensure they met rigorous strength requirements.
FREE-SPRUNG BALANCE WITH VARIABLE INERTIA
This type of balance wheel represents the ultimate in innovation. It guarantees greater reliability when subjected to shocks and during movement assembly or disassembly, hence better chronometric results over time. The regulator
index is eliminated, and a more accurate and repeatable calibration is possible thanks to 4 adjustable small weights located directly on the balance.
MONOBLOCK MICRO ROTOR 
To ensure the decentralised rotor's optimal winding efficiency, the monobloc micro rotor has been designed to wind bi-directionally and is manufactured from solid platinum, providing it with an optimal weight-to-volume ratio.
SPLINE SCREWS IN GRADE 5 TITANIUM FOR THE BRIDGES AND CASE
This permits better control of the torque applied to screws during assembly. These screws are therefore unaffected by physical manipulation during assembly or disassembly and age well.
OTHER FEATURES
– Movement diameter: 33.00 mm
– Thickness: 2.60 mm
– Number of jewels: 29
– Barrel arbour: AP 20 steel
– Balance: Glucydur®, 4 arms, moment of inertia 5.75 mg•cm2, angle of lift 53°
– Frequency: 21,600 vph (3 Hz)
– Balance spring: Nivaflex®
– Shock protection: INCABLOC 908.22.211.100 (transparent)
– Escapement wheel jewels: Rubifix (transparent)
– Two-position stem: Manual winding, hand setting
CASE
The design and execution of the watch demonstrate a holistic approach to conception of the movement, case and dial. As a result, everything has been constructed according to extremely rigorous specifications.
The front and back bezels are made of Carbon TPT®, a remarkable material with a unique finish obtained by layering hundreds of sheets of carbon fibres using an automated process that changes the orientation of the weft between layers.
Heated to 120 °C in an autoclave similar to those used for aero- nautic components, the material is then ready to be machined at Richard Mille. During this phase, the many layers of Carbon TPT® are revealed, creating random patterns that make each piece unique. The caseband is in 5N red gold.
The tripartite case is assembled with 14 spline screws in grade 5 titanium and abrasion-resistant washers in 316L
stainless steel, further complemented by integration of the lugs into the case's torque screw system. The tripartite
case is water resistant to 30 metres, ensured by 2 Nitrile O-ring seals.
DIAL
The numerals are created from solid metal and mounted on two linked, rigid titanium rails attached directly to the movement.
Thickness: 0.75 mm.
FLANGES
Crafted of 5N PVD treated titanium; hour index points filled with approved luminous material.
CRYSTAL (Bezel side)
In sapphire (1,800 Vickers) with anti-glare treatment (both sides)
Thickness: 1.00 mm
Caseback
In sapphire with anti-glare treatment (both sides)
Thickness: 1.00 mm at the center; outer edges 1.53 mm
FINISHING
MOVEMENT
– Baseplate in hand-ground grade 5 titanium, wet sandblasted, Titalyt® treated
– Bridges wet sandblasted, top surface polished by hand, grade 5 titanium PVD treated
– Locking sections hand polished
– Burnished pivots
– Diamond-polished sinks on the bridge side
– Pinions with undercuts
STEEL PARTS
– Microblasted and hand-drawn surfaces
– Sapphire-blasted surfaces
– Anglage and polishing by hand
WHEELS
– Rhodium plating (before cutting the teeth)
– Minimal corrections applied to the wheels in order to preserve geometry and performance
---
Report by richardmille.com
---