Gallery Aaldering is open for business –  Here is a special selection of cars that have recently arrived or are expected soon at our partner Gallery Aaldering. This preview allows you to be the first to indicate your interest in one of these cars. The showroom is temporarily open by appointment only, but the website is still open 24/7. Do you want to hear more about these cars? Please send an e-mail to: info@gallery-aaldering.com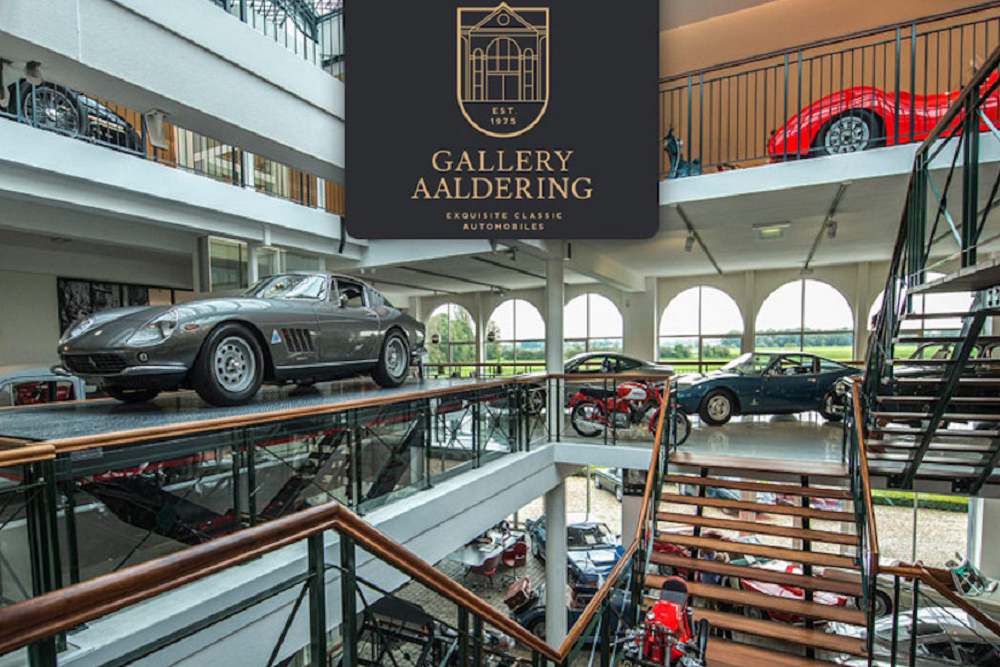 Gallery Aaldering have added some truly splendid new cars to their inventory. What to think of a Ferrari 250 GTE, or an Aston Martin V8 Vantage Convertible or one of 186 Porsche 993 Turbo S? This newsletter is full of new cars and they are each and everyone spectacular.
The Netherlands are still in Lockdown. Of course, everyone hopes these necessary lockdown measures are soon over. In the meantime, Gallery Aaldering have to make the best of the situation. They are doing that by putting maximum effort into their online sales activities.
Because of their decades of experience in selling cars by phone, e-mail and video around the globe they were, without even trying, maximum prepared when the strict lockdown measures were being put in place. They have sold cars to over ten countries in 2021 alone! They can arrange for shipping to your front door, storage or a safe handover.
Gallery Aaldering have started the year strong and thank their customers for their business and continuing trust in their way of work.
If you are interested in one of their cars please let them know, they are available for you and are happy to answer any questions you may have regarding one of their cars.
---
Ferrari 250 GTE (1962)
Series 1, matching numbers and fully restored and revised
These days the Ferrari 250 GTE would be considered a modest sales success. Between 1959 and 1963 nearly 1,000 of these cars were built. Compared with current Ferrari sales that may seem quite meagre. The Ferrari 250 GTE was, however, the first 4-seater Ferrari to be produced in large numbers and none the less had a hefty ticket price. The margins were good allowing Enzo to concentrate on what he loved best, and that was racing! The Ferrari 250 GTE Series 1 came on the road in 1961 and has retained her original engine, making it a matching numbers car.
€ 449.500,-
Find out more about this car here
---
Porsche 993 Turbo S (1997)
Only 186 made, matching numbers and colours
This is the "peak air-cooled Turbo Porsche". In the late 90's Porsche realised that due to increasingly strict emission rules the days of the air-cooled engine were numbered. The air-cooled engine formed the foundation of Porsche's success. You can just imagine the engineers and marketing department were not going to let the moment pass unnoticed. Nobody, however, expected them to quite so thorough. The 993 Turbo S was the last air-cooled Porsche 911 Turbo. Only 186 were ever built!
Price: € 337.500,-
Find out more about this car here
---
Chevrolet Master Wagon (1939)
Only 989 made, very rare, top restored
In 1939 Chevrolet decided to offer its clients the opportunity to buy a car with a wooden body; a so-called "Woody". The Chevrolet Master Wagon was the top of the range model at the time. The idea to use wood in the superstructure was not new. It had been used during the construction of lorries and buses. Towards the end of the '30s Chevrolet was inundated with requests for a car with wooden coachwork. As the Master Wagon was thought to be very suitable clients were able to order their Woody in 1939.
Price: € 69.950,-
Find out more about this car here
---
Bentley Azure 6.75 Convertible (1999)
Stunning colour combination, very well maintained
The Bentley Azure is a luxury convertible by the British prestige Bentley brand. Two generations of the Bentley Azur have been produced, the first in 1995 followed by the second one in 2006. The first generation was based on Ken Greenley's Bentley Continental R. Greenley was also responsible for designing another reassuringly expensive British car; the Aston Martin Virage. The Continental R stood as a template for the Azure. The convertible design was not carried out in-house but came form the pen of Pininfarina.
Price: € 69.950,-
Find out more about this car here
---
Ferrari 328 GTB (1986)
Perfectly maintained, long term ownership, full service history
The Ferrari 328 GTB is a very rare Ferrari. The total production was only 1,344. In 1986 only 373 left the factory in Maranello, thereby establishing that the car is essentially a fairly scarce commodity. The fact this Ferrari 328 GTB has a brilliant "Grigio Metalizzato" finish and wine red interior trim just go to make this an even rarer car. The manner in which this car has been documented and her condition make her unique.
Price: € 99.500,-
Find out more about this car here
---
Citroën SM (1972)
Carburettor, highly original
If you happen to dive into the history of the development of the Citroën SM you will discover one thing for certain: a glorious set of circumstances with a fantastic outcome. Citroën had been busy for many years developing a sporty version of the DS. Gradually Maserati became involved in the process and they decided to put a Maserati V6 plant in a front-wheel drive coupé. To accentuate its Citroën credentials they also fitted hydraulic suspension and adaptive, self-levelling headlights.
Price: € 49.950,-
Find out more about this car here
---
Volkswagen Transporter Kastenwagen (1970)
Top original condition, only 25.177 kilometres from new
Gallery Aaldering has got another one in! A time capsule from South Germany. This Volkswagen T2 fire engine first saw service in 1977 as part of the Tettenweis voluntary fire corps near Passau. In line with good fire service tradition, an account of all trips was kept up from 2000 to 2017. During that time the car made 375 trips totalling less than 12,500 km. For those with a mathematical mind that is about 33.5 km per trip. It should come as no surprise that for the greatest part of its life the car spent its time in and around the village. The car was mainly used for promotional and training purposes.
Price: € 29.500,-

Find out more about this car here
---
Land Rover Range Rover Classic 3.5 V8 (1985)
Mechanically overhauled car
Introduced in 1970 the Range Rover Classic was the first generation Range Rover produced by Land Rover. The first Range Rover came with a 135 Ps (101 kW) version of the Rover V8 petrol engine. The car also has that lovely 8-cylinder carburettor block. In contrast to the norm with current Range Rovers, this one has a manual 5-speed gearbox. It also is the then top of the range Vogue model. The car was initially registered in Modena in Italy in 1985. Since 2008 it has Dutch papers and remained in the same hands for the last 12 years.
Price: € 19.950,-
Find out more about this car here
---
Aston Martin V8 Vantage Roadster 4.7 V8 (2009)
Sportshift, perfectly maintained, low kilometres
The Aston Martin Vantage V8 is a compact sports car made by the British Aston Martin brand. The Aston Martin Vantage was first introduced during the 2003 North American International Auto Show. Whereas the Detroit exhibition showed the concept car, the production model was introduced at the 2005 Geneva Autosalon. With the V8 Vantage, Aston took its first steps into a market it had not been active in before. The compact V8 sports car was a roaring success for the British brand.
€ 63.750,-
Find out more about this car here
---
Triumph TR6 (1976)
Well maintained, nice drivers condition
This 1976 Triumph TR6 has been sourced in the United States. In the past the car had a re-spray and the paintwork remains in good condition except for some minor blemishes. The neat bodywork has straight and well aligned panelwork. The chassis is also straight and sound. Recent chrome bumpers have replaced the American rubber ones, they and the wheels are neat. The black hood is in good used condition, shuts securely and of course is undamaged. A tonneau cover is there for those sun-filled days.
Price: € 25.750,-
Find out more about this car here
---
Report by gallery-aaldering.com

---