Most call it a C2, but some still refer to it as the Mid-Year: No matter what the name given to a second-generation Corvette, America's sports car cemented its reputation with a pedigreed racing history, a multitude of performance options, and a design that was both brash Americana and classical European sports car. Which all leads to the 1963–1967 Corvette truly earning universal adoration across all corners of the auto enthusiast spectrum.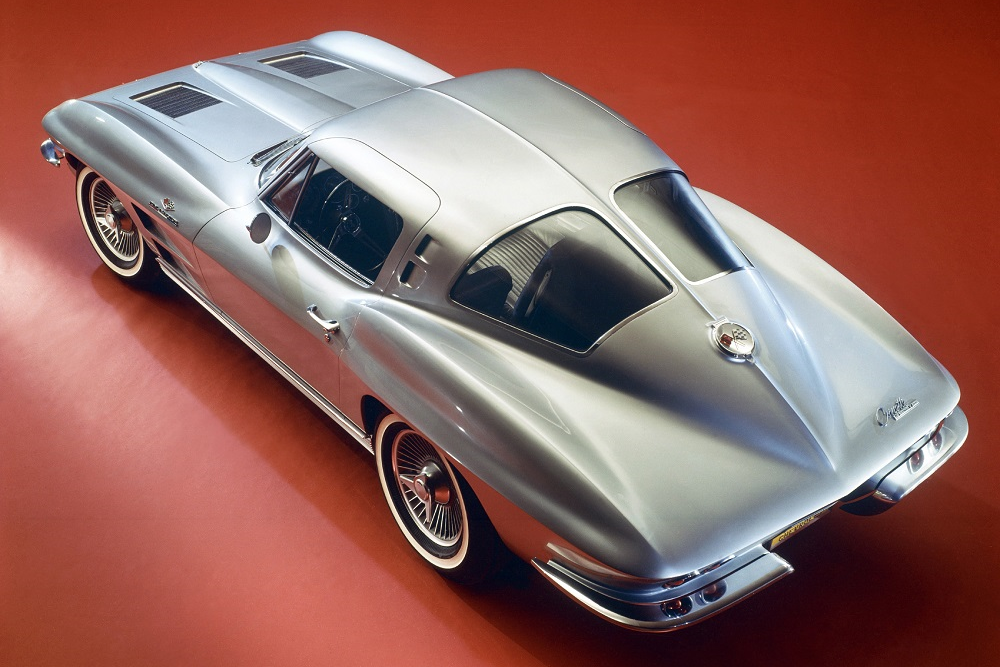 1963
'63 was the only year for several unique design elements—most notably the split rear window that was ultimately deemed too difficult to see out of for many drivers. The hood's non-functional grilles were also unique, and these features make the 1963 Corvette highly prized in the collector car market. Brisk sales (21,513 units) as both a coupe ($4257, 10,594 units) and convertible ($4037, 10,919 units) proved the second generation Corvette had the right styling and impressive performance from its new chassis and suspension to delight customers. That said, the all-new C2 Corvette shared many of the advancements from the tail end of C1 Corvette production, including all (327-cubic-inch) V-8 engines, producing 250/300/340 horsepower, and 360 horsepower when equipped with fuel injection. The standard three-speed manual, optional two-speed Powerglide automatic, and optional four-speed manual also carried over, while a close-ratio four-speed manual was available for the top two engines. Brakes were upgraded from the C1, as the 11-inch drums were wider for a larger contact patch, while optional sintered metallic brake shoes (J65) made for more aggressive braking.
The coveted Z06 option took performance to a new level: an $1818 upgrade for owners wishing to race a Corvette in sanctioned racing events. Once the buyer ordered the fuel-injected V-8, four-speed manual, and Positraction (limited-slip) differential, the Z06 added a larger front sway bar, uprated springs and shocks, and a 36.5-gallon fuel tank for endurance racing. All 1963 Corvettes benefited from an improved interior: more ergonomic driving position, comfortable bucket seats with optional leather, and options like air conditioning, power windows, tinted glass, woodgrain effect steering wheel, and even an AM/FM radio. Power steering and brakes were also available for extra comfort behind the wheel.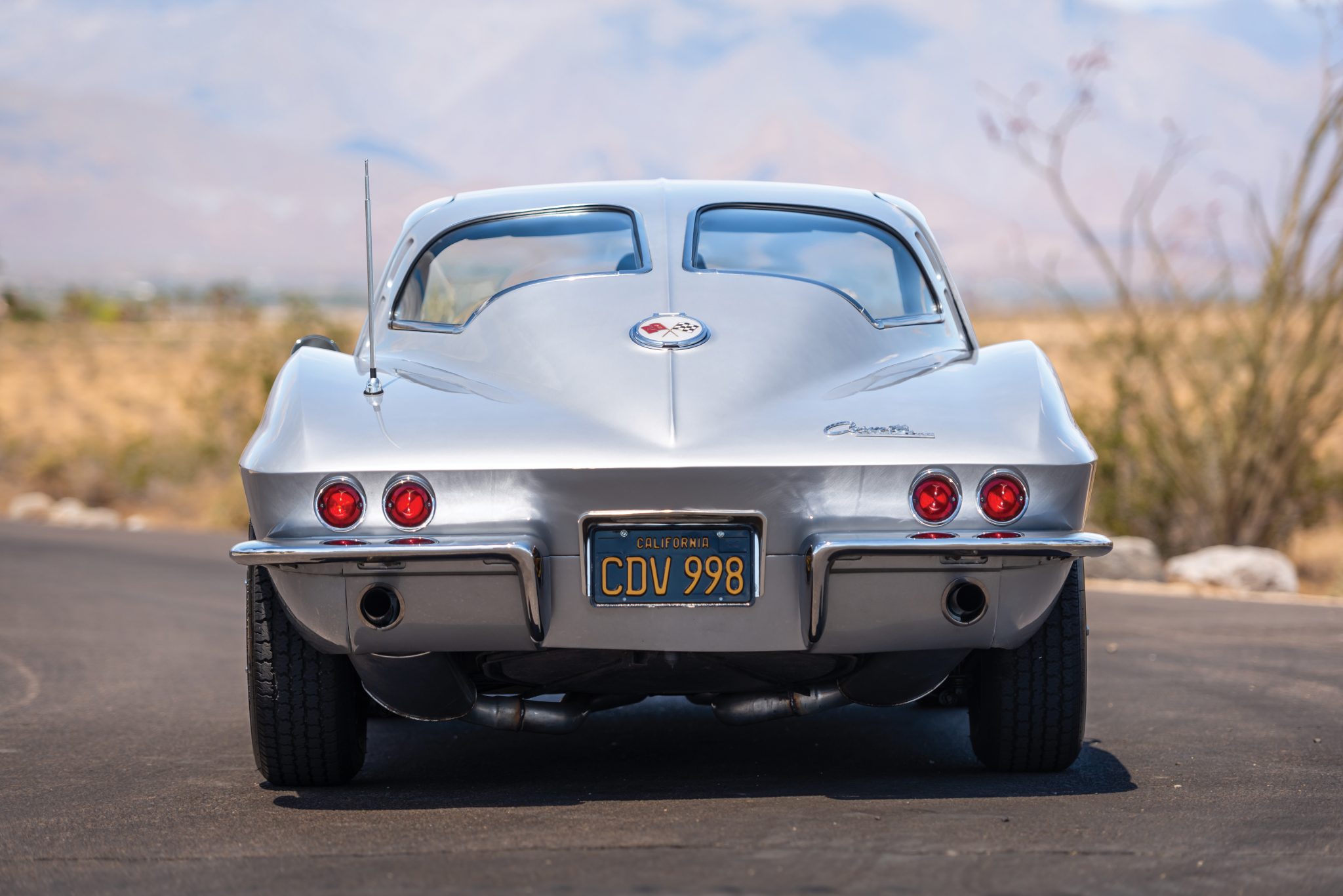 ---
1964
Aside from the adoption of a single, one-piece rear window, the 1964 Corvette constituted many small changes and refinements. The hood retained the stylish "footprint" that were home to 1963's fake grilles, the driver's side B-pillar air vents became functional, a cleaner rocker cover replaced 1963's ribbed panel, and a restyled fuel filler door (concentric rings around the logo) were implemented. Interior changes included a new steering wheel with simulated walnut trim, and chrome interior door pulls. Extra sound insulation, redesigned body mounts and a new shifter linkage design reduced the Corvette's noise, vibration, and harshness levels. An optional, rear mounted, three-speed fan increased air circulation for Corvettes, with or without air conditioning.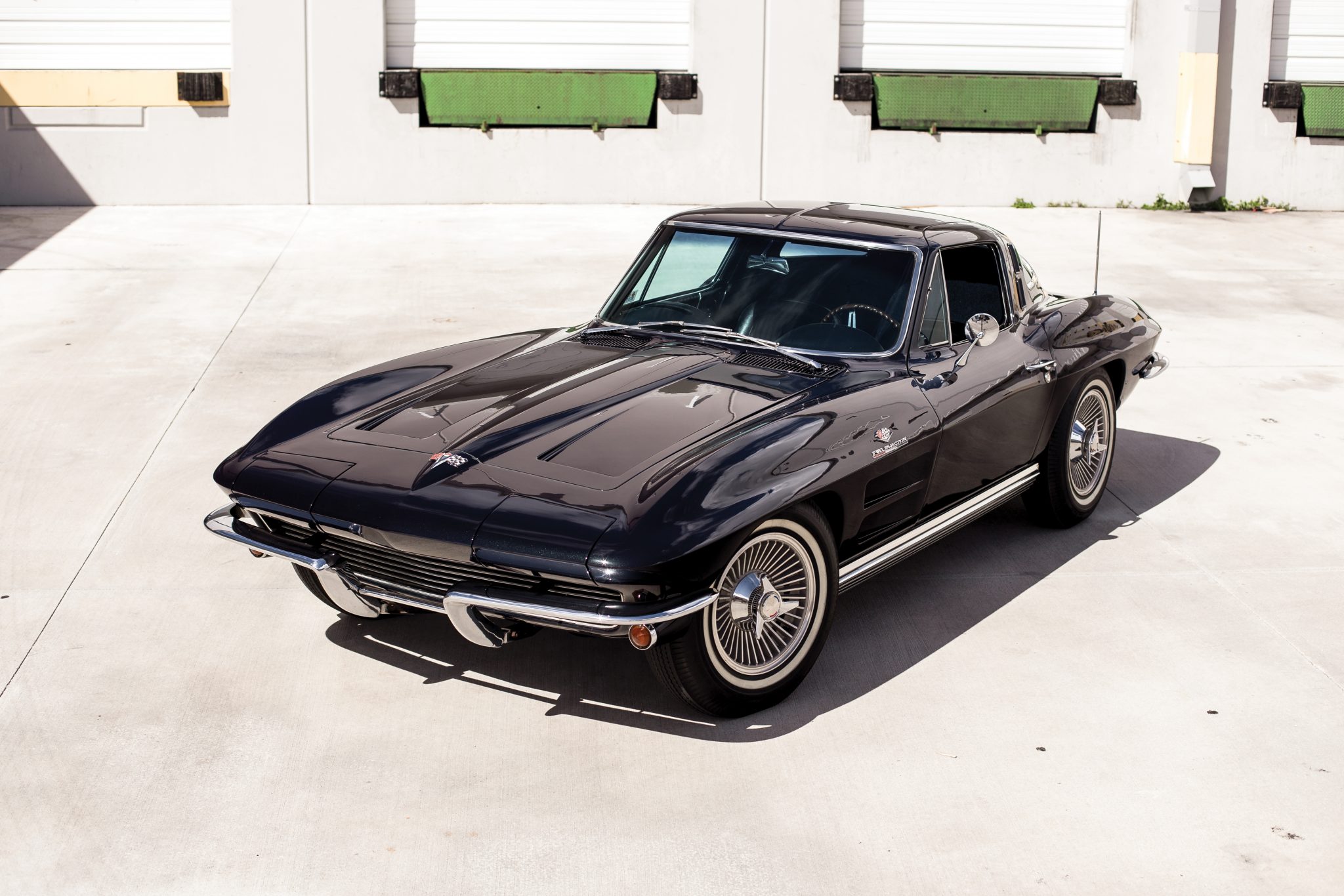 There was no more Z06 model for those interested in racing their Corvette, but many of its features remained available as stand-alone options, including the uprated front and rear suspension, brake upgrades, and the massive fuel tank. A new transistorized ignition system was optional and provided more efficient performance, especially under extreme conditions. Wheel covers sported a cleaner design and new cast aluminum turbine wheels with knock off center caps were optional.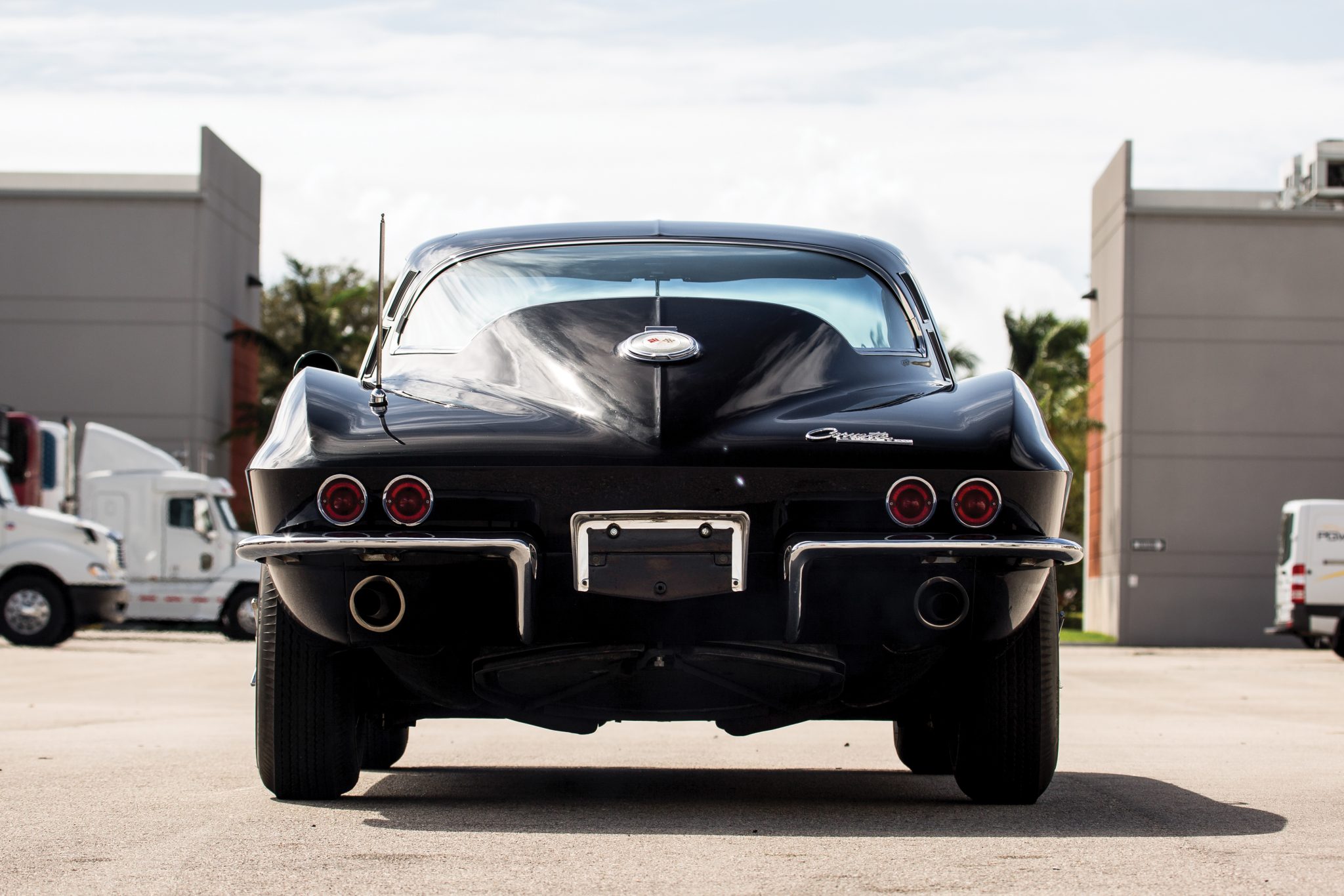 The top two engines got a boost this year: the carbureted 327 now had 365 horsepower, while the fuel-injected mill sported 375 hp. Manual transmissions went from Borg Warner-sourced units to Muncie gearboxes. Like the previous year, the four-speed manual was the most popular choice for Corvette buyers. The improvements helped Chevrolet sell 22,229 units of both coupe ($4252/8304 units) and convertibles ($4037/13,925 units).
---
1965
A new grille greeted buyers, along with new wheel covers and rocker panel covers. 1965 models also had a smooth hood (deleting traces of the 1964 style) and the addition of front fenders with functional cooling vents. The gas filler door now had a radial spoke design around the logo. Interior upgrades included an optional steering wheel rim made of genuine teak. Standard upgrades include new door panels with integrated arm rests and retracting seat belt assemblies. Larger bucket seats also had more support, while parts of the center dashboard were now painted instead of upholstered in vinyl.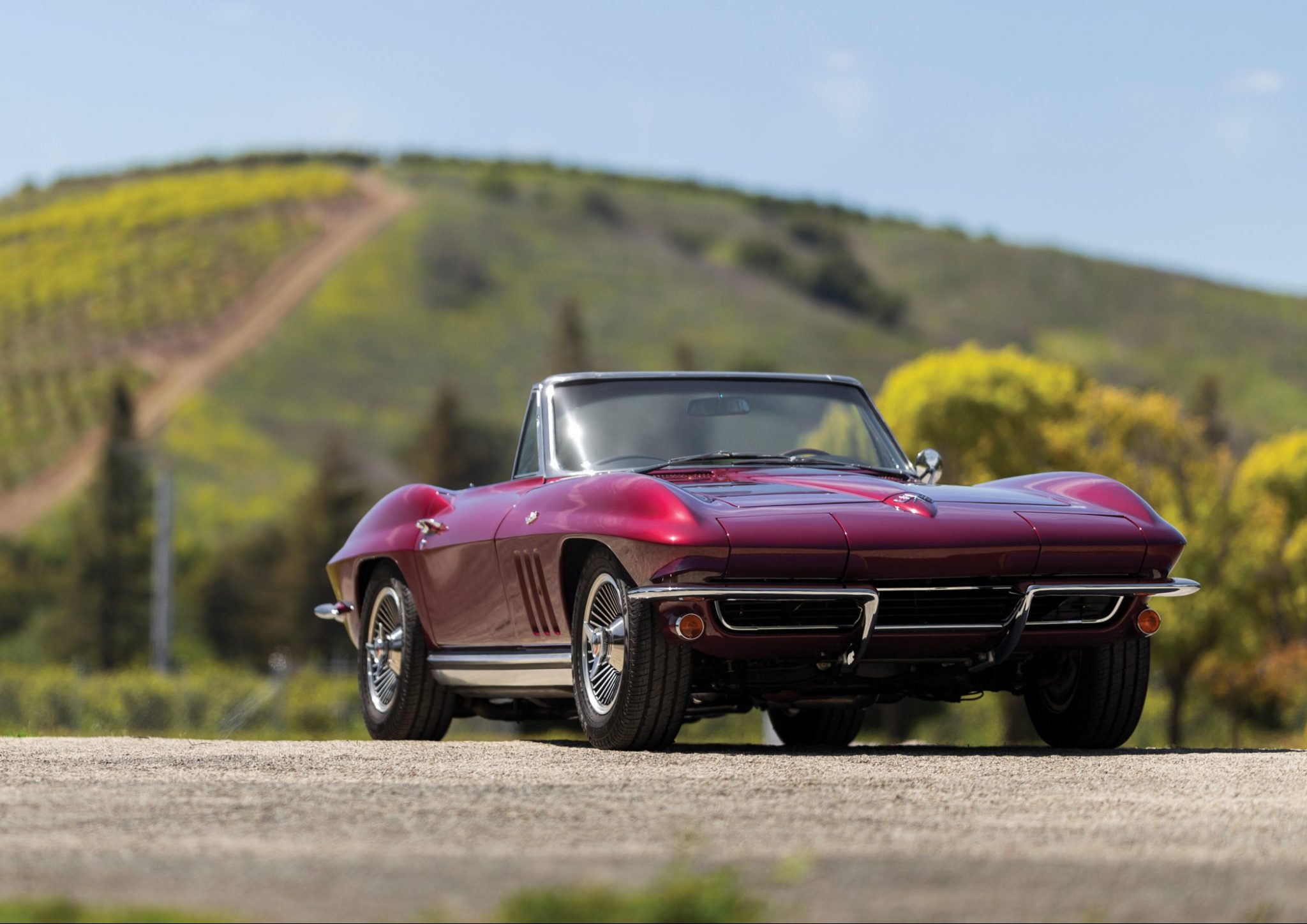 The four-wheel disc braking system was now standard, including four-piston front calipers and a redesigned master cylinder. Surprisingly the previous drum brake setup was still available, and netted the buyer a $64.50 credit. While the fuel injected V-8 was phased out (771 produced), there were five total small-block V-8 engines (327 cubic inches) producing 250/300/350/365/375 hp respectively. An all-new, range-topping 396-cu-in big-block V-8 (L78) made a whopping 425 horsepower. Not only was the 396 big-block's performance impressive, all examples came with a unique domed hood to clear the taller engine. The improvements netted an impressive 23,564 units sold (15,378 convertible, 8186 coupe) for a base price of $4321 for the coupe and $4106 for the convertible.
---
1966
The C2's trend of regularly redesigning wheel covers and rocker panels continued. B-pillar mounted vents were deleted, and new "Corvette Sting Ray" emblems were added to the hood and rear deck. The once optional reverse lights were now standard, while the Off Road Exhaust System (N11) grew in popularity threefold over last year and sales of the side exit exhaust went up by 60 percent. The gas filler door now had a turbine-effect texture around the logo. Interior changes were modest: new seat covers, chrome door pulls, four-way hazard flashers and shoulder belts were optional. Chevrolet sold an impressive 27,720 units; 17,762 convertibles at a $4084 base price and 9958 coupes at $4295.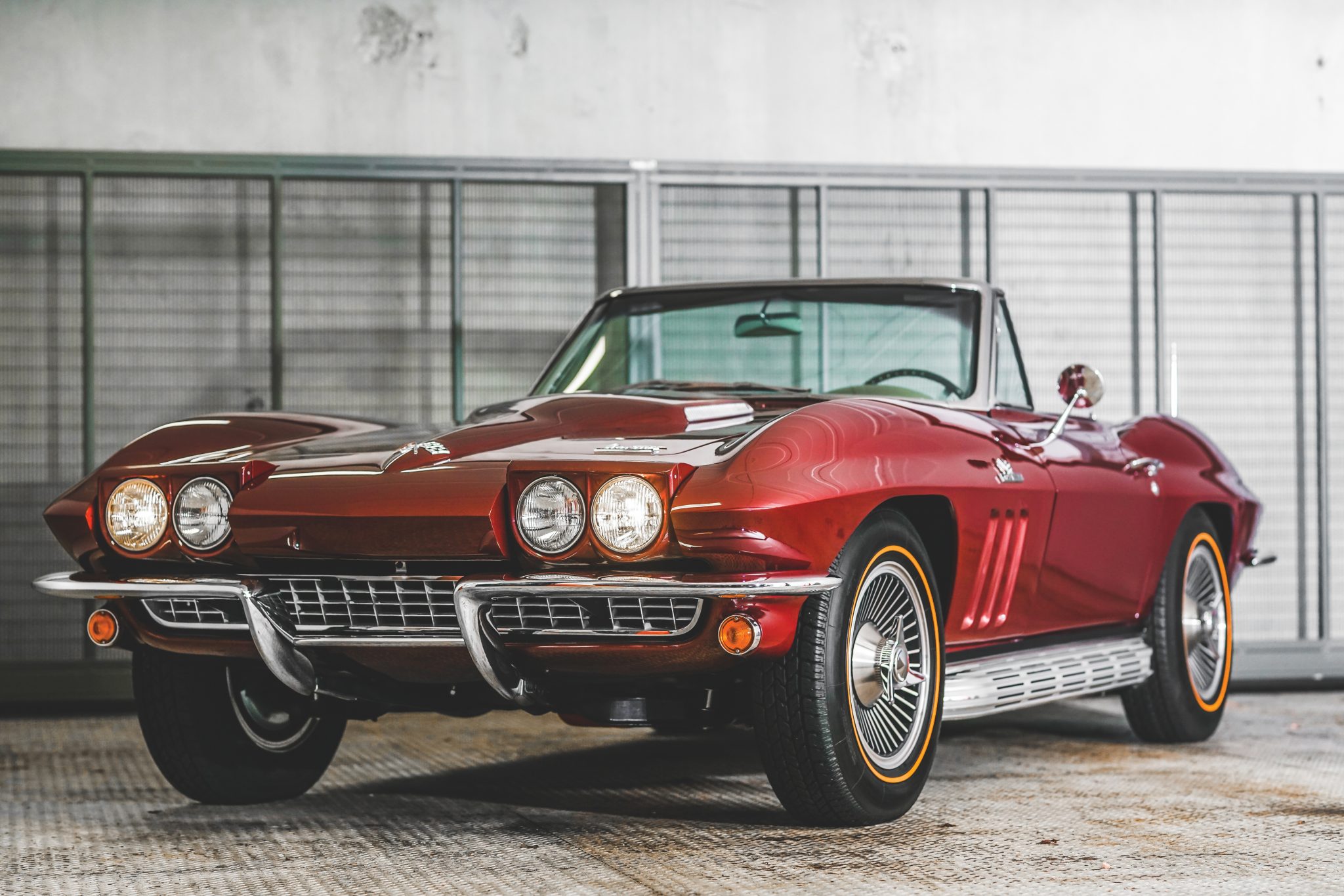 This year introduced the coveted 427-cu-in big-block V-8, available in either (L36) 390 or (L72) 425 horsepower with an impressive 460 lb-ft of torque. While horsepower ratings might have been purposefully understated at the time, all big-block Corvettes came with a Positraction axle, firmer suspension, and four-speed manual transmission. The big-block's seemingly instant popularity meant the 327 small-block was reduced to options, an L75 (300 horsepower) or an L79 (350 horsepower). Corvettes sold in California received a new air-injection system helped lower exhaust emissions, while a new egg-crate grille arrived up front.
---
1967
The final year of the second-generation Corvette sported modest yet notable changes: Hood and fender emblems were deleted while the fuel filler door now had a Corvette logo on a color-matched, distraction-free background. The fender's side vent now had five fins. Rocker panel covers were flat and unadorned, a large backup lamp was now placed over the license plate, and wheel covers were replaced with standard Rally wheels with chrome beauty rings. The optional aluminum turbine wheels no longer sported garish knock-off hubs, instead hiding a conventional bolt pattern under a modest hub cap.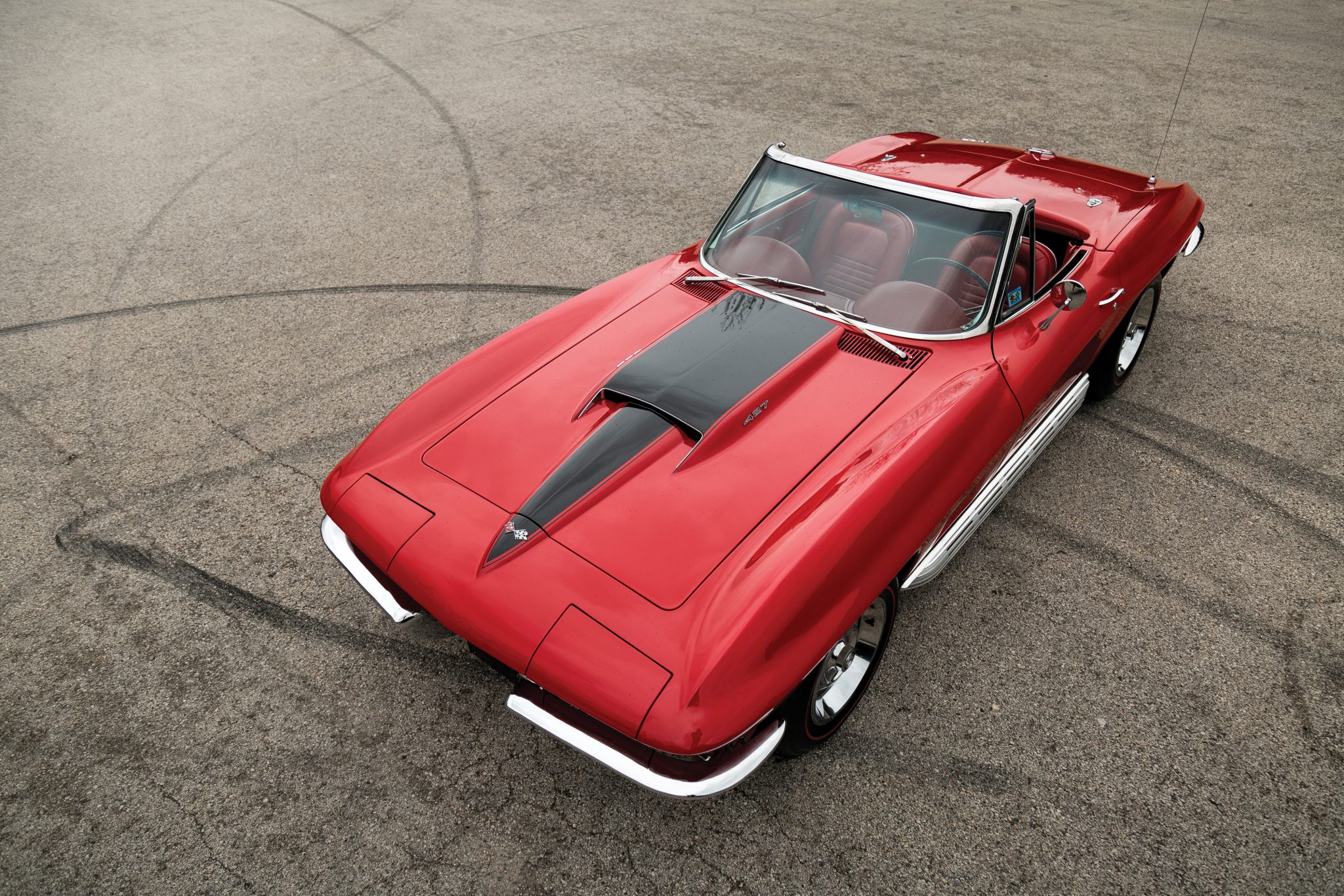 The big news was under the new-for-'67 stinger hood scoop for 427-cu-in big-block V-8 Corvettes: the 390-hp L36, 400-hp L68, 435-hp L71, and an L88 race engine with aluminum heads and an underrated 430 horses. L71 engines could be ordered with aluminum heads (L89) for extra weight savings and performance. The standard 300-hp and optional 350-hp small-block V-8s remained. Interior changes for 1967 were limited to new seat upholstery, redesigned control knobs, a relocated hand brake lever, and a new dashboard cowl that eliminated the passenger's grab handle. Sales slipped slightly to 22,940 units (14,436 convertibles, 8504 coupes), with prices of $4388 for coupes and $4240 for convertibles.
---
Before you buy
Know which year C2 Corvette you like? Just make sure it's in the condition you expect before you make a deal. While the Corvette's body is mostly fiberglass, the C2 generation has a metal "birdcage" around the passenger compartment that could rust, especially around the base of the windshield. Corrosion is also a concern if the C2 was the victim of a poor collision repair in the past, so a detailed inspection is required to ensure no stone is left unturned. Stress cracks on the fiberglass body can happen—the Corvette is a sports car and often driven like one—but they could require significant effort to restore to perfection. All C2s used fiberglass bonding strips to fuse individual parts into a single body panel, but look closely for signs of poorly patched fiberglass panels.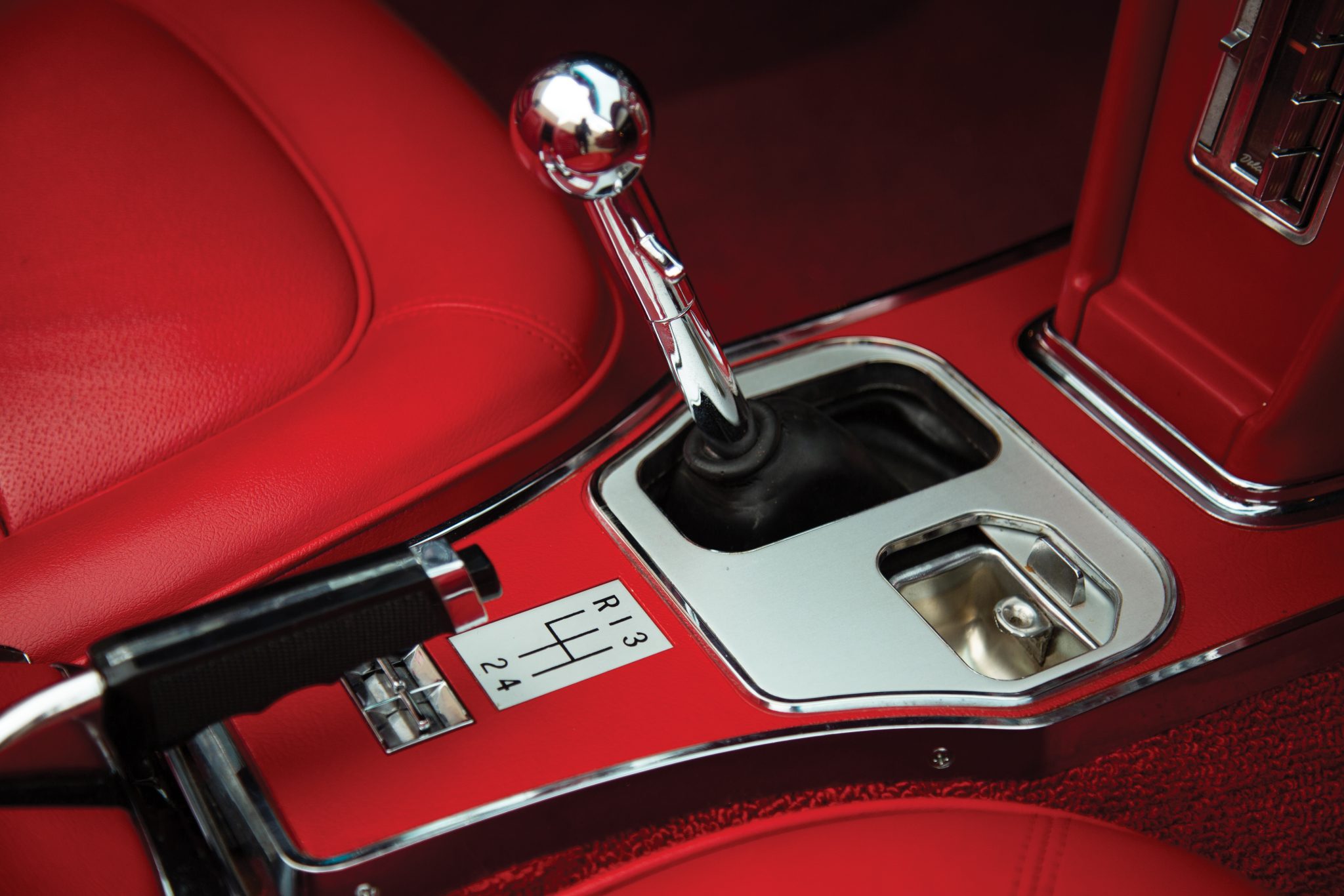 While almost everything under the sun is available online or in a C2 Corvette-specific catalog, keep in mind that the four-wheel independent suspension, covered headlights, and interior parts are mostly unique to this car. Rubber parts (belts, hoses, weatherstripping, bushings, etc.) age out over time, and never forget the age of tires: they lose the majority of their performance potential after a decade, if not sooner. If you see a problem anywhere, at the minimum research how much the parts cost and factor that into the asking price. A thorough test drive where every component is cycled and monitored is the best way to ensure you purchase the vehicle with a minimum of surprises.
Because C2 Corvette values risen meteorically since bottoming out decades ago, it's crucial to ensure either owner's claims of originality and/or meticulous maintenance are up to the expectations of current market pricing. The best way is with a third-party analysis: buying a numbers-matching example may just mean scanning the chassis and engine codes, getting a pre-purchase inspection, or perhaps some research with the help of the National Corvette Restorer's Society to ensure a C2's authenticity.
---
Valuation
The Hagerty Valuation team has gained significant insight in to the recent transaction prices for C2 Corvettes, but please check here for the most up-to-date values. Split window coupes like the one in the above video typically command between 50 to 100 percent more than comparably equipped '64 coupes.  While split-windows are one of those rare exceptions to the phrase "when the top goes down, the price goes up," even the 1964 coupes command a little more than the convertibles, but nothing quite like the split window '63.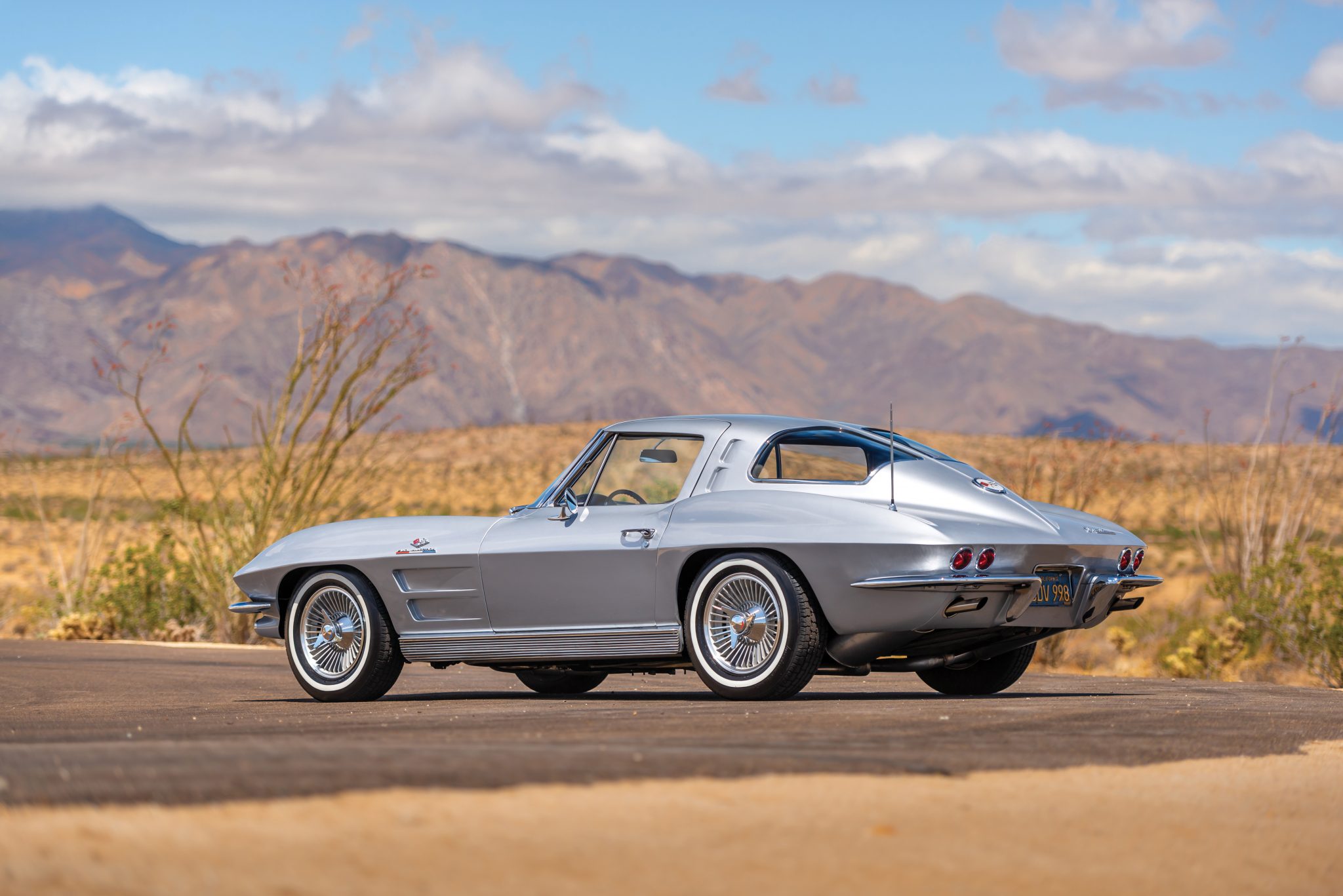 Values for 1963s and most C2 Corvettes remained pretty flat for the second half of 2020, but a median #2-condition (Excellent) example, bottoming at $62k in 2011, has trended upward is now worth $119K on average. These Corvettes weren't as hard hit by the '08-'09 recession as mainstream muscle cars were. That said, the options really matter, especially regarding transmissions: deduct 10 percent for automatics and, even though the standard 3-speed manual is very rare, Hagerty deduct 20 percent in their price guide for it.
Notable C2 Corvette sales in recent years include the $1.76M Rondine concept, a '63 convertible owned by GM designer Harley Earl ($1.605M), and this Z06 race car that sold in 2009 for $1.13M. Hagerty insurance data indicates that quotes for C2 have increased 3 percent over the past three years, and they are up 5 percent over the past five years. Quote values similarly went up 4 percent over the past three years, and up 13 percent over the past five years. While boomers make currently make up 40 percent of the market, Gen X accounts for 30 percent with a surprising 18 percent of the market going to millennials.
In general, the best advice remains that you should buy a car you love and the best example you can afford. Happy driving!
---
Report by Sajeev Mehta for hagerty.com
Photos by RM Sotheby's
---