Here is a special selection of cars that have recently arrived or are expected soon at our partner Gallery Aaldering. This preview allows you to be the first to indicate your interest in one of these cars. Do you want to hear more about these cars? Please send an e-mail to: info@gallery-aaldering.com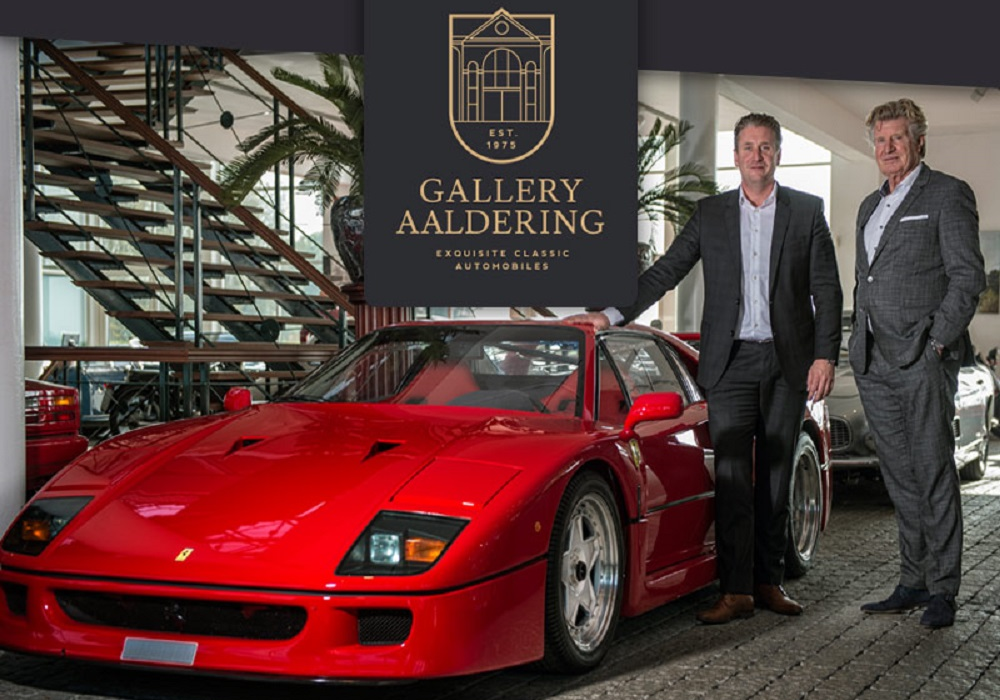 You can learn more about the cars by simply clicking on the "more info"-button.
---
Alfa Romeo GTA 1300 Junior (1968)
Fully restored and mechanically rebuilt, ex road car of Rhoddy Harvey Bailey, stunning rare original 1300 GTA
The Alfa Romeo GTA, Gran Touring Alleggerita, is one of the many highlights in the history of the beautiful brand. The Alfa Romeo GTA was built by Autodelta and was introduced at the Amsterdam Motor Show, better known in the Netherlands as the Autorai. The GTA was offered in two versions, the Strada and the Corsa. Autodelta did not take half the task of turning the GT Junior into a real racer. The body is made of aluminium and is a true work of art. Only the floor and sills remained made of steel.
The first series of GTAs were delivered with the 1,570cc engine with the well-known twin-spark technology and a short-ratio gearbox. The Junior came on the market in 1968 and was fitted with a 1,290cc engine to compete with the incredibly successful Mini Coopers. The advantage of the more developed 1300 GTA compared to the previously delivered 1600 is that 1300 is a lot more robust than 1600. The emphasis on durability did not harm Alfa Romeo. The Alfa Romeo 1300 Junior GTA won the European Touring Car Championship in 1972.
Price: €257.500,-
---
Maserati 3500 GT Vignale Spyder (1961)
Maserati certified Matching numbers car, carburettors disc brakes, ZF-5 speed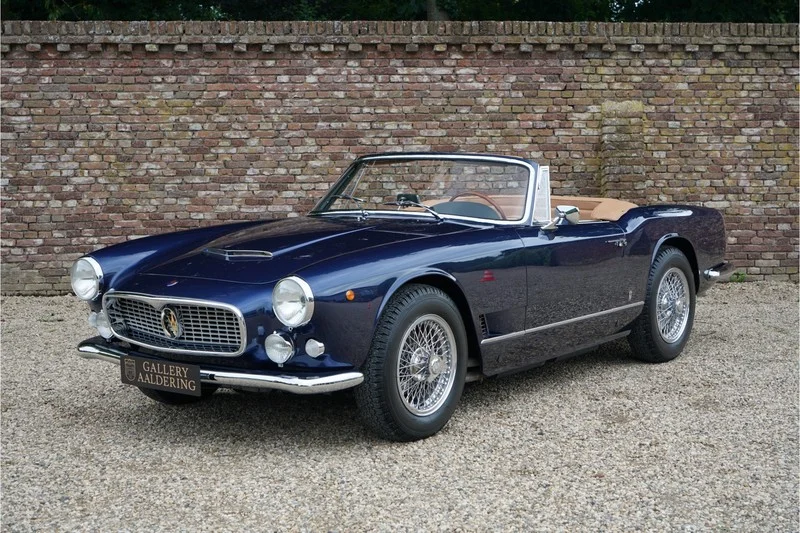 The Maserati 3500 GT Vignale Spider is a stunningly gorgeous Italian convertible. The Vignale body, designed by Giovanni Michelotti is a timeless piece of art. This Maserati 3500 GT has had a total "Nut&Bolt" restoration and is now of a superb high quality state. On the 25th January 1961 this Maserati 3500 GT was supplied to Mr Ghetti by Genova based Maserati Dealer Automar SrL. Mr Ghetti was a stylish man.
The car came with wonderful Borrani wheels. This car is the popular carburettor version of the Maserati 3500 GT. The 3.5 litre straight-six is coupled to a manual 5-speed gearbox. The photos clearly show that our car is one of the best. There may be hundreds of ways to restore a car, only one is the right way and that is by professionals working to an exacting standard. That kind of professionalism is self-evident from the first moment you see the car. The car has been fully restored without compromise.
Price: € 795.000,-
---
Rolls-Royce Silver Cloud 2 DHC by Mulliner (1962)
Very extensive history file, only two owners from new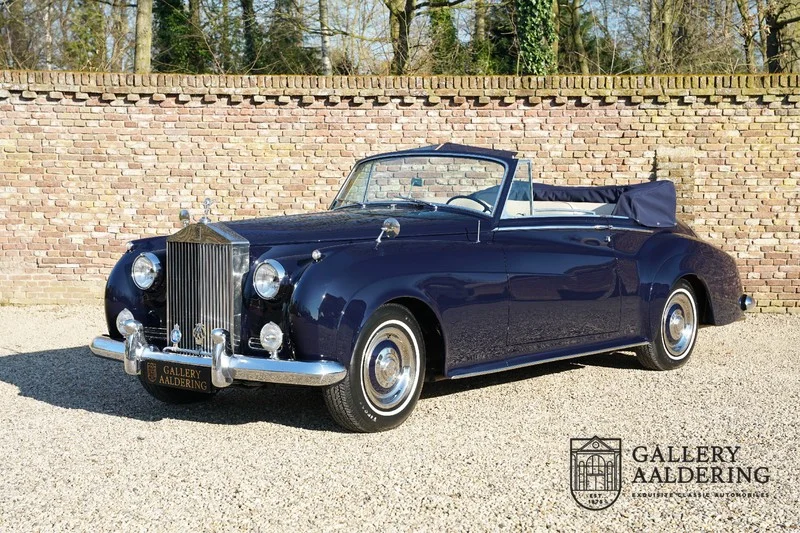 The Rolls-Royce Silver Cloud 2 Drop Head Coupé (DHC) is perhaps one of the most beautiful open Rolls-Royces ever built. This example was built in 1961. It is an E-Chassis that was sent to Mulliner. Mulliner was commissioned to provide the car with a body according to design number 7504, according to experts the most attractive option. In total, this design was chosen only 84 times. All 84 cars were left-hand drive and/or export cars.
The car has only had two owners who have always cherished the car. As a result, the car is still in very good condition and is to die for. Both optically and technically. The Rolls-Royce Silver Cloud convertible is of course without a doubt a car that fits perfectly with the extravagant life in Hollywood. It will therefore not surprise you that the car was delivered new to the first owner in Hollywood.
Price: € 375.000,-
---
Porsche 356 pre-A 'Knickscheibe' Coupé (1953)
Fully restored condition, sought after Knickscheibe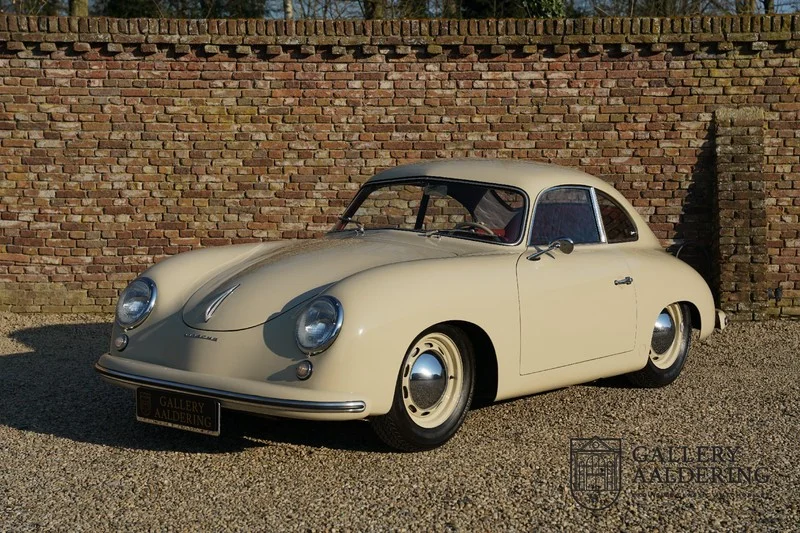 What a beauty! This 1953 Porsche 356 Pre-A Knickscheibe Coupé has been fully restored and mechanically overhauled. The work was carried out by extremely professional restorers, who have delivered a most desirable car. The car not only looks great, it also drives fantastically well. The work undertaken was done meticulously and in keeping with the original concept. Everything appears as it was when the car left the factory, although again not quite exactly as I shall explain. This car has been so meticulously restored and to such a high standard, it has resulted in a car of superior quality compared to the original one leaving the factory. This is now a truly marvellous Porsche 356 pre-A Knickscheibe coupé.
Price: € 239.000,- 
---
Aston Martin DB2/4 Mark 3 (1958)
Superb original condition, matching numbers and colours, factory overdrive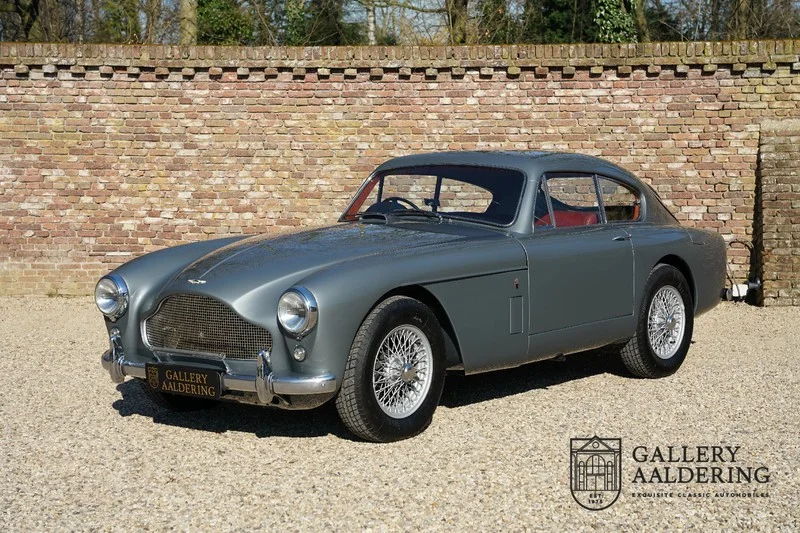 This Aston Martin DB2 was the first Aston Martin model to be produced in serious numbers. Although those serious numbers are still very relative with a total number of 411 pieces, of which only 306 coupés. Production ran only from 1950 to 1953. This example was delivered new to Portland Cement Manufacturers in London on July 18, 1958.
The Aston Martin DB2 is powered by a 2.6 liter inline six designed by W.O. Bentley. The engine, combined with the ultramodern chassis for the time, was the reason Aston Martin won its class at Le Mans in 1950 and also took second place and became third in 1951. In this case, the car is still equipped with its original engine, which was recently completely overhauled. This is therefore a matching numbers copy.
Price: € 335.000,- 
---
Alfa Romeo Montreal (1972)
Verde Medio, top restored, fully mechanically rebuilt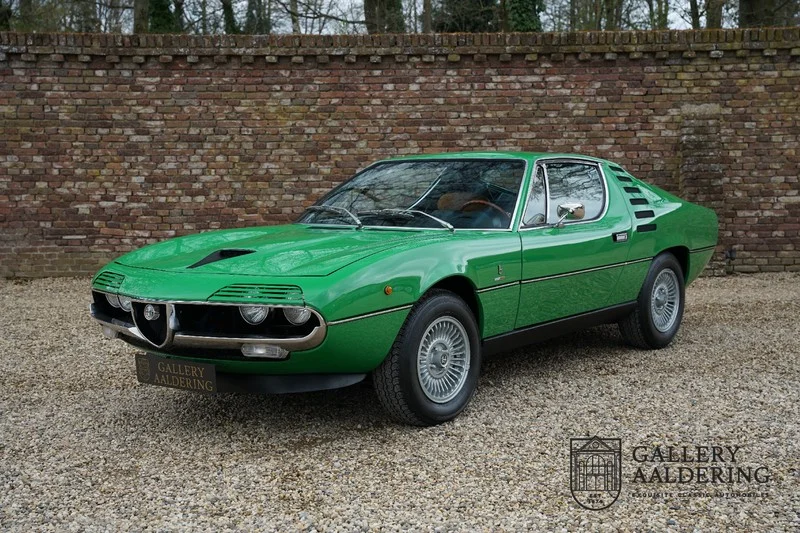 Verde Medio, that is the name of this colour. It is also most probably the reason your clicked on this advert's title, just to see the colour's full name. Just so that you are fully in the picture, Alfa Romeo named it: Verde Medio AR223 in full. Whilst the car's colour is infinitely attractive and alluring, it would sell the car short by just focusing on its finish. The car has been fully restored and mechanically overhauled in the recent past.
The work was not only extremely thorough but also meticulously carried out by pure experts. The Alfa Romeo Montreal is a Marcello Gandini masterpiece whilst working for the Bertone Studio. It is undoubtable one of his finest designs. Our car was first supplied in Belgium in 1972.
Price: € 95.000,- 
---
Ferrari 250 GTE Series 3 (1964)
Matching numbers, European delivered car, very original interior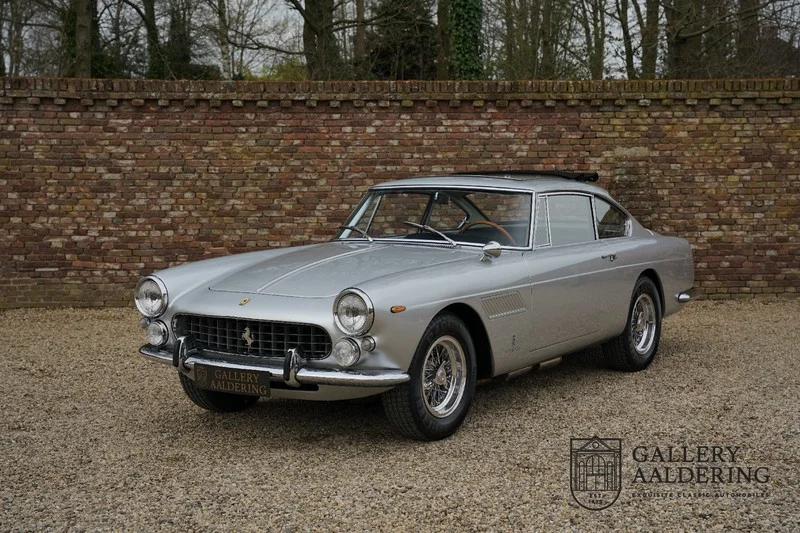 Gallery Aaldering has a stunning 1964 Ferrari 250 GTE series 3 available. The car was supplied from new in 1963 to the Milan based M.G. Crepaldi Automobili Ferrari dealership. A little later it received its first registration. This is a matching numbers Ferrari. The 250 GTE has recently been restored as well as mechanically completely overhauled by a brand expert.
Remarkably the interior trim was in such good condition, that only refilling the seats and conditioning the leather were necessary. The car's interior is so alluring. The rest of the car has been very well looked after. A Webasto Tudor sunroof was added at a certain moment, Gallery Aaldering believes this may have been during the restoration.
Price: € 395.000,-
---
Ferrari 612 Scaglietti (2008)
Original Dutch delivered car, stunning colour combination, full Ferrari Service history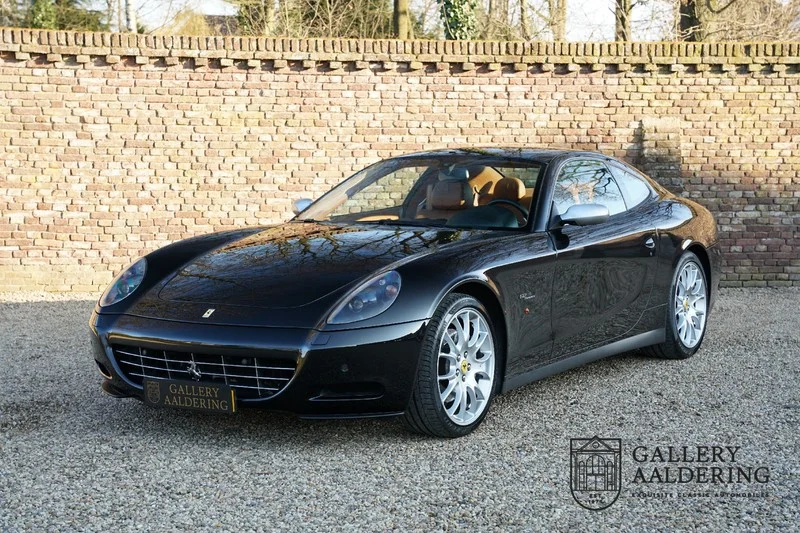 Of course from day one opinions were divided about the look of the Ferrari 612 Scaglietti, whereas the Ferrari 456 was unanimously greeted with approval, you either loved or loathed the 612. The fact is the Ferrari 612 Scaglietti represents a quantum leap improvement over the Ferrari 456. Our car is again a quantum leap better than the early 612s. This is a facelifted version of Ferrari 612. In addition, this car was bought from Kroymans Ferrari in Hilversum in 2008, the Netherlands and was almost exclusively maintained by them.
The first owner selected a beautiful package of every option available. This, in other words, is a full-option, matching numbers and colour coded car. He chose the "Nero Daytona" exterior finish which has a brown glow in the sunlight. The entire interior is decked out in Cuio coloured leather. When you pop your head inside this 612 you are greeted with a most amazing luxurious sight. The Giallo rev counter stands out together with the most extensive navigation unit. The car has only 64.234 kilometres on the odometer from new.
Price: € 99.500,-
---
Pur Sang Type 35 (1928)
Like new condition, full build manual present with the car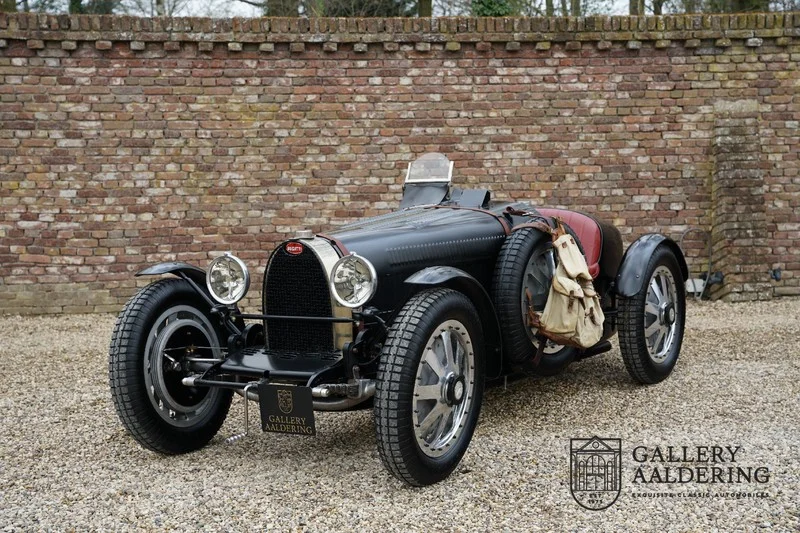 Let's start with the facts. This is not a Bugatti Type 35, this is a Pur Sang Type 35. This car was not manufactured in Molsheim but in Buenos Aires. Okay, that's cleared up. Now let's take a closer look at what a Pur Sang is exactly. The Pur Sang is the most true-to-life reproduction that a person can make of the original. What Pur Sang does is the following: they make the original 1 on 1. There are only a few very small differences in the original and a Pur Sang, which are barely noticeable with the naked eye.
For example, the Pur Sang is equipped with a modern ignition that looks like a magneto ignition, the Pur Sang has a cooling fan, the Pur Sang has other bearings for the crankshaft, so that the engine does not need an overhaul every ten thousand kilometers and finally the Pur Sang has a different firing order that better suits the 8-in-line engine, Ettore Bugatti also thought, because his last racers also used the modified order. Every original owner has at least one Pur Sang in their collection and it seems that many owners who want to race an original car order an engine from Pur Sang to secure the original. The ultimate compliment for Pur Sang? Ettore Bugatti's son and granddaughter both own a Pur Sang.
Price: € 249.500,-
---
find here more arrivals at Gallery Aaldering
If you are interested in more news click here.
---