The Tyrrell P34 secured a place in Formula 1 history by being the first grand prix car to race with six wheels and became the only six-wheeled car to win a grand prix. Launched in September 1975, the unique design created by Derek Gardner was not taken seriously when it was announced.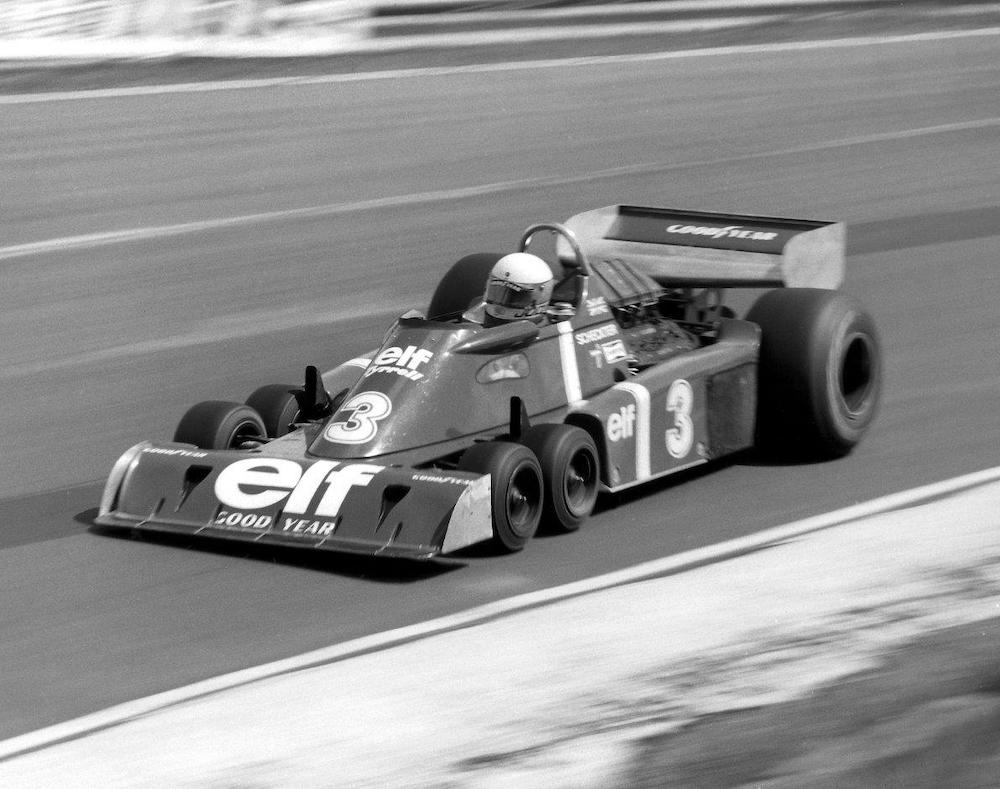 Tyrell P34 – Jody Scheckter
The intention was to reduce drag by locating the front wheels behind the front wing, the size and shape of which dictated that conventional wheels and tyres protruded into the airflow, creating drag. Goodyear agreed to make bespoke tyres to fit the small wheels and when the car showed promise during the 1976 season, three other teams began work on their own multi-wheeled variants. During the season the Tyrrell recorded eight second-place finishes with Jody Scheckter winning the Swedish grand prix. He disliked the car, declaring it a piece of junk while team-mate Patrick Depaillier thought the opposite.
The car worked best on smooth fast circuits but struggled at bumpy tracks such as Brands Hatch as seen in the photograph above. The photo shows Scheckter during practice for the British grand prix in July 1976 where he finished in second place while Depaillier retired. Tyrrell entered the P34 for the 1977 season but due to various rule changes the car became less competitive and it was rumoured that Goodyear did little to test and develop the tyres. An unimpressed Scheckter left the team at the end of 1976 and was replaced by Ronnie Peterson; even he struggled to get the best from the car, recording only one podium place as reliabilty became a serious issue as both cars suffered numerous retirements. A decision was made to consign the P34 to history and revert to the traditional four-wheels for 1978. By 1983 the FIA had, inevitably, introduced a number of rules and regulations that effectively banned the use of anything other than four wheels. The P34 will remain a footnote in grand prix history but it proved an interesting experiment at a time when creative thinking was (almost) accepted.
From 'Moments in Motorsport' by Trevor Legate. To purchase a copy contact tlegate@btinternet.com for details.