The right vehicle for the summer ! Is a very famous dune buggy – the original by Bruce Meyers, known as Meyers Manx. And for those who not only want to hit the road like the »King of Cool« Steve McQueen, but also want to build the buggy themselves, it should be noted: the set is still for sale today.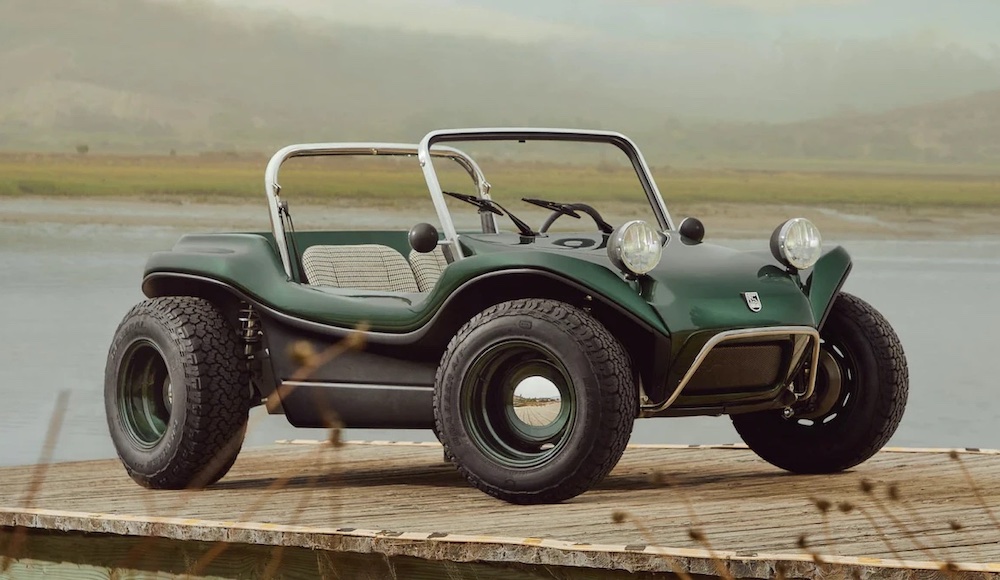 Let's start the story from the back: In November 2020, Bruce Meyers and his wife Winnie sold their company Meyers Manx. And the new owner, an investment firm called Trousdale Ventures, promised to create a new generation of buggies that are as much fun as the originals have invariably been for five decades. Now it's summer 2022 – and the promise is being kept, because a few days ago Meyers Manx presented the "Manx 2.0 EV". Cool as ever – and now not only particularly clean in terms of design, but also in terms of drive.
The buggy is supposed to have 205 electric hp in series production – and with the large battery pack it can cover up to 582 kilometres. The small pack, in turn, guarantees a range of 240 kilometres, the manufacturer assures. But the most important thing is that the dimensions of the "new" buggy are exactly the same as those of Steve McQueen's buggy. Together with the new drive, this makes it even cooler than it already was. The only thing we have to do without is the view of the often chrome-plated engine in the rear.
But let's go back to the beginning after all. Bruce Meyers, drawing on his experience in sailboat construction, crafted the original dune buggy in his home garage in 1963 using a shortened VW Beetle chassis to build on. Because the first limited-run production swallowed up too much time and money, he created a do-it-yourself kit. For $535, Meyers would send you a lightweight fiberglass bodyshell complete with hood, dashboard, headlights, lots of small parts and just seven pages of instructions. He also specifically warned against trying it with a VW bus, Squareback, Karmann Ghia or Porsche. Otherwise, individual deviations from the instructions were not only tolerated but explicitly desired.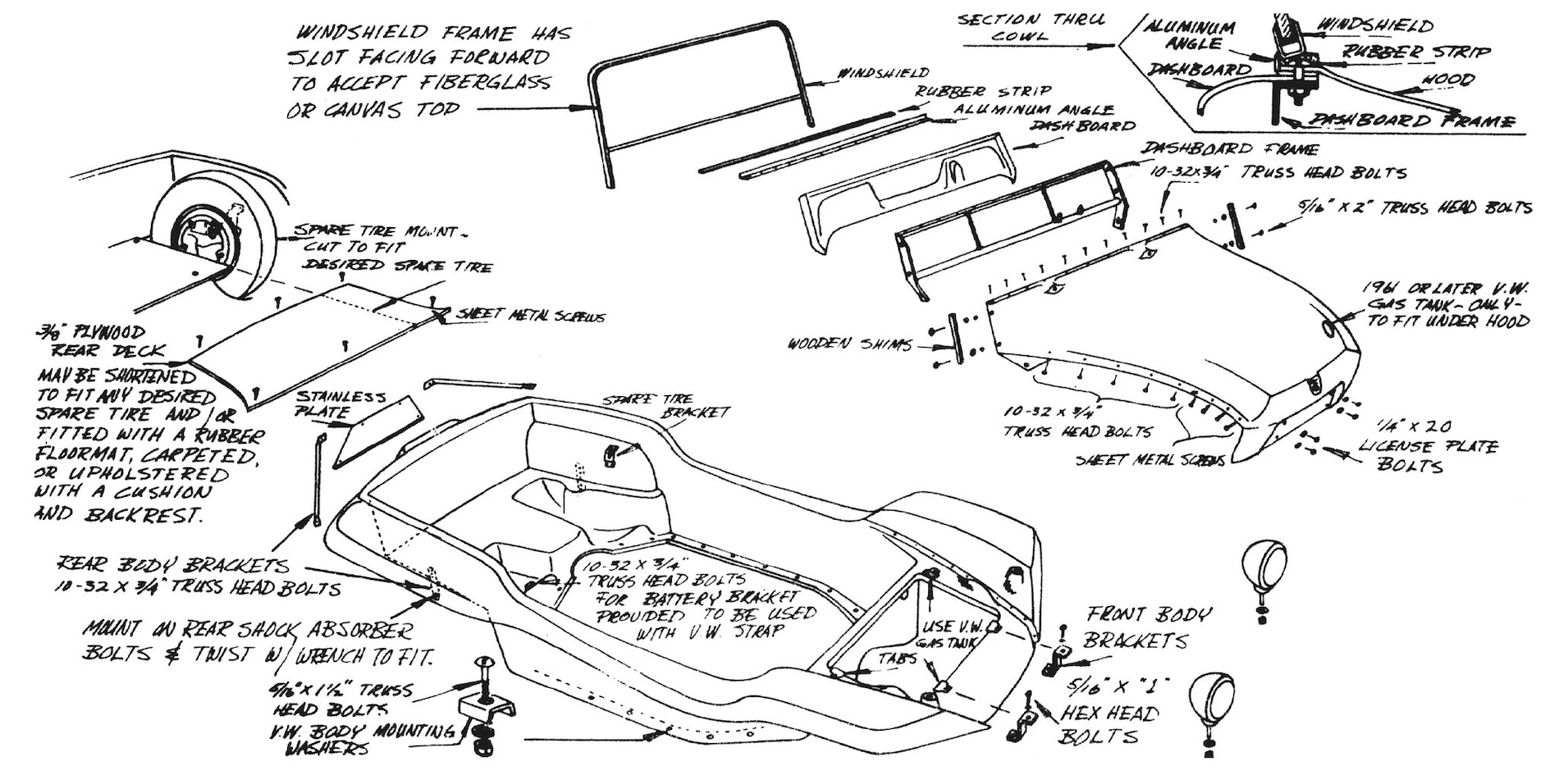 The Beetle was the ideal choice for the kit because the body is not difficult to remove from the chassis and it is easily disposed of. The kit fit a Beetle floorpan shortened by 14¼" (365 mm) in its center. Chassis, engine, transmission, seats, pedals, brakes, fuel tank, speedometer, steering, wiring – everything could be reused. Except maybe the wheels. These were better replaced by wide tires on fancy rims. The exhaust had to go too, but the supplier parts helped create a proper flat-engine sound. Anyone with an average amount of mechanical skill could do the job in a few weekends, B. F. Meyers & Co. promised.
"He didn't invent the dune buggy," comedian and car collector Jay Leno explained on an episode of his show, Jay Leno's Garage, "but he made it what it is today." Bruce Meyers appears in person on the show and we learn that he was a surfer and World War II veteran whose work with fiberglass surfboards and sailboats led to the quality of his buggies: "I'm a quality guy," Meyers says, without a hint of arrogance.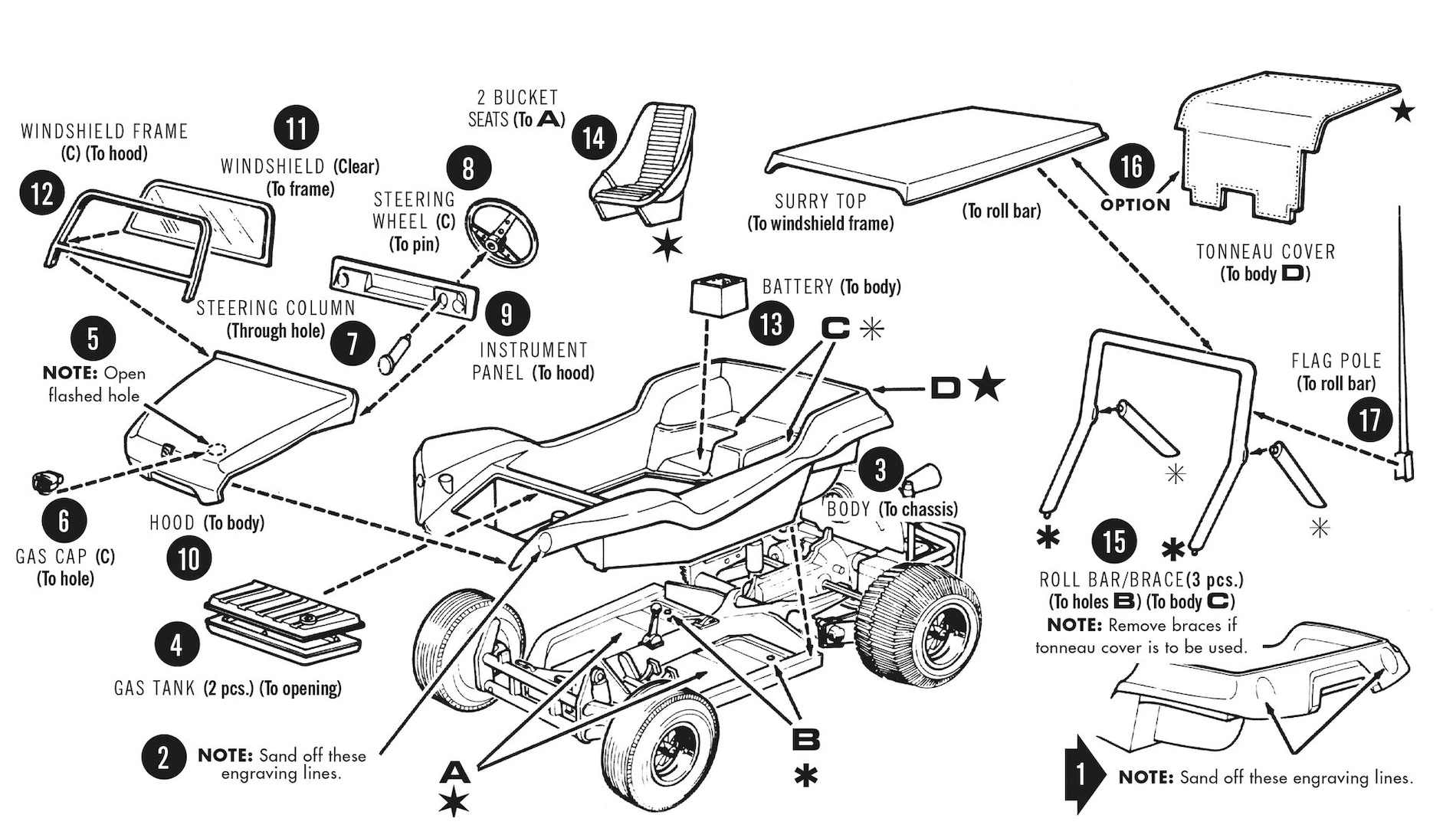 Meyers hadn't initially thought that his buggies would be such a big hit. It wasn't until he was stopped at a red light and everyone was staring at his little car that he realized what he had created. Approximately 7,000 of the original Meyers Manx dune buggies were produced, plus an estimated 350,000 replicas, before the original company ceased operations in 1971. In 2000 Bruce Meyers began offering Meyers Manx buggy kits again. The motto of his new company: Meyers Manx – More Smiles Per Mile. And that's just as true for the new buggies as for the classics.
Text Michael Petersen for ramp
Photo meyersmanx.com
---