"To the characteristics of high performance, impressive appearance and fine detail finish which distinguished the big Mercedes models of pre-war days are added new virtues of silence, flexibility and lightness of control, while the latest rear suspension, a product of long experience on Grand Prix cars and touring cars, confers a degree of security at high speeds on rough and slippery surfaces which it would be very difficult indeed to equal." – Autocar magazine on the Mercedes-Benz 300.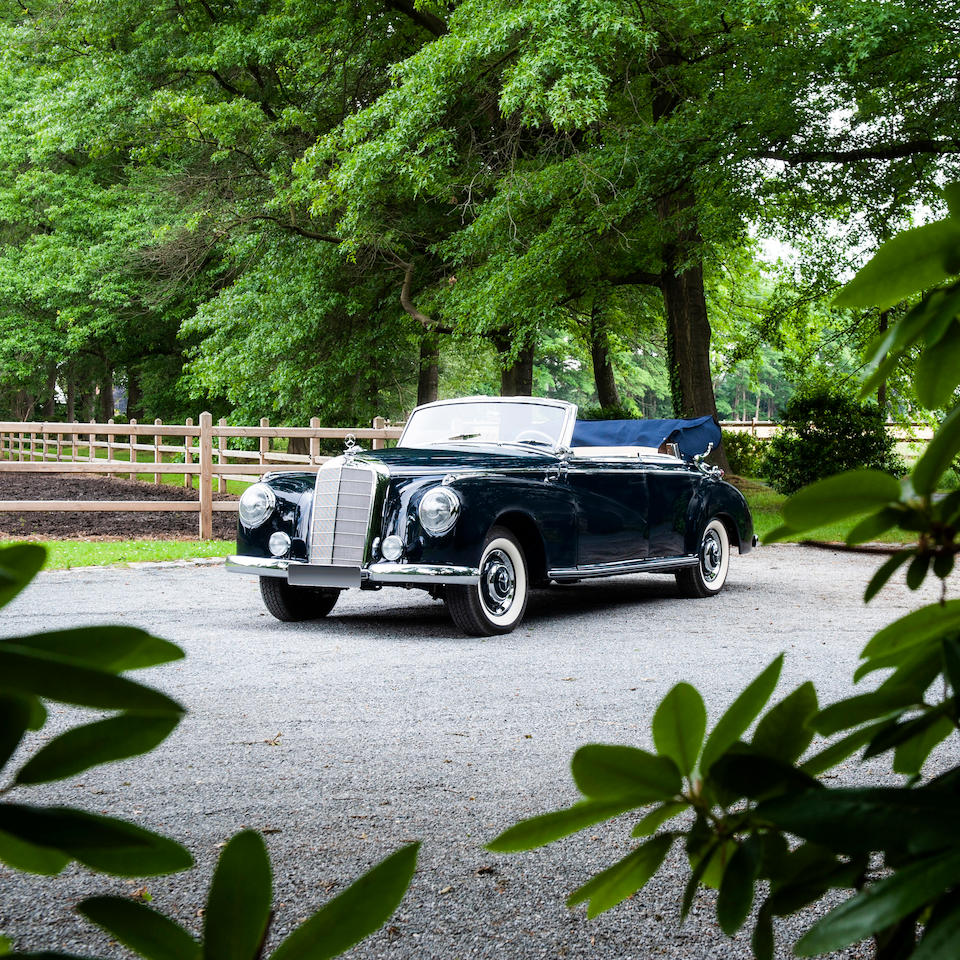 One of Mercedes-Benz's first all-new designs of the post-war era, the 300 debuted at the Frankfurt Auto Show in 1951 and would succeed in re-establishing the Stuttgart firm in the front rank of prestige car manufacturers, marking as it did a return to the marque's tradition of building high-performance luxury automobiles of the finest quality.
The 300's cross-braced, oval-tube chassis followed the lines of the 170S and 220, with independent suspension all round and four-wheel drum brakes, but incorporated the added refinements of hypoid bevel final drive, dynamically balanced wheels, and remote electrical control of the rear suspension ride height. Initially developing 115bhp, the 3.0-litre, overhead-camshaft, six-cylinder engine – used in fuel-injected form in the 300 SL sports car – was boosted in power for the succeeding 300b and 300c models, finally gaining fuel injection in the re-styled 300d of 1957. Other improvements along the way included larger brakes (with servo-assistance from 1954), optional power steering (on the 300d) and the adoption of three-speed automatic transmission as standard on the latter.
Custom built by Mercedes-Benz's most experienced craftsmen, the 300 was luxuriously appointed and trimmed with materials of the highest quality. Fast and elegant, it was one of very few contemporary vehicles capable of carrying six passengers in comfort at sustained high speeds. It was the car of choice among West German government officials, and throughout Europe and the USA was widely favoured by businessmen, financiers, and politicians. Indeed, 'Adenauer' became the 300's unofficial model name, after German Chancellor Konrad Adenauer, its most famous customer.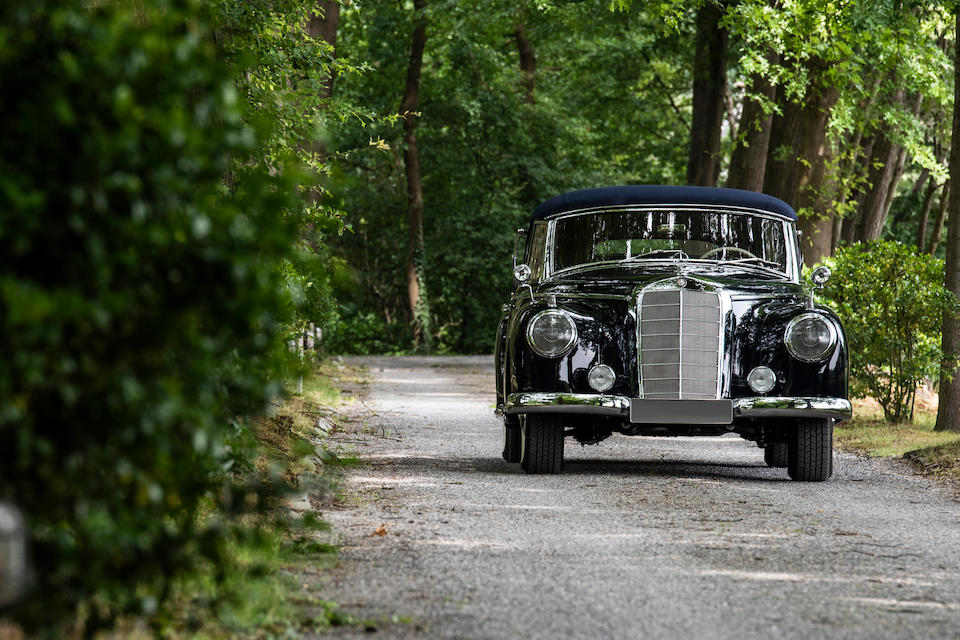 Rarest of all the '300' variants and a most worthy upholder of the Grosser Mercedes tradition of pre-war years, this handsome Cabriolet D is one of just 262 convertible models built during 1952 out of a total production of 591, of which only a handful were constructed with this superbly proportioned four-door cabriolet coachwork. Delivered new to Dortmund, Germany, this beautifully restored Cabriolet D was originally finished in black with green interior and beige soft-top, and was ordered with a fog light in the mirror (reportedly the only option available). According to the original Empfangbescheinigung (copy on file), the car was delivered on 17th July 1952. The Mercedes is known to have been in Belgium during the 1980s, being registered to an owner in Veurne on 8th August 1980 and to another in Evere on 4th April 1985.
The present owner, a surgeon, purchased the car in 2012 having searched throughout Europe for a suitable Mercedes-Benz 300 Adenauer convertible, a model that he found fascinating. He wanted one from the first series, only some 440 examples of which were made. By chance, this car was found on a Sunday afternoon, 17th June 2012, in his own hometown! As luck would have it, the car was a German-delivered example with matching numbers, for him the perfect combination.
A 'veteran' of several restorations over the years, the perfectionist owner then embarked on a total, body-off, 'last nut and bolt' rebuild to concours standard, which commenced in July 2013 and would not be completed until October 2017, with final detailing finished in August 2018. This lengthy duration was due to the fact that it is very difficult to source original Mercedes-Benz Adenauer parts, and the owner's search led to him purchasing components from all over Europe, including Germany, Poland, the Netherlands, and Belgium. Only parts that were in perfect condition were found acceptable. Since the restoration's completion in October 2017 the Mercedes has been technically tested and driven for only some 40 kilometres, turning heads wherever it goes.
The car is offered with a copy of the original German Empfangbescheinigung; the original sales invoice; Mercedes-Benz certificate of authenticity; a selection of old photographs; FIVA passport; and current Belgian registration documents. Concours restored down to the smallest detail and presented in the lovely colour combination of dark blue over beige, this is a rare find, ready to be enjoyed.
Report by bonhams.com
---