Mecum's recent auction held in Dallas this past Oct. 15-17 yet again showcased continued momentum in the live classic and collector car auction arena and achieved excellent overall sales results with 612 cars hammering sold in just three days for an exceptional 82% sell-through rate and a grand total of $23.8 million. Highlighted by the $302,500 sale of a 2006 Ford GT (Lot S99), individual sale prices at the auction were as strong as the auction's healthy totals, and the diversity of available offerings was well reflected by the auction's top 10 seller's list.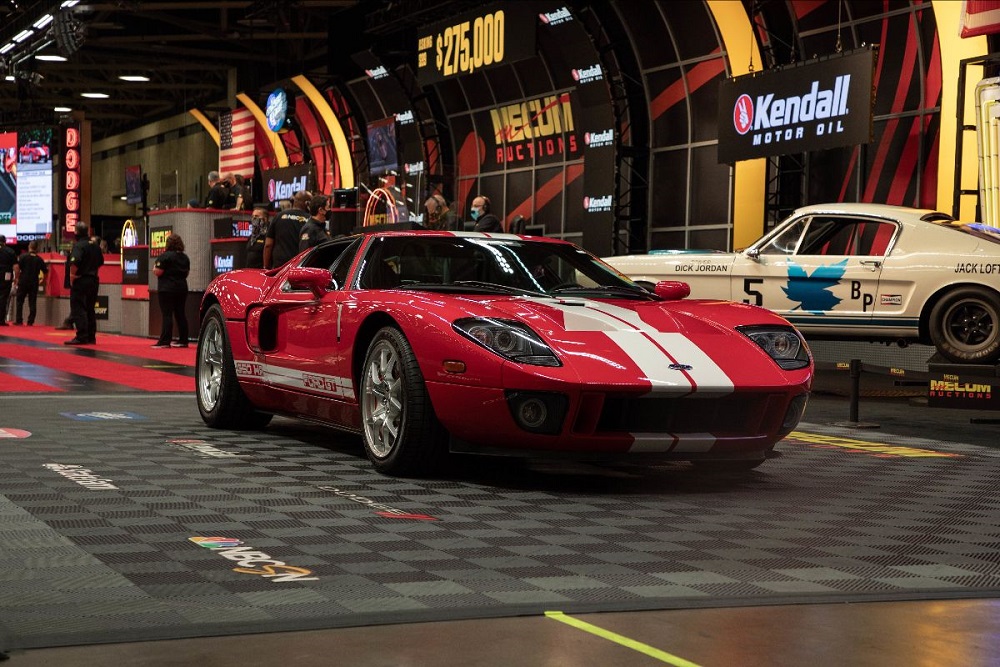 From the aforementioned leading 2,150-mile Ford GT to the runner-up Resto-Modded 1962 Chevrolet Corvette Convertible (Lot S109) that sold for $242,000, the entire list of top sellers hammered in the six-figure range, and the only theme among them was an ultra-high standard of quality that translated directly to an equally high level of desirability. A stunning, Grabber Blue, 4-speed 1970 Ford Mustang Boss 429 Fastback (Lot S90) brought $225,500, while a 2010 Ferrari 599 GTB (Lot S110.1) with just 10,000 miles sold for $184,250. An awesome and award-winning 1949 Chevrolet 3100 Resto Mod pickup (Lot S116) sold for $165,000, and a 4-speed, 440-6 BBL-equipped 1970 Plymouth Superbird (Lot S101) brought $151,800. Rounding out the varied top 10 sales was another low-mileage Ferrari: a final-year, 1991 Testarossa (Lot S151) showing just 10,234 miles and boasting a relatively recent major servicing performed by Motion Products, Inc.
Mecum remains dedicated to hosting safe and successful live auctions. These sales are made possible through a team of dedicated staff, joint strategic planning with venue partners, and the extensive and enhanced safety procedures deployed to keep auction-goers comfortable and safe while continuing to provide them the necessary platform to conduct business on a regular and on-going basis. This tried-and-true formula for success was on full display in Dallas and will take center stage once again next weekend in Indianapolis for Mecum's next live auction event.
---
The complete top 10 collector-car sales at the Dallas 2020 auction include:
1. 2006 Ford GT (Lot S99) at $302,500
---
2. 1962 Chevrolet Corvette Convertible (Lot S109) at $242,000
---
3. 1970 Ford Mustang Boss 429 Fastback (Lot S90) at $225,500
---
4. 1967 Shelby GT500 Fastback (Lot S91) at $214,500
---
5. 2010 Ferrari 599 GTB (Lot S110.1) at $184,250
---
6. 1969 Shelby GT350 Convertible (Lot S95) at $181,500
---
7. 1963 Chevrolet Corvette Split Window Coupe (Lot F154) at $165,000
---
8. 1949 Chevrolet 3100 Resto Mod (Lot S116) at $165,000
---
9. 1970 Plymouth Superbird (Lot S101) at $151,800
---
10. 1991 Ferrari Testarossa (Lot S151) at $148,500
---
Report by mecum.com
---