When the Lancia Aurelia was launched in 1950 at the Turin Auto Show, it was definitely one of the most advanced cars on the market, with its innovative semi-trailing arm independent rear suspension, four-speed transaxle, and first use of a V6 engine in a production car.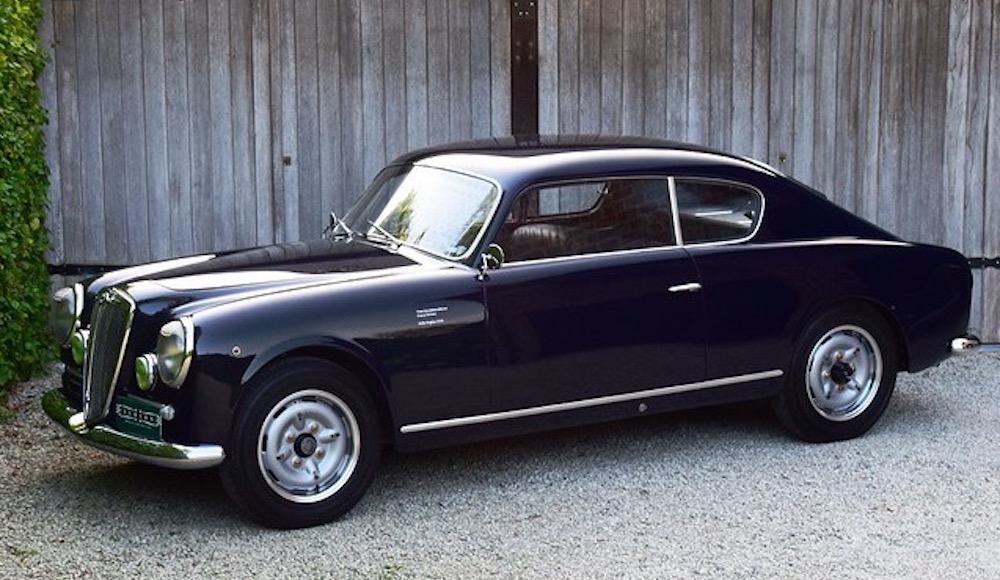 In 1951, the more sporting B20 GT coupé followed with a larger and more powerful engine installed in a shorter and lighter chassis. The design, with its restrained elegance, is universally considered one of the finest examples of Italian automobile design.
The example we are offering for sale must be one of the best in the world. The car was completely restored to perfection by Scuderia Azzurra between 2014 and 2016, after sitting in a barn in the South of Italy since 1971. It is an early B20 GT from the second series, which is much ligher than later versions and has a happy revving 2,0 litre V6 engine. The car has participated in the California Mille 2017, and came then to Belgium to the actual owner. He had the car even further improved by specialist Ital Auto, and participated succesfully in the Mille Miglia 2018 and 2020. The Lancia is fitted with desirable but expensive period accessories : a Nardi carburettor kit, a Nardi floor shift and beautiful Borrani aluminium wheels. With all these period performance improvements, this is a very fast car which offers so much driving pleasure. The Aurelia looks stunning in dark blue, and the interior is beautifully finished in dark grey hide. The restoration is of course fully documented with many pictures, and all maintenance and preparation work since 2017 is also documented with a lot of invoices. The original wheels will come with the car as well. Furthermore, this Lancia has a FIVA passport from 2019 and has full matching numbers, confirmed with an official document from Fiat Archivio e Centro Storico. The Aurelia is of course eligible for the Mille Miglia 2021 edition with a big chance to be accepted again.
This gorgeous Lancia Aurelia B20 GT 2nd series is now available for a new custodian. Not a cheap car, but as said before one of the best examples in existence. The perfect combination of advanced technology for a fifties car and glorious italian design. This Lancia will put a smile on your face from the first moment you turn the engine on, and the perfect entry ticket for the most glamourous events in the world.
Click here for further information!
Report by albionmotorcars.com
---