The Lola T70 was developed in 1965 by the British racing car manufacturer Lola as a two-seater racing car for the unlimited Group 7 sports car racing series in England and the USA. The coupe version, which was built from 1967, made it possible to participate in the World Championship.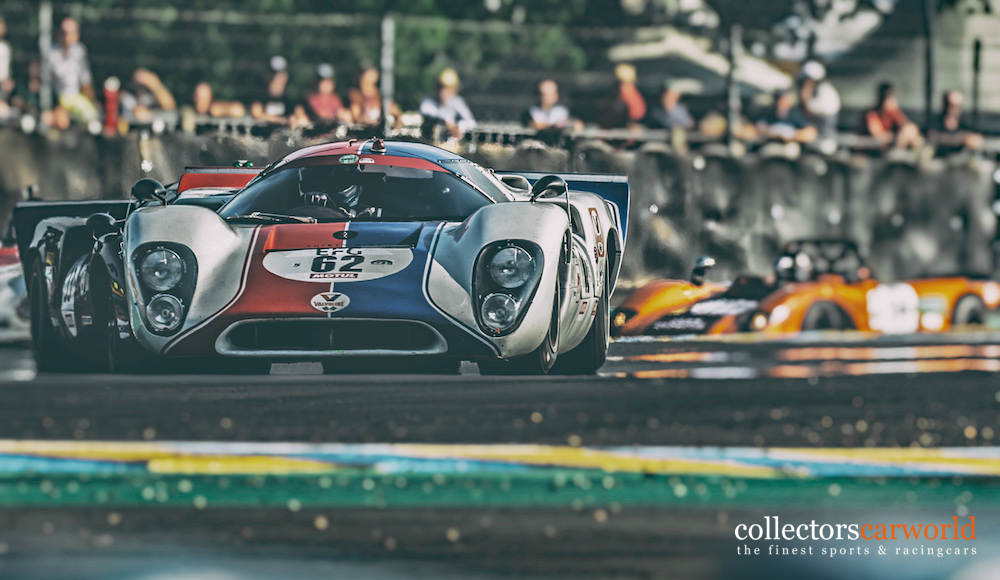 The Lola T70 is considered to be the most successful two-seated racing car in England. The first variant was the Lola T70 Spyder – followed 1966 by the Lola T70 Mk II Spyder, which was replaced by the model Lola Mk III Spyder in 1967. 1966 John Surtess won the Can Am-Series with the Lola – however, in the following year only one race could be won against the McLaren M6A Chevrolet. The first closed version of the coupé was 1967 the Lola Mk III Coupé – replaced by the Mk IIIB Coupé in 1969 that was built until 1970.
The T70 Mk III Coupé was also available as a version with road approval. The used engine was a Chevrolet or Aston Martin V8 engine, which from 1968 delivered out of approximately five litres displacement at 7000/min a power of 336 kw (450 hp). When 1968 the rules limited the displacement of the prototypes to three litres, the sports car built in at least 50 copies was admitted to five litres of displacement – from 1969, a minimum of 25 built vehicles was sufficient to conform the homologation. Ford benefited of this in particular at Le Mans with the elderly GT40, but also Lola with the advanced type T70 MK IIIB coupé, which won the 24 Hours of Daytona at the beginning of 1969 and originated from Eric Broadley and Tony Southgate.
A total of 16 vehicles were produced of this version in 1969 to 1970. It remained the biggest success of a T70, as Porsche consistently exploited the exception rules for small-series cars with the newly constructed Porsche 917 in the spring of 1969 as well as 1970 Ferrari with the 512S.
Find out more about our photographer Rainer Selzer
Report by rs65photos.com