Loki combined the innovative Falcon series platform to one of the most capable f550's on the market. From extreme weather insulation, self-sufficient power bank, Military-Grade Severe Duty upgrades, super single axle conversion, LiquidSpring active suspension, heavy-duty off-road bumper & custom-built utility bed, this vehicle is ready for extreme adventures.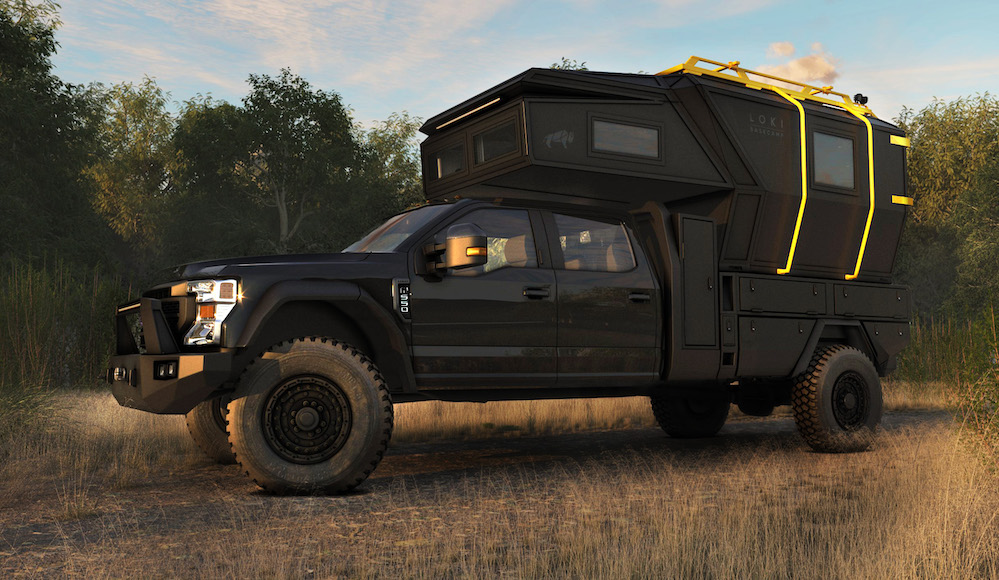 The Loki Basecamp Falcon Series is a combination of modern engineering and top tier craftsmanship. Built entirely of aluminum, and fully insulated for extreme heat or cold, the only question remaining is where will you take it?
The Falcon series utilizes a modular design approach to optimize its size. Adapt your open- concept living space for how you need to use it at any given moment. Convert your queen size bed area into a heavy-duty gear cargo area while you're travelling from point A to B in a matter of seconds.
The interior cab is designed to adapt to you. With the various utility rail tracks attached throughout the cab, you can easily transport your adventure gear, sporting equipment, mountain bikes, and the like.The Lounge area can be used as an adventure staging area, dining space, or even an extra guest space and sleeping area. The mudroom doubles as a seating area, kitchen or equipment drying space with its strategically placed ventilation ducks.
Once you're ready to wind down it has all the amenities to ensure constant comfort. With complete climate control, a UV water purifier, hot and cold water, a removeable toilet and shower, heated floor, and virtually limitless energy from the massive lithium-ion batteries, you can be sure to stay off grid for long periods of time.
Enjoy the industry's first rear panoramic door while you watch the sunrise over an Alaskan mountain, the sunset over a massive canyon in the Utah desert, and the moonlight cascading over the Atlantic ocean.
Don't miss out on the opportunity to own this unique adventure rig!
Click here for further information
more information: lokibasecamp.com
---