Performance and purism, united in a unique, extreme design, and armed for adventures on the most legendary race tracks in the world. With the new KTM X-BOW GTX, KTM Sportcar GmbH will show just where Austria's only car manufacturer and Europe's largest motorcycle manufacturer is heading.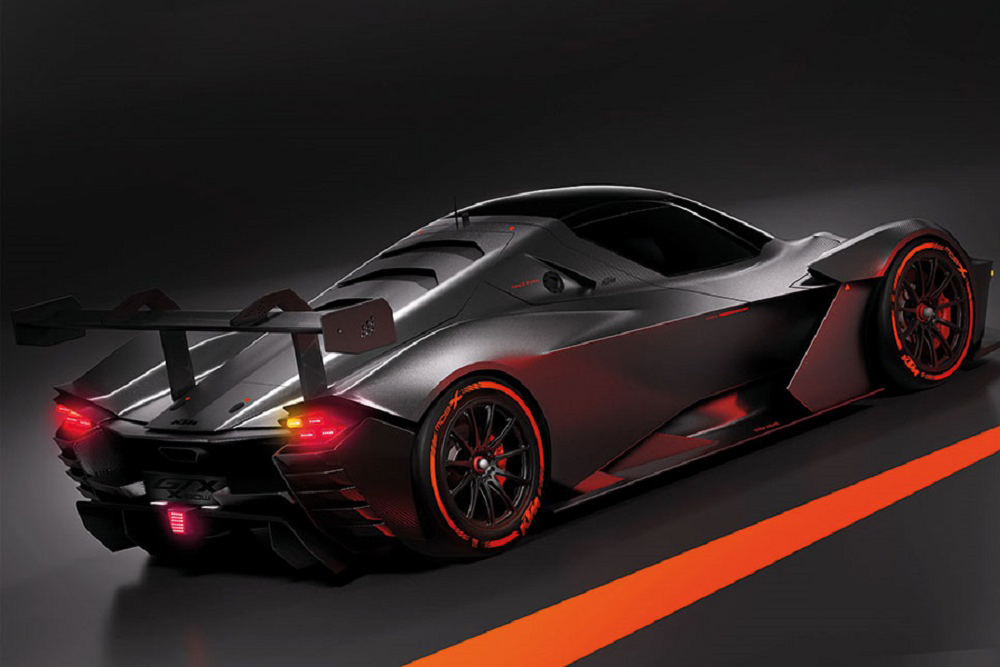 It is the next logical chapter in the exciting story that KTM CEO Stefan Pierer began with the introduction of the KTM X-BOW over 12 years ago. Since then, more than 1,300 cars have been produced in Graz, in one of the most modern low-volume manufacturing facilities, and subsequently sold all over the world. With the KTM X-BOW GTX, the story now reaches new heights with a new benchmark for lightweight racing cars.
KTM board member Hubert Trunkenpolz, responsible for the interests of KTM Sportcar GmbH comments: "We transfer KTM's essential brand elements – extreme, performance and purity – together with KTM's core areas of expertise, which include state-of-the-art motorsports technology, extremely lightweight construction and the highest quality components, in a racing car that clearly reflects the signs of the times. In motorsport, it is necessary to focus development on a superior power-to-weight ratio to be even faster with economical, more efficient small volume engines. The knowledge acquired from this process must then also be incorporated into the series development."
With a basic weight (before BoP) of around 1,000 kg, and peak power of over 600hp produced by the legendary Audi 2.5-liter, five-cylinder engine, the KTM X-BOW GTX, as a GT2 racer, will be a real benchmark in the lightweight racing car segment. This also represents a power-to-weight ratio of less than 2.0 kg per horsepower! "Thanks to the proven cooperation with Audi Sport, we have been able to draw on their latest five-cylinder engine, the 2.5-liter TFSi. The KTM X-BOW GTX also sets standards in matters of safety. We are the first manufacturer to combine a homologated monocoque with a homologated GT cage, and, on request, also with a homologated advanced seat. Following the worldwide success of the KTM X-BOW GT4, and as reigning champion of the ADAC GT4 Germany, we are now taking the next step with our new racing car, and we will soon be competing in a higher class of racing", says Trunkenpolz.
Alongside the design team from KISKA, Bavarian-based Reiter Engineering GmbH is once again the development partner. General Manager Hans Reiter outlines the anticipated deployment of the future car: "The first 20 cars will be available this year. Subject to the final homologation by the SRO, it then could be entered in all GT2 racing series', whereby KTM will become, alongside Audi and Porsche, the third manufacturer in this arena to offer such a racing car. Furthermore, the new KTM X-BOW GTX, with a power output of around 500hp, should be eligible to compete in various racing series' governed by GT regulations. These include the Creventic 24H Series, GT Open, DMV-GTC or the Nürburgring Langstrecken series, depending on homologation. KTM is also planning a one-make Cup series with the car from 2021. I am absolutely convinced that we have exciting times ahead of us and that the KTM X-BOW GTX and the KTM X-BOW GT2 will be enthusiastically received by customers and teams around the world."
An announcement regarding technical details and prices will soon be made, and a KTM X-BOW GT2 is expected to race for the first time as part of an SRO event in autumn this year.
Report by ktm.com
---