At the end of The Great War, both Daimler and Benz went back to producing cars. Trading conditions in the early 1920s though, were extremely difficult: the War had left Germany's economy in ruins and there was rampant inflation. Of the 86 German car factories operating in 1924, only 19 were in existence three years later. If the two great rivals were to survive, it would have to be in partnership.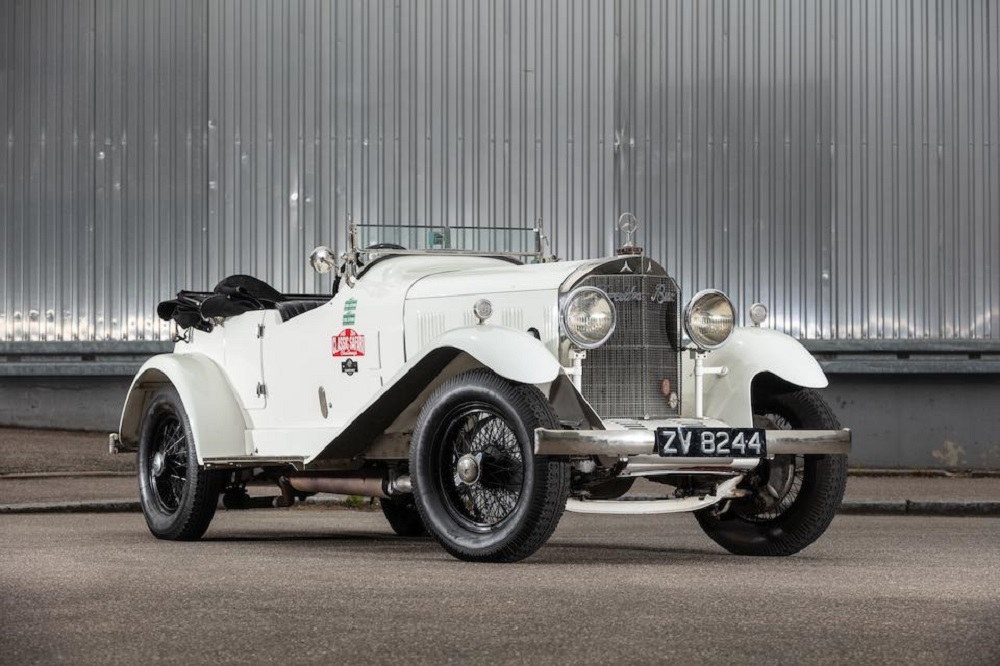 Chassis no. 35419
Engine no. 68595
Body no. 917272
---
•Originally used for display and competition purposes by the factory
•In-period competition history with first owner, Dr Robert Krailsheimer
•Known ownership history thereafter
•Restored in Germany in the 1990s
•Mille Miglia Storica participant in 2007
•FIVA and VSCC papers
---
On 1st July 1926, Daimler and Benz completed their merger, the two companies having paved the way with a technical co-operation agreement in 1924. By this time, Paul Daimler, founder Gottlieb's son and the company's Chief Engineer, had moved to Horch, his place being taken by Professor Ferdinand Porsche. Like his predecessor, Porsche was an advocate of forced induction and although he would leave Daimler-Benz in 1928, his legacy was a range of supercharged Mercedes motor cars that are the stuff of legend.
Daimler-Motoren-Gesellschaft had introduced the world's first supercharged production cars, the 6/25/40hp and 10/40/65hp four-cylinder models, at the 1921 Berlin Automobile Show. (The three figures refer to nominal rated horsepower, horsepower un-blown and horsepower with blower engaged respectively). On his arrival early in 1923, Porsche busied himself further developing the blown four and eight-cylinder racers designed by Paul Daimler, and the 15/70/100hp and 24/100/140hp supercharged, six-cylinder production models that would debut at the Berlin Automobile Show in 1924. After the 1926 merger these were reclassified as types 400 and 630. That same year a 'K' (Kurz = Short) version became available for the first time, on a wheelbase reduced from 12′ 4″ to 11′ 2″ (3,750 to 3,400mm). Displacing 6.3 litres, the 630K's single-overhead-camshaft six-cylinder engine produced a mighty 140PS (138bhp) with the Roots supercharger engaged (by pressing the throttle pedal to the floor) and in this specification the 630K could justifiably claim to be the world's fastest production touring car, with a top speed of over 90mph (145km/h).
Affordable by only the wealthiest of connoisseurs, the 630K was produced in strictly limited numbers, only 150 being completed between 1926 and May 1929. In Germany these would have been bodied by the likes of Erdmann & Rossi, Reuter, Papler, Zschau, and Balzer while others were fitted with 'factory' coachwork by Sindelfingen, that offered here being one of the latter. Chassis number '35419' was built to commission number '39213' and delivered to the Sindelfingen coachworks on 12th April 1928 to be fitted with a four-seater sports-tourer body (number '917272'). This body is noteworthy for the additional cooling louvres let into the top of the bonnet, a feature at that time only employed by the factory for competition cars and which later became standard on the S, SS, SSK models. The bonnet is still stamped with the chassis number and the body number's last four digits.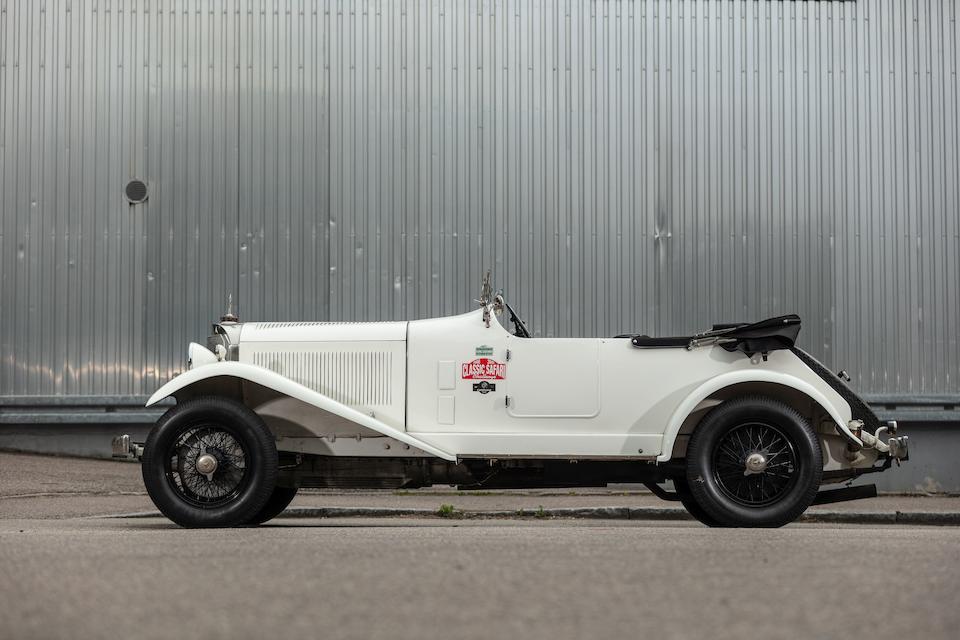 The 630K had been ordered by Daimler-Benz for use by the factory in concours events and competitions, and in June 1928 the car and the man who would become its first private owner – Dr Robert Krailsheimer of Stuttgart – participated as a factory entry (number '76') in the ADAC Reichsund Alpenfahrt, finishing penalty free and winning a Gold Medal. Following its appearance at an exhibition in Düsseldorf on 16th July 1928, '35419' was reunited with Dr Krailsheimer for the first Internationale Alpenfahrt (International Alpine Rally) held between 12th and 18th August 1928 (number '47'). An accomplished gentleman driver and respected Mercedes-Benz client, Dr Krailsheimer finished this demanding event with no penalty points, coming home in 2nd place behind W R Wittich's 630K to earn a coveted Gold Medal. Dr Krailsheimer regularly competed with success against celebrated Mercedes-Benz works drivers such as Rudolf Caracciola, Fritz Nallinger, Otto Merz, and Adolf Rosenberger, an achievement all the more remarkable given that his role as Director of Stuttgart's St Katarina Hospital restricted him to racing during his summer holidays only!
According to the factory Order Book, '35419' then took part in a concours event in Bad Neuenahr in September 1928. The following year, on 4th July 1929, the 630K was released to Dr Krailsheimer and collected on the 29th of that same month. Looking to repeat his success of the previous year, Dr Krailsheimer entered his Mercedes in the second Internationale Alpenfahrt, held between 7th and 11th August 1929. He again finished the event penalty free to secure a second Gold Medal, finishing behind the two works-entered SSKs of Wilhelm Merck and Georg Kimpel.
The Internationale Alpenfahrt was among the most challenging motor sports events of the pre-war era, taking in some of the highest mountain passes in Europe, which in those days meant driving on gravel roads. Run through Germany, Austria, Switzerland and Italy, the 1928 event covered a distance of 1,763 kilometres, while in 1929 the long-suffering competitors faced covering a tormenting 2,500 kilometres in only five days. This 600K's early history and its competition records are documented in the Mercedes-Benz Archives, and copies of the relevant extracts may be found in the comprehensive history file.
Being Jewish, Dr Robert Krailsheimer was forced to flee Germany in 1933 following the Nazi Party's seizure of power, and drove the 630K to Finland accompanied by his Finnish wife, Britta. The Mercedes crashed in Finland, Britta Krailsheimer being seriously injured, and the car remained un-repaired until 1989 when it was rediscovered by a German collector, Mr Hans Werner Schaeffer of Bad Oeynhausen. By this time the 630K belonged to a Mrs Anja Pakula, and despite a frosty start to the negotiations, Mr Schaeffer was eventually able to buy the historic Kompressor Mercedes and bring it back to Germany. Apparently, the damaged 630K had been discovered in a shed in forestland by a museum owner (one of Mrs Pakula's relatives) and purchased with a view to later display, which never happened.
Mr Schaeffer ended up buying the chassis, engine, gearbox, axles, differential, fuel tank, bonnet, doors, seats, and damaged wings, and with the help of various specialists, fully restored the Mercedes-Benz 630K to its original mechanical specification over a period of years. Many of the original Sindelfingen body's parts had survived, but not all, and so the body was reconstructed using Daimler-Benz factory photographs numbered '7898' and '7899' (copies on file) for guidance.
Following the rebuild's completion in the 1990s, Mr Schaeffer used the car for various classic motoring events, and after his death it was sold in 2005 via a German classic car dealer to the current vendor. The latter planned to enter the Safari Challenge Rally in 2006 and commissioned the respected Mercedes-Benz marque specialist Mr Peterheinz Kern of MTK, Grossmaischeid, Germany to carry out a thorough overhaul of the engine prior to that event. During the rebuild it was discovered that the engine was original and had covered few miles, showing relatively little wear; all components were numbered '1391.20', properly corresponding to engine number '68595'. All other major components (chassis, gearbox, rear axle, bonnet, radiator, etc) were likewise found to be original. Only the pistons and radiator were replaced with new parts. However, during the rally one of the new pistons failed, forcing the car's retirement. After the engine had been repaired, the 630K successfully participated in the Mille Miglia in 2007. During the 2000s, the Mercedes also participated in and finished the Flying Scotsman Rally on three occasions, and the Gordon Bennett Rally in Ireland on three occasions; it also raced at the Mondello Park circuit several times and in 2008 took part in the Internationale Österreichische Alpenfahrt where it was very well received as a car that had competed originally. The Mercedes also featured on the event's commemorative poster.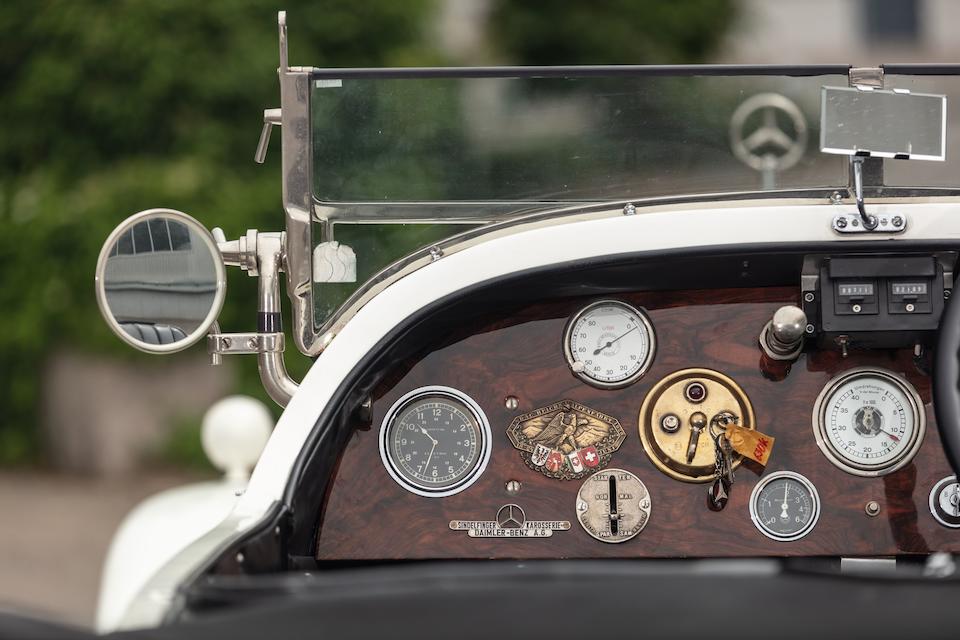 Used infrequently since then, the car nevertheless has been gently exercised to ensure that everything remains in working order. The accompanying history file contains the following: numerous documents and photographs; invoices and photographs relating to the 2005/2006 overhaul; FIVA Identity Card (2006); VSCC Eligibility Document (2012); Irish registration papers; and the aforementioned Mercedes-Benz Archive extracts.
Powerful and fast, the supercharged Mercedes-Benz 630K is without question one of the finest sporting cars of the Vintage era. As such, it is admired and coveted in equal measure by discerning collectors, and this example, with its factory associations and in-period competition history, has to be one of the most desirable of all.
---
Report by bonhams.com
---