In 1936, Leitz introduced a Leica camera for 10 meters of the film – the Leica 250 or the 'Reporter'. As the designation shows, 250 shots (full 35mm format) could be made without film change. To achieve this, the camera has two large-size cassette housings, which give the Leica Reporter its unmistakable appearance.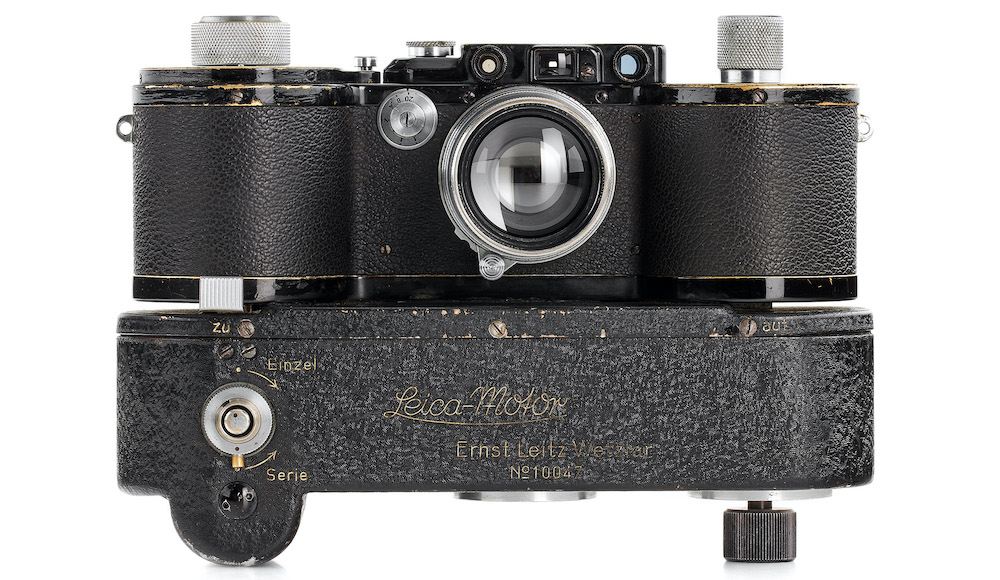 The feature of 1/1000 sec. as the fastest exposure speed was adopted for the Leica 250 as early as 1936. Many resulting "GG" model cameras were delivered during World War II. Only 92 cameras have been equipped with an electric motor drive MOOEV and used for aerial reconnaissance – most of them permanently installed in the infamous STUKA dive bombers. Many of these cameras were lost in the air battles, and only around 16 examples are known to exist today.
Research in the Leica Archives revealed that the offered camera is the last Leica Reporter with a MOOEV motor that left the company – it was unusually delivered to Amsterdam on 04.03.1948 (most of the cameras were delivered to the German Luftwaffe during WWII). It is in very good condition and has the usual modifications to use with the Leica-Motor MOOEV, like the coupling shaft (sloping ramp type) or special film-guide rollers, maintaining the film tension during high-speed operation. It also shows an unusual engraving on the top plate: 'N.L.L.-V-III A6'. NLL = Nationaal Luchtvaartlaboratorium (National Aeronautical Laboratory).
The included Leica-Motor MOOEV no.10047 is engraved on the inside with a matching (!) camera serial number 353739 – it is very uncommon because the cameras were usually changed when a new film was needed – the motor stayed fixed in the aeroplane.
The Leica 250 GG with electric motor is an absolute rarity in Leica collectable items. It is one of the most extraordinary and valuable Leitz cameras – its rarity is comparable to the original Leica 0-Series from 1923 and can be a highlight of every Leica collection.
Click here for further information
more information: leitz-auction.com
---