They didn't get him. A fickle wanderer between glamour and madness. Finest material for stories, novels and grand cinema.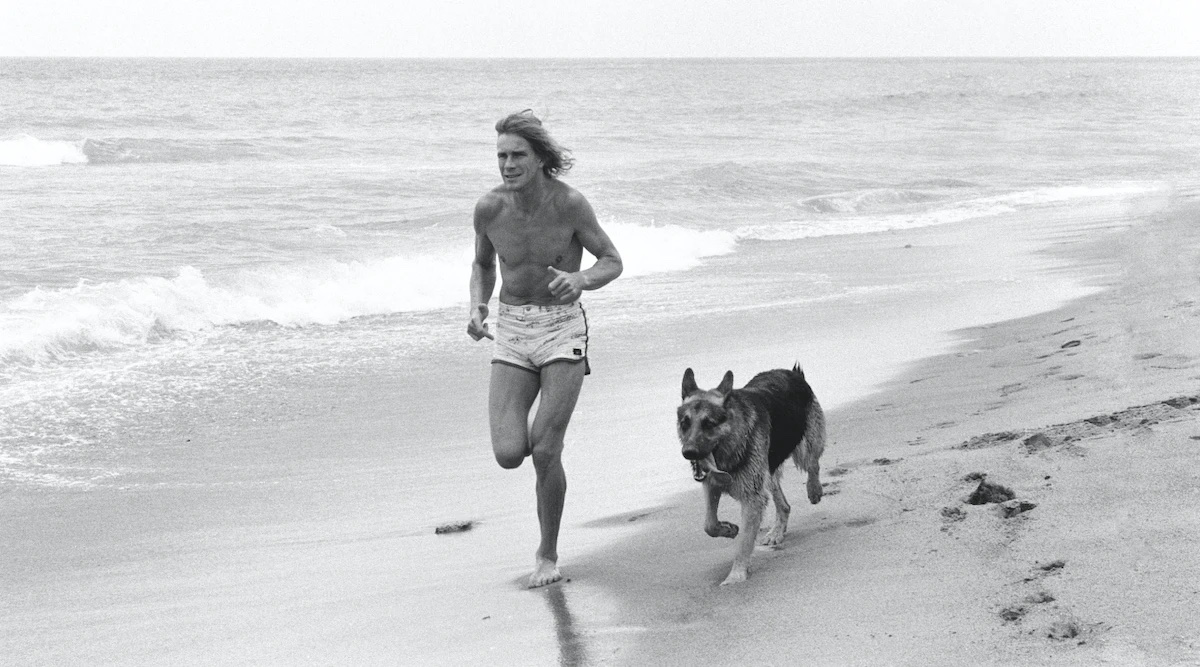 So that we can then carelessly lose ourselves in the soft spots: James Hunt (1947-1993), Englishman, was 1976 Formula 1 World Champion and took ten GP victories over Hesketh and McLaren. Among the top performers in the history of Formula 1 he is considered to be the figure with the most behavioral problems, wonderful.
Breakfast at the Glen Motor Inn (GP USA 1978, Watkins Glen). The drivers had already been flown to the race track by helicopters, but we wouldn't miss anything. Bertl W., friend of Niki Lauda, sighed (in the popular dialect of his country): »The dog barked all night. He did not stop. It was unbearable. Fantastic. How a guy can just drive a rice right after that!«
The Inn had no air conditioning, and on a warm autumn night all the windows were open, so the various sensitivities were streamed live. We thought: Life is good, and no one has it better than this blond guy who can get any girl he wants. He is rich and famous and cares absolutely zero about how the world sees or hears him.
The owls of the western world were just cleaning the dust off their feathers, in every week of the seventies there were new surprises in the code of conduct between citizen, revolutionary and hippie, and the only real drama as far as Hunt was concerned was his appearance as world champion in sandals, jeans and T-shirt at the reception in the British racing mausoleum.
Groupies were still groupies, not senior daughters, and when a journalist snuck in to get one racing driver after another into bed and write about it, there was no big drama. Hunt wasn't very hard to get in this respect, but he wasn't very good, the Dutch young lady wrote. Rubbish, Hunt said, she wasn't good. In this respect, life and its perception were a bit more relaxed than today, although nobody said "cool" yet. Cool actually only applied to menthol cigarettes, which one was still allowed to smoke everywhere – EVERYWHERE. At most at the pit wall there was perhaps a friendly wave to say: "go back a meter."
Cool actually only applied to menthol cigarettes, which one was still allowed to smoke everywhere – EVERYWHERE. At most at the pit wall there was perhaps a friendly wave to say: "go back a meter."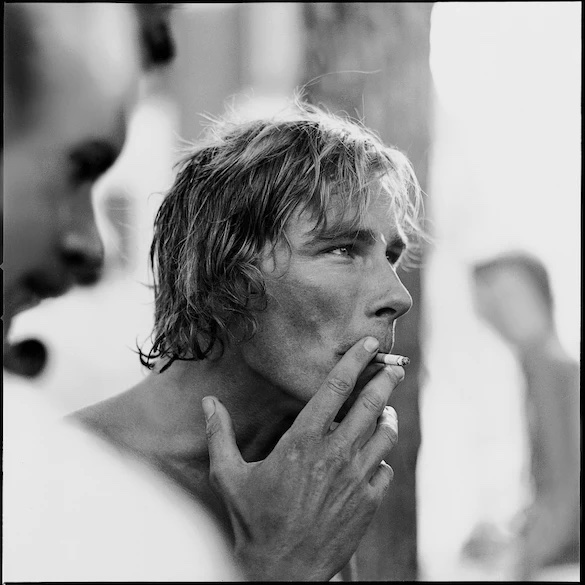 Of course, the women are not the essence, but they belong to this detached, fairy-tale packaging of the historical figure James Hunt. So let us pause for a moment.
The fact that this person in the tattered jeans (at that time it wasn't a fashion gag, but torn trousers) got an absolute goddess as a wife was of course super. Suzy was not just a model, not just beautiful, but she had that rose-like grace of a very lively being with healthy teeth, that would fit in everywhere from Hollywood to Royalty. She was also adored in the British press as a "gannet", referring to a high-strung bird with exotic, peculiarly naive extravaganza. For a better understanding it should be explained that Richard Burton, who was married to Elizabeth Taylor, saw Suzy skiing in Gstaad and had to have her from the same second. Suzy, this angel, was not so happy with James' habits (drinking, smoking and a few other messy things) and actually became Mrs. Burton. To what extent this could mean an improvement is one of the magical mysteries of love. Hunt biographers have hinted that Richard Burton was so crazy about Suzy that he practically bought her out of her marriage (not to mention his own divorce from Elizabeth Taylor). However, roughly the opposite happened in Hunt's next divorce, and so the portfolio of a full life is complemented by the image of a completely segregated but still carefree vagrant. By the way, he is said to have lost the rest of his earnings in the Lloyd's crash, which somehow fits the picture, very British.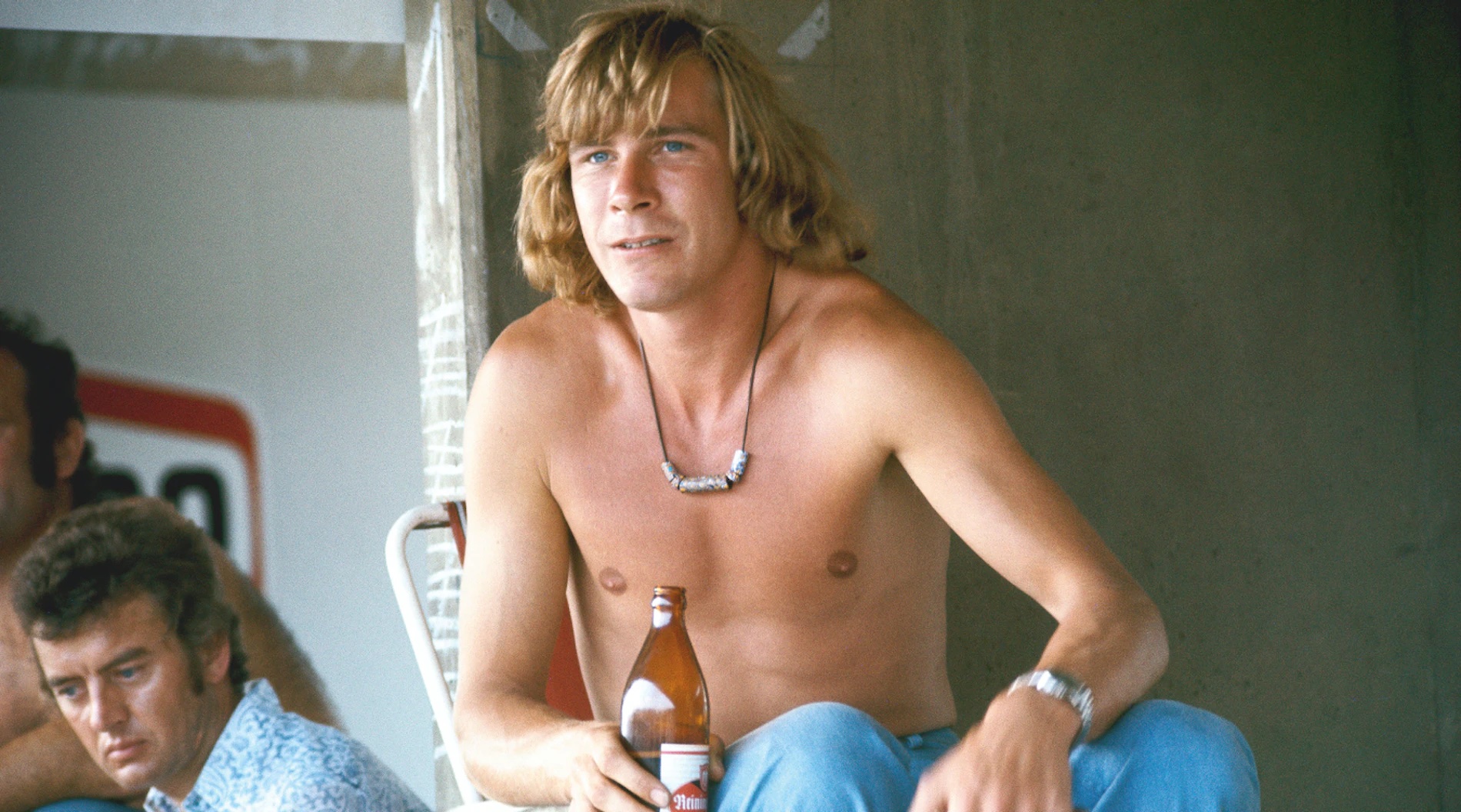 As history later showed us, James Hunt and Niki Lauda, two years younger than him, were destined for each other at the big showdown in 1976 (it's no coincidence that Hollywood took up the material and bought the rights. The title of the movie: »Rush«). Both, Hunt and Lauda, came from good families, were unsuitable for any kind of decent job and saw racing as the only purpose in life. They met in 1970 in Formula 3, at that time an extremely competitive kind of survival test. Lauda had rented an apartment in London (from Max Mosley, by the way), Hunt took him to the hip pub in Kings Road and it was apparently called »Pit Stop«. There everybody drank their beer, »everyone who was as crazed as us« (Lauda) and wanted to become famous racing drivers. In return, on Austrian soil, Lauda bailed out the Englishman from the police. Hunt had a red Ford Transit as living and sleeping room for himself and his mechanic on his European tour, in the back the trailer with the Formula 3. The van was parked in the paddock, which was locked sometime during the night. Hunt was slightly late and had to break open the gate to get into his bunk. »Leave him be, he is an English racing driver«, Lauda explained the situation (in his native dialect of course) the next day. At that time the executive was still quite open-minded.
JJames Hunt had enough talent and madness in himself to represent something special, but the environment was of course helpful. So the women, we mentioned the groupies and the angel. But there was also the chubby young lord, which can only be invented in England. He too, Lord Alexander Hesketh, was a smart guy, but mostly covered by a type of performance art of silliness. Heavily simplified, suppressing the finer points of upscale English country life, one could say that the young lord had inherited very early, had sometimes suffered from boredom and had become aware of the thrill of racing through a friend. The friend's name was Anthony Horsley, called »Bubbles«, probably such names must be honestly earned. Parallel to this: James Hunt would have liked to be a bus driver, but at 187 cm was too long for the profile of the local transport company. As a supermarket warehouse worker he financed a racing mini and fought his way into Formula 3, where Lord Hesketh also pursued his racing-team hobby. Love at first, second and third sight. Hunt was recognizable as a real talent with the naked eye, Hesketh had money, so they were a team. Formula 3, especially Formula 2, was so densely populated and merciless in its selection that a clever mind could come up with the idea to save all the fuss and rather go straight into Formula 1. It was actually only a matter of the money that one either had (Hesketh) or was in debt for a thousand and one years (Lauda). In 1974 Hesketh was ready to send a one-car Formula 1 team with James Hunt into the season. At the same time, the Lauda abbreviation had led into a Ferrari cockpit.
Love at first, second and third sight. Hunt was recognizable as a real talent with the naked eye, Hesketh had money, so they were a team.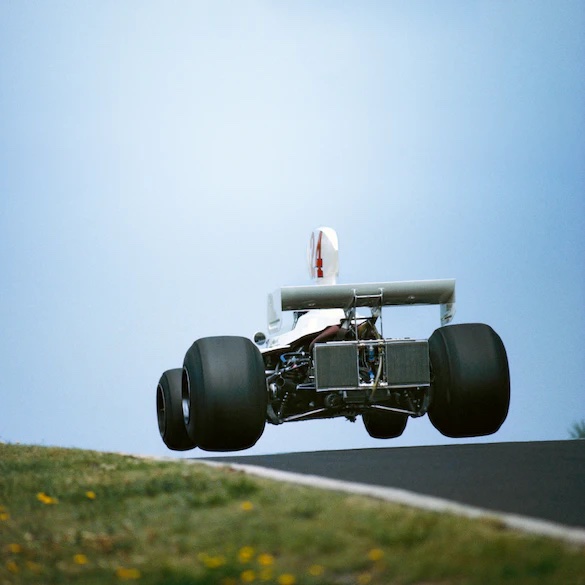 Enzo Ferrari's statement that the English racing teams were merely »garagisti« dates back to an even earlier time, but all in all McLaren, Tyrrell, Lotus, Brabham and March were very well just medium-sized Handicraft businesses who bought excellent engines from Ford quite cheaply, with which one could annoy Ferrari to the bone. There are of course different points of view, but one of them says that exactly with Lauda's Ferrari involvement the age of testing and analysis began, unlike tinkering & trying, however exciting it may have been in the Lotus-Heydays (Colin Chapman!). In other words: A team like Hesketh just made it one last time, even though the car was bolted together in the Lord's stables, which were not exactly wind tunnel adapted. When the Hunt story really started, in 1974, Hunt was 27 and Hesketh 24. Apart from the Senior Mechanic, there wasn't a single real adult in the whole lot, but there was enough cash for a kind of Briatore preview of the 2000s, with groupies on white ships with champagne for breakfast. More important, however, was an all-consuming joy of breaking into foreign territory and suddenly being sober when it came to the stubborn heads of Ferrari or McLaren.
Hunt had a number of accidents, especially in his early days, which the press gratefully took up as »Hunt the Shunt«. On the other hand, it showed that he did not avoid any risk – at what price, is hard to say. In any case, he had to throw up terribly before every race and probably also had diarrhea, the start preparations were irritating; Lauda made his jokes (»Have you been to the bathroom yet?«) at the last minute and Hunt could laugh about it. The whole mess was nothing personal, it was just his nervous stomach – diet and additives weren't helpful either, of course. In the race itself, Hunt was very fast and fearless. The Hesketh show had its peak in 1975, with groupies, parties, helicopters, planes, theatre, but also fabulous races including a victory in the Grand Prix of Holland. The party afterwards was not bad. Slowly however the Lord ran out of money, at least in cash flow, and to finance the GP-France start Bubbles Horsley sold his Lord's Rolls-Royce – to his great surprise when he stepped outside the following morning.
In 1975 Team Hesketh and James Hunt finished fourth (behind Ferrari, Brabham and McLaren respectively behind Lauda, Fittipaldi and Reutemann). The lordship's cash had seeped away, but the castle and its goods were not cannibalized. Hesketh wanted to continue on low flame, too small for Hunt. It was a stroke of luck that Emerson Fittipaldi quit McLaren to start his own Brazilian team. Hunt was his logical successor at McLaren, by far the second strongest team in Formula 1.
The strongest one was called Ferrari, since Niki Lauda (World Champion of 1975) had brought some kind of technical discipline to the Italian intrigue.
"They never got him. They never turned him over. The marketing people turn people around to put them into merchandising. They never caught James."
Bubbles Horsley
The 1976 season was practically decided for the defending champion Lauda when the accident at the Nürburgring happened, great material for the Hollywood movie. Lauda said about the casting of his role: »All they have to do is find an actor who's about 27, goes into the movie with two ears and comes out without ears.« It was Daniel Brühl, by the way, who received boundless praise for his portrayal of the legend. At that time, of course, the ear thing wasn't quite as funny, Lauda came back to life, but couldn't seriously defend his huge lead anymore. In the last race, in pouring rain in Fuji, he gave up. Hunt became world champion with one point advantage. Lauda commented on this many years later: »If I couldn't be the champion myself, I liked the idea of Hunt as the champion the best.«
The following year, in 1977, Lauda became the superior world champion again and Hunt only fourth, far from any chance of defending his title. The reproach that he could only have become world champion through Lauda's accident stayed with him. How much it occupied him himself, no one really knows.
1977 was already bad, but 1978 was pitch black for McLaren, Hunt didn't land anywhere. Typical for his giant heart was the fabulous action as he penetrated the wall of fire that enclosed the lotus of the injured Ronnie Peterson in Monza. Together with Depailler and Regazzoni he actually got Ronnie out of the car. The Swede's chances of survival were high, but then something went terribly wrong at the hospital. Hunt's way of life was a joke for a race driver. Of course he remained a great movement talent, played squash like the big guys, but got lost at night in clubs with people who were either too much or not enough for him, and he took too many drinks and poison. One of the English journalists who accompanied him at the time said, »he's a frustrated Spitfire pilot«, and this image is fabulous, it may be wrong or right, but it has so much air in all directions that you don't have to talk it out. James Hunt had lost himself once again in the role of the »lost generation« – as popular, famous, as good-looking as ever he was.
Was he faking anything, or was everything real?
Niki Lauda is very quick with his answer:
»He was HE, one hundred percent. There was nothing fake, nothing unreal, every great deed and every nonsense of his life was original Hunt. He was as authentic as a man can be.«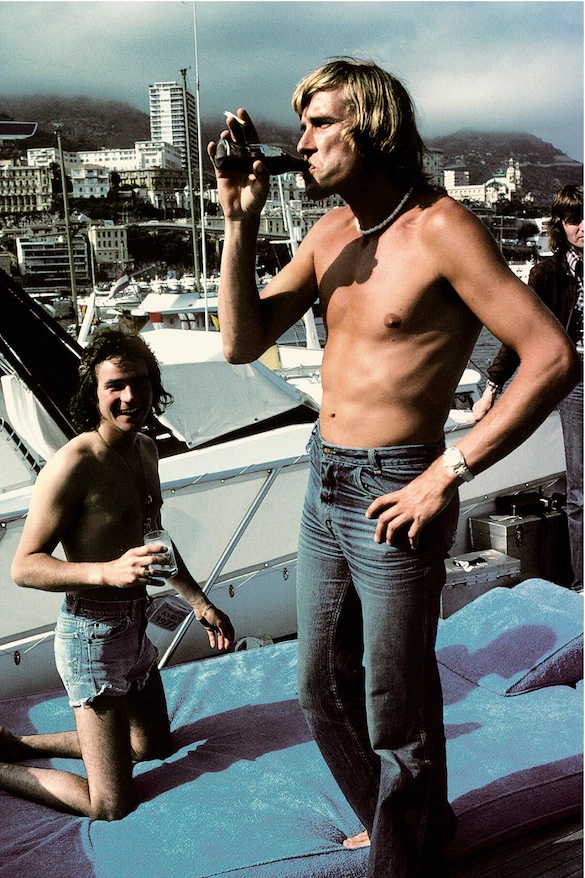 Bubbles Horsley, the buddy from the Hesketh days: »He slipped into the glamorous world with absolute ease, and just as easily out again, inside he always stayed the same. They never got him. They never turned him over. The marketing people turn people around to put them into merchandising. They never caught James.«
In the middle of the 1979 season, Hunt gave it all up. He no longer wanted to race senselessly (that is, without a chance of winning with inferior material), he no longer wanted to expose himself to the shitting and puking before every start. His exit in the middle of the racing year was of course sensational.
Lauda, at a random stop in London, called him, let's have dinner. Hunt came with an old bike that had a flat tire, and he looked more torn than ever. He didn't have a penny, and after dinner Lauda emptied his pockets, a rare proof of Niki's love, but there won't have been much in them either. Lauda: »I thought he'd finally crashed, totally. Nobody would really be able to help him.«
Hunt was still popular in England, and for the BBC it was worth a try to try him as a co-commentator to the legendary Murray Walker. The result was great and became the model for all sports broadcasters' double conferences: The expert who speaks plain English, fights the chief reporter for the microphone, never avoids any trouble and brings excitement and humor to the show. The BBC Grand Prix broadcasts with Murray Walker and James Hunt became style-forming – and James, however he might have done it, had managed to get rid of the alcohol and poisonous stuff. He was as fit and funny as in his best days. He was a popular, successful man of 45 when he felt a sharp pain in his chest one evening. He called his doctor, who told him to go to sleep. James Hunt was found dead the next day, a heart attack.
Text Herbert Völker
Photos Action Images
rampstyle #26
As a high-impact multimedia brand that takes an all-encompassing, end-to-end approach to publishing, ramp is an absolutely authentic expression of quality, integrity and excellence. Its trailblazing luxury magazines, recognized with numerous awards over the past 15 years, have been celebrated for their cool and unconventional, not to mention inspiring and pioneering style, since day one.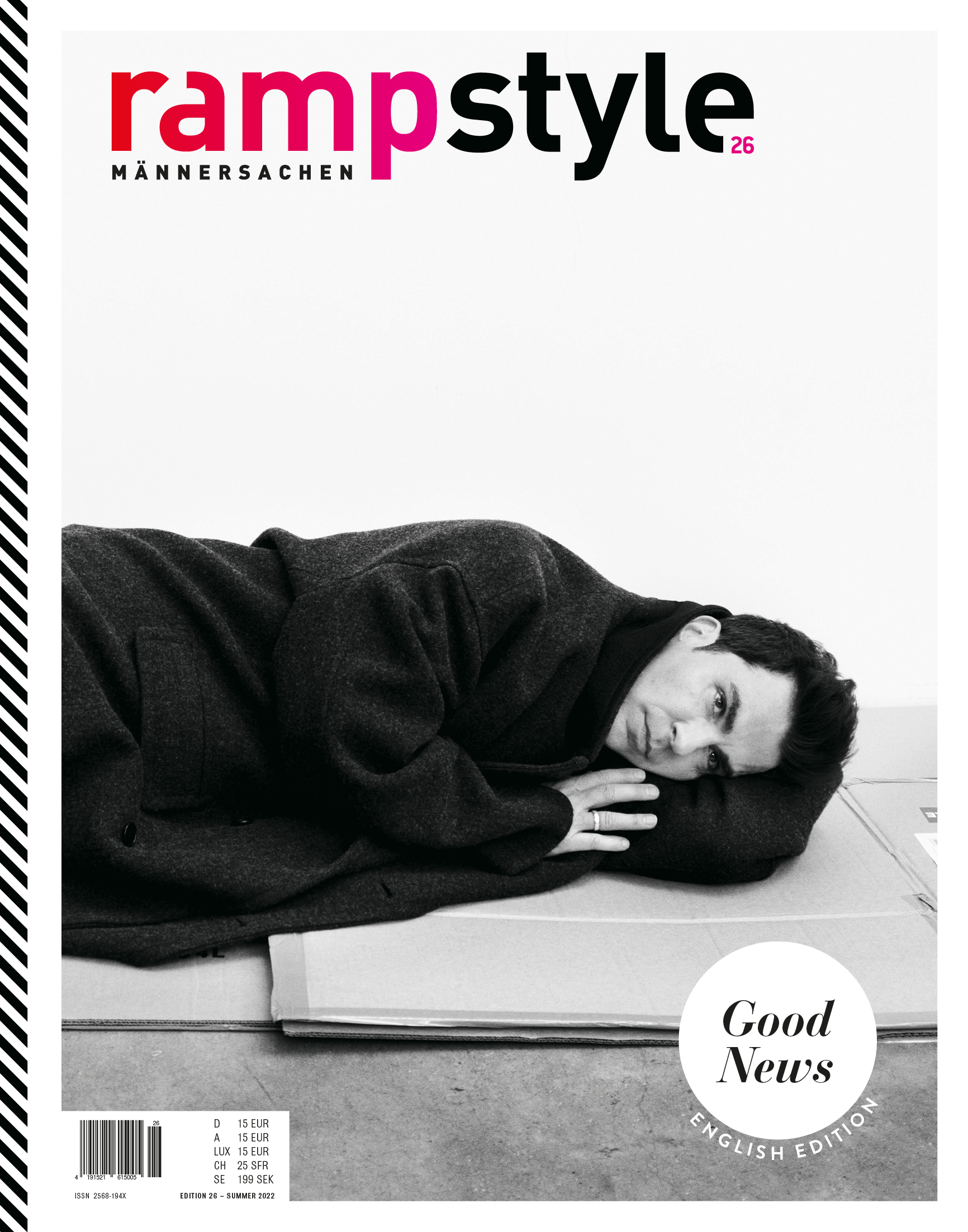 rampstyle is an exciting, trendsetting, lavish lifestyle magazine for men (and women) who know what they want and won't settle for less. Everything we talk about with each other, our inspirations, our motives, our ambitions, the things that energize us to not only enjoy the world but to shape it according to our personal wishes and ideas.
Not always politically correct, with an exciting mix of topics including encounters, people and places, fashion and style, culture and architecture, food and leisure, cars and travel, gadgets, lifestyles and careers that are as inspiring and as lively as life itself.