The London Concours, presented by Montres Breguet, has announced the second of its special feature displays – The Collector –  which each year shines a light on one individual's personal car collection. This year, London Concours' Collector is none other than famed automotive designer, Ian Callum CBE.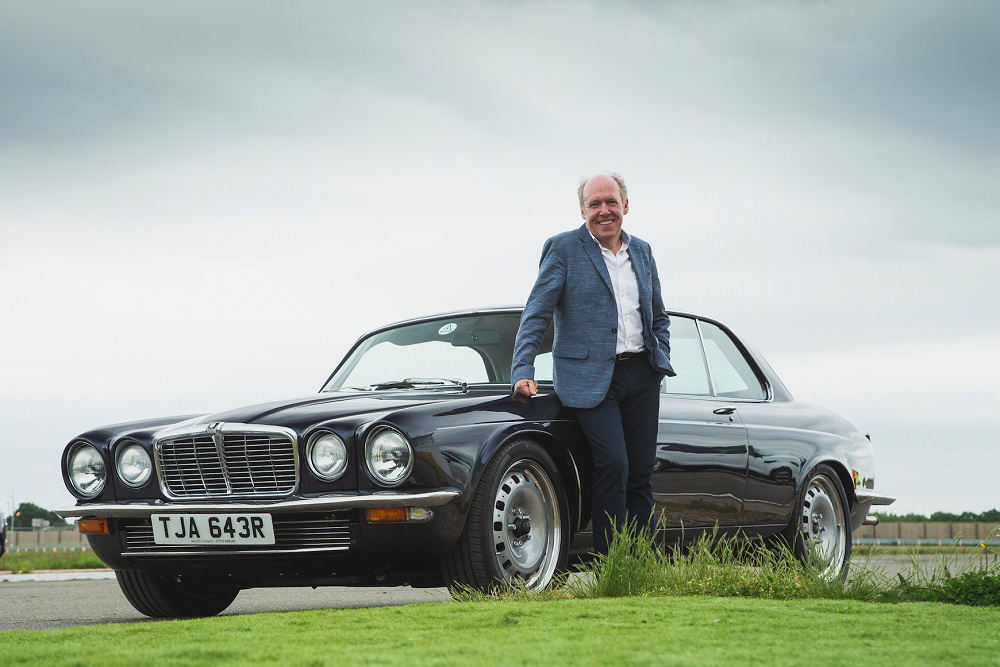 Ian has been at the forefront of automotive design for decades, penning designs for the likes of Ford, TWR Design, Jaguar Land Rover and is a founding member of new design and engineering business – CALLUM. Having designed veritable icons like the Aston Martin Vanquish and most Jaguar products from the early 2000s until 2019, Ian's own car collection is a fascinating insight into his own personal milestone moments in car design and engineering. Ian will showcase his very own Jaguar XJC, Porsche 911 (993), 1932 Ford Model B and more; each subtly modified by the man himself to emphasise their design.
However, most cars in Ian's collection aren't as they rolled off the factory floor; nearly all have been subtly modified by the man himself to emphasise the beauty of their individual designs.
A 1976 Jaguar XJ Coupé, a car Callum considers to be one of the most beautiful cars ever designed by Jaguar and his favourite alongside the Jaguar Mk2, is one of the last cars designed by Jaguar founder, Sir William Lyons. The pillarless doors are subtly modified to emphasise the Coupé's iconic profile.
Keeping it British for now, the Triumph TR6 is a car that Ian Callum believes to be one of the best-looking traditional sports cars, boasting 'inherent visual strength'.
A Porsche of some form or another had to form part of the collection; a design that hasn't changed drastically in 50 years but has evolved gradually. His Porsche 911(993) was designed by his friend and fellow Brit, Tony Hatter, and has been subtly tweaked by Ian to emphasise its lines.
Legendary Italian designer, Giorgetto Giugiaro, is a great hero of Ian's, and one of his most famous designs had to form part of the collection. A sprightly Alfa Romeo Giulia GTV plays the role perfectly, highlighted by Ian for its slim pillars and excellent visibility form the cabin.
On a different tack, a Ford Hot Rod completes the display, with a big block engine and simple design ringing true for Ian. His chopped 1932 Ford Model B will be sitting loud and proud on the lawn among the rest of the European models.
At the London Concours 2020, taking place from 10-11 June, a group of the world's fastest road and track cars will amass on the lawns of the Honourable Artillery Company HQ – just a stone's throw from Bank and Moorgate in the City of London – transformed into motoring nirvana for just two days. Over 100 automotive icons will gather in classes, ranging from 'The Dinos' to the 'The Pursuit of Speed'.
Andrew Evans, London Concours Director said: "Having Ian Callum as The Collector at London Concours this year is a real honour for us. Our event is a celebration of automotive passion, and the unique ways in which we all appreciate cars. In Ian's case, we can see cars designed by heroes and friends, as well as those designs that clearly hold a place in his heart – albeit with some of his own subtle revisions. We're very much looking forward to welcoming Ian's cars onto the hallowed lawns of London's HAC, where they can deliver an insight for our audience into one of the finest car designers Britain has produced."
Report by londonconcours.co.uk
---