If, at first glance, the McLaren Senna appears to defy categorization, it is only because its likes have not been seen since McLaren created its first production sports car: the incredible, game-changing F1.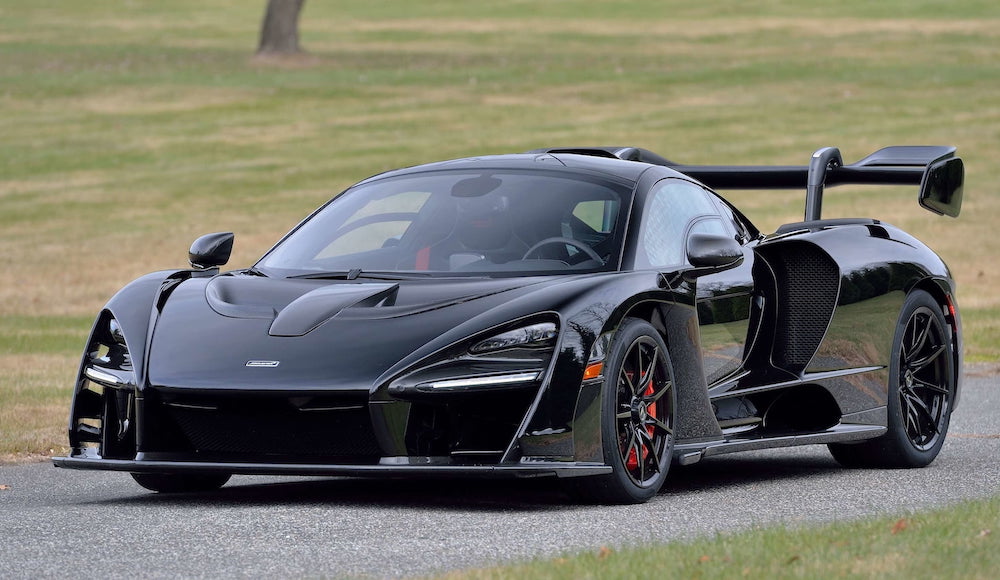 An epochal event as much as it was a car, the F1 was the fastest, most expensive automobile the world had ever seen. It was a masterful construct of technical and design innovations unencumbered by any corporate limitations, the product of collaboration between McLaren boss Ron Dennis and his genius designer, Gordon Murray—the duo who gave Brazilian superstar Ayrton Senna the car to win his first Formula 1 Championship. Its chassis and body were the first of any road car to be constructed of carbon fiber, a material McLaren pioneered in Formula 1; its 6.1L, dry-sump, 627 HP V-12 engine was designed by BMW Motorsport engineer Paul Rosche, the man behind that company's 1,000 HP, Formula 1 Championship-winning turbo inline-4. At the same time, it was completely devoid of driver aids, even eschewing antilock or power brakes, traction control and power steering in the name of purity and feedback.
"An analog car in an increasingly digital world," as one writer put it, the McLaren F1 is widely considered the ultimate supercar of the 20th century.
Two decades after F1 production ended in 1998, McLaren has once again changed the game, this time with the greatest track monster ever built: the Senna, a purebred race car—that's right, a race car—specifically designed to exploit the most advanced technology for a driving experience like no other, one that reflects the "innate feel" that was at the core of Ayrton Senna's famously supernatural car control. In both design and execution, the Senna far more closely resembles a modern GTE or LM-GTE than any other legal road car, a fact that is key to the Senna concept of providing a deeply immersive experience that puts the driver in complete control. The Senna is far more powerful than those FIA-regulated machines; at just 2,641 pounds dry, it is also lighter, and its maximum downforce is their equal.
The Senna's 4.0L twin-turbocharged V-8 features race-inspired dry-sump lubrication, a flat-plane crankshaft and lightweight connecting rods and pistons to reduce mass. The most powerful engine yet in a road-going McLaren, it inhales through a distinctive roof-mounted snorkel that feeds air directly to a unique carbon fiber plenum atop the engine that, together with low-inertia twin-scroll turbos and electronic waste gates, delivers instantaneous throttle response. This incredibly efficient little bomb powers 789 HP and 516 lb-ft of torque to a 7-speed dual-clutch Seamless Shift automatic transmission, wailing through an exotic titanium and Inconel exhaust system that is an engineering marvel all on its own. Adding to the aural festivities is the dramatic "crack" that accompanies each upshift or downshift, a spectacle caused by a brief cut in the ignition for the fastest possible gear change. McLaren's own literature describes the Senna's acceleration as "savage," a fitting description for a car that flashes to 60 MPH in 2.8 seconds, a standing quarter mile in 10 seconds flat and a top speed of 208 MPH.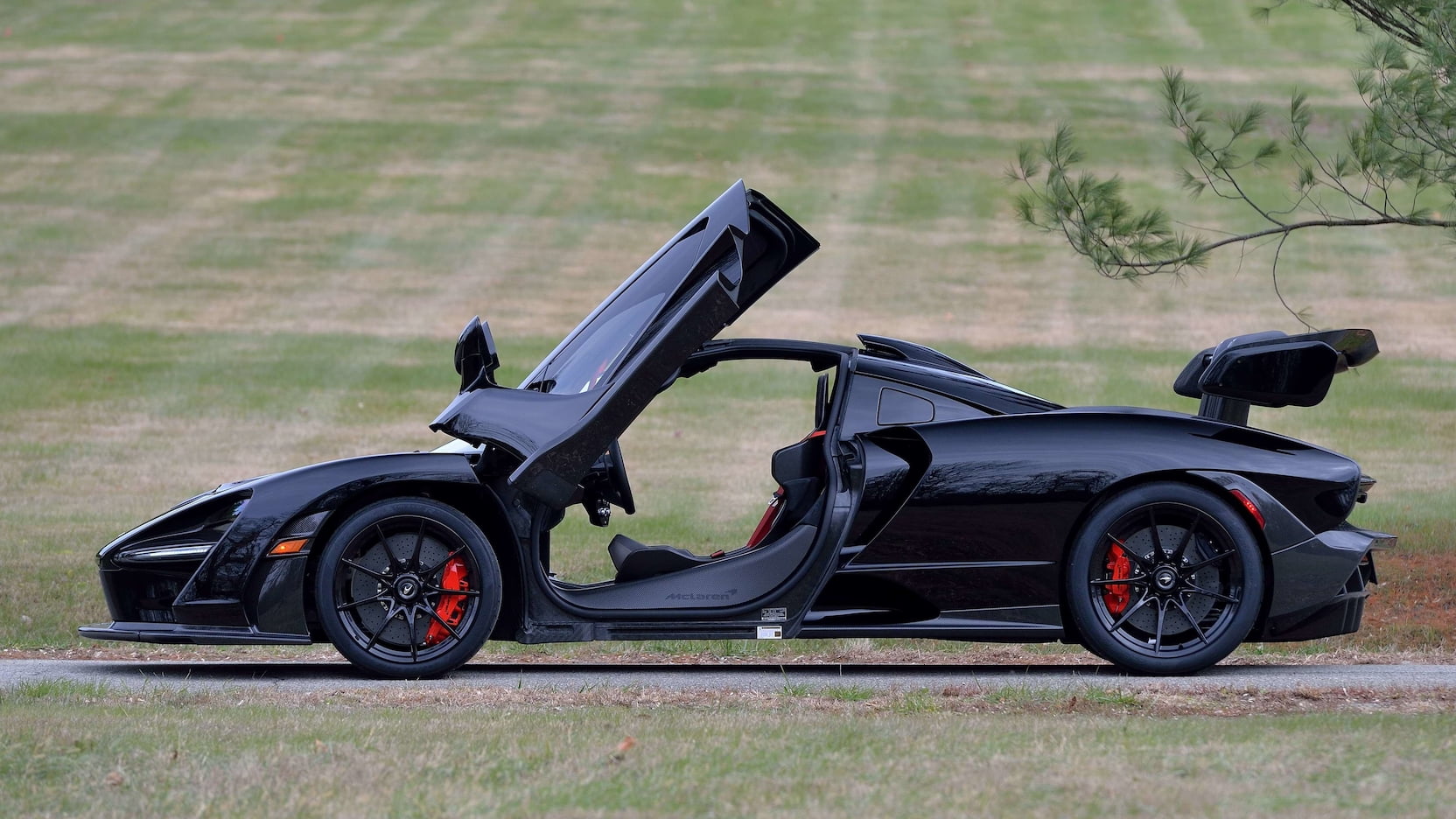 Countering those massive forces are specially developed Brembo brakes using forged monobloc aluminum calipers with ventilated pistons for extra cooling. Aided by a brake booster borrowed from the hybrid P1, the Senna's Pirelli P-Zero Trofeo R tires on ultra-lightweight nine-spoke wheels are harnessed by next-generation CCM-R vented discs using a special carbon-ceramic compound that is baked for seven months for increased friction and rotor life. Learning to take full advantage of the Senna's stopping power is, in fact, one of the secrets to unlocking its full potential on the track, a truly revelatory process that can intimidate the uninitiated and reward the bold with the joy of experiencing this phenomenal machine's outer limits.
Rendered in featherweight carbon fiber, the Senna's overall shape, its intersecting tunnels, intakes and aero bits (most notably its front splitter, rear diffuser and that park bench-sized articulated rear spoiler), serve physics, not style, yet its purposefully fragmented exterior still exudes the kind of beauty that always seems to result from form following function. Every detail speaks to a specific task, each one playing a part as the Senna's sophisticated controls orchestrate its aerodynamic performance, constantly adjusting in response to shifting loads to maintain maximum balance and contributing to its driver's confidence in pushing to faster and faster lap times. In Race mode, one of three available, at 155 MPH, the Senna hunkers down close to the track surface, generating 1,765 pounds of downforce, while trim tabs inside the front fenders and the movable rear wing constantly self-adjust in response to feedback from an intricately connected system of onboard computers.
Inspired by the F1, the Senna's dihedral doors bring the driver closer in touch with the road using unique glazed windows made from extremely tough Gorilla Glass, imparting more visual information to the driver for precise placement in the corners. Gorilla Glass is also used in the greenhouse and rear engine cover, adding to the incredible strength of the carbon fiber MonoCage III tub while allowing a panoramic view by reducing the thickness of the A-pillars. The carbon fiber-shell bucket seats are custom tailored to each buyer using pads of varying thickness. Behind the seats is the Senna's only storage area, a shelf sized to hold two helmets and two driving suits. Switches for the pushbutton start ignition, electronic door releases and window switches are located in the ceiling, and the center console contains a portrait screen infotainment system, McLaren Track Telemetry and controls for the Bowers and Wilkins seven-speaker audio system. Typical of McLaren's thorough engineering and focus on driver capability, the transmission selector slides to and fro with the driver's seat to maintain the correct position once the driver is strapped in.
One of 500 produced and delivered new to McLaren Philadelphia, this single-owner 2019 McLaren Senna brings with it a number of extra special features added by McLaren Special Operations' Bespoke service, including a significant upgrade to gloss Visual Carbon Fiber (VCF) exterior body components finished in Pure Black, all protected by Race Package XPEL Ultimate Plus clear film. Finished in Galvanic Grey upholstery with Bright Red contrasting stitching, the cockpit is supplemented with Senna SS embroidered headrests, red six-point racing harnesses and the MSO optional Push-To-Drink System to refresh the driver during hot laps. The sum is one of the most magnificent automobiles in history, capable of delivering perhaps the most thrilling driving experience imaginable.
---