The Heritage Customs Vintage is based on the world's most iconic 4×4. Each Vintage is built by hand and features beautiful paints, milled jewellery parts and handcrafted interiors.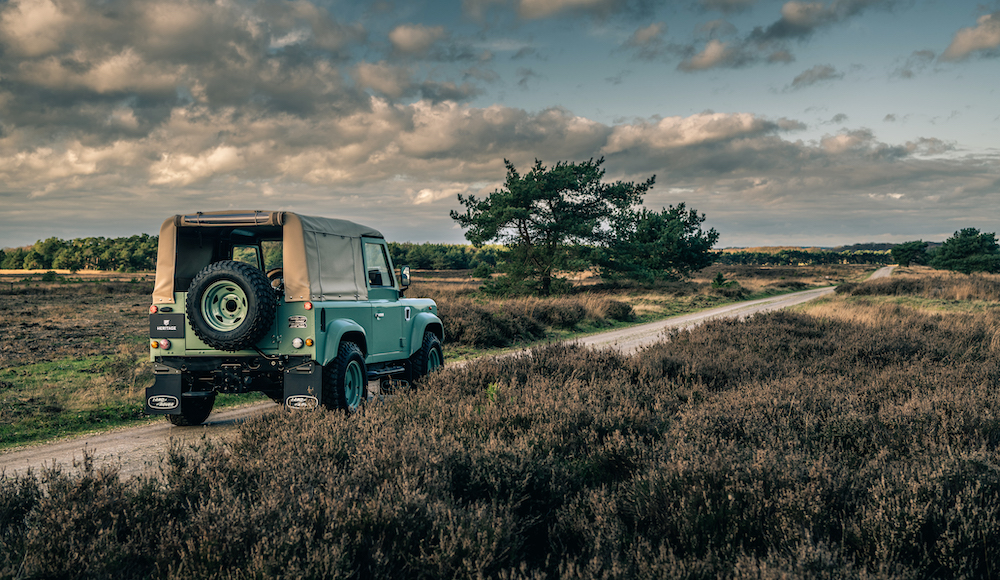 Heritage Customs, studio for carchitecture transformed the base car from 2008 into an unique motorcar:
Car designer and co-founder of Heritage Customs Niels van Roij:
"This likeable Dutch Vintage commission features a rich, soft green metallic paint. It feels right at home next to the Heather flowers in the forest as well as on the pebble stones next to the patron's striking monumental villa. For this Heritage Customs Vintage we selected our bespoke milled aluminium side- and bonnet vents whilst non-automotive tan Nubuck leather was applied to trim the seats, dashboard as well as rear benches.
We also designed a teak wooden cargo floor with white rubber inlays, integrated a Marshall speaker into the cubby box and hand stitched a tan canvas hood complementing the leather interior. A wooden steering wheel replaces the plastic standard unit, whilst the centre stack has been tastefully colour-coded to the body and has metal switchgear applied to its facia."
Heritage Customs founder Jan-Pieter Kroezen:
"This sympathetic bespoke Heritage Customs Vintage is a friendly yet self-assured design statement with distinctive aluminium details and colour coded extra wide steel wheels. A selection of Heritage Customs-specific wheels are available for the Vintage.
Furthermore our customer selected a simple and clean front bumper design from our range of custom made bumpers and side steps. Full LED lights all-around complement the package, without harming the classical looks: they slightly modernise the car's character and simultaneously offer an increased light output."
Commissioning a Heritage Customs Vintage
The prices for a Heritage Customs Vintage start from €40,000, excluding taxes, depending on the preferred base vehicle and individual customer requirements. All Heritage Customs projects are 100% tailor-made and start out with sketches, based on conversations with the future owners.
The design and construction process of the Heritage Customs Vintage starts from 1,5 months. The process is explained in the movie below. Please share this link on your online platform:
Those interested in this bespoke 4×4 can contact Heritage Customs through:
hello@heritagecustoms.nl
About Heritage Customs, studio for carchitecture
Heritage Customs focus is on aesthetics, offering carchitecture as a service. Heritage Customs will make something highly personal. Through Heritage Customs you create your own legacy.
A Heritage Customs Defender is the ultimate expression of you. Whatever it is that inspires you, the Heritage Customs team will integrate your wishes in a vehicle that will reflect your ideas and taste, whether it is a subtle detail or a grander gesture and based on the classical or the new Land Rover Defender.
Click here for further information
Report by heritagecustoms.nl
---