Congratulations to the Race Winners Julian Thomas & Calum Lockie: Jaguar E wins Silverstone opener in Diamond Jubilee year.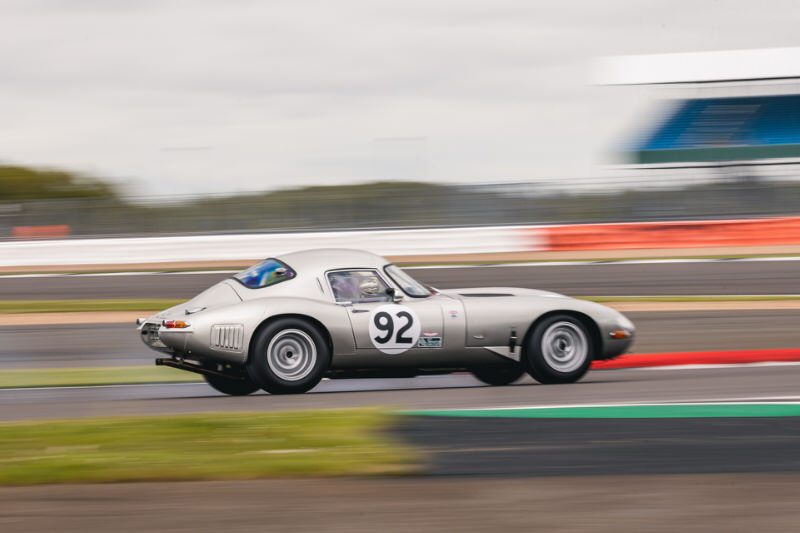 Sixty years after Jaguar launched its E-type to global acclaim at the Geneva Motor Show, and Graham Hill scored a headline-grabbing debut race victory for the model – beating Aston Martin and Ferrari opposition at Oulton Park – Julian Thomas and Calum Lockie won the GTSCC's 15th season-opener at Silverstone's International Trophy retrospective on May 23 in Thomas' svelte low-drag coupé version. The Anglo-Scottish duo topped a magnificent miscellany spanning 13 marques and embracing several warhorses with superlative period competition histories.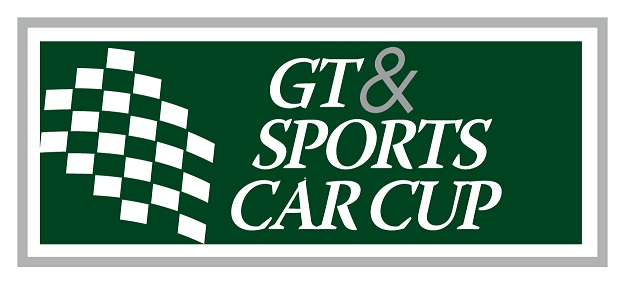 The high-profile invitation series is named GT & Sports Car Cup for good reason and on this occasion, it was particularly apt. Roger Wills qualified the two-litre Coventry-Climax FPF-engined Lotus 15 #609, which fellow New Zealanders Bruce McLaren and Syd Jensen raced for Noddy Coombs in the 1959 Tourist Trophy event at Goodwood on pole, then traded places vigorously with Thomas in the opening stanza. When David Clark jumped horses from a Porsche 911 to take the Lotus over he couldn't quite match Lockie's pace and finished six seconds adrift after almost an hour of fantastically clean racing on the 3.66-mile Grand Prix circuit.
In the GT3 division, Mark Holme and race sponsor Jeremy Welch – last year's overall victors at Thruxton – set the pace and held sway in Holme's Austin-Healey 3000, a familiar sight at Silverstone in the hands of Northamptonshire police chief John Gott in the decade to 1971. The GT2 contest had a new winner in Morgan 4/4 pairing Jack and Billy Bellinger, who overcame the TVR Grantura of Joe Ward/Chris Conoley following the retirement of early leader Rick Bourne/Malcolm Paul's sister car. GT1 gold fell to perennial Lotus sharp shooter John Davison in his yellow Elite.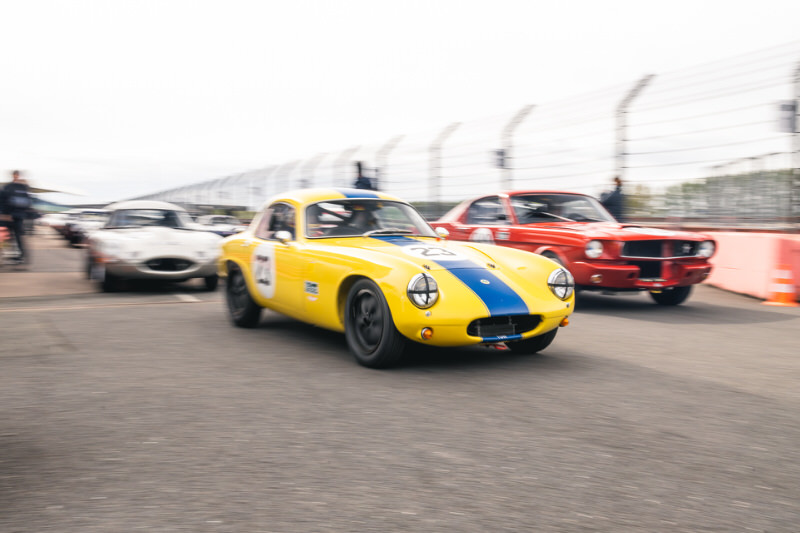 Remarkably, all but four of the 53 starters were classified as finishers, a tribute to both driving standards and car preparation for which HSCC's loyal marshals and officials were grateful within a packed programme.
GT & Sports Car Cup: QUALIFYING
A sensational field of 55 entrants, many of them welcome newcomers to the GTSCC family, set out for the grid-setting 30-minute Q-session on Sunday morning. As the two long lines filtered onto the track at Brooklands among the combatants were several remarkable machines, which boasted proud Le Mans 24 Hours histories in the early 1960s, plus others with frontline international or excellent club racing records.
Of the Le Mans veterans the fabled Austin-Healey DD300 of Dutchmen Christiaen van Lanschot/Karsten Le Blanc and Lister-developed Sunbeam Tiger of Michael and Richard Squire had graced our grids previously, but everybody was delighted to see Gregor Fisken's Willment-liveried AC Cobra 39 PH and London-domiciled German 'restaurateur' Rainer Becker's Porsche 904 GTS join the fray. The AC, then in the works' metallic pale green battledress, finished seventh at La Sarthe in '63, driven by Scot Ninian Sanderson and Englishman Peter Bolton. The sleek Porsche, then in four-cylinder specification, but upgraded to a six in period, was a Scuderia Filipinetti entry for Swiss drivers Herbie Muller/Claude Sage.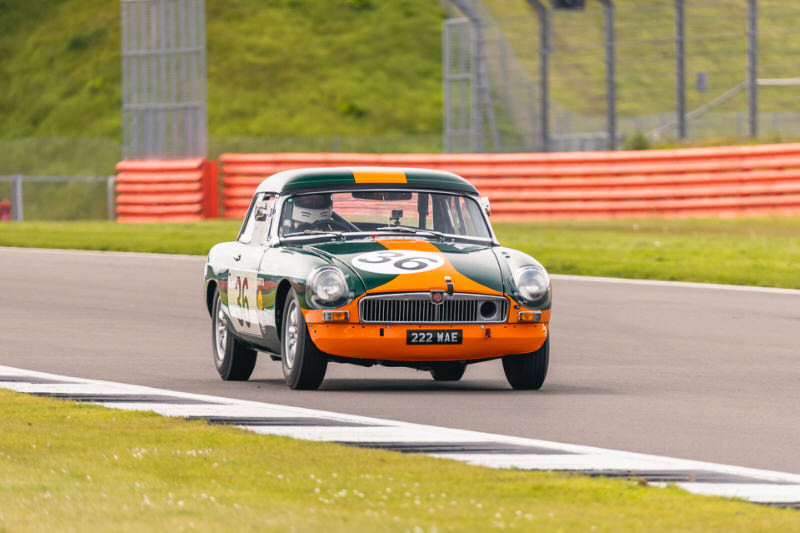 Doug Muirhead's Healey 100/6, registered TON 792, served as both a works race and rally car. The third built and first RHD example, the red and black car was owned by BMC chairman Sir George Harriman and finished the '58 Liege-Rome-Liege and Coupe des Alpes rallies driven by European champion Nancy Mitchell. In '61- now owned by John Clarke and refinished in Cambridge University Automobile Club's black and white colours – it was prepared by the works competition department at Abingdon as a reserve entry backing-up the ex-Sebring 12 Hours UJB 143, subsequently re-registered by DD300 by Ecurie Chiltern's David Dixon, driven by John Bekaert/Dickie Stoop. TON practiced but did not race.
New to the field was Mark Midgley's Jaguar E-type fixed head coupé on only its second race airing since Leicester main dealer Robin Sturgess used his demonstrator as a weekend warrior in '62. Presented with a Protheroe-style plexiglass rear hatch [WE Sturgess Ltd supplied Dick's Jags] and wearing its tribute registration 2 BBC [the original is still with the Sturgess family] reflecting Robin's successes, the red aerodyne looked superb.
Thomas wasted no time in getting into his stride, wanting to make the most of a clear circuit to leave his mark. His 2m28.246s (88.89mph) was subsequently eclipsed by Roger Wills, whose 2:27.408 (89.39mph) in the white Lotus was duly rewarded with pole position.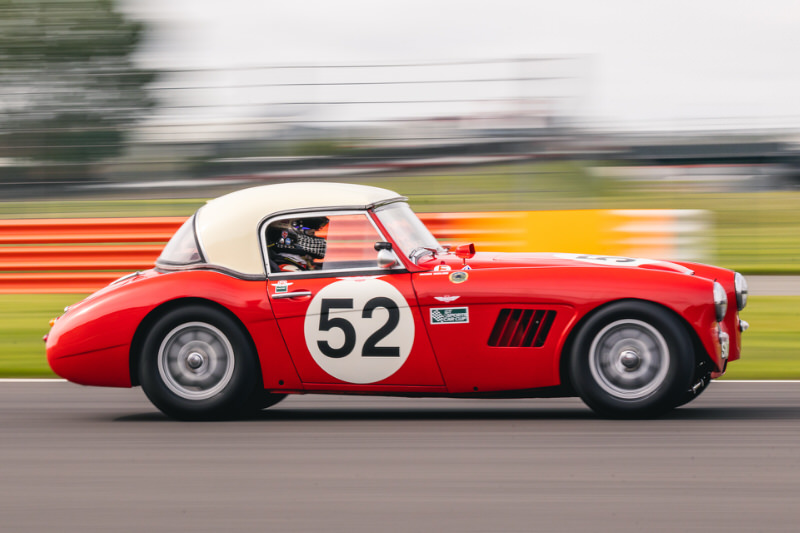 The bubble-topped semi-lightweight E-type roadsters of the Pearson brothers (John and Gary, quickest through the Hangar Straight speed trap at 142.2mph) and father-and-son Graeme and James Dodd – the first of 11 family equipes sharing quality time – were next up with Carlos Monteverde/Gary Pearson also inside 2m30s in fifth spot in the Brazilian's AC Cobra 289. The lithe 26R spec Lotus Elans of John Watson/Dan Cox and Simon Evans/James Littlejohn, which face the big bangers in GT4 in this series, were split by half a second, Cox pipping Littlejohn to sixth.
Chris Chiles 'père-et-fils' set seventh best time with their Gary Spencer-run Cobra, pursued by a trio of E-types with Mark Donnor/Andrew Robertson Smith, John Clark/Miles Griffiths and Martin Hunt/Pat Blakeney-Edwards up respectively. The mighty Cobra of Fisken/Sam Hancock and Jaguar Es low-drag coupé of Martin Melling/Jason Minshaw were closely-matched, clear of the Es of William Paul and Toyota Gazoo Racing's British Touring Car Championship star Rory Butcher and dad-and-lad Tony Best/Charlie Jones-Best, split by GTSCC debutants Charlie Allison/Peter Thompson (ex-Dominic Barnes Cobra) and Steve Jones/Robert Barrie (Elan).
Top of the GT3 tree, a splendid 13th overall, sat newcomers Guy Ziser and multiple Le Mans starter Oli Webb, who eked a 2:37.877 (83.46mph) best lap from the former's early-spec E-type. Alasdair Coates Shelby Mustang GT350 would fill Ziser's mirrors at the start, separating him from GT3 rival Austin-Healeys in the hands of Holme/Welch, quintuple British hillclimb champion David Grace (partnered with rapid Hampshireman Jack Rawles) and Muirhead.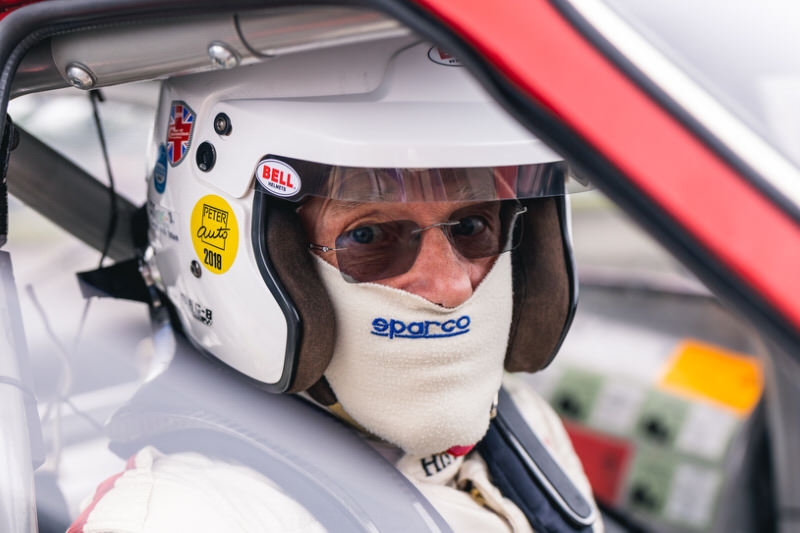 The next quartet comprising the Shelby Mustang GT350s of Nick Sleep/Joel Wykeham and [brother] Bill Wykeham/James Wood, sandwiching the Healey of Tony Worthington/Martyn Corfied, and the tiny Climax 1200cc FWE-engined Lola Mk1 of Tim Reid/Alex Montgomery also bettered 2m40s. In their wake, Stephen Bond's Elan 26R, Canadian Reid Gomm/Andrew Keith-Lucas' Jaguar E-type low-drag coupe, the Healeys of Chris 'Lord Borneo' Clarkson/David 'Meerkat' Smithies and van Lanschot/Le Blanc and the Squire family's gruff Lister Tiger were blanketed by less than a second.
Sadly, a missed upchange between Woodcote and Copse over-revved the engine of GT2 pacemaker Becker's fabulous red Porsche 904, which was pushed forlornly into the Prill Porsche Classics trailer, having recorded a 2:41.376 (81.85mph) lap. David Clark sportingly offered Rainer second stint in his 911, from which Roger Wills stood down, easing the pitstop co-ordination and car swaps at which Pearsons Engineering (Gary's team) and Denis Welch Racing (Jeremy's) in particular have become so adept over decades of endurance juggling. Mark Pangborn/Harvey Woods (Healey 3000) moved up a row to fill the gap.
GT2 was therefore now led by series debutants Richard Cook and local rallyman Richard Tuthill in the former's Porsche 911, which expired on track having completed 10 laps and was towed back to the paddock. It had been barely a second shy of the 904, but a mere 0.119s swifter than the Bellingers' lurid purple 1500 cc pre-cross flow Ford-powered Morgan 4/4, in which Billy had outrun the SLRs of John Emberson/Peter Horsman (2.2-litre) and soloist Simon Orebi Gann (2-litre) amid a very tight pack.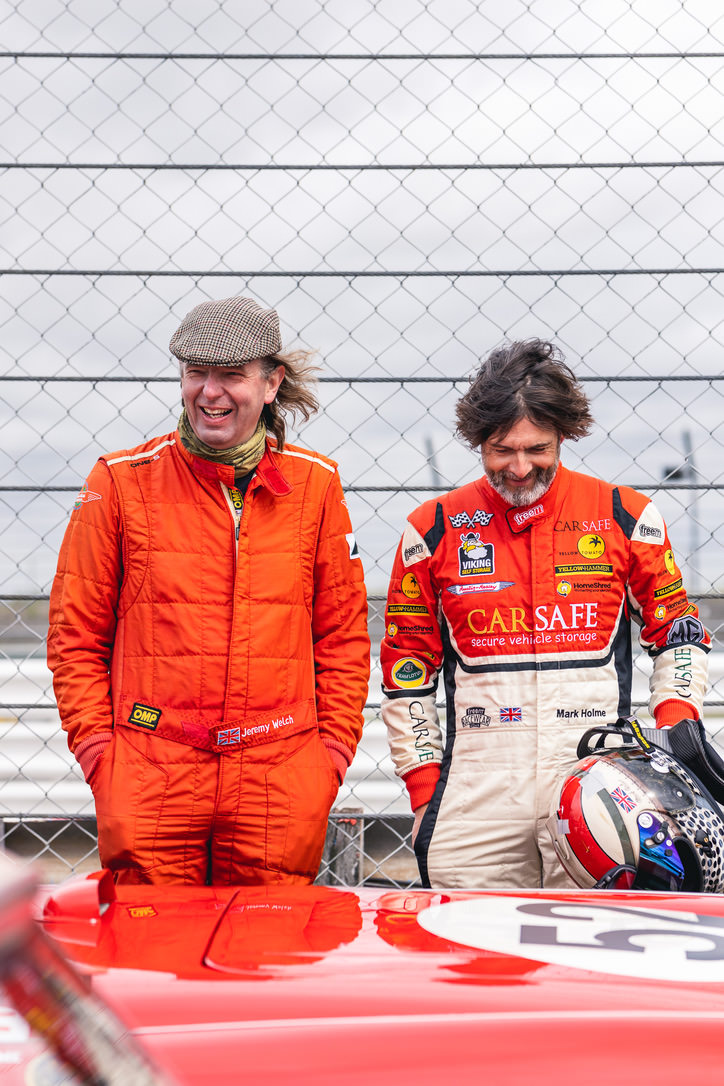 In the thick of it were the Elite of Sydney 2000 Olympic Games shooting competitor John Davison – whose 2:42.538 (81.07mph) stood for an outstanding 36th overall, Allan and Dan Ross-Jones' immaculate dark blue Triumph TR4, the Crispin Harris/James Wilmoth Healey and the TVRGranturas of Malcolm Paul/Rick Bourne and Joe Ward/Chris Conoley, just 1.16s apart, were also ensconced in the group.
Mike Thorne/Sarah Bennett-Baggs' familiar Healey 100M was not far behind them, a whisker ahead of the quickest of six MGBs with Scots Tim and Laurence Jacobsen aboard, and the Tamworth-built 2.5-litre Ford-engined Reliant Sabre Six of Simon and Alex Drabble. The MGB of Brian and Barbara Lambert was next.
Marc Gordon (Elite), David Clark's red 911, the charismatic Midgley/Andrew Hayden Jaguar, former HSCC Historic Road Sports champion Colin Sharp's TR4 – another welcome newcomer – and Tony and Pia Bianchi's Healey were next up. The MGBs of Beverley Phillips and son Olly, Oliver Marçais [18-year-old son of Flavien and Vanessa in his second event] and father-and-daughter Richard and Alice Locke completed the pack.
GT & Sports Car Cup: RACE
Fifty-three cars, the weekend's largest grid, filed out behind the BMW pace car, pre-ordered for a rolling start adjacent to the traditional Heritage Pits at Woodcote – as opposed to on the Hamilton Straight outside the Wing edifice – at just after quarter to four in the afternoon. Grey clouds masked blue skies, but the cold blustery winds had died down, consequently the threat of rain had receded until after the programmed finish. With owners mandated to complete at least 50 per cent of the hour, two driver crews' stops to take a minimum of 90 seconds and 20 seconds from pit entrance to exit and soloists 30 seconds longer within the 20-40-minute window the anticipation among competing teams grew as the field was unleashed, its pace controlled by poleman Wills.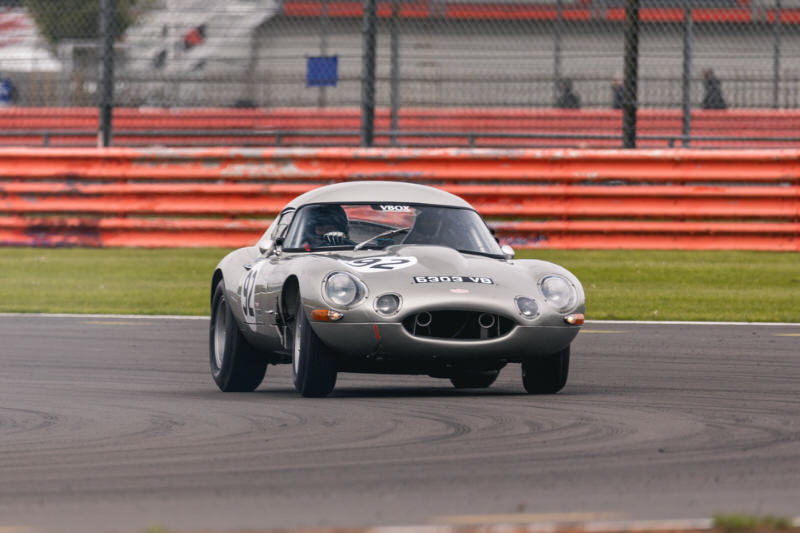 Side-by-side into Brooklands and Luffield corners at the end of the opening lap, Wills just managed to keep Thomas behind to the timing line, but the rampant Jaguar growled ahead through The Loop and Aintree, powering ahead onto the Wellington Straight second time round. Their battle was far from over, but plenty of changes unfolded in their mirrors. Third placed Gary Pearson soon found himself under attack from Butcher, who had eased William Paul's E-type past Graeme Dodd's and homed in on the local man. Donnor spun on the opening lap, coming round 23rd, already frantically charging his aubergine Jag back up the lap charts. Within seven laps he was back to ninth.
Ahead, Hancock had made fine progress in the gruff red Cobra with its distinctive Le Mans hardtop. He passed Monteverde's conventionally-roofed version, then concentrated on eroding the deficit to Dodd. By the time Sam passed Graeme, on lap five, Butcher was ahead of Pearson and making inroads towards Thomas and Wills, still squabbling furiously with the Lotus revelling in the twiddly parts of the circuit and the Uber-sleek Jaguar opening its lungs and stretching its legs on the straights. Already out, unfortunately was Jones/Barrie's Elan, which the Scot had jostled from 16th on the grid to overtake Evans' example and run inside the top 10.
Holme had set off at a strong pace, passing Melling and Ziser to establish the early GT3 lead in SMO 746. Mark found himself in the company of the Shelby Mustangs, which was entertaining, but inevitably their V8 power advantage told. Bourne led a frenetic GT2 contest, with Ward's blue 'Grannie' close behind and Bellinger Sr holding a watching brief in the Morgan into which he'd be relayed by rapid son Billy. Davison enjoyed baiting bigger machinery, as he extracted the max from his GT1 Elite.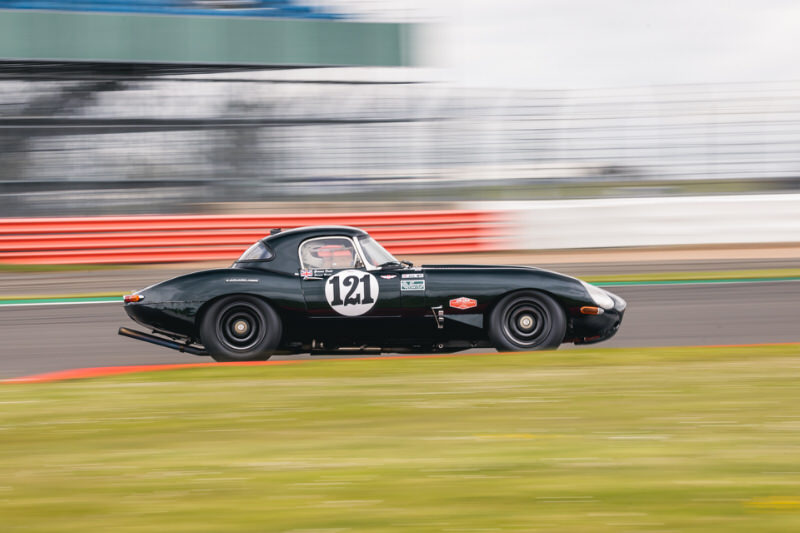 Following a brief shower, which came to nothing, Wills snatched back the lead, and his catchweight tussle with Thomas continued. Their strategies were to run as close as possible to the 40-minute max, enabling them to react to possible safety car interventions, but the yellow flags remained resolutely on marshals' posts, other than to warn drivers of slower cars that they were about to be gobbled up by quicker ones. Dodd Sr's game plan was to install son James ASAP, thus he pitted after eight laps, from sixth as the window opened.
Up the road, Wills and Thomas led from Butcher, Pearson G and Hancock, but Hunt, Monteverde, Donnor, Thompson and John Clark roared by as Dodd stopped, and the Shelby trio – Bill Wykeham (blue), Coates (red) and Joel Wykeham (white) had ganged up on Evans's Elan, chased by GT3 leader Holme, Gomm, Bond and Michael Squire's rumbling Tiger. GT2 leader Bourne pitted the red TVR, which was soon in trouble. Owner Malcolm Paul took over and did one lap but returned to the pits with deranged gearbox internals which had cracked the casing. "We didn't wish to share expensive oil with everybody else, so parked it", said Malcolm afterwards. Malcolm and Rick were named Drivers of the Day for their early efforts and class lead.
Thomas led again for a couple of laps, before Wills squeaked past. They pitted together after 15 laps, the Lotus ahead. Butcher and Gary Pearson had stopped after 11 laps (relaying William Paul and John out respectively, Gary then leaping into Monteverde's Cobra), but the largest influx of cars came a lap later when Hunt (in for PB-E), Monteverde, Donnor (for Smith), Clark (for Griffiths), Bill Wykeham (for Wood) and Evans (for Littlejohn) peeled off after Luffield into the pitlane.
John Pearson, James Dodd and Paul duly appeared together as best of the stoppers in third, fourth and fifth places, effectively a lap behind Wills and Thomas. Holme and Squire, were sixth and seventh after 14 lap stints, but Fisken snarled up to sixth thereafter, pursued by Chiles Jr.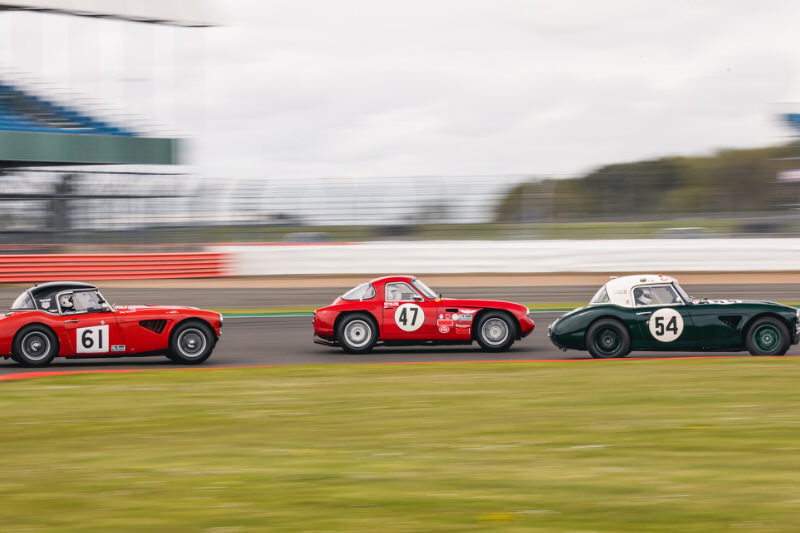 The Thomas team's changeover was slicker than Wills', for Lockie enjoyed a 10 second advantage over David Clark at the end of their out laps. Almost half a minute behind, Dodd's British Racing Green Jag was third, with Fisken, Chiles and Gary Pearson homing in on Paul's gunmetal-hued version. Smith and Griffiths battled past Blakeney-Edwards with ostensibly eight minutes to run to the chequered flag.
Chiles was virtually with Paul when red flags flew on the 21st lap. Daniel Ross-Jones' TR4 had shed its left rear wheel at Luffield – legacy of a suspected stud failure – and was beached on the outside of the spoon-like right-hander, within sight of the timing line. Per MSAUK regulations TSL's timekeepers wound the clocks back a tour, thus the results were signed-off at 20 laps.
Thomas/Lockie won by 16.359 seconds from Wills/David Clark, with the Dodds third, clear of the Pearsons. Hancock/Fisken finished a stout fifth in the gorgeous Willment Cobra, from Butcher/Paul and the Cobras of Chiles and Monteverde/Pearson. The E-types of Donnor/Smith and John Clark/Griffiths, 0.335s apart with the event's double Historic F2 race winner Miles on the warpath, completed the top 10. Hunt/PB-E and the Evans/Littlejohn Elan were even closer, the last cars to cover the winners' distance.
The Thompson/Allison Cobra and blue Wykeham/Wood Shelby, best of the well-matched Mustang trio, from which soloist Coates slipped back after his longer stop.
Just twenty seconds blanketed the top three in GT3. Welch maintained Holme's pace to complete their victory in 18th place overall, among 18 teams to log 19 laps. Clarkson/Smithies kept them honest, finishing 13 seconds adrift in 21st, with Harris/Wilmoth third. Pangborn/Woods made it a big Healey 1-4, with the Emberson/Horsman Morgan SLR fifth and being caught by pro Webb who cut best lap in Ziser's E-type.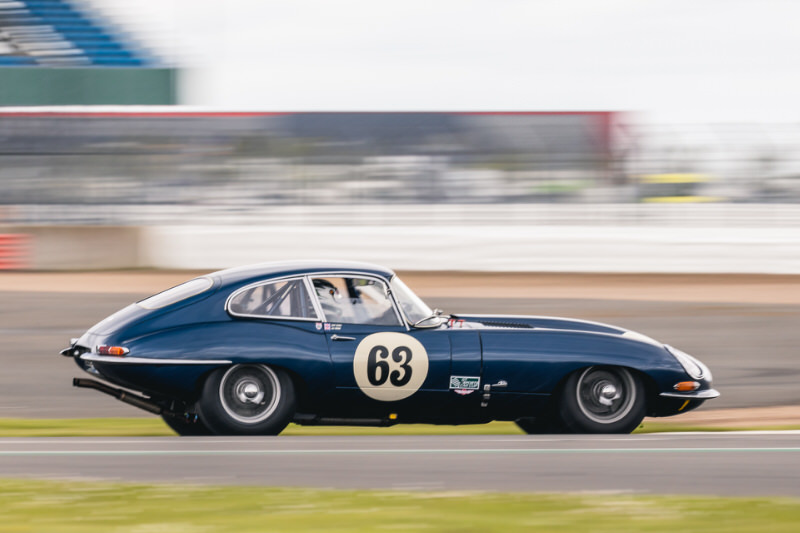 The GT2 result was even closer. Having taken over the Morgan 4/4 (its vivid hue chosen by young daughter Sophia) from his dad, Billy Bellinger caught the surviving TVR of Ward/Conoley hand over fist and shot past on lap 19. Fastest class lap by more than two seconds enabled the family team to cross the line 29th, 6.834s and one place to the good. A lap down, the Jacobsen MGB was third in class, 10 seconds ahead of Orebi Gann's SLR with the diminutive SP1 Lola of Reid/Montgomery between them. Bennett-Baggs/Thorne and Clark/Becker claimed the minor placings. The Cook/Tuthill 911 fell by the wayside when it lost a wheel.
In GT1 it was Davison all the way. John finished an outstanding 31st overall in the smallest-engined car in the field. It ran metronomically, ahead of numerous GT3 and GT2 contenders. Gordon's BRG sister car also covered 18 laps, a minute and 43 seconds behind the class winner.
No sooner was another exceptionally well-conducted contest over than loyal competitors began to look forward to the GTSCC's next rendez-vous. The great news is that there are only five weeks to wait. Following agreement of terms with the HSCC two days later the season's second race – and social gathering of the clans – will be at Donington Park on June 26/27.
CONGRATULATIONS TO THE RACE WINNERS: Julian Thomas & Calum Lockie
GT1 Class Winner – John Davison – Lotus Elite
GT2 Class Winners – James & Jack Bellinger – Morgan 4/4
GT3 Class Winners – Mark Holme & Jeremy Welch – Austin Healey 3000
GT4 Class Winners – Julian Thomas & Calum Lockie – Jaguar E-Type
SP1 Class Winners – Tim Reid & Alex Montgomery – Lola Mk 1
SP2 Class Winners – Roger Wills & David Clark – Lotus 15
GTSCC 'Driver of the Day' – Malcolm Paul & Rick Bourne – TVR Grantura Mk III
GTSCC 'Family Award' – Richard & Alice Locke – MG B
In celebration of the 60th Anniversary of the Jaguar E-Type
1st GT3 Jaguar E-Type – Guy Ziser & Oliver Webb
1st GT4 Jaguar E-Type – Julian Thomas & Calum Lockie
more information by GT & Sports Car Cup
Photos by charlieb.photography